I have an ASUS computer, and have upgraded it from Windows 8 to Windows 10 for a week or two. But I find it has been running so sluggishly that I can't do anything with the computer. It usually takes 10 or 20 minutes or even up to 40 minutes to start up. When it does load up to login screen, it takes an additional about 10 minutes for me to even load up task manager. And the CPU is constantly running at 100% even when I just run one program or application. Web browser constantly crashes down when I open two or three tabs at the same time. So How to Fix CPU 100% Issue on Windows 10? How to improve my computer performance?
How Can CPU 100% Issue on Windows 10 Happen?
You may encounter such a problem that your Windows 10 computer runs slowly as CPU usage becomes 100%. However, you just run one or two programs. So how comes to this CPU 100% Issue on Windows 10. Many users complained that they just have Windows 10 for one or two weeks and wondered how it becomes sluggish frequently. How to Fix CPU 100% Issue on Windows 10? There are many reasons why the CPU suddenly becomes high even up to 100%. Here below we will explain some main reasons in detail for PC users: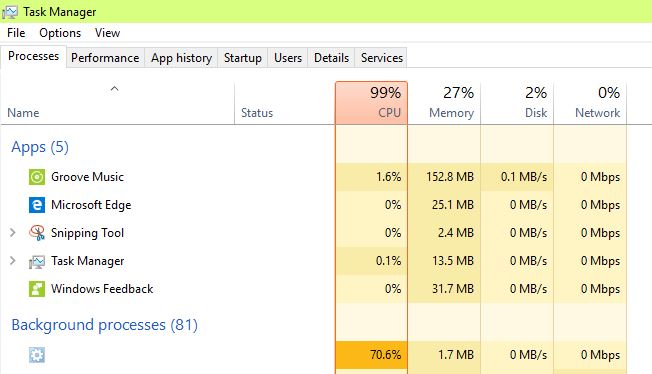 Published by Tony Shepherd on February 17, 2017 5:40 am and last modified on February 17, 2017 5:43 am.