Android phone/tablet or my computer has been blocked by Cheshire Police Authority Virus Ukash scam (Also called Cheshire Constabulary virus), what do i do? It is on my home computer that i got a Cheshire Police Authority virus lock page and when i have had a pop up from Cheshire Police Authority its asking us to pay 100 pounds. I want to know how to remove it because i did research and found it's a fake Cheshire Constabulary lock. And if my android phone or tablet is saying its blocked by Cheshire police and I have to pay £100 within 72 hours, what do i do? This pop-up saying to pay 100 pounds to unlock your phone or tablet, something about illegal downloading? I don't download anything but use it to listen to espnradio.com! How do I unlock my computer or android phone/tablet from the warning message screen? By the way, my son's android phone has the same virus and we need help to get rid of it. It is a Samsung Galaxy S5, my son downloaded a game on it and it said he needed flash player so he tried to down load it but only get a warning said you have downloaded illegal software the PCEU has blocked from this phone until you pay, he was terrified. We have managed to get the cell phone into safe mode but don't know what to do next. please help! I have a Sony experia android that has this virus that wants me to pay 100 pound? What can I do as my phone is blocked, I have received the message about breaking British law and required to pay £100 via a pay card to get access back. I've searched about it and seen reports about it Im just wondering what I need to do to stop or prevent this happening in future? For Cheshire Constabulary virus removal, learn more below.
How To Remove Cheshire Police Authority Virus To Unlock Blocked Computer As My Computer Got A Crazy Message Asking For A Fine Of £100 Ukash or Paysafecard? How to Unlock The Phone/Tablet From Cheshire Police Scam?
Cheshire Police Authority Virus blocked your computer and the virus says you have to pay 100£ via Ukash? Currently, this virus has been picked up as a Cheshire police scam by YooSecurity Labs. For the screen it looks like the one is a variant of PCEU virus, it asks for 100 pounds to unlock your computer via Ukash or Paysafecard. If you paid for the ransomware your computer still be blocked and the thing is you lost £100. As if we didn't have enough things to worry about when we use the internet, we now have to worry about imposters of government, public officials, or lurking programs piggybacking our access to favorite sites trying to get what they can from us. The newest virus that is making the round is the Cheshire Police Authority Virus or we call it Cheshire metropolitan police PC scam. It's also known under a variety of different names including but not limited to Strathclyde Police Ukash virus, and various extensions bearing Reveton or lockscreen in their file name. All the things pretend to be the United Kingdom police, but none are real. And the virus blocks android phone or tablet and says that you have been accused of a crime and need to pay ?100 fine within 24 hours via paysafecard. If you do not do this criminal proceedings will start and your phone will be wiped. As the victim Gary describled:"I've just been duped by the Cheshire police scam it has blocked my samsung tablet, I got a pop up asking me to update system that when I tried to stop the message coming up I couldn't get rid of it so in the end I got mad and pressed to update system and before you know it this Cheshire police notice come up that I couldn't get rid of." Many of them know nothing about computers apart from putting them on and browsing the net so for someone like Gary what do you recommend to do?
How did you get it? You have experienced like this situation: My laptop showed went to a screen that told me i had to pay 100 pounds to unlock it due to an illegal operation, how to unlock your laptop from the police? Do you know registry modification for Cheshire Police Authority virus warning malware? Once your computer saying its blocked due to pornographic images and is asking for £100 fine from Cheshire police. Don't trust that as it is a virus Scam. You need to manually get it fixed as it blocked everything on your computer. And here you can learn more about this scam.
The Cheshire Police Authority Virus scam is a ransomware that is notorious for attacking United Kingdom PC users and steal money from them after threatening action from the local law enforcement unless the fine is paid. The computer is blocked and the warning message is displayed claiming illegal computer activities have been detected. The virus uses a real looking seal from UK and even displays the users IP address as well as the host name. This is done to make it even more believable. This message is not real, it does not come from the authorities and the fine should never be paid. This is a group of sophisticated cyber criminals behind this scam.
The user is instructed to submit payment for the violation through either ukash or a paysafecard, both of which are prepaid payment methods that are unable to be traced or charged back. This gives the hackers immediate access to the funds and once the PC user is aware that they have been scammed there is no option for them to regain the money. At that point the hackers are long gone and on to the next victim. Do not become a victim of the Cheshire Police Authority Virus; if the PC is infected with this virus removal is the only way to get the computer to revert to its original settings.
When the scam is picked up it quickly changes the system settings to disable all functions and display the warning message. The user is not able to close the warning message or open a new browser window. If the computer is powered down manually it will just restart and immediately display the warning. This makes even more users believe that it is real, but even if the fee is paid the window will not go away. The virus files have to all be removed in order for the warning message to stop showing up and blocking all other features of the PC. We suggest that this be done manually in order to fully go through all files, as the Cheshire Police Authority Virus  is known to hide deep within the system files.
To save your computer or android phone, Live Chat with YooSecurity Expert Now, or you can follow the manual removal guide below to get your problem fixed. (For advanced computer users)

Screenshot of Cheshire Police Authority Virus Police Central e-crime Unit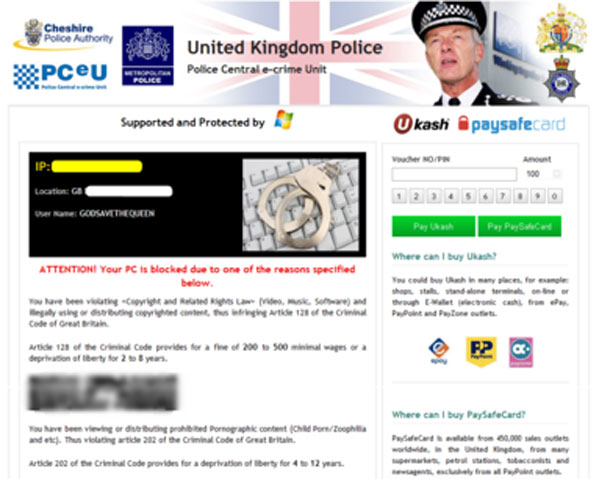 Where Can I Get My Computer Fixed Efficiently Without Taking It to A Local Shop?
My computer has got the Cheshire Police Authority – international cyber security protection alliance and blocked my laptop and I was stupid enough to have paid them £100 ukash. Seen in many parts of Europe, we are now starting to feel its effects in the UK. There have been reports that the criminal gang are striking small business owners and individuals alike, capturing their vital information and requesting exurbanite amounts to release it back to their owners, if they ever do. The big symptom of the virus is the complete lock down of your computer, even in safe mode with networking.
Our browser engines are also equipped with some sort of protection possibilities. Namely, in their Options sections they offer the users opportunity to shield their computers by choosing the option which allows the browser to block the pages which are on the international lists of mistrusted and suspicious ones. All of your software settings set like we advised you will give you the maximum possible protection while you enjoy your internet surfing.
Like many viruses and malware attacks, they are generated faster than many removal software applications can detect and stop them. And what makes difficult is that attempts to perform cleaning operations may limit its effectiveness when in safe mode or safe mode with networking. There are a number of companies online charging varying rates to Remove Cheshire Police Authority Virus.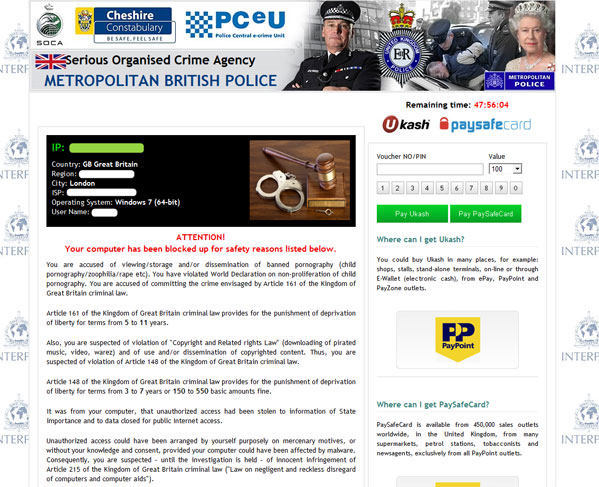 What is the best way to remove Cheshire Police Virus?
If you are think you have enough computer skills, you can attempt to remove Cheshire Police Authority Virus from the registry yourself. Take care with moving about the registry as any accidental deletion of a program can severely affect your computer, possibly rendering it useless. Most viruses have identifiable indicators in their file name such as random, ransom, etc. as well as the obvious virus and malware. Don't take system restore as you will make all things gone, you can manually go in and reset the registry against this particular virus.  Guides are below:
Step1: First restart your computer and before the system rises completely, press the F8 to enter the boot mode (To do that please keep pressing F8 key repeatedly).


Windows Advanced Option Menu, please select an option: From there start the system through the Safe Mode With Networking.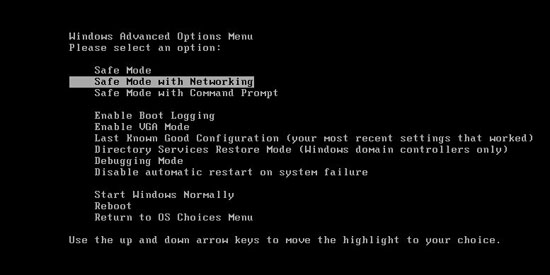 Step2: Now the system is up call upon the Task Manager by pressing Ctrl+Alt+Del and there turn off all of the activities unknown to you and which seem similar to the Cheshire Police Authority Virus.


Step3: The other way is to go under system explorer:
Start menu
Computer
C drive
Windows
System
Step4: Once in DOS mode, you can type in the following commands:
HKEY_CURRENT_USER\Software\Microsoft\Internet Explorer\Dowmload "RunInvalidesignatures" = "1"
HKEY_CURRENT_USER\Software\Microsoft\Windows\currentVersion\Run\Random.exe
HKEY_CLASSES_ROOT\PersonalSS.DocHostUIHandler
HKEY_CURRENT_USER\Software\Microsoft\Windows\currentVersion\Internet
Video Guide to Remove Cheshire Police Authority Malware Scam
Manual Removal Step by Step On Android Phone (Samsung Galaxy S2,S3,S4,S5, LG, HTC, ZTE etc) or Tablet
1.Press and hold the power button as you would to power down or reboot.
2.A menu will pop-up on your Android device. TAP and HOLD the "Power off" option.
3.A dialog should appear offering you to reboot your Android device to "Safe Mode". When this happens, click on "OK" to enter "Safe Mode".
4.If you have managed to select "Safe Mode", you will see the text "Safe Mode" at the bottom left corner of the screen.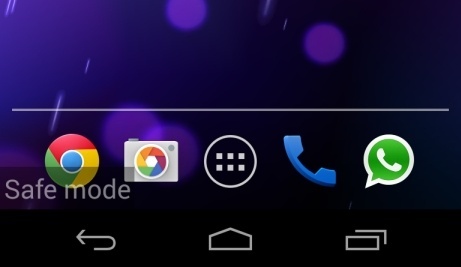 5. Then uninstall the malicious app from your Android device and reboot your phone to take it effective.
If any problems, you can start a live chat to consult with YooSecurity experts for instant help.
Summary: There are many websites and software developers that lay claim to remove Cheshire Police Authority Virus and other similar viruses, most barely touch them. And this virus hoax made your computer or android phone/tablet seized. System restore in not able to protect your computer from Cheshire Police metropolitan police ukash virus and you can't reset your android phone/tablet to get it unlocked, if you do take the risk then you will lose all data, pictures and contacts on the cell phone or tablet. Like we said before, think of it like a weed in the garden, you can kill the leaves, flower head, and part of the root but if you don't get all of the tap root, it will grow back and take over. Care needs to be taken as some sites attempt to get you installing other programs that can do just as much or more harm than the original. Companies like YooScurity have professional technicians who may detect all the viruses and malware on your system.
There's always a way or more in protecting your gadget. You can remove Android popup virus. You just have to familiarize yourself with your own device and then continue to learn their system. You can enjoy them better and maximize their worth if they stay with you longer. You will not only save yourself from redundant expenses. You will also get to value what you have worked hard for.
Tips: If you failed to fix your computer or android phone/tablet after a dangerous Cheshire Police Authority Virus attack, please contact YooSecurity experts 24/7 online in time for instant help.

Published by Tony Shepherd & last updated on November 11, 2015 1:40 pm