How do you get rid of an FBI page stuck on your phone? Not to offend you, but I'm scared now because of this and I'm not sure about that. It says I owe FBI $500. It said I watch porn material and contents something embarrassing like this, but I didn't do anything related to this. Is there any way this is real? It says if I try to remove it personally other than paying that I'll owe more and the pictures will be sent to my contacts. I don't know what picture it means but I don't want anything sent to my contacts. Because it says it's porn. I'm under 18 and trying to get music of a mix tape and had to download a third party app. While I was downloading the app, this FBI page displayed immediately. I don't know if I have installed some harmful thing.
Why Your Phone is Stuck on FBI Page? Is it real from FBI?
FBI page stuck on your phone is not a real notice warning from the real department. In reality, the FBI page is a fake alert associated with ransomware, scareware and other malware thing. The FBI page blocking your phone screen is actually a virus and ransowmarw whch mainly display fake warning page to lock victims' devices and ask for a ransom to unblock the infected phone or tablet. The fake FBI warning page is created and upgraded by cyber criminals to scam people and collect more illegal money from innocent victims. The fake FBI page falsely accuses you of illegal activities like watching and viewing porn material and distributing pirated contents and so on. But actually you even have never done such activities. And for this reason, your phone is blocked. To unlock your phone, you have to send $500 fine payment within limited hours. To urge victims to submit $500 fine payment, it threats that your bad activities watching porn material will be told to your contacts and your crime case will be transferred to FBI department, and you will be prosecuted and even put into jail. To make this FBI page look more genuine, the cyber criminal illegally uses FBI logo and badge and even take your screenshot. When victims see this FBI page, they believe the warning message is sent from real FBI department.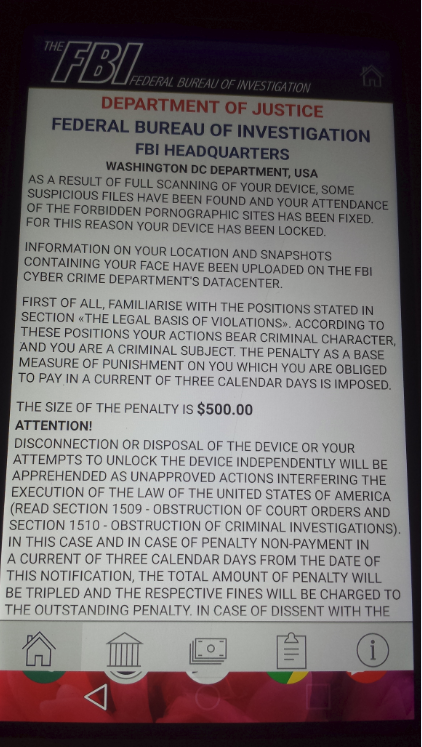 Published by Leo R. Oscar on July 24, 2017