Hey, yesterday I just received robot call from 800-558-9204 announcing EMERGENCY, Microsoft Windows license key has expired. To renew license please call 800-558-9204." I returned the call and a woman's voice (American accent) directed me to call a number regarding a Microsoft license key that had expired and told me my computer would be "shut down" if I did not renew my license key. I am not a computer literate and don't understand if this phone message from real Microsoft. I'm afraid if someone will hack my computer but now my computer is really blocked by a license key needs to be renewed warning and I can't go any further. Could you please help me?
Got a call from Microsoft saying my Windows license key was expired – Is it real?
Call from Microsoft saying my Windows license key was expired is a scam phone message which is from those scam tech support actually. Scam tech support mainly uses this scaring phone call message to scare and defraud people out of money. Scam tech support call and tell phone this fake message "Windows license key was expired" illegally in the name of Microsoft.  Once people scare and trust this phone message is from Microsoft, they will continue to redirect victims to call some toll free number, and then the person on the other side of phone will state your computer is seriously in terrible condition and urgently need a Microsoft Windows license renew as your Windows license key was expired, and you may asked to purchase their products or service at a high price or you may be asked to be remotely controlled by someone from other side of that phone number. Here, you should notice that the produces or services are not secured and even be bundled with malicious software, if you buy and install the products they offer, it would be a bid threat to computer security once malicious software is installed into system. Besides, if you let someone remotely control and check your computer, that person may put virus or malware into system or hack your system and get some important data and privacy. Anyway, don't trust any words from scam phone message "Windows license key was expired", as it just pretends to be Microsoft company, but there is no real Microsoft technician.
Here below is the screenshot of this fake Warning "Your Windows Licence was Expired" Lock Screen: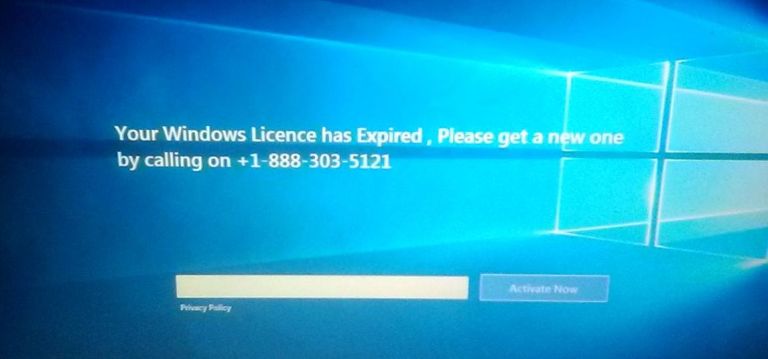 Published by Leo R. Oscar on February 21, 2017