Hey, How to Fix RAM 100% Issue on Windows 10? I just updated my Sony laptop Windows 7 to Windows 10 three days ago. But after some use, I feel this new system is very sluggish, everything starts very slow, programs often get stuck and laptop frequently gets frozen or crashes down. I checked and know this problem is actually due to high memory usage. It is soon up to 100%. I did a restart, then everything came back to normal, total usage was just around 30% of 8GB of RAM. However, during few hours of usage memory builds up again to 80% and if not restarted it further goes to 100% and later on even freezes. I don't know how to check what kind of process or program causes this high memory usage. Could you please help me solve this high memory usage problem?
What will be the Reasons Resulting in RAM 100% Issue?
Recently, many Windows 10 users complain that their PC slows down due to high usage of RAM, CPU or Disk. It even consumes 100% usage within few minutes even though PC user just open few program and perform one task on PC. How to Fix RAM 100% Issue on Windows 10 – More and more PC users are asking this query. RAM 100% Issue will freeze PC totally and it's impossible to continue any tasks on problematic PC. Anyway, RAM 100% Issue slows down computer performance completely. So What will be the Reasons Resulting in RAM 100% Issue? Less RAM of your PC is not the main reason triggering this issue. Users having 4GB of RAM have less complaints, while users with 8GB and even 16GB of RAM have experienced high memory usage problems especially after updating their PCs to Windows 10. When you get Windows 10 full memory usage error or receive high disk usage warning, the RAM or memory in Windows 10 may not be really full. There are several key reasons why the memory usage runs out. Here below we will explain some main reasons in detail for PC users: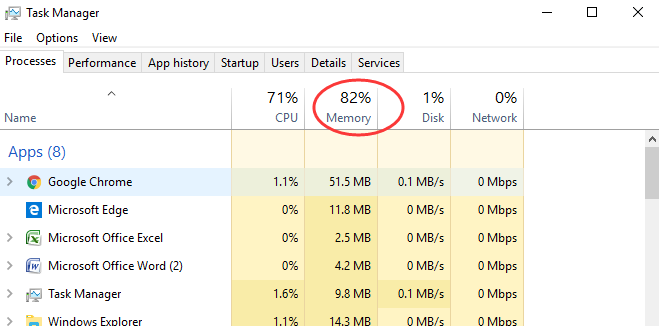 1. Windows 10 memory leak
Memory leak is a failure in a program to release discarded memory, causing impaired performance or failure. Besides, Windows 10 is experiencing driver incompatibility issues. A faulty or outdated driver can lead to a Memory leak. When a program needs to store some temporary information during execution, it can dynamically request a chunk of memory from the system. However, the system has a fixed amount of total memory available. If one application uses up all of the system's free memory, then other applications will not be able to obtain the memory that they require. A memory leak reduces the performance of the computer by reducing the amount of available memory. Eventually, in the worst case, too much of the available memory may become allocated and all or part of the system or device stops working correctly, the application fails, or the system slows down vastly due to thrashing. Therefore, if applications stay in memory when not in use, system run–time is expected to be unlimited or systems typically have lower total available system memory, high Ram usage RAM 100% issue will happen to slow down computer performance.
2. Low space due to high usage by multiple apps or big installation patches
We usually will download many applications and program to access certain sites or finish our works. However, while we download the application we need, the other additional programs would be sneakingly installed into system at the same time. Or some add-on and extension is installed into web browser's background. And then multiple useless applications or programs will take up too much memory. Besides failure of updating Windows patches is a big program to consume too much available RAM. Windows update usually can silently do its job in the background like downloading updates automatically, installing the ones it can and saving others to install when you restart or shut down the computer. However, in some cases the update installation gets stuck or freezes when it fixes patch even install service pack during shutdown or startup. Note that sometimes an update installation fails and that can prevent other updates from being installed properly too. In this case, these installation patches will soon occupy available RAM space. Then RAM 100% Issue happens and computer performance slows down immediately.
3. Memory got taken up by system error and large number of useless junk files
System error is a major reason that may cause the false information to the computer such as high RAM, CPU and Disk usage. And junk files in computer can really take a large amount of capacity and system resources and it's quite necessary to clean up junk files in PC regularly. Optimizing Windows disk will surely improve system performance. Windows system can record of all the acts of your pc. Improperly shutting down, crashing or freezing and uninstalling programs, massive virus, Trojan virus, spyware and rogue programs and unnecessary files can cause registry errors. Junk files or temporary files will be created while you're browsing online, running programs or performing tasks with some application even by massive Trojan horse, virus, worm or spyware. If you don't regularly clean junk files for your computer and also computer is infected with threats, there will be no doubt that RAM memory gets taken up by system error and large number of useless junk files.
How to Fix RAM 100% Issue on Windows 10
If you know what exactly is the main reason to cause RAM 100% issue on your PC, you can figure out the correct solution to fix this issue accurately. However, fixing RAM 100% issue needs expertise and skills in dealing any parts of computer. If you haven't sufficient expertise in dealing with program files, processes, .dllfiles and registry entries, it may lead to mistakes damaging your system and cause severely system problem. Here below we offer some step-by-step guides on how to fix RAM 100% issue for computer literate only. The guides can be applied to different brands of different Windows 10 laptop and desktop like Lenovo, Asus, Acer, Dell, HP, ThinkPad, Toshiba, IBM, Sony, Gateway, Samsung, IBM, etc. If you are not able to handle fixing RAM 100% issue by following the instructions on How to Fix RAM 100% Issue on Windows 10 below, you're suggested to contact YooSecurity Online Tech Support Team by clicking 'Live Chat' button here for help, the technician will take care everything of your computer for you!

Here's the detailed instruction on How to Fix RAM 100% Issue on Windows 10
1. Registry Hack:
Hit Win Key + R
Type in "Regedit" and then hit Enter.
Go to 'HKEY_LOCAL_MACHINE\SYSTEM\CurrentControlSet\Control\Session Manager\Memory Management'
Find 'ClearPageFileAtShutDown' and change its value to 1
Restart the computer
2. Fix the driver issue:
Open 'Device manager' and 'Scan for hardware changes'
3. Adjust your Windows 10 for the best performance
Right click on "Computer" icon and select "Properties"
Select "Advanced System settings"
Go to the "System properties"
Select "Settings"
Choose "Adjust for best performance" and "Apply".
Click "OK" and Restart your computer.
4. Disable startup programs
Hit Win Key + R
Type 'msconfig' and press enter
The Task manager window will open. Click on the "Startup" tab and you will see a list of programs that run at startup.
Right click on the applications that you don't want to run at startup and select "Disable".
5. Defragment Hard DrivesHit Win Key + R
Hit Win Key + R
Type "dfrgui" and press enter
In the new window click on the hard drives you want to defragment (Prefer the drive in which Windows is installed)
Click "Optimize" and follow the instructions on the screen to finish the defragment process.
Restart your computer.
Conclusion (How to Fix RAM 100% Issue on Windows 10)
High memory usage on Windows computer is a common problem which usually slows down computer performance. It takes a long time to run the program you need even though you just open web browser. Once the memory space becomes less, PC will not be able to run many process, registry entries, files and programs at the same time. Computer will soon get stuck or frozen even crash down immediately, and you have to restart it even force to shut it down then turn it back on. This sluggish status must be fixed as soon as possible or you will not use computer properly. But How to Fix RAM 100% Issue on Windows 10? Before you fix it, you should know what leads to this RAM 100% Issue. Of course, there are various factors leading to this high RAM usage even RAM 100% Issue. but usually memory leak, Windows update installation patches, multiple applications and programs, junk files and computer virus like Trojan horse, worm or spyware etc will consume too much system RAM available usage even eat up RAM usage and system resources. system errors caused by some aggressive virus can give wrong system order and send false information about CPU, RAM or DISK usage. That means, in fact, your PC's RAM usage is not so high. However, don't worry, RAM 100% Issue on Windows 10 PC is fixable. Many effective and accurate fix solutions are figured out by computer technician who qualified with professional computer technique and skills. If you can do it by yourself, you can follow our instructions above on How to Fix RAM 100% Issue on Windows 10.
Warm Suggestion: If you want to check out what exactly the reason leading to your computer's high RAM usage RAM 100% Issue on Windows 10 computer or get help on how to Fix RAM 100% Issue on Windows 10, you're welcome to start a live chat below to consult with our YooSecurity Online Tech Expert.

Published by Tony Shepherd & last updated on February 13, 2017 6:05 am