I have an ASUS computer, and have upgraded it from Windows 8 to Windows 10 for a week or two. But I find it has been running so sluggishly that I can't do anything with the computer. It usually takes 10 or 20 minutes or even up to 40 minutes to start up. When it does load up to login screen, it takes an additional about 10 minutes for me to even load up task manager. And the CPU is constantly running at 100% even when I just run one program or application. Web browser constantly crashes down when I open two or three tabs at the same time. So How to Fix CPU 100% Issue on Windows 10? How to improve my computer performance?
How Can CPU 100% Issue on Windows 10 Happen?
You may encounter such a problem that your Windows 10 computer runs slowly as CPU usage becomes 100%. However, you just run one or two programs. So how comes to this CPU 100% Issue on Windows 10. Many users complained that they just have Windows 10 for one or two weeks and wondered how it becomes sluggish frequently. How to Fix CPU 100% Issue on Windows 10? There are many reasons why the CPU suddenly becomes high even up to 100%. Here below we will explain some main reasons in detail for PC users: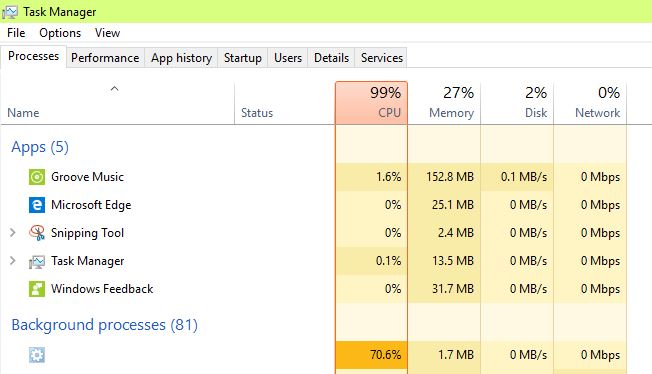 Virus, Malware or Spyware:  Virus is a software program, macro or script that has been designed to infect, destroy, modify or cause other problems with computer or software program. Malware is any malicious software used to disrupt computer or mobile operations, gather sensitive information, gain access to private computer systems, or display unwanted advertising. Spyware is mostly used for the purposes of tracking and storing Internet users' movements on the Web and serving up pop-up ads to Internet users. Whenever spyware is used for malicious purposes, its presence is typically hidden from the user and can be difficult to detect. Computer viruses, worms, Trojan horses, ransomware, spyware, adware, scareware, and other malicious programs are all hostile and intrusive software which can keep duplicating and rooting into system.  These computer threats' files will take up even eat up system capacity and resource, that's the reason why CPU become 100%. It can take the form of executable code, scripts, active content, and other software. Malware is often disguised as, or embedded in, non-malicious files.
Multiple applications and programs running at background:  you may install many programs or applications into system, and these programs and application may run at the background all the time from when you're starting up computer.  Most of case, we may not notice this issue. You can check the right side of taskbar of 'Show hidden icons'. If you find several icons there, you have extra programs running, and many running programs and application can steal resources and eat up CPU usage. You are suggested to close or exit the program by right clicking on the icon and see there is option to close down it. And also in order to decrease multiple applications and programs running, you should open the program and go to the Settings of the program to see if there is an option to keep the program from starting automatically.
Corrupted Registry and Junk files: Windows indeed keeps updating the registry and fixing loopholes, but it can't neaten or sort out itself well. And also entries will be easily added in registry by changes happen on computer while you copy, delete or move files, open documents, web browsers or other programs, surf on the Internet, change some settings of system or Internet, install new drivers or programs and uninstall unwanted programs etc. Hence, as the time passes, many old entries will gradually litter and pile up registry when you install and uninstall programs or perform any other tasks on PC. In a word, tons of corrupted registry and junk files are a big burden to computer performance. Then there is no doubt that the CPU usage percentage is up to 100%. And meanwhile, corrupted registry and junk files mess up system, give wrong command order to system and even cause serious system errors to create other new useless registry entries. CPU 100% Issue happens soon and your computer even can't be operable.
How to Fix CPU 100% Issue on Windows 10
If you know what exactly is the main reason to cause CPU 100% Issue on your PC, you can figure out the correct solution to fix this issue accurately. However, fixing CPU 100% Issue needs expertise and skills in dealing any parts of computer. If you haven't sufficient expertise in dealing with program files, processes, .dllfiles and registry entries, it may lead to mistakes damaging your system and cause severely system problem. Here below we offer some step-by-step guides on how to fix CPU 100% issue for computer literate only. The guides can be applied to different brands of different Windows 10 laptop and desktop like Lenovo, Asus, Acer, Dell, HP, ThinkPad, Toshiba, IBM, Sony, Gateway, Samsung, IBM, etc. If you are not able to handle fixing CPU 100% issue by following the instructions on How to CPU 100% Issue on Windows 10 below, you're suggested to contact YooSecurity Online Tech Support Team by clicking 'Live Chat' button here for help, the technician will take care everything of your computer for you!

Here's the detailed instruction on How to Fix CPU 100% Issue on Windows 10
1. Registry Hack:
Hit Win Key + R
Type in "Regedit" and then hit Enter.
Go to 'HKEY_LOCAL_MACHINE\SYSTEM\CurrentControlSet\Control\Session Manager\Memory Management'
Find 'ClearPageFileAtShutDown' and change its value to 1
Restart the computer
2. Fix the driver issue:
Open 'Device manager' and 'Scan for hardware changes'
3. Adjust your Windows 10 for the best performance
Right click on "Computer" icon and select "Properties"
Select "Advanced System settings"
Go to the "System properties"
Select "Settings"
Choose "Adjust for best performance" and "Apply".
Click "OK" and Restart your computer.
4. Disable startup programs
Hit Win Key + R
Type 'msconfig' and press enter
The Task manager window will open. Click on the "Startup" tab and you will see a list of programs that run at startup.
Right click on the applications that you don't want to run at startup and select "Disable".
5. Defragment Hard DrivesHit Win Key + R
Hit Win Key + R
Type "dfrgui" and press enter
In the new window click on the hard drives you want to defragment (Prefer the drive in which Windows is installed)
Click "Optimize" and follow the instructions on the screen to finish the defragment process.
Restart your computer.
Conclusion (How to Fix CPU 100% Issue on Windows 10)
If you find your computer suddenly becomes slow, you can check if CPU usage become higher without reasons. It takes a long time to run the program you need even though you just open web browser. Once multiple programs and applications running at background of system, PC will not be able to run many process, registry entries, files and programs at the same time. Computer will soon get stuck or frozen even crash down immediately, and you have to restart it even force to shut it down then turn it back on. This sluggish status must be fixed as soon as possible or you will not use computer properly. But How to Fix CPU 100% Issue on Windows 10? Before you fix it, you should know what cause high CPU usage. Of course, there are various factors leading to this high CPU usage even RAM 100% Issue. But usually virus, malware or spyware will be the first factor that you need to check and scan. All virus, malware and spyware will consume too much system CPU available usage even eat up CPU usage and system resources. system errors caused by some aggressive virus can give wrong system order and send false information about CPU, RAM or DISK usage. And meanwhile, uninstall useless programs and application and stop programs running at background automatically and do some optimization and cleanup for system regularly. However, don't worry, CPU 100% Issue on Windows 10 PC is fixable. Many effective and accurate fix solutions are figured out by computer technician who qualified with professional computer technique and skills. If you can do it by yourself, you can follow our instructions above on How to Fix CPU 100% Issue on Windows 10.
Warm Suggestion: If you want to check out what exactly the reason leading to your computer's high CPU usage CPU 100% Issue on Windows 10 computer or get help on How to Fix CPU 100% Issue on Windows 10, you're welcome to start a live chat below to consult with our YooSecurity Online Tech Expert.

Published by Tony Shepherd & last updated on February 17, 2017 5:43 am