Is your computer or android phone being locked up by the so-called United States Department of Justice warning message? If it is a real virus, can the United States Department of Justice Virus lock your computer, android phone, android tablet or can the dept of justice lock your browser on mac? Has your computer screen suddenly been locked by a page saying the United States Department of Justice "Your computer has been blocked"? What is Department of Justice warning? Computer says it has been locked for violating the laws of united states of America; has anyone had their computer being locked by the department for the fight against cyber activity? What is the department of fight against cyber activity? Department of justice blocked my computer? Computer is being Locked by Department of justice pornography warning? Can the department of justice block your computer? Are you accused with some illegal online activities like when you are watching porn online? Have you really done these stuffs like bogus warning from dept of justice on computer or department of justice froze my computer for child porn? Did your father woke you up this morning and all of a sudden your computer started getting all these pop-ups like porn and such, and then it went to this lock screen telling us if we don't pay 0 fine, then the criminal charges will come; is this a real scenario? My android phone Samsung Galaxy S4 has this United States Department of Justice Virus on it and I am trying to get rid of it, I got this DOJ virus warning message asking for a code while looking for a porn category on red tube. What to do? Are you really in trouble with criminal cases? Nobody wants to be trapped with illegal issues. But the fact is that this US Department of Justice Virus is known to be a scam! You don't have to trust what it says.
United States Department of Justice Virus Locked Computer or Android Phone Screen? How to Unlock Your Computer or Android Phone From The Warning Notice?
This warning message from the Department of Justice Virus (DOJ Virus) claims that if the user attempts to remove the block from the computer it will wipe out their entire computer. This is just a scare tactic, but it is very hard to remove the block and many end up paying the $300 in hopes that it will be removed once the payment is verified. Well, it won't because the hackers just scam their victims and then move on to the next one. The only way to remove that block and to get the computer working properly again is to delete all of the virus files that were installed into the root directory of the computer. Sending the money in will not fix the computer and so many people fall for this scam and send it in because they fear the threats in the message. None of it is real and it is important to have it removed from the computer as quickly as possible. The detailed instructions below explain the steps that are needed to fully remove the Department of Justice Virus (DOJ Virus) files from the PC. Once removed run a system check to ensure that no additional malware was installed. United States Department of Justice Virus (also known as US Dept. of Justice virus) can be categorized as a ransomware which belongs to PC virus – the famous one called FBI virus scam. In today's modern world, as computer industry is developing fast, PC viruses play against it constantly. PC users suffer a lot from different computer viruses which have been put on the net by hackers in order to find a way of "earning" money or deceiving money in a better explanation. Why is that? This department of justice blocking your computer ransomware has several common characters and various versions based on different locations or languages. What are the common characters? First of all, they will block you from accessing the computers all of a sudden. You have no idea where it comes from. And second of all, you are usually reported on playing against the national laws online. Specific reasons will be listed on the warning pages. The most important part is that, they all want money from you in order to unlock your computers. It can be not only Ukash scam but also Moneypack scam. I got that dept of justice virus that locked up my computer saying i had to pay 450 dollars to unlock computer. Have a department of justice block on my computer, says something about a fine to be paid by moneypak, Not sure how to do that. I was online and this Dept of Justice Screenshot came up. I could not exit United States Department of Justice Virus at all. It said to pay $300 and I did using moneypak. I knew It had to be a scam but I couldn't do anything. My friend has received the FBI notification that required him to pay 200 dollars to unlock his computer. Is the Police involved for watching porn and how can we unlock it? What do you do when you your computer gets locked  by Department of Justice, it says department for the fight against cyber activity. Laptop screen struck on Dept of Justice page how to resolve? By learning all these characters of a PC ransomware, one will be able to judge quickly when their PCs get locked and won't be tricked easily.

Your computer has been blocked by The Department of Justice Virus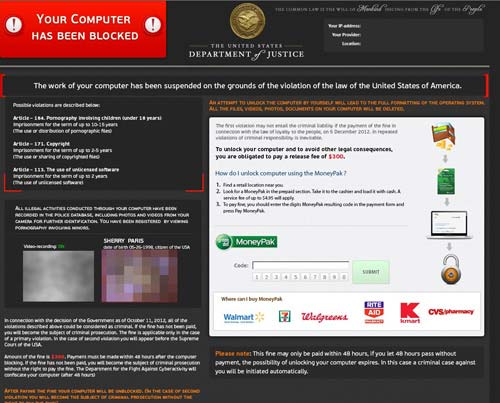 The work of your computer has been suspended on the grounds of the violation of the law of the United States of America. With capital letters in red background saying YOUR COMPUTER HAS BEEN BLOCKED by the department of justice, United States Department of Justice Virus locks your computer screen completely. You can't access anything on the computer because all you can see is this warning page. To make it more real, hackers even put your IP Address, web cam and voice recorder on it. Your web cam will be automatically turned on and you will see your own image on the locking page. You are also told that voice is being recorded. It's quite a shock to you, isn't it? However, this is indeed a huge scam! This US department of justice ransomware is used by hackers to collect as much money as possible. Money will be requested in order to unlock your computer. But instead of sending the money to the State's account, you will send them to remote hackers directly! Once the payments are done, you will not be able to get back the money. Computer virus request to send money order? Department of justice locked computer virus,i think this is false law accusations online department of justice, how do i defeat the department of justice suspended page?
Kindly Reminder: Since this United States Department of Justice Virus is not real, one should try to get rid of it as soon as possible! With it on your computer, you cannot use the PC any more. Contact Online PC Expert now if you are not familiar with any virus removal process.


Computer Blocked by Department of Justice Virus?
Why is your computer locked by this department of justice virus since you haven't done anything listed on its locking screen? Have you really violated laws? When the locking notice itself is not real, all the contents it posts are not reliable as well. You are not a law breaker. You will not be caught to court or jail because of not paying. What are the real reasons for you to come across this scam virus on your computer? Is your antivirus software not good enough? As a matter of fact, there isn't a perfect antivirus program for everything. You can't expect one program to catch all viruses. Besides, hackers use this ransomware to collect valuable information and data. They are familiar and expert in computers and programs. United States Department of Justice Virus has been given this ability to bypass most antivirus protection and get into the infected system without approval from PC owners. In order to get infected and locked up by this scam, you may have visited some hacked sites or links online, installed malicious programs or downloaded attachments from spam emails etc. Once the computer system get vulnerable, this department of justice virus will have its chance to get in.
New US Department of Justice Virus $300 Screenshot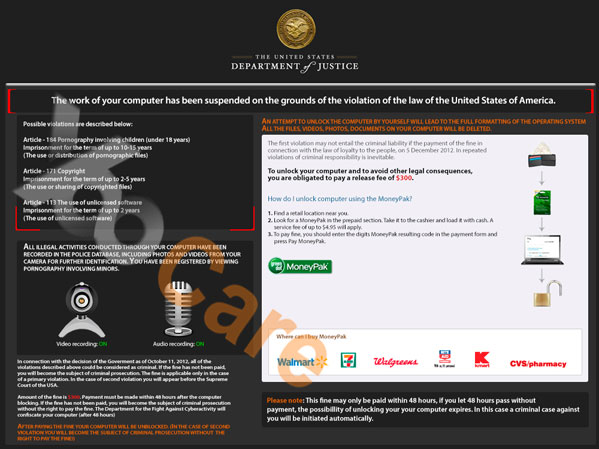 New The United States Department of Justice Virus Computer Block Screen (You Have to Pay a Fine of $400)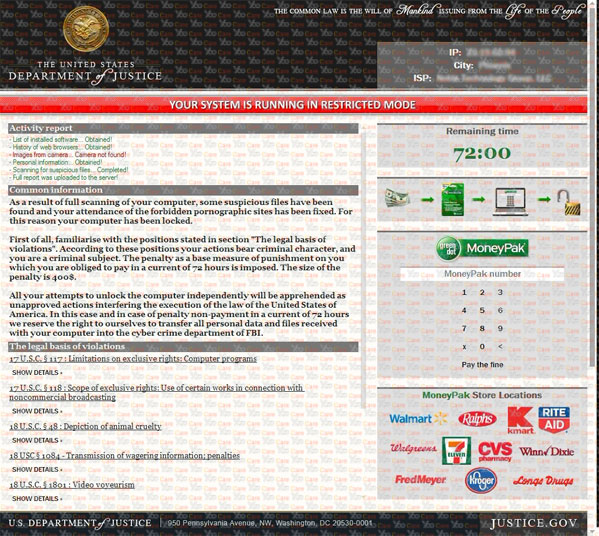 New Variant of United States Department of Justice Virus Moneypak/Vanilla Reload/Reloadit Scam $100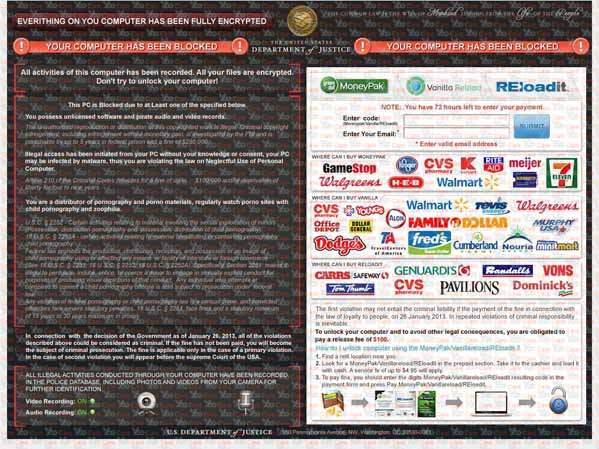 Troubles From The Fake US Department of Justice Virus
The Department of Justice Virus (DOJ Virus) is a ransomware attack that is designed to lock the users computer and convince him or her that they must quickly pay a fine of $300 in order to not only unlock the PC, but also to avoid pending legal charges and fines resulting in all of the violations that have been linked to the computer. The virus gives the recipient 48 hours to send in $300 via Greendot MoneyPak, which is a form of prepaid payment that is used to transfer money though the computer.
The screen that is displayed contains a lot of detail and components to attempt to quickly extort the money from the victim. The users IP address is visible, along with their location and ISP (Internet Service Provider), and the virus even has the ability to hijack the web cam and display a video feed. It is then stated that the video is being watched by authorities and being used to correctly identify the owner of the computer, and that they are going through all of the stored images on the computer in order to help with the identification process. These little pieces of information along with the small time frame of 48 hours to pay the fine pressure the users enough that they make the payment out of fear. The Department of Justice Virus (DOJ Virus) is a complete scam but because it uses fear as the motivating factor they are able to trick so many people into paying the fraudulent fine.
This is a virus that sees many of its victims picked up through email spamming and also by compromising files on popular shareware websites and torrent download sites. When it comes to the freeware websites, the hackers pinpoint the popular downloads and them put the Department of Justice Virus (DOJ Virus) files in the download. They target popular music, movie, and software downloads that have a large search volume. Most people that are searching for free downloads know that they are breaking several copyright laws but they do it anyway and are quick to install their new downloads, often ignoring any warnings that the file may be corrupt. This is why the hackers target these websites, because the users are more likely to just install the file without even examining it first.
Another way the Department of Justice Virus (DOJ Virus) is spread is through spam email marketing. The hackers send millions of emails every day that are unsolicited and unwanted. They will put a catchy subject line to get the recipients attention and hopefully lead to them opening the email. A large percentage of the mail will go to spam folders but since they are sending millions of emails daily they are bound to inbox a large amount. The email messages are short and to the point, telling the users to open the attachment in order to see a photo or some other information about them. Out of curiosity many will open it and immediately get infected by the virus. They are able to trick many users into opening the virus packed attachment simply because they want to know what the information states. This is why it is so important to delete any emails from individuals that are not known. One click can infect the computer with dangerous malware.
Once installed, the Department of Justice Virus (DOJ Virus) displays the message that contains the details and the information pertaining to the alleged violations. To unlock your computer and to avoid legal consequences, you are obligated to pay a release fee of $300.
How to Remove Fake US Department of Justice MoneyPak Scam Virus
As mentioned above that most antivirus programs have failed to catch this ransomware, in order to successfully unlock your computer from this fake department of justice message, manual removal is believed to be the most efficient way. Below are some basic steps on how to deal with The United States Department of Justice message Your computer has been blocked virus. Notice: If you do not want to lose any important files or data to this ransomware, please consider doing a backup of all the needed stuff before going through the following steps.
Step A: Reboot your infected computer and keep pressing F8 key on your keyboard. Use the arrow keys to highlight "Safe Mode with Networking" and press E/Enter.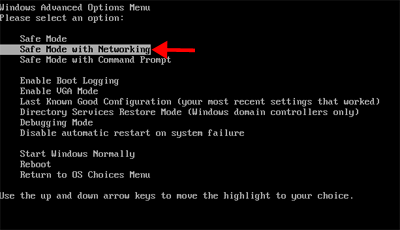 Step B: Press Ctrl+Alt+Del keys together to open Windows Task Manager and then end related process [United States Department of Justice Virus].


Step C: Show hidden files. Go to Folder Options from Control Panel. Under View tab, select Show hidden files and folders and non-select Hide protected operating system files (Recommended) then click OK.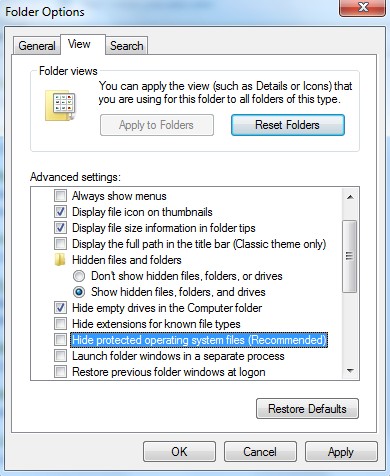 Step D: Press Windows+R keys to open the Run window and then type in regedit to open Registry Editor.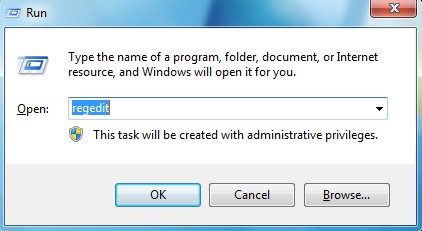 Step E: Find out and delete all these associating files and registry entries as below:
Go to %userprofile%\appdata\local\temp
%AppData%\Programs\[rnd].exe
%AllUsersProfile%\Application Data\.dll
%AllUsersProfile%\Application Data\.exe(rnd)
HKEY_CURRENT_USER\Software\Microsoft\Windows\CurrentVersion\Run "[].exe"
HKEY_CURRENT_USER\Software\Microsoft\Windows\CurrentVersion\Settings "net
HKEY_LOCAL_MACHINE\SOFTWARE\Microsoft\Windows NT\CurrentVersion\Winlogon\Shell ""
Manual Removal Guide On Android Phone or Tablet
Restart your phone or tablet to safe mode to unlock your mobile device from the block virus screen.
Note: "Safe Mode" on Phone starts up without loading any third-party add-ons and different devices have different ways to access safe mode.
For Samsung Galaxy S4 S5: 1. Power down. 2. Turn on and repeatedly tap the soft-button for "Menu."
For Samsung Galaxy S3 and others: 1. Power down. 2. Turn on, then press and hold Volume Down (Galaxy S3 and others), Volume Up (lG, ZTC, HTC One and others), or Volume Down and Volume Up together (various Motorola devices) when the vendor's logo appears.
If you have managed to select Safe Mode, you will see the text "Safe Mode" at the bottom left corner of the screen.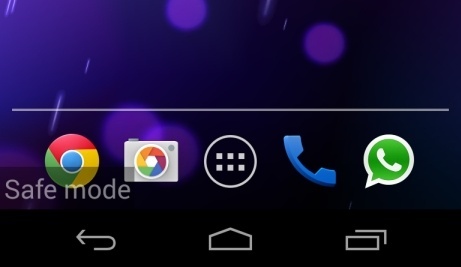 Last, search for the weird things related to the virus to get it removed.
Video Guide on How to Remove US Department of Justice Virus MoneyPak Scam

Alternatively, you can view this US Department of Justice Virus scam removal video guide directly on our website.

Conclusion
It is not a rare phenomenon that one's PC gets locked by a computer ransomware nowadays. Computer viruses are very changeable and various. They can be created every single day into different forms, appearances, names and targets. Most importantly, they are created with one main purpose which is to benefit hackers who create them. PC hackers can hack into vulnerable systems with the help of these viruses. Once your computer get infected by a ransomware like this United States Department of Justice Virus, you will be totally blocked out of your own PC and reported that you have violated the laws of the United States of America. In order to unlock your computer, fines will be required. However, paying does not help unlock your computer at all! To get rid of this ransomware and unlock your PC, try to manually remove it as other nasty viruses. This will guarantee you a safe and clean computer.
Note: Your computer still gets blocked after several reboots? Or your PC can be run under regular mode but without networking? Certain functions are disabled as well? All these are due to the incomplete virus removal. Please contact YooSecurity Online Expert now for complete removal assistance on this United States Department of Justice virus to prevent further computer security compromises.


Published by Tony Shepherd & last updated on February 16, 2015 4:09 am