I was on my safari browser on my iPad when a message came up from the metropolitan police blocking my safari and saying that I have to pay £200 via an iTunes gift card to unblock my safari, I was wondering if you know how to get rid of this as I have read up on it and it seems like a scam. Safari has been locked by Metropolitan Police Virus £200 fine, it said my device has been locked for illegal pornography. How do I get rid of a potential metropolitan police virus on an iPad or iPhone?
Metropolitan Police Virus Freezing Safari on iPad/iPhone – How Can I Unlock It?
Metropolitan Police Virus £200 fine is a ransomware hacking users most from UK or Europe. It is a variant of porn scam things created by hackers. When user browsed the web site on his/her iPad or iPhone and suddenly he got this Metropolitan Police warning block on google and Safari, and it said you had to pay a fine of £100 sometimes £200 immediately, or you will face prosecution for viewing illegal sites (which he/she actually didn't do). Metropolitan Police notification popping up on your Safari or Chrome on your iPhone or iPad is actully a kind of virus or  ransomware which mainly defrauds money from victims. It is not from real Metropolitan Police department. This Metropolitan Police Virus pretends to be from Metropolitan Police to display false warning alert claiming victims viewing pornographic material and for this reason victims have to pay for a penalty of £100 or £200 through iTunes Gift Card. And it threatens that if you can't send the fine within limited time, your data, pictures, contacts and other information will be taken by them, your case will be told to your friends and contacts and even your criminal prosecution will be transferred to court or Metropolitan police(the Federal Criminal Police Office). Actually this Metropolitan Police notice is just a hoax. victims should know that this is a scam and their device like iPhone or iPad now has a Metropolitan Police Virus(malware or ransomware?). Some victims contacted the device provider company for guidance but there is no luck as the company only produce products not provide virus removal service. No one knows how to get rid of the warning screen because people there have very little knowledge of fixing this iPad virus problem. Metropolitan Police Virus blocked iPhone or iPad? How do I actually take it off ? Where do I go to do it?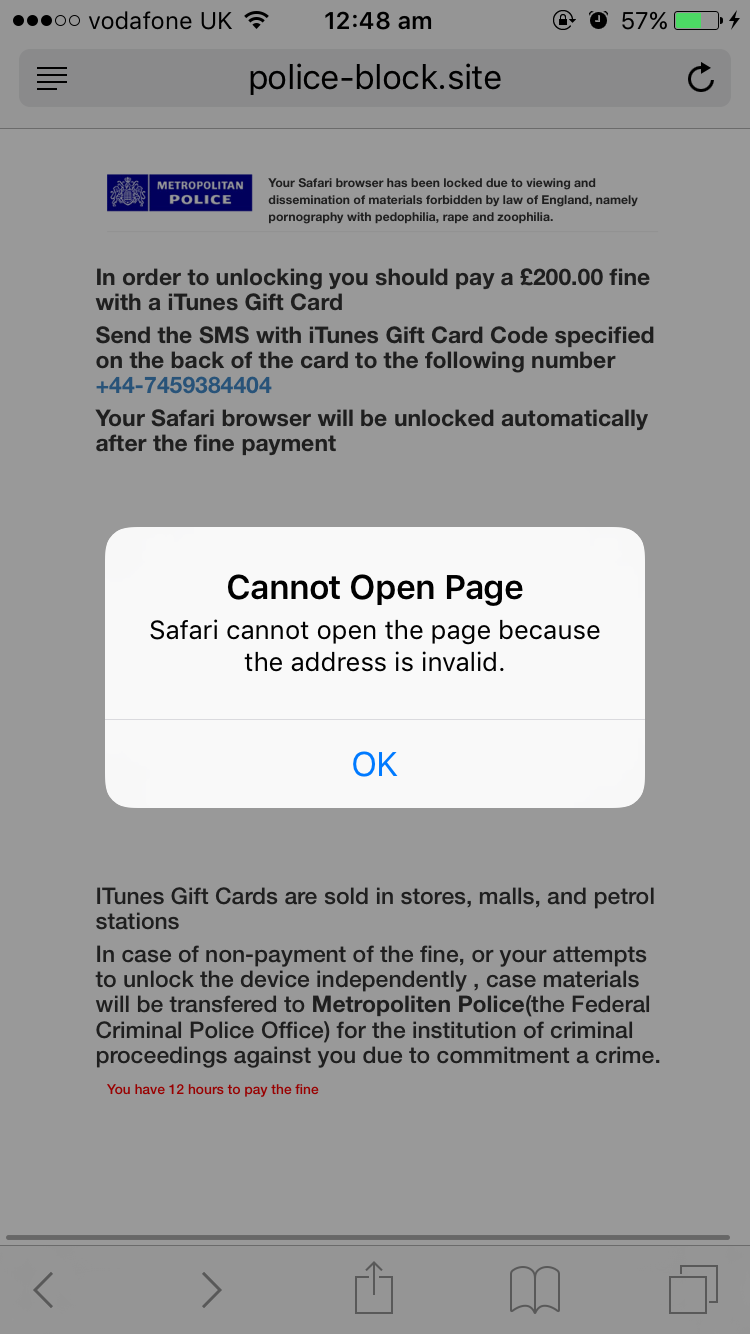 Published by Leo R. Oscar on February 23, 2017 6:19 am and last modified on February 23, 2017 6:26 am.