Can the United States Courts lock your computer and record your IP Address? No. But the United States Courts Virus $300 Scam can lock down your whole screen stating your looking illegal activities then telling you have to pay a fine of 300 dollars within 48 hours to get it unlocked. How to unlock your computer from United States Courts your computer has been locked virus spam? Is there an efficient way to bypass the warning screen safely and permanently? Well, you can save your laptop or desktop by following the guides below.
Computer Locked by United States Courts Virus $300 Scam – How to Remove?
The United States Courts Virus (also known as US Courts Virus or US Courts Child Porn Virus) is a ransomware attack that locks the users computer and impersonates the United States Courts and accuses the user of being involved in illegal computer activities. These activities involve the distribution of pornographic content, spreading SPAM messages, and also the illegal use of copyright material online. It is a variant of FBI scam or ICE Cyber Crimes Center virus. Now, it is important to understand that no legit law enforcement agency is going to lock a users computer and they are not going to make accusations online. If there is an issue they will contact the user directly. The warning message demands that the user pay a fine for $300 to regain access to their computer and it makes additional threats of additional monetary fines as well as legal troubles if the fine is not paid immediately. But is it real United States Courts? If not, how did you get this virus on your computer and how can you get it off your computer? Learn more details below.
The United States Courts Virus scam can get into a computer system by opening an email attachment that contains the attack or clicking on a link that has the virus included in a popular download found of freeware and shareware websites. These sites have huge traffic numbers and the hackers are bound to get thousands of people to download free software, video, or music files that they use to bait the ransomware attack with. These types of sites are often visited without thinking about malicious attacks and then once the computer is locked by the virus they will assume that they did in fact violate the law by downloading the files that actually infected them without their knowledge.
The United States Courts virus is a computer attack that blocks the computer it infects and displays a lock screen notification stating that the computer owner must pay $300 within 48 hours for multiple violations. If not paid within 48 hours there will be criminal charges files and additional fines to pay. The only method of payment that is accepted is a Greendot MoneyPak card, which is a prepaid loadable card that is used to transfer money electronically.
This is a virus that is spread by email spam and the United States Courts virus is embedded within attachments that are sent to millions of users every single day. These emails will contain a very short and to the point message, instructing the user to quickly open the attachment to see what they have found regarding them. It will state that it is a picture or some other piece of personal information. All it takes it opening the attachment and the virus will be installed onto the computer without their knowledge. Another way that the virus gets onto computers is through freeware and sharing websites. The United States Courts virus is placed within downloads and when the user installs these free programs it also unpacks the malicious attack. And no anti-spyware can figure it out, the best way to rescue your computer is manual removal.
To save your computer, Live Chat with YooSecurity Expert Now. You can follow the manual removal of United States Courts Virus guide below to get your problem fixed. (For advanced computer users only). If you are not sure what to do to rescue your laptop or desktop, you can get professional tech support with YooSecurity Experts.


Screenshot of US Courts Virus $300 Scam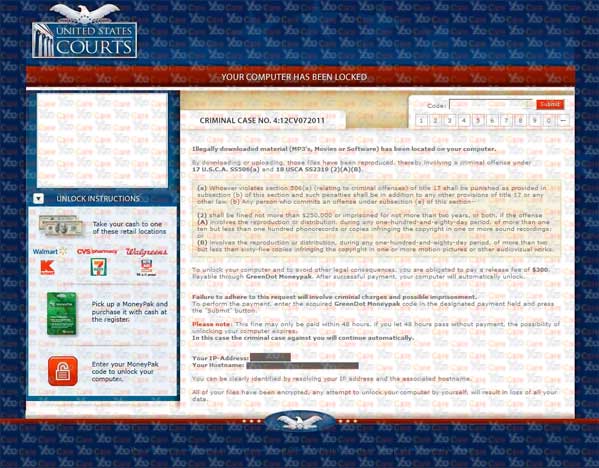 New United States Courts Virus Computer Lock Screen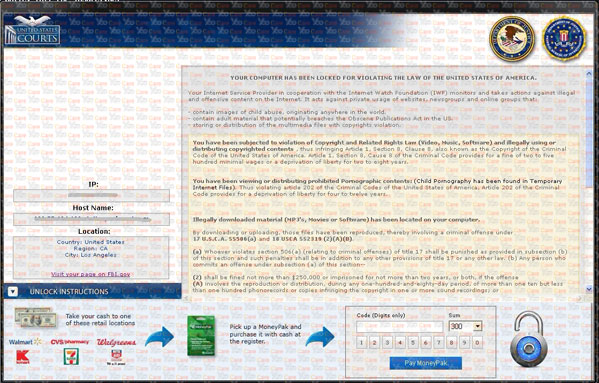 Symptoms or Harmfulness of United States Courts Virus $300 Scam
Once your computer was hit by the scam then your screen has been locked fully. The lock screen message claims that the computer is being blocked because copyright violations have been tracked back to the computers IP address, as well as spam email complaints and even claims of distributing pornography. The message is tailored to the user based on their geographic location, but an example of a warning message variation can be seen here, showing why so many users get scared into paying the fine when they realize their PC has been locked by United States Courts virus. Example warning message:
YOUR COMPUTER HAS BEEN LOCKED
Criminal Case NO. 4:12CV072011
Illegally downloaded material (MP3's, Movies or Software) has been located on your computer.
Generally speaking, the United States Courts virus completely locks down the computer and there is no way to remove the block or even access any other windows or files while the virus is installed. The warning message displays the users IP address and location to scare them and if the computer has a webcam installed it has the ability to hijack that and display a live video feed within the message. This is just another way that they attempt to scare the user into thinking this is a real serious violation and they hope that they immediately run out to the store and purchase the $300 Greendot MoneyPak card.
The victim tells :"There is a United States Courts page that appears once I logged in my computer and says I have 48 hours to pay 300 dollars or else my computer will be locked. Sometimes it says i have to pay 400 dollars or get fined but it wont let me go to my homepage it only comes up to a webpage". Can u be fined for looking at child porno? The virus states that once the payment is verified the block will be removed and the user will once again have access to his or her computer. This is not accurate, as the hackers will never remove the block. Once they receive payment the will never be heard from again.
Best Way to Remove US Courts Virus $300 (Moneypak Scam) Efficiently
I have the moneypak United States Courts virus on a computer and the normal instructions of reboot in safe mode does not work. can anyone help on this? The only way to get the computer unlocked is to fully remove the virus from the targeted computer. Even those that pay the fine soon find out that the lock will not be released. We have provided full manual removal instructions below, and the reason we suggest a manual removal is due to the fact that the virus spreads deep into the system and this procedure checks all of the databases and files to make sure all of the United States Courts Virus files are removed completely.
Before all you people who are going to get in safe mode with networking or safe mode with command prompt, you need to keep hitting F8 key, where is the key?

Step A: Restart computer in safe mode with networking. To do this, just need to press F8 key constantly before the system is started like this (For Windows XP, Windows Vista and Windows 7), to boot in safe mode with networking in Windows 8, click here to learn more: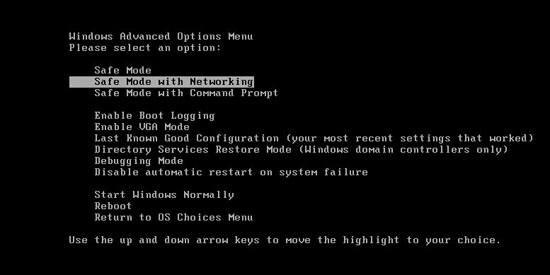 Step B: Press Ctrl+Alt+Del keys to open the Task manager to stop the progress of United States Courts Virus. Because the name will be changed fast, it will be show with different name.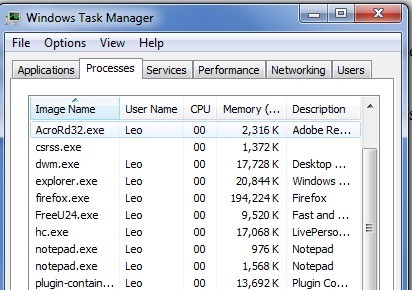 Step C: Delete all the files related to US Courts Ransomware Malware.
%AppData%\random
%CommonStartMenu%\Programs\*.lnk
%Desktop%\United States Courts.lnk
Step D: Delete registry entries of United States Courts scam created in computer system.
By the way: It is fake US Courts virus scam. Manually remove United States Courts virus is a rather difficult work, if you are not a professional computer expert. We recommend you to get YooCare/ YooSecurity online service 24/7 in time. This is the real fastest and safe way to remove it.
As mentioned above, the only way to remove the block is to delete all of the United States Courts virus files that have been installed onto the computer. The files like to bury themselves deep within the root directory so a manual removal process is suggested to ensure that they are all deleted. The video instructions below show the steps required to remove the virus fully and regain control of the computer. Once the scam virus is deleted it is a good idea to run a complete scan to make sure that it did not attract and install any other malicious programs.
Video Guide to Remove US Courts $300 Scam Ransomware From Regedit

Alternatively, you can view this US Courts virus scam removal video guide directly on our website.

Summary:
This ransomware is widely spread and fool computer users with its sneaky tactic. The hackers get a lot of computer users to believe that they did in fact break the law and they figure that quickly paying the $300 will help to keep them out of trouble. They pay the fake fine out of fear and since the United States Courts Virus requires them to pay it through a MoneyPak there is no way for them to trace the payment or reverse the transaction once they realize that they have been a victim of this virus. Indeed, it won't make you any comfortable or help you unlock your computer automatically after you go through the payment to the fake fine supposedly claimed by the United State Department. All information, including your IP address, the specification of laws you are claimed to violate and steps to fulfill the payment to unlock your computer, etc. is totally false and fraudulent, only to collect fake fine from unwary users and attack their computers to further pilfer sensitive information from them without any consent. So this is just a scam, you won't be arrested or not be caught to court or jail. Although it looks very legit and all, but if after reading it over a few times, you could pick up that the grammar was not very professional. The tricky ransomware does not only block your access to Windows desktop but also attacks your firewall and security protection to disable their functions. Since no anti-virus program can handle this ransomware, the best way to remove it is manual removal with expertise. That is the best choice to save your computer.
Special tips: Spending a lot of time fixing your computer but failed? To avoid messing up your files and data in the system, please contact PC experts now to unlock your computer and remove United States Courts Virus $300 Scam safely and completely.

Published by Tony Shepherd & last updated on January 16, 2014 3:40 am