Computer locked with site asking for payment, it is the FBI virus computer locked and wants us to pay $300 by MoneyPak. Why FBI locking our computer? On our computer it says that we've been looking at child pornography and we haven't? When California law viewing porn computer locked up and FBI asking for green dot money sum of 300$, what do we do?!

How to Unlock Computer From FBI Virus Locked Screen?
The FBI virus (also known as FBI Moneypak virus or FBI virus scam) is a very tricky malware that is placed onto the computer through Trojan lock screens. There are several versions of the FBI virus, with each one claiming to come directly from the Federal Bureau of Investigation or United States Department of Justice. The warning message that is displayed to the user looks very authentic with official logos and seals of the FBI. When this warning message pops up it locks the computer and disables all functions of the computer, and the message displayed claims that the computer has been locked because it has been linked to copyright violations, along with allegations of sending SPAM email and the distribution of pornographic material online. Sometimes the computer displays white screen, if your PC is locked up with a notice from the FBI stating that you have been watching child porno and must pay a fine of $300. What to do to remove FBI virus without downloading things?
All of these warning messages are the work of computer hackers, who use these threatening messages as a way to extort money from computer users. It is important to understand that the FBI would never lock a user's computer and demand a fine be paid via Moneypak through the computer, as these viruses do. They are simply just malware attacks and need to be deleted immediately from the computer. The messages all ask for payment for violating the law, and claim that if the fine is paid quickly (usually within 48 hours or 72 hours) that there will not be any additional fines and there will not be any criminal charges processed. So, they are using fear along with a real looking message as a way to scare infected computer users into paying this money.
There are a half dozen different versions of the FBI virus, and they all tend to require that a different prepaid payment method is used. A lot of these viruses are targeted by region, and they demand fines anywhere between $100 and $300 each (Sometimes it can be $100, $200, $300, $350, $400, $450 or $500). The number is low enough that many computer users are so scared of what may happen if they ignore the message, that they quickly pay the fine. The message also claims that the computer will be unblocked once the payment is verifier. They will soon realize that they have been scammed when the PC remains locked even after the time elapses from the point that the fine is paid. The message states that it could take up to 72 hours for the unlock to be processed, but that is not true, as the only way to remove the computer lock is to delete the FBI virus from the computer.
To save your computer, Live Chat with YooSecurity Expert Now. You can follow the manual removal guide below to get your problem fixed. (For advanced computer users)


Screenshot of FBI Virus Asks For Payment $100, $200, $250 or $300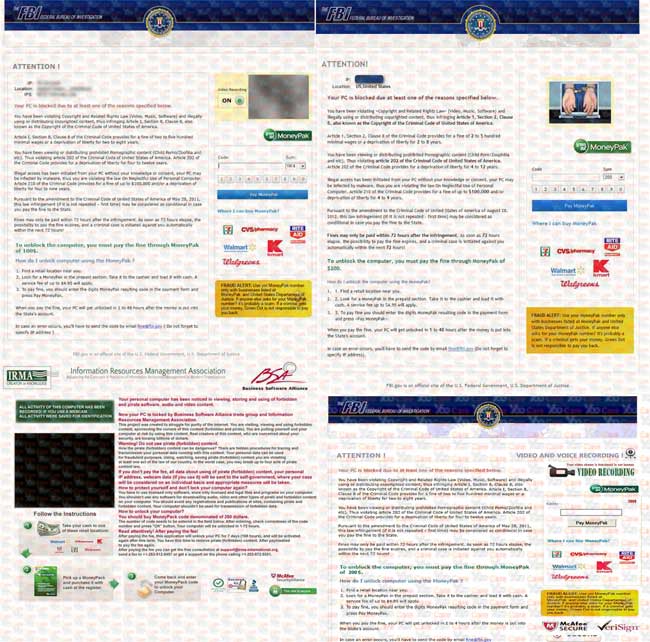 Screenshot of FBI Virus Asks For Payment $350, $400, $450 or $500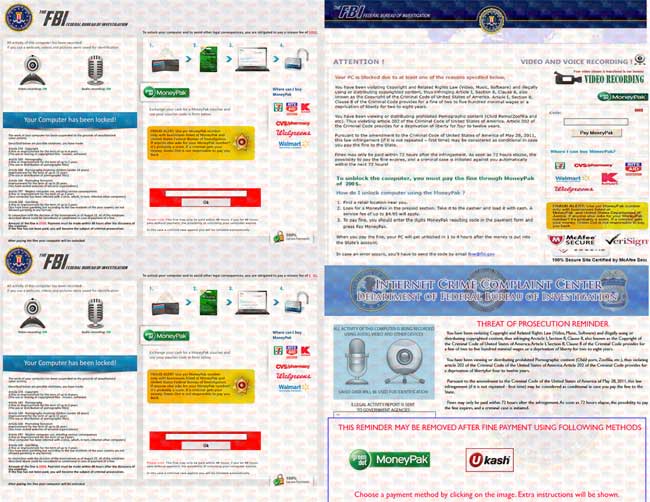 Why Is There A Lock On My Computer Saying FBI Has Locked Your Computer?
There are a couple ways that the hackers are able to spread the FBI virus across so many computers. One of the ways involves hiding the malware within email attachments and sending out millions of SPAM messages every day. The body of the email encourages the users to open the attachment, and if that is done the FBI virus will automatically install on the computer and launch the computer lock and warning message. Unfortunately, computer users still open up email from unknown senders and this is one of the ways that this virus is spread so quickly across the Internet.
The criminals behind this virus are also hiding it within download files on the popular files sharing websites that receive millions of visitors every day. These visitors download free files and don't think about the possibility of additional attacks being packed within the downloads. This careless practice leads to millions of users picking up the FBI virus this way.  To unlock your computer and avoid other legal consequences, you are obligated to pay a release fee of $300.00. How do I unlock computer using MoneyPak? 1. Find a retail location  near you.2. Look for a MoneyPak in the prepaid section. Take it to the cashier and load it with cash. A service fee up to $4.95 will apply. 3. To pay fine you should enter the  digits MoneyPak resulting code in the payment form and press Pay MoneyPak.
The most common forms of the FBI virus include the following:
FBI PayPal Virus: This is one of the newer versions of this virus, and just like the others is locks the entire computer and demands that a fine of $100 be paid immediately in order to avoid criminal prosecution and additional fines. The hackers request that the money is sent in the form of a PayPal payment. If the money is sent for "goods and service" then there is a chance that the computer user can initiate a dispute once they realize that they have been scammed, but if the funds are sent as a gift then there is nothing that can be done, and the money will be lost forever.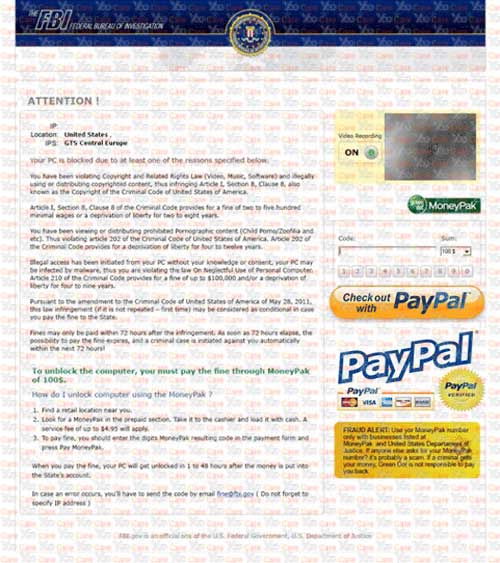 FBI Cyber Crime Division Virus: This version of the FBI virus pretends to come from the cyber crime division and demands that a $300 fine be paid in the form of a MoneyPak prepaid card. This version also includes one of the newer designed warning screens with additional graphics and logos to make it look even more real.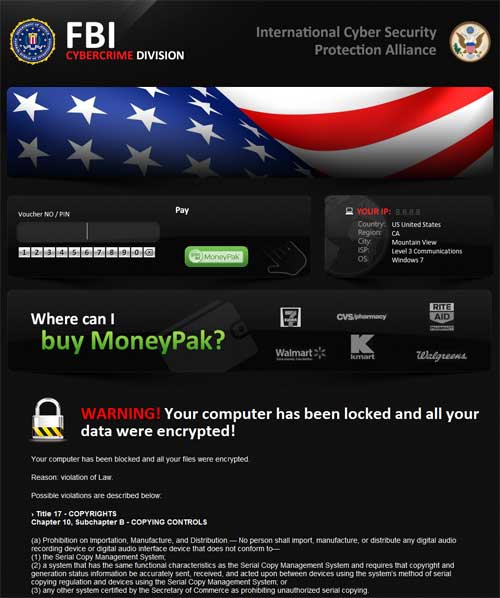 FBI Online Agent: This is another version that demands that the fine is paid with a MoneyPak card, but this one asks for $200 to avoid further action by the FBI. In addition to the regular accusations of sending SPAM email and violating copyright laws, it also accuses the user of participating in promoting terrorism to the list of charges.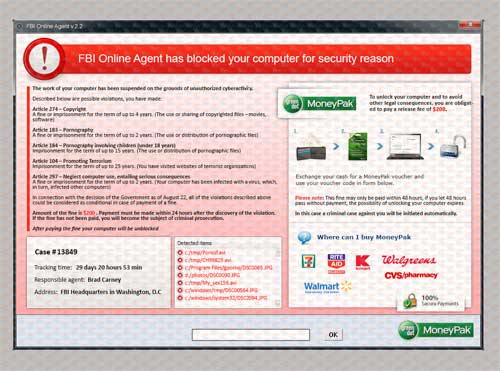 FBI Virus Black Screen: This FBI virus version features a blank screen and an audio message that states the same reasons as the other versions and demands that $200 is paid right away to regain control on the computer and to avoid criminal charges.
FBI Green Dot MoneyPak Virus: This warning message is the most detailed, with complete steps on how to get the prepaid payment, down to a list of retail locations that sell the Green Dot MoneyPak's. They demand $200 and there are also versions that hijack the webcam on the computer and claim that the FBI is watching and using the video feed to identify the computer user.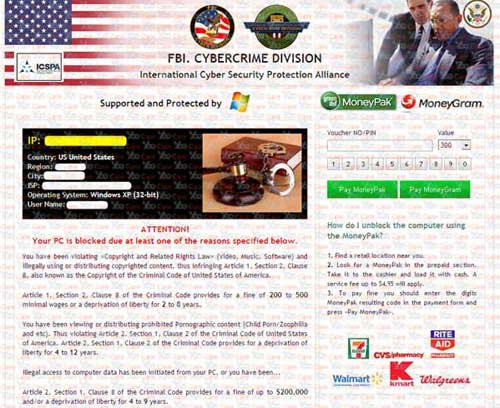 FBI MoneyPak Virus: This is the most common version of the FBI virus and includes pieces of all the other versions. It has a very detailed warning screen that also includes the webcam access and the detailed instructions on how and where to obtain a MoneyPak in order to pay the $100 fine. This is the smallest number, and that might be due to this being the most widespread version of the virus. A small amount like this is likely to be paid out of fear alone.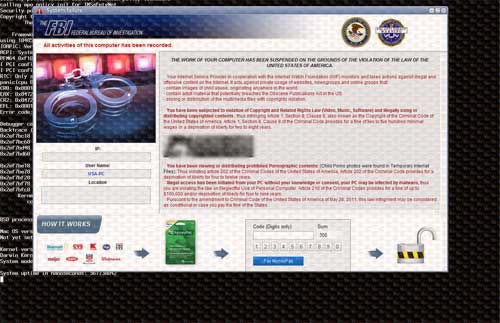 Best Way to Remove FBI Virus Computer Blocked Scam Efficiently
Virus that claims to be police for copyright wants $300 to fix computer. I received a nasty virus scam this morning claiming some bogus that I've viewed child pornography and illegal software. I know its a scam cause i have never done either. They claim to be FBI and want Moneypak of $300 or i will go to "Supreme Court". Can you help me get this bug off my computer??? I am a victim of the FBI virus Moneypak scam its asking me for 300.00 in 72 hours and i am scared i was trying to download a movie i have always used the same website. This has never happen to me before. What do i do?
It is important to delete this virus from the computer as quickly as possible to prevent any additional threats being installed on the computer. The only way to unlock the computer is by deleting all of the files linked to the FBI virus. There are complete instructions below that show how to manually delete the files step by step, allowing the user to regain control and remove the lock and malicious files picked up by this virus. Once the FBI virus has been completely deleted it would be a good idea to activate an anti-virus program on the computer and make sure that it runs daily scans on the system while keeping itself updated. This will help to make sure that other attacks similar to the FBI virus are not picked up.
Before all you people who are going to get in safe mode with networking or safe mode with command prompt in Windows XP, Vista or Windows 7, you need to keep hitting F8 key; Click here to get guide on how to boot in safe mode with networking in Windows 8.

Step A: Restart computer in safe mode with networking. To do this, just need to press F8 key constantly before the system is started like this: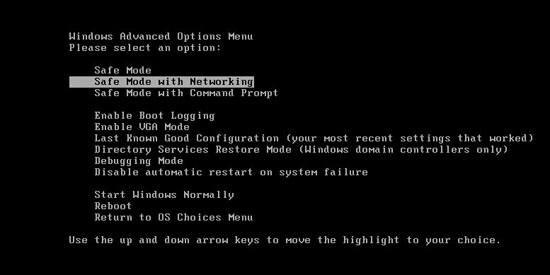 Step B: Press Ctrl+Alt+Del keys to open the Task manager to stop the progress of FBI Virus Scam Malware. Because the name will be changed fast, it will be show with different name.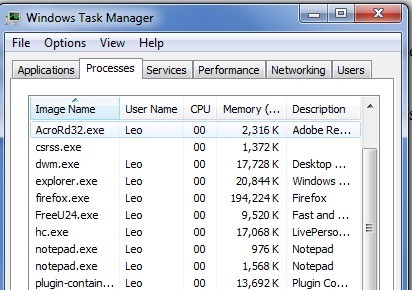 Step C: Delete all the files related to FBI moneypak scam.
Login to profile in which you are getting the malware…
Go to my computer
Then press ALT button once
Go to tools on menu bar
Goth select Folder options…
Click on view tab
Select Show hidden files, folders, and drives
Click OK button. Next clean out the malicious random files and data.
Step D: Delete registry entries of FBI Virus hoax created in computer system.
HKCU\Software\Microsoft\Windows\CurrentVersion\Run\Random Letters
HKLM\SOFTWARE\Microsoft\Windows NT\CurrentVersion\Image File Execution Options\Random Letters
I need help fixing my laptop. It is the FBI virus, and it has completely locked my computer and says I must pay $300 or $500 with a Moneypak to get it unlocked. I am using it right now but only in safe mode with networking. I have tried downloading 3 different antivirus software but they didn't fix it. Two of them  scanned for viruses but didn't find the one that is causing the problem. And the last one found the virus after doing a scan but wanted me to pay $400 to get it rid of  it. Do you have any other solutions? What should I do about an FBI notice on my computer? YooCare/YooSecurity provides the most professional online PC service. YooCare experts can plan out a solution to access your computer in safe mode with networking at first. When it's possible to do that, their experts will do as follows:
Video Guide to Remove FBI Warning Virus From Regedit
Note:
I got the FBI virus and so now my laptop Toshiba won't work anymore and my windows operating system was broken b/c of this stupid FBI virus that I got and so now I can't access to my desktop and get back all my very infinitive data pictures, videos and etc and so do you know how I can get back all my data back? Watching porn on my computer now says its locked and i have to pay a $450 fine in 48 hours, is there a scam going saying your PC has been caught viewing child pornography and demanding $300 fine to lock your PC? I need help with FBI virus scam that freezes your PC saying something about involvement in child pornography, that i assure you didn't happen here! Yeah, recently, user got some sort of screen that says your computer has been locked from illegal activity and nonsense. It comes up as a department of justice asking for 450.00 to unlock your computer, and you can't get on your computer unless you go on with networking, as soon as you boot up and see the windows desktop screen it has red background says you must pay 300 bucks, and notes within 48 hours or you'll get investigated. Don't trust that police scam but remove it away before it messed up your whole computer.
Special tips: Spending a lot of time fixing your computer with no success? Don't want to get things worse, please contact PC experts now to unlock your computer and remove FBI virus safely and permanently.

Published by Tony Shepherd & last updated on January 15, 2014 3:00 am