Can't get rid of XP Protection 2013 virus from your computer? I am stock with the alert pops up on my laptop,  i don't know how i got this thing, is it real or fake? I have MCA fee installed already, but that one still gets on my computer scanning from time to time, i am confused about this, what is  more, i am unable to clean it out, please help!!!!!!!!!!!!!

What is XP Protection 2013 – How to Remove?
The XP Protection 2013 virus is an attack put together by hackers that they have made to resemble a legitimate virus removal tool. When it is installed on the computer it will run a fake scan that appears to be real and then will list off a bunch of malware and virus files that it has just detected. If the option to remove the infected files is chosen then it will alert the user that they need to upgrade to the full paid version of the software in order for it to complete the virus removal. This rogue software spreads fast worldwide, it is a variant of XP Security Cleaner Pro or XP Internet Security 2013. The fake firewall alert keeps popping up and disable your task manager and registry editor, crashing down your system on startup. What to do to save your machine?
When running, XP Protection 2013 will constantly display fake security alerts and weird pop-ups about non-existent infections in your computer, so you should ignore those fake alerts just like the false scan results. The main goal of this fake antivirus program is to scare you into thinking that your computer is infected.  Also note that the Protection 2013 rogue program may block antivirus and antispyware programs that is why you will have to ends its processes before installing any removal tool.
This is one virus in a list of many that attempt to charge the user money for upgrading a piece of software that doesn't even work. The XP Protection 2013 virus files that it "detects" do not even exist and each time the computer is shut down and restarted it will alert the user of the same files each time. There is one single goal, and that is to collect the users credit cared details. The charge for the "software update" is the least of the victim's worries, as there is the potential for future fraud. The hackers might make additional fraudulent purchases themselves or they will bundle up all of their stolen credit card data and sell it on the black market to other cyber criminal groups who will then use it for fraudulent activities.
To save your computer, Live Chat with YooSecurity Expert Now. You can follow the manual removal guide below to get your problem fixed. (For advanced computer users)


Screenshot of Fake XP Protection 2013 Alert
Unregistered Version Attention: DANGER!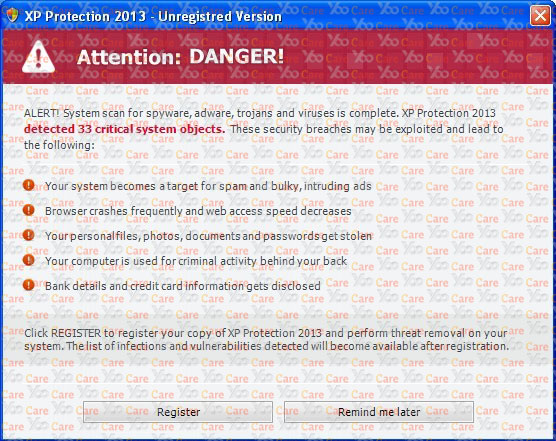 XP Protection 2013 has blocked a program from accessing the internet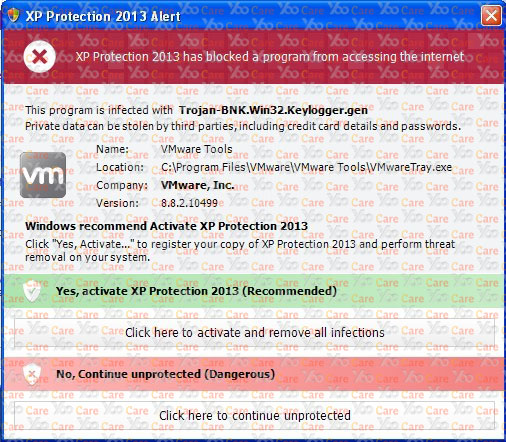 Symptoms or Harmfulness of Protection 2013 Rogue Antispyware
Once the XP Protection 2013 virus is picked up, it will begin to change the system settings to make the fake scan and alert pop up when the user attempts to access certain programs or features. The modified files will prevent the user from accessing them until the virus is removed completely from the computer. The message displayed when the user will attempt to open these programs is:
Protection 2013 Alert
XP Protection 2013 has blocked a program from accessing the internet
Internet Explorer is infected with Trojan-BNK.Win32.Keylogger.gen
Private data can be stolen by third parties, including credit card details and passwords.
Paying the fee will not remove the virus from the computer, and if the files are left in the system they will continue to slow down the operation speed, and may eventually lead to a system crash. The best solution is to remove all of the virus files manually and make sure that every area is cleaned, removing every file linked to the XP Protection 2013 virus. For complete removal instructions please see below.
Manual Removal Step by Step Guide
Before all you people who are going to get in safe mode with networking or safe mode with command prompt, you need to keep hitting F8 key, where is the key?

Step A: Restart computer in safe mode with networking. To do this, just need to press F8 key constantly before the system is started like this: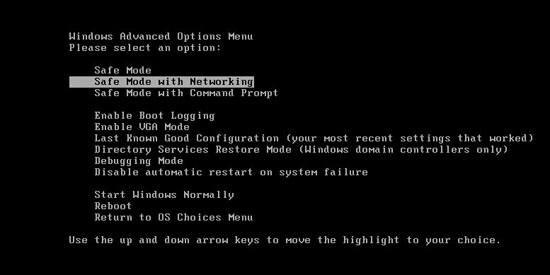 Step B: Press Ctrl+Alt+Del keys to open the Task manager to stop the progress of this Malware. Because the name will be changed fast, it will be show with different name.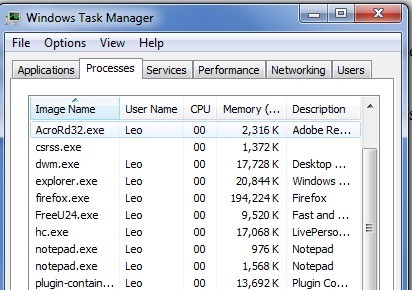 Step C: Delete all the files related to XP Protection 2013 Malware.
Go to %userprofile%\appdata\local\
%AppData%\Programs\[rnd].exe
%AllUsersProfile%\Application Data\random
Step D: Delete registry entries of Protection 2013 scam created in computer system.
HKEY_CURRENT_USER\Software\Microsoft\Windows\CurrentVersion\Run "[\].exe"
HKEY_CURRENT_USER\Software\Microsoft\Windows\CurrentVersion\Settings "net
HKEY_LOCAL_MACHINE\SOFTWARE\Microsoft\Windows NT\CurrentVersion\Winlogon\Shell ""
The malware doesn't mean to damage the computer system like many of the other viruses. But the hackers have just one goal with this fake anti-virus program, it made you thought there were lots of viruses, spyware in your computer that have been detected by this virus removal tool. This is not real but rogue antispyware, what it tells are not real, it just want to get money from computer users.
Video Guide to Remove This Fake Alert
Note:
All of the XP Protection 2013 virus messages are fake, and the only reason they list them off is to scare the user into quickly entering his or her credit card information to update to the full version as they want to remove the allege threats as soon as possible. The hackers who developed this attack did their research, and made it appear to resemble the same virus scanning software that comes installed with most Window based computers, and since the user will visually recognize it as that they will typically pay the fake upgrade fee and hand over their credit card information to the criminals.
Special tips: Spending a lot of time fixing your computer with no success? Don't want to get things worse, please contact PC experts now to unlock your computer and remove XP Protection 2013 Virus scam safely and completely.

Published by Tony Shepherd & last updated on May 2, 2013 3:38 am