FBI Anti-Piracy Warning that computer is locked and they want me to pay 0.00 fine. And what do i do if i get fake FBI Anti-Piracy Warning Virus popping up On My PC or my Android Phone Samsung galaxy S6? I can't use my phone because this FBI thing keeps popping up, what is the FBI anti piracy warning green dot moneypak on android phone and but how are you going to remove the spam that when i can't even open anything on my phone? Turned on PC and screen says computer has been locked, it requires to pay a fine of 0 to unlock the computer, how to remove FBI Warning virus scam locked screen even when its locked? How to unlock PC from FBI anti-piracy warning screen? What is FBI Anti-piracy warning on android phones? So i have just come across the FBI Virus thing on my Android Phone, looked up on my PC what it was, it scared me so much, what can I do to remove it? Do you know FBI Piracy warning virus removal guide on phone? Well, you can completely get rid of Green Dot MoneyPak FBI Anti-Piracy Warning Seal Virus here.
What is the Green Dot MoneyPak FBI Anti-Piracy Warning Virus On PC/Android Phone? How do I clear my phone from porn viruses?
The Green Dot MoneyPak FBI Anti-Piracy Warning virus is a particularly nasty form of computer viruses known as ransomware. It is a new version of FBI Moneypak Virus Scam, FBI cybercrimes scam or Homeland Security Virus. The way this virus works is to disguise itself as the law-enforcement agency FBI and by use of Trojans it locks down the computer system. The FBI virus will redirect users to a message claiming that the computer has been involved in illegal activity (usually cyber crimes, such as pirating of copyrighted material or child pornography, etc.) and will then demand a penalty fine of $100 to $200 in order to unlock the computer, which must then be received within 72 hours. Payment is demanded by MoneyPak cards, which are prepaid credit cards available for purchase at Walmart or Walgreens type department stores.
In addition, Green Dot MoneyPak FBI Anti-Piracy Warning ransomware virus will also allege that the victim (the computer owner) may face criminal penalties such as jail time if the ransom is not paid on time. Most importantly, anyone infected by this virus should know that claims made by the fake FBI page users will see are not at all real and the actual FBI is not involved. What's worse, paying the ransom by using MoneyPak or other pre-paid cards will not actually remove the virus from the user's computer. Any attempt to use an activation number to remove Green Dot MoneyPak FBI Anti-Piracy Warning virus will lead to further infections and intrusions. So you need to seek for an efficient way to clean it out.
To save your computer, Live Chat with YooSecurity Expert Now. You can follow the manual removal guide below to get your problem fixed. (For advanced computer users)

Green Dot MoneyPak FBI Anti-Piracy Warning Virus Scam Pay $200 Fine  Screenshot
New Version of FBI Anti Piracy Virus Warning $200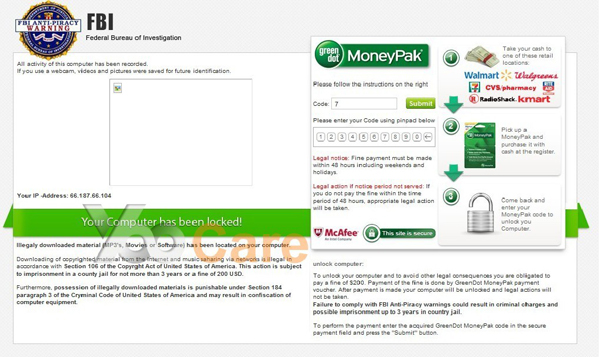 FBI Anti-Piracy Warning Virus Created By Cyber Criminals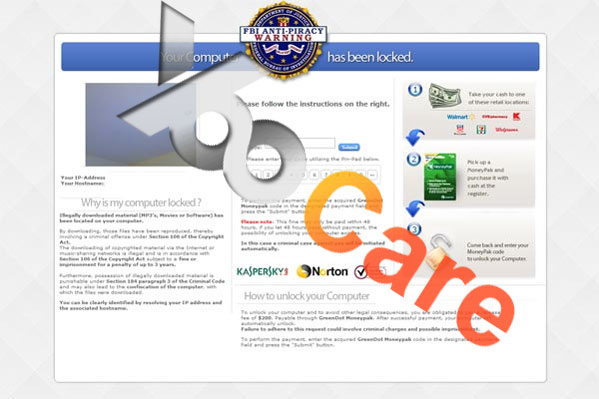 Fake Green Dot Moneypack FBI Warning  Virus Scam Asking for 200 Dollars, you have to pay a fine within 72 hours
After Fake FBI Anti Piracy Warning Locked out your computer, you can't do anything. If you have already purchased the Moneypak and entered the code, you might find out nothing happened. When you try to restart your computer to get in safe mode with networking or safe mode with command prompt, you may get the White Screen (feedback from one of the victims: my computer won't let me access anything when i restart it has a white screen and i can't get to anything) or Blue Screen shown as below:
Infected with Fake FBI Warning Virus. You Got white screen on laptop saying please wait while the connection is being established. Page is loading, please wait. This may take up to 30 seconds White Screen.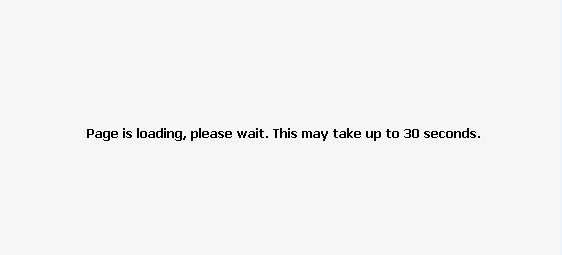 When you want to remove white screen virus in command prompt, then a blue screen pops up and says "a problem has been detected and windows has shut down to prevent damage to your computer' During Green Dot MoneyPack FBI Anti-Piracy Warning Virus Scam Removal Process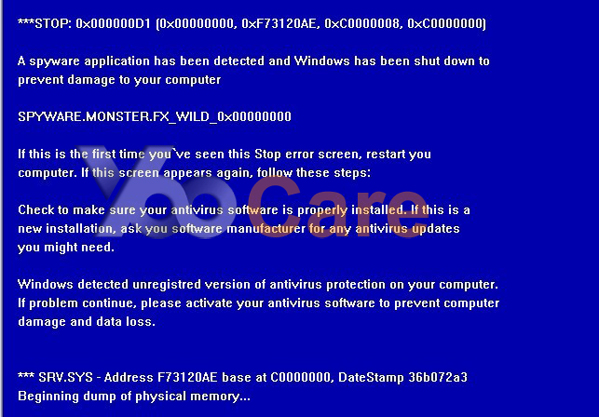 In addition, when the fake FBI page occurs, a video screen pops up which is streamed from the user's connected webcam and will appear to be "recording." If the user does not have a webcam, the screen will appear blank and will still appear to be recording. This Green Dot MoneyPak FBI Anti-Piracy Warning virus and others like it are indeed capable of recording you through your own webcam!
The Green Dot MoneyPack FBI Anti-Piracy Warning Virus may cause Antivirus software to malfunction. In many cases the virus will have progressed too far for a simple scan removal and will disable removal software. If you are infected with this kind of ransomware, your personal and private material is at very high risk. If the infected computer is powered on and connected to the internet, it is vulnerable to other Trojans, which will have complete control of the computer and all its stored data.
New variants of this scam have appeared. In one new variant, the malware uses the 'Ultimate Game Card Pay by Cash" payment system. This new variant typically will not hijack webcam settings.
Other new variants include a Department of Justice Black Screen of Death version, and an "FBI audio" variant, in which the user's screen goes black with only audio streaming that notifies the user that the computer has been used for illegal purposes, etc. and likewise demanding a ransom. In some cases, users will even receive a phone call from a person alleging to be an agent and repeating demand for the ransom.
To unlock your computer and to avoid other legal consequences, you are obligated to pay a release fee of $200. Payable through GreenDot Moneypak. After successful payment, your computer will automatically unlock.
How does a computer get infected with this virus?
Usually the victim of this scam has clicked on a pop-up, banner or an advertisement, often the one that advertises a "chat line" or some kind of pictures or pornography. Shortly thereafter the user will be redirected to the phony FBI screen and their computer will be virtually frozen.
How to remove GreenDot MoneyPak FBI Anti-Piracy Warning Virus On PC/Android Phone
There are different removal procedures as the Green Dot MoneyPak FBI Anti-Piracy Warning Virus affects its various victims in different ways. Some users will be able to access the internet and some will not, some will be able to access their desktops and some will not, therefore, we have outlines different removal procedures below.
Many users did want to try the Antivirus software but only found it is not functioning properly, the next step is to proceed to "Safe Mode with Networking" and move forward with a proper system check. Restoring your computer is another avenue you can take, but it may not be the best possible option, as the deletion of recently installed programs is possible as well as the loss of files and documents. Another option is to enter your computer on "safe mode with networking" and scan and remove, if necessary by resetting your proxy settings.
Logging on as a new user and disabling Flash options on the computer are possible avenues by which to remove or at least freeze this malware. In most cases if there are multiple accounts on your Window's system, you will be able to access the other accounts, which were not subject to infection. If a second account has administrator rights in some cases you will be able to remove the infection using this user. Disabling Flash, on the other hand, will not remove the virus but will freeze it so that the webcam is inoperable.
To manually remove Green Dot MoneyPak FBI Anti-Piracy Warning Virus:
Step 1: Reboot computer and hold down the F8 when restarting. Press this key continuously at startup to get to Windows Advanced Startup menu. Use arrow keys to select "Safe Mode With Networking Working":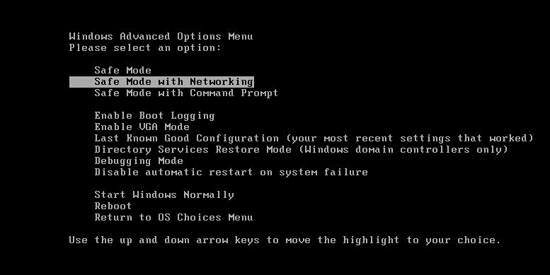 Step 2: Press Ctrl+Alt+Del keys to open the Task manager to stop the progress of Fake Green Dot MoneyPak FBI Anti-Piracy Warning Virus Scam. Because the name will be changed fast, it will be displayed with different name with random letters.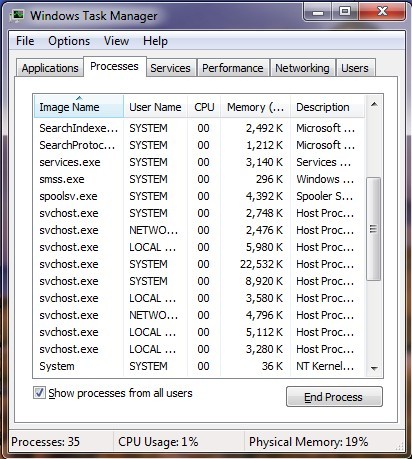 Step 3: Delete all the files and Windows Registry entries related to Green Dot MoneyPak FBI Anti-Piracy Warning Virus Scam
Login to profile in which you are getting FBI warning virus…
Goto my computer
Then press ALT button once
Goto tools on menu bar
Goth select Folder options…
Click on view tab
Select Show hidden files, folders, and drives
Click ok button

HKCU\Software\Microsoft\Windows\CurrentVersion\Run\Random.exe
HKLM\Software\Microsoft\Windows\CurrentVersion\Run\Random.exe
Video Guide to Remove FBI Warning Virus From Registry Editor

FBI Anti-Piracy Warning Virus Removal On Android Phone
1.Press and hold the power button as you would to power down or reboot.

2.A menu will pop-up on your Android device. TAP and HOLD the "Power off" option.

3.A dialog should appear offering you to reboot your Android device to "Safe Mode". When this happens, click on "OK" to enter "Safe Mode".

4.If you have managed to select "Safe Mode", you will see the text "Safe Mode" at the bottom left corner of the screen.


5. Then remove the malicious things from your Android device and reboot your phone to take it effective. If any problems, you can contact an expert for further help.(For Android phone/tablet, iPhone/iPad)
Summary:
Have received a message blocking your access to safari saying FBI Anti-Piracy has blocked your access to the mobile phone because of using illegals site? Well, many mobile device users have received the message blocking their access to safari saying they have to pay 500 dollars in twenty four, and this makes mobile user scared as the phone shuts down because of porn. It is a scam illegal pornography fine apple ID, but they first thought the thing is real then the paid the fine for not to be put in jail. Like the victim state: I was looking for an explanation article on jennfier lawernce and this terrifying message comes up from the US police saying I owe $500, i have no idea whats going on or what site i clicked on! But i cant access my internet anymore and its really scaring me! i was going to call 911 but its not an emergency. How do i get this warning message off my phone. I think its a scam. It is actually a scam virus that must be ripped off your machine immediately.
Special tips: Please be sure that it is necessary to remove its hidden files and folders from your computer. Manually removing the Green Dot MoneyPak FBI Anti-Piracy Warning Virus Malware On PC/Android Phone can be rather complicate and difficult work if the user is not a professional computer expert. We recommend you contact YooSecurity online support staff. This is the fastest and most reliable way to save your PC or Mobile device.


Published by Tony Shepherd & last updated on September 17, 2015 4:22 am