I was on my safari browser on my iPad when a message came up from the metropolitan police blocking my safari and saying that I have to pay £200 via an iTunes gift card to unblock my safari, I was wondering if you know how to get rid of this as I have read up on it and it seems like a scam. Safari has been locked by Metropolitan Police Virus £200 fine, it said my device has been locked for illegal pornography. How do I get rid of a potential metropolitan police virus on an iPad or iPhone?
Metropolitan Police Virus Freezing Safari on iPad/iPhone – How Can I Unlock It?
Metropolitan Police Virus £200 fine is a ransomware hacking users most from UK or Europe. It is a variant of porn scam things created by hackers. When user browsed the web site on his/her iPad or iPhone and suddenly he got this Metropolitan Police warning block on google and Safari, and it said you had to pay a fine of £100 sometimes £200 immediately, or you will face prosecution for viewing illegal sites (which he/she actually didn't do). Metropolitan Police notification popping up on your Safari or Chrome on your iPhone or iPad is actully a kind of virus or  ransomware which mainly defrauds money from victims. It is not from real Metropolitan Police department. This Metropolitan Police Virus pretends to be from Metropolitan Police to display false warning alert claiming victims viewing pornographic material and for this reason victims have to pay for a penalty of £100 or £200 through iTunes Gift Card. And it threatens that if you can't send the fine within limited time, your data, pictures, contacts and other information will be taken by them, your case will be told to your friends and contacts and even your criminal prosecution will be transferred to court or Metropolitan police(the Federal Criminal Police Office). Actually this Metropolitan Police notice is just a hoax. victims should know that this is a scam and their device like iPhone or iPad now has a Metropolitan Police Virus(malware or ransomware?). Some victims contacted the device provider company for guidance but there is no luck as the company only produce products not provide virus removal service. No one knows how to get rid of the warning screen because people there have very little knowledge of fixing this iPad virus problem. Metropolitan Police Virus blocked iPhone or iPad? How do I actually take it off ? Where do I go to do it?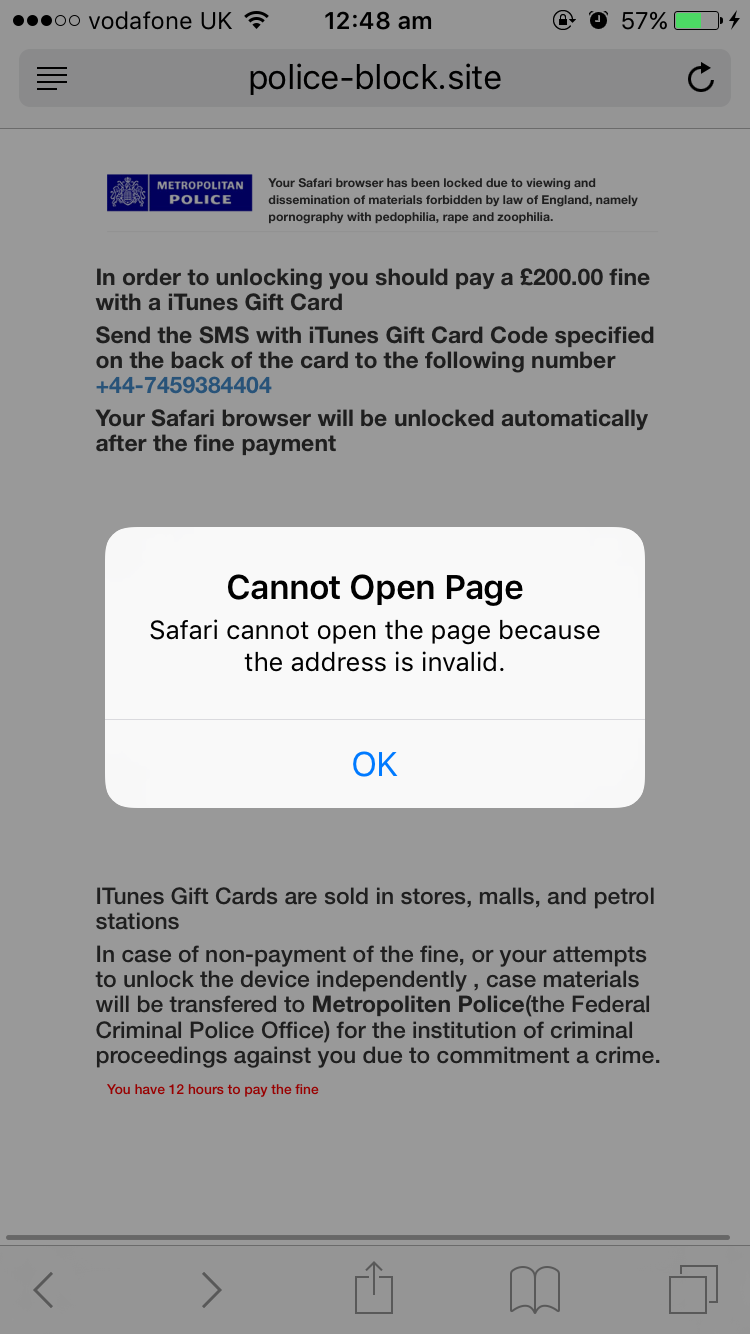 This Metropolitan Police virus is stubborn. Once it log into your device, it uses JavaScript to hijack web browser like Safari and Chrome on iPhone or iPad, then it pops up this false warning notification to totally lock the browser, you can't close the tab and put down Safari or CHrome browser. Even though you restart your iPhone or iPad, this Metropolitan notice is still blocking there. Even all apps with Internet network is blocked and says no internet available. Whenever you open safari, it comes up with the message saying your safari has been locked by the metropolitan police and you have to pay £200 in iTunes gift cards and have to send a message to a phone number in 24 hours. What do you do? When mobile user receive this police warning on his iPad or iPhone, he is really scared no matter if he really watch or view some porn material. Since this Metropolitan Police virus posts Metropolitan Police badge, many victims believe it is from federal police and think they really did something bad and violate England laws. So they though paying the fine of £100 or £200 will help avoid any issue related with police. DOn't trust this scam alert, and it just wants to take out your money. Safari blocked £200 fine for pedophilloa rape zoophillia or pornography, many users not sure how to get rid of this and they've only tried to open put_locker, but it failed.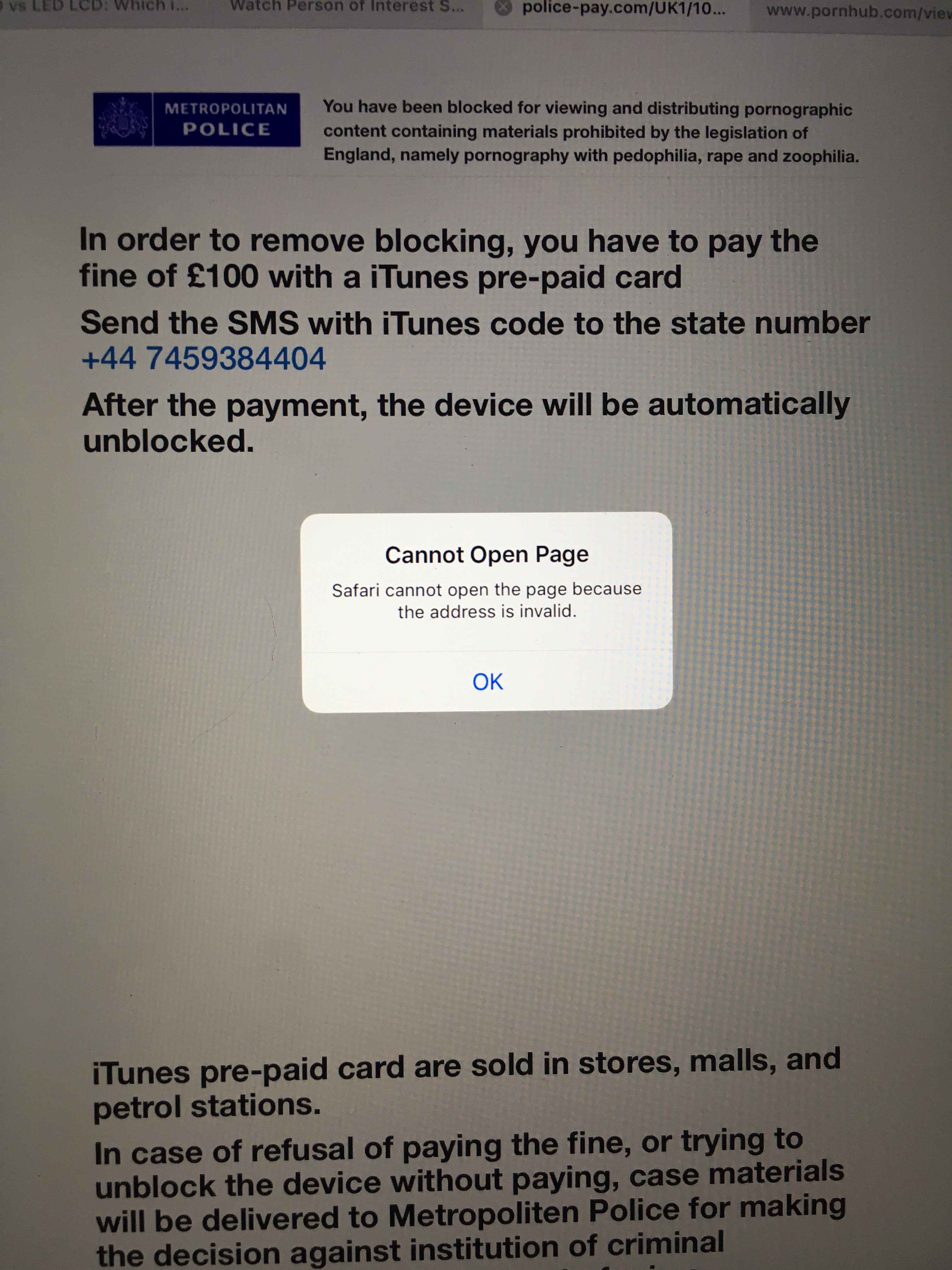 Suggestion: To save your apple device, live chat with YooSecurity experts now, or you can follow the manual removal guide below to get your problem fixed.

How Many People Have Been Hacked By Metropolitan Police Virus?
Help there is this thing on my safari saying I need to pay £200 in 12 hours because I have been supposedly looking at illegal pornographic websites, how do I remove this virus from my phone?

I can not access my safari, it says it has been blocked by metropolitan police and demands £200 in iTunes vouchers to unblock safari, please help?

HI! I got this virus on my i phone6 like 2 hours ago. i don't pay that 200 pound, cause its fake. Could u please help how to remove from my phone, i cant use the safari at all, What should i do now??

Hi my Safari on my iPhone has been blocked. I opened a pop-up and then the screen just came up and said your device has been locked for illegal pornography.
Why You Need to Remove Metropolitan Police Virus on Safari Manually?
The Virus is upgraded by hackers to target more and more iPhone or iPad or other Mac OS X system product to get more illegal profits. Now it can hide Safari and make victims believe that Safari has really been deleted. We used to believe that Apple products with Mac OS X system is greatly immune to viruses and malware. However, since this version of virus is improved to attack iPhone/iPad, this scam will easily spread online and hits Apple iOS device.
1. Once you see Metropolitan Police scam message on your iPhone or iPad, please get this Metropolitan Police ransomware off your iPhone/iPad manually.
2. "Send email to this Warning scam will pop up and lock your iPhone/iPad, you could get this virus by visiting a phishing site, opening a junk e-mail attachment, clicking on an unknown link or downloading an application from an unsafe source, especially after you jailbreak your device.
3. Currently no app is able to detect or remove this malware scam, even for preventing the Metropolitan Police Virus from attacking the mobile device again.
4. Manual removal process requires sufficient expertise. To safely deal with the scam from iPhone/iPad, you are recommended to contact YooSecurity Online Expert for assistance.
Conlusion
Up to now, Metropolitan Police virus can freeze safari on iPad or iPhone as it is not real police thing, it is just a fake warning alert using ransomware or scareware technology created by cyber criminals to scare iPhone or iPad users to pay the fine to unlock their mobile devices. However, it is just a scaring tricking to threaten and force victims to pay no-existed penalty. The browser and iPhone ipad is actually blocked by scam virus. Even if you pay the fine with 200 pounds as it required, your device still be locked by Metropolitan Police Virus, and you just lose your money. Paying the fine will not help anything to unblock the device. What's worse, you can't get back your money as the ways of payments are Ukash, Paysafecard or iTunes gift cards. and it's hard for you to ask back your money as it is cyber criminals who take out your money, and it's very difficult for police to track cyber criminals on the internet. Therefore, it's impossible to get back your money once you pay the fine of 100 or 200 pounds. What you should do it to remove Metropolitan Police Virus as soon as possible, as this ransomware is also a big threat to your personal data and important security.  If you haven't any computer stills to clean out this virus,  you need to get help from our Expert to unlock your iPad/iPhone from Metropolitan Police Notice and you can get your mobile safe soon.
Special tips: Don't know how to get Metropolitan police scam off your iPad or iPhone? To get your device back to normal, please contact YooSecurity experts for further help:


Published by Tony Shepherd & last updated on February 23, 2017 6:26 am