Was on iPad looking at some adult material that wasn't illegal like it was normal stuff and it locked me and said you have to buy a 100 dollar iTunes gift card to get it unblocked, US Marshall scam virus on my iPad? I need it unblocked by tomorrow. My question is i do a lot of chat lines and I'm a bisexual man. Today while talking on local gay line after exchanging numbers and pics I was contacted by a guy who said he was a officer for cyber crimes for kids. I told him everybody is 18 or older. He stated that US Marshall would be contacting me unless i paid 500 $ or see a judge. Can you advise if this is law? How can I remove Apple ID Blocked Scam on my phone?
The US Marshall Scam Lock on my Safari – Is it Dangerous for my iPhone/iPad?
If your phone is infected with the US Marshall Scam Virus, it will display a fake notice taking over your web browser including Safari, Chrome or Firefox immediately. Yes, your browser is totally blocked! You try to close down this warning page, but it fails. You try to shut down your infected iPhone or ipad, but it is still blocked by this US Marshall Scam Virus when you start on the device. and what's more, you should it is actually a kind of Trojan malware to target iOS system in order to access victims' important and valuable data like online banking, credit card details, login password or other private info. Since Trojan malware is associated with cyber hackers, your personal data will be at a high risk of being leaked out to cyber hackers for illegal use.
US Marshall Scam Virus pretends to be the cyber police and tells the victim the browser has been blocked because they have been viewing or distributing prohibited Pornographic content even though the victims have never done that before. Even though you don't watch any porn video or material related with pornographic but just visit some normal websites, you still get this Metropolitan Police warning. If you want to unblock your internet access or device, you are demanded to pay the fine. In order to urge victims to pay that $500 ransom, US Marshall Scam warns in a threatening tone that if you refuse to pay the fine or try to unblock the device without paying, case material will be delivered to Cyber Police for making the decision against institution of criminal. Many innocent victims usually gets freaked out when they see such a scaring cyber police warning, as they think the notification is from real US Marshall and are afraid to be caught by police, prosecuted even put into prison. And to get Internet access back and avoid other legal consequences, they are obligated to pay a release fee of $500 through Moneypak which is a prepaid card that can be purchased at a store like Kmart, CVS, Walmart, or Walgreens or Paypal. Therefore, once you see this virus is blocking your safari on iPhone or iPad, you should first remove it completely to avoid any damage and financial loss.
Suggestion: Don't have enough skill to deal with this scam? The following instructions require better skills get it off. If you're not sure on how to delete this fake locking screen, please contact YooSecurity 24/7 Online Expert now to save your device immediately!


The Screenshot of this Scam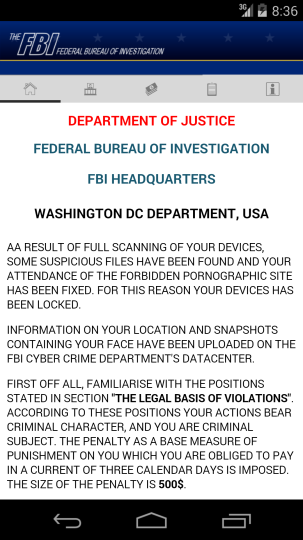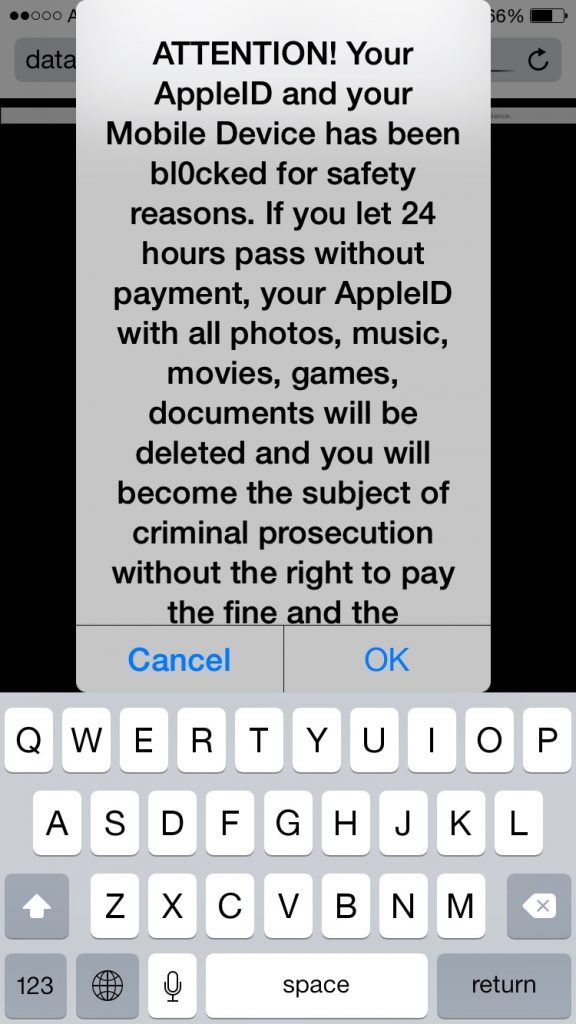 How did I have this Scam on my iPhone/iPad?
There are many ways for cyber hackers to spread this warning virus to innocent people. It is comes to you unconsciously when you click some links on the website, opened unknown e-mail attachments, or download unknown "free" software and so on. Freeware download websites encourage users to use small download programs (called 'installers', 'download managers', 'download tools', 'download clients', and so on) to download the chosen software. Download apps supposedly ease the download process. However, they offer installation of third party applications with the chosen software. When you download some documents or apps which you are interesting, this virus program will also be attached to download, and run as document application. There are also set up that contain the hijacker and users are directed to those sites from links within email messages that are sent out. Some of the emails will not contain the link, but they will instead have an attachment that they will be asked to click on. Once the virus goes into the target device, it may be trying to hijack your android and lock your apps began to generate advertising revenue. We strongly recommend that you don't do that above behavior, because they are likely to be false. No matter whatever how you get the virus, it is necessary to remove it from your computer before the arrival of more dangerous.
Possible Danger Caused By US Marshall Scam Virus:
1. It will take control of your mobile phone rapidly once it is downloaded.

2. It will pretend itself as a legit warning and then ask for a ransom.

3. It will not allow you to change your phone settings or open Apple Store to download antivirus program.

4. It will not let you close Safari or Chrome except for inputting the demand Greendot Moneypak code.
Important Things You Have To Know If Your iPhone/ iPad Infected by US Marshall Scam Virus:
1. It can attack smartphones running with Android or Mac OS X system.

2. Don't pay for anything or provide your personal information to this hoax, it won't help lock out of the US Marshall Scam Virus warning but just waste your money.

3. Currently no app is able to detect or remove this malware, even for preventing the virus from attacking the mobile device again.
Conclusion
My iPhone has one of those US Marshals notifications on my Safari locking it. After some research I was directed to you for help. Although this US Marshall seems to be legitimate, it is 100% fake. No matter what authority it claims to be, what punishments it claims you are supposed to face, never go to make the payment as the hackers say. If not, you will lose your money without the problem settled. But some issues that are resulted from the infection of the virus require you to pay more attention. even uses web cam control to make users panic and make them to pay for the ransom wrongly. If your safari is infected, your camera may turn on automatically. It makes you into thinking your picture has been taken and sent to Hacker, or Hacker is now watching what you are doing. The fake warning will lock your device forever and block you from doing anything. As mentioned above, we can see how this scam works to deceive innocent users. It is good at using scare tactic to extract money from victims. Hence, users must get rid of this scam from the safari as soon as possible.
Suggestion: To follow removal guide to get out of this virus that mentioned above, a quite level of knowledge is needed. Please make sure you are capable of dealing with this. If not, please Contact online experts for help now!

Published by Tony Shepherd & last updated on February 7, 2018 8:27 am