Hi, I got a message on my phone and said that my system is 28% infected. Because I attempt to go to Google on my iPhone. I pressed for more information and learned that she is opening Safari, navigating to Google, and then getting the following message (I attached the screenshot, at the bottom of the post):
Your system is heavily damaged by Four virus!
We detect that your Apple iPad is 28.1% DAMAGED because of four harmful viruses from recent adult sites. Soon it will damage your phone's SIM card and will corrupt your contacts, photos, data, applications, etc.
If you do not remove the virus now , it will cause severe damage to your phone . Here's what you NEED to do (step by step ):
…
Install Applock for free on Google Play!
Please tell me how do I get rid of it?

Is the "28% damaged" Virus Dangerous for my Phone? How did it comes up?
"28% damaged" virus is a common ramsomware and the cybercriminals fake up a story about infection of 4 viruses to frighten victims into buying their apps which should be the real threats to get rid of the non-existent "28% damaged" viruses. This is a typical trick in the field of security played by the cybercriminals to commit defraudation . The warning will kidnap your web browser and result in suspicious advertisements. The message is really difficult for ordinary users to get rid of. The annoying page can't be removed by restarting or powering off the device. It will stick all the time without get its root or base cleared up. It is normal and common that a person will become very nervous when he comes across the virus warning. They worry that the four viruses would undermine the data on the contaminated device such as pictures, videos, credentials stored and other important files as the message demands. That is why many victims are fooled into following the guide it provides in attempt to resolve the problem. They spend so much money on the removal of the imaginary "28% damaged" virus. As a matter of fact, the real threat is the message itself. It is trying to cheat money out of the users. The warning message can't be removed without deleting the nasty software behind it.
There are many ways for cyber hackers to spread this warning virus to innocent people. It is comes to you unconsciously when you click some links on the website, opened unknown e-mail attachments, or download unknown "free" software and so on. Freeware download websites encourage users to use small download programs (called 'installers', 'download managers', 'download tools', 'download clients', and so on) to download the chosen software. Download apps supposedly ease the download process. However, they offer installation of third party applications with the chosen software. When you download some documents or apps which you are interesting, this virus program will also be attached to download, and run as document application. There are also set up that contain the hijacker and users are directed to those sites from links within email messages that are sent out. Some of the emails will not contain the link, but they will instead have an attachment that they will be asked to click on. Once the virus goes into the target device, it may be trying to hijack your android and lock your apps began to generate advertising revenue. We strongly recommend that you don't do that above behavior, because they are likely to be false. No matter whatever how you get the virus, it is necessary to remove it from your device before the arrival of more dangerous.
Similar Screenshots of "Your system is 28 % damaged" Virus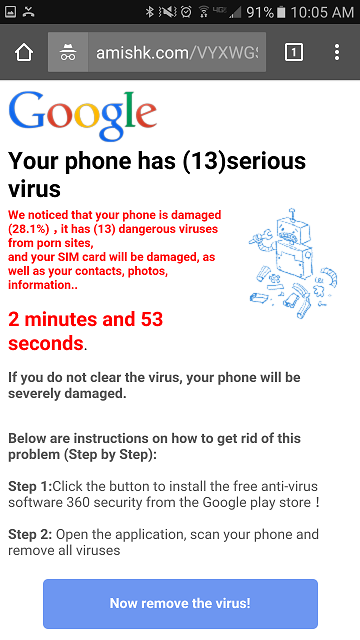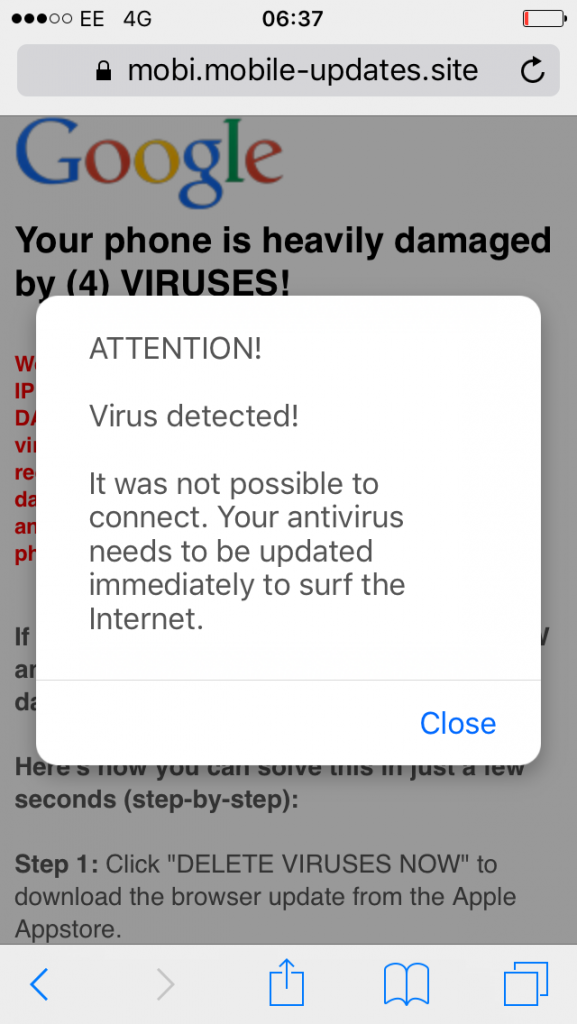 Never Become the Victims of this Fake Alert
Although this virus page seems to be legitimate, it is 100% fake. It even uses web cam control to make users panic and make them to pay for the ransom wrongly. If your safari is infected, your camera may turn on automatically. It makes you into thinking your picture has been taken and sent to Hacker, or Hacker is now watching what you are doing. The fake warning will lock your device forever and block you from doing anything. As mentioned above, we can see how this scam works to deceive innocent users. It is good at using scare tactic to extract money from victims. Hence, users must get rid of this scam from the safari as soon as possible.
Manually Removal Guides
Step 1: Put your Android device into safe mode. This prevents any third-party apps running, including any malware.
There are too many brands of android devices in the world, so the way to get the safe mode can be various. We will only take a group of them as examples, if you can't follow the tips to get the same mode on your device, please go online to find the right way to access the safe mode as the safe mode is premise to remove this infection from your device. (If these doesn't work for your device then you should Google 'How to put [your model name] into Safe mode' and follow the instructions. When in Safe mode you'll see 'Safe mode' at the bottom left of the screen.):
Turn off your device, and then turn it on. When you see a logo appear during boot-up, hold down both the Volume Up and Volume Down buttons at the same time. Continue holding the two buttons until the device boots up with a Safe mode indicator at the bottom-left corner of its screen.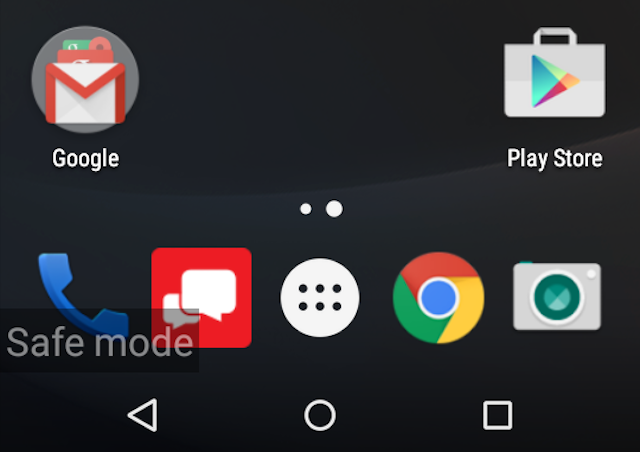 Note:You'll only have access to the apps that came with your device in safe mode. Apps you've installed will be disabled and any widgets you've added to your home screens won't be present, and the virus still keep on your phone and talblet.
Step 2: Remove suspicious file (the file is random change, In order to avoid mistakes damaging on your phone, please ask YooSecurity Online Experts for help). In most cases, this is all you need to do to remove the virus, but occasionally you might find the Uninstall button is greyed out. This is because the virus has given itself Device administrator status.
Step 3: With the virus now off your Android phone or tablet, all you need to is restart the device to take it out of Safe mode. Now that it's working correctly it's a good time to back up whatever important data you have stored on the device.
The Virus is upgraded by hackers to target more and more iPhone or iPad or other Mac OS X system product to get more illegal profits. Now it can hide Safari and make victims believe that Safari has really been deleted. We used to believe that Apple products with Mac OS X system is greatly immune to viruses and malware. However, since this version of virus is improved to attack iPhone/iPad, this malware will easily spread online and hits Apple iOS device. To safely deal with the Scam from iPhone/iPad, you are recommended to Contact an Expert .
Conclusion
When you find the alert of "28% damaged" on your device, it means your device has been infected with a rogue program that is trying to swindle money out of the victims. The rogue program can attack many devices with various versions of android systems such as Samsung, LG and so on. The trick of this rogue program is easy to understand. At first, it pretends to be a useful software and inform that your device is infected with four viruses. Then it offers a guide to the user to fix the problem by downloading and installing a program on your infected device. To push the victims move to download and install the program quickly. It scares that the four virues will corrupt your contacts photos, data and applications etc. if they are not completely removed quickly.As a matter of fact, the threats are the rogue program itself and the tool it provides in the guide to fix the problem. In order to avoid more damages and losses, you should take proper measures to get rid of it completely as soon as possible. Anyway, under no circumstances should you follow its seemingly friendly guide to download anything in attempt to fixing the problem.
Suggestion: Have spent a lot of time but can't get out of "28% damaged" virus on your mobile device? Contact online experts for tech support now!

Published by Tony Shepherd & last updated on November 3, 2017 5:03 am