I have LG Smart phone, and a FBI malware virus stating to take over. At start up phone stuck on dial pad. Did reboot to safe-mode and now I need an expert to walk me through the final steps? What should I do?
Description of "FBI Federal Bureau of Investigation" Virus
"FBI Federal Bureau of Investigation" Virus is a common cyber malware scam, you should always keep in mind that the Federal Bureau of Investigation or any other police agency will never lock down your LG phone . There are different variations of the virus claiming to be the FBI complete with nasty allegations, and all meant to scare you into forking over your cash. If you get a message from the so-called FBI cyber crime department, your Lg phone was probably infected with a "Ransomware" virus likely from clicking on an unfamiliar e-mail, malicious links or unsafe advertising pop-ups, visiting pornographic website or downloading attachment from spam emails. But it does not mean that you are absolutely safe, the virus will be dangerous for your data and no one knows if the malware can install other threats to the phone in order to get your personal information.
It always tells victims that they have violate some laws because of watching some porn videos and their device have been lock. If they want to unlock their device, they will need to pay a big fine using inactivated vanilla or other ways like paysafecard. The victims will be told that if they don't pay the fine, the police would come to their home and they will be accused. In addition, generally this virus will ask victims to pay in 24 hours or XXX days. If the victims don't pay in time, they will also be accused. Thus if your phone or tablet gets infected by this virus, please keep your mind clear that "FBI Federal Bureau of Investigation" Virus is just a scam that want to get money from you, just don't believe it and don't pay to it. What you need to do is to remove it from your device without delay. Please calm down when you get this virus and then find an effective way to get rid of it.
NOTE: Being afraid to do any wrong operation during the process of removing this "FBI Federal Bureau of Investigation" Virus from LG phone? Please contact YooSecurity Online Experts, we are here to help you:


Screenshots of this Virus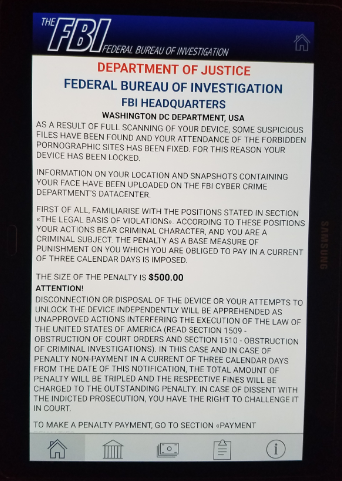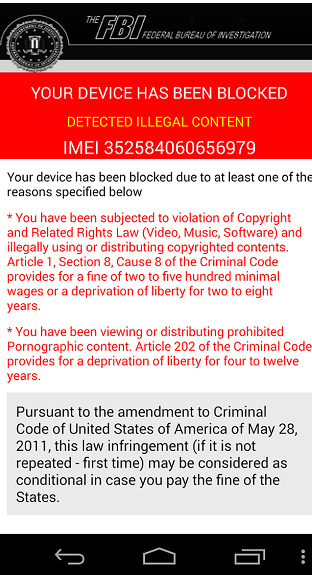 The Characteristics of FBI Virus on LG phone
1. Lock you out of your phone/tablet, you can't do anything even power it off.
2. Saying that you have visited some illegal websites or watched porn or something like that, but you never did before.
3. Asking for payment to unlock your device in a limited amount of time. And says if you don't pay, you might get police trouble.
4. The virus will stay in your phone and block your Internet until you get it removed. It will be dangerous for your data and no one knows if the malware can install other threats to the phone in order to get your personal information.
Manual Removal Guides On LG
Too many infected LG smart phone and can't do anything on it and even cannot turn it off. To remove the virus, you have to set your phone on safe mode first. Safe Mode puts your phone in a diagnostic state (returned to default settings), means it enables users to access the unit while running only the basic requirements and default settings. You can live chat with online experts to assist you if you don't know how to do that. There are 2 methods to set your LG phone on safe mode.
Method 1: Using the screen power button

1. Long Press and Hold the physical power button

2. Press and hold the power off button on the screen

3. Enter to Safe Mode on the message, and press Ok.

4. The phone will restart and the Safe Mode indicator will be displayed in the lower left corner of the home/unlock screen. You are done.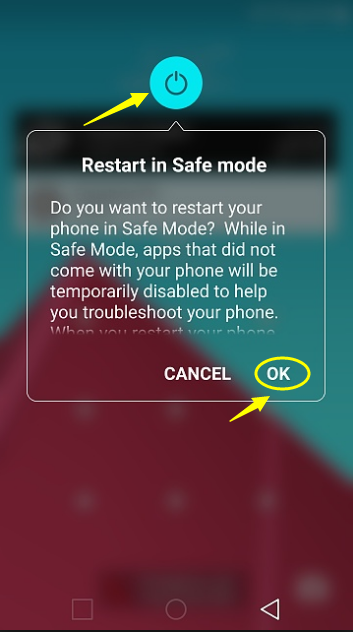 Method 2: Using the physical buttons

1. Ensure the device is powered off, and then power it on.

2. Press and hold the Volume Down button and the Power button until the System recovery screen is displayed then release both buttons.

3. Select Safe mode. Use the Volume buttons to highlight the option, and then press the Power button to select.

4. The device starts up with Safe mode displayed in the lower left. This may take up to 1 minute to complete.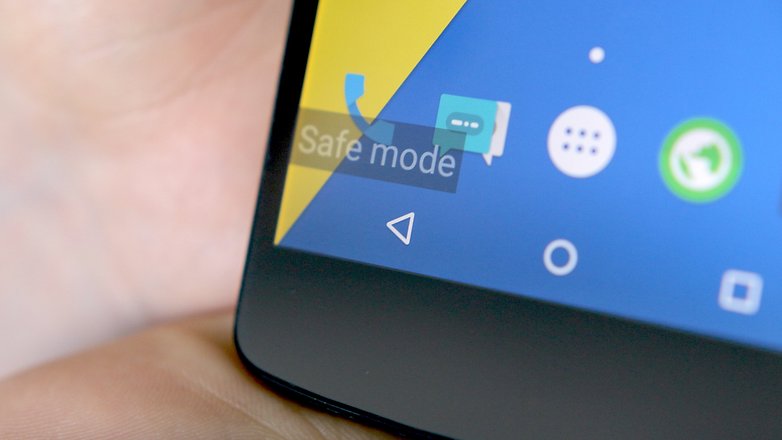 Note: You'll only have access to the apps that came with your device in safe mode. Apps you've installed will be disabled and any widgets you've added to your home screens won't be present, and the virus still keep on your phone and tablet.
Once your phone gets into safe mode, you need to remove suspicious file (the file is random change, In order to avoid mistakes damaging on your phone, please ask YooSecurity Online Experts for help).
Conclusion
"FBI Federal Bureau of Investigation" Virus should be removed without hesitate. Once your device gets infected by this virus, your device will be locked soon and you will not capable to use your phone. You may just can turn it off then turn it back on then get the virus page again soon. In some case, you will even have no ability to turn the infected device off. In this situation, you need to remove the virus immediately. By and large, this virus would tell you that your device has been locked because of the porn video you watched and you have violated some laws. And you need to pay a fine to so-called police or others to unlock the device in xxx hours or you will be arrested. The virus always tells the similar things to make victims believe it is a real and legit one. However, it is just a virus that wants to cheat people to pay. Therefore, as soon as this virus appears on your device, you should remove it instantly and completely.
Suggestion: Have spent a lot of time but can't get out of FBI Fake police Message on your mobile device? Contact online experts for tech support now!

Published by Tony Shepherd & last updated on September 7, 2017 9:12 am