How do I remove the pop up of "battery infected" from my Samsung galaxy s7? And now I can't do anything not even reset it because it literally won't let me do anything. it won't even allow me to hold my power button and get the off, what should I do?
The warning page lock on my phone – Is it dangerous for my information?
Battery infected warning page is a common malware scam. Its developers use it as a tool to make unethical money. It makes up bogus alert to scare people into using their apps or even paying money to clear non-existed viruses. To make problem look serious, it hijacks your browser. It is not easy to close the page once it takes over the browser. It just appears again and again before the malware behind it is removed. Most of people would be in panic when seeing warning about viruses. They would concern that virus would continue to corrupt their photos, videos and contacts as the warning described. It uses Java-Script codes to inject malicious ads and display false notification on your browser. Sometimes, it does not allow you close the alert page and occupies the screen. It tells that your battery is badly damaged by 4 viruses or your browser is corrupted. Beside it, there is a "Remove" or "OK" button. Sometimes, the warning does not go away though you tap the button. Several days later, you may find that it runs out of battery soon and takes longer time to charge. You may start to believe that there are Battery infected warning page on your device. However, we have to tell you that the so-called "4 viruses" do not exist. In fact, the malware that brings you Battery infected warning page installs power-hungry software on your device to make the alert authentic. This kind of software consumes power very fast.
Never Become the Victims of "Battery infected" Warning page scam
Although this virus page seems to be legitimate, it is 100% fake. It even uses web cam control to make users panic and make them to pay for the ransom wrongly. If your safari is infected, your camera may turn on automatically. It makes you into thinking your picture has been taken and sent to Hacker, or Hacker is now watching what you are doing. The fake warning will lock your device forever and block you from doing anything. As mentioned above, we can see how this scam works to deceive innocent users. It is good at using scare tactic to extract money from victims. Hence, users must get rid of this scam from the safari as soon as possible.
NOTE: Being afraid to do any wrong operation during the process of removing this Battery infected warning page scam from Samsung phone or tablet? Please contact YooSecurity Online Experts, we are here to help you:


Screenshots of this Scam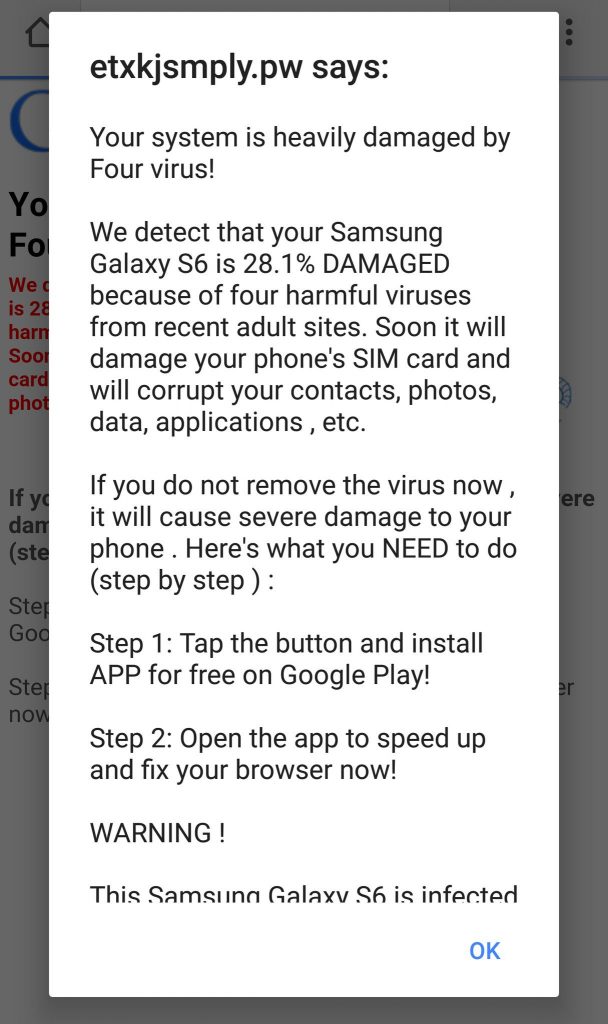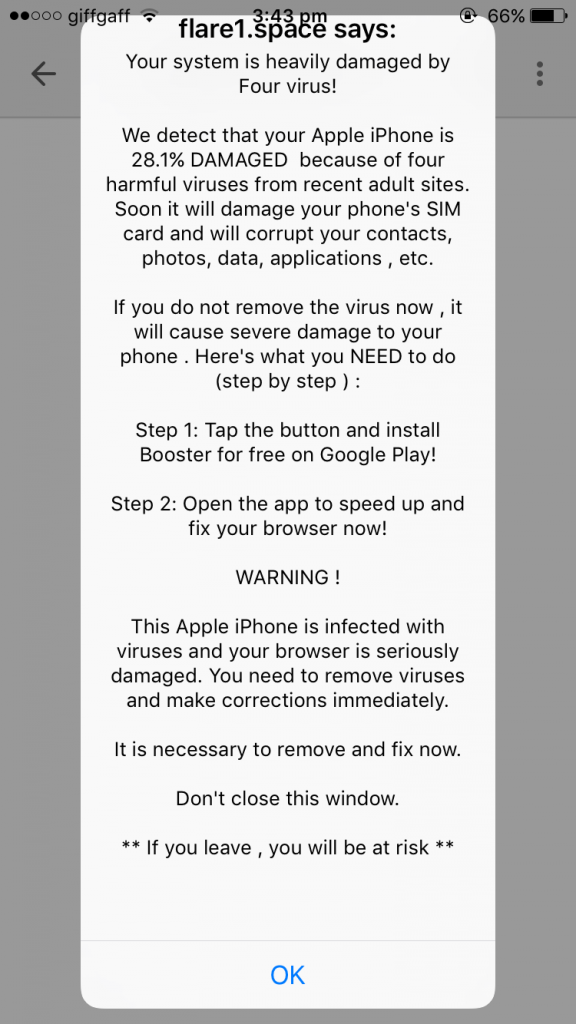 How did I have this Scam on my Phone?
There are many ways for cyber hackers to spread this warning virus to innocent people. It is comes to you unconsciously when you click some links on the website, opened unknown e-mail attachments, or download unknown "free" software and so on. Freeware download websites encourage users to use small download programs (called 'installers', 'download managers', 'download tools', 'download clients', and so on) to download the chosen software. Download apps supposedly ease the download process. However, they offer installation of third party applications with the chosen software. When you download some documents or apps which you are interesting, this virus program will also be attached to download, and run as document application. There are also set up that contain the hijacker and users are directed to those sites from links within email messages that are sent out. Some of the emails will not contain the link, but they will instead have an attachment that they will be asked to click on. Once the virus goes into the target device, it may be trying to hijack your android and lock your apps began to generate advertising revenue. We strongly recommend that you don't do that above behavior, because they are likely to be false. No matter whatever how you get the virus, it is necessary to remove it from your computer before the arrival of more dangerous.
It seems that my antivirus is useless to remove this "Battery infected" Warning page scam?
Since this malware scam is created by hackers in order to collect money from users, they have given this malware the abilities to escape from phone, tablet or pc protection tools and then sneak into your device to block you from accessing to it. Cyber hackers are somehow unrecognized by others because all they need the internet. And nowadays all of us do sit in front of internet. Besides, this kind of virus can be created every day to infected our device. It takes some time for antivirus software to upgrade and make better solutions for the newly released viruses.
Manual Removal Guide From Android
Too many infected Android device and can't do anything on it and even cannot turn it off. To unlock your phone from this virus first please restart your phone to safe mode to unlock your cell phone from the blocked virus warning screen. You can live chat with online experts to assist you if you don't know how to do that.
Note: "Safe Mode" on Phone starts up without loading any third-party add-ons and different devices have different ways to access safe mode.
For Samsung Galaxy S6 S5 S4 Note 2: 1. Power down. 2. Turn on and repeatedly tap the soft-button for "Menu."
For Samsung Galaxy S3 S2 and others: 1. Power down. 2. Turn on, then press and hold Volume Down (Galaxy S3 and others), Volume Up (HTC One, ZTE and others), or Volume Down and Volume Up together (various Motorola devices) when the vendor's logo appears.
For Samsung tablet: Power it off, and then power it on. During startup and when you see the Samsung Logo screen, press and hold the Volume Down key until you can see safe mode writing below the screen at the left hand angle of the screen.
If you have managed to select Safe Mode, you will see the text "Safe Mode" at the bottom left corner of the screen.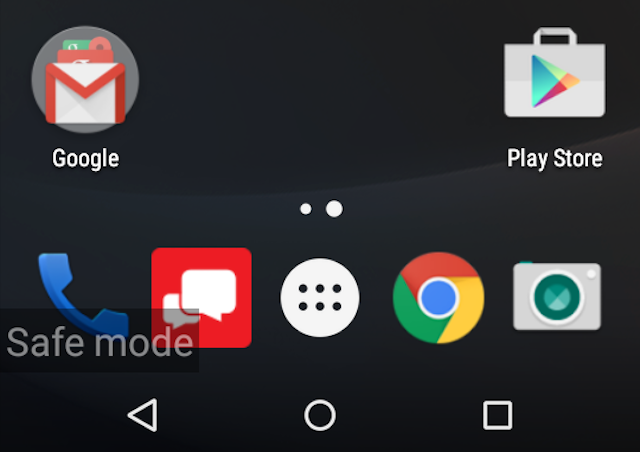 Conclusion
"Battery infected" Warning page scam were published by some unknown links. However, iterations of the same attack were found on a handful of apps from other publishers. The nefarious nature of the programs went unnoticed in large part, according to Checkpoint, because its malware payload was downloaded from a non-Google server after the programs were installed. The code would then use the infected phone to click on Google ads, generating fraudulent revenue for the attacker. To safe your phone, you need to remove this scam as soon as possible.
Special tips: Having trouble to deal with this virus on your device? Be confused with the whole removal processes of the virus? To safely and completely get rid of it please contact YooSecurity experts for further help:

Published by Tony Shepherd & last updated on August 28, 2017 12:43 pm