How do you get rid of an FBI page stuck on your phone? Not to offend you, but I'm scared now because of this and I'm not sure about that. It says I owe FBI $500. It said I watch porn material and contents something embarrassing like this, but I didn't do anything related to this. Is there any way this is real? It says if I try to remove it personally other than paying that I'll owe more and the pictures will be sent to my contacts. I don't know what picture it means but I don't want anything sent to my contacts. Because it says it's porn. I'm under 18 and trying to get music of a mix tape and had to download a third party app. While I was downloading the app, this FBI page displayed immediately. I don't know if I have installed some harmful thing.
Why Your Phone is Stuck on FBI Page? Is it real from FBI?
FBI page stuck on your phone is not a real notice warning from the real department. In reality, the FBI page is a fake alert associated with ransomware, scareware and other malware thing. The FBI page blocking your phone screen is actually a virus and ransowmarw whch mainly display fake warning page to lock victims' devices and ask for a ransom to unblock the infected phone or tablet. The fake FBI warning page is created and upgraded by cyber criminals to scam people and collect more illegal money from innocent victims. The fake FBI page falsely accuses you of illegal activities like watching and viewing porn material and distributing pirated contents and so on. But actually you even have never done such activities. And for this reason, your phone is blocked. To unlock your phone, you have to send $500 fine payment within limited hours. To urge victims to submit $500 fine payment, it threats that your bad activities watching porn material will be told to your contacts and your crime case will be transferred to FBI department, and you will be prosecuted and even put into jail. To make this FBI page look more genuine, the cyber criminal illegally uses FBI logo and badge and even take your screenshot. When victims see this FBI page, they believe the warning message is sent from real FBI department.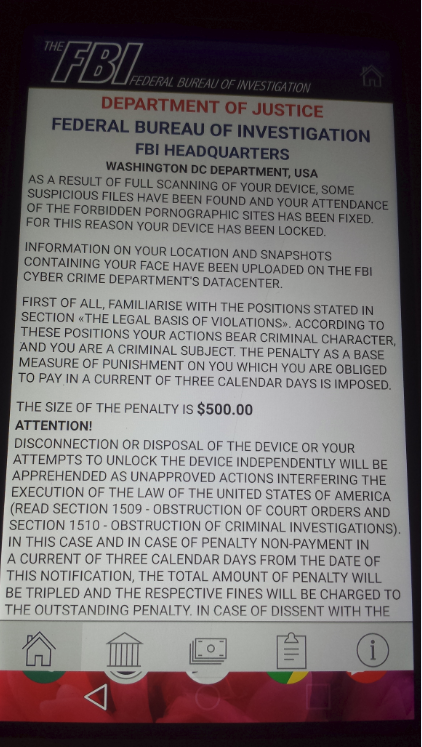 While the victims trust this FBI page notification coming from the FBI department, they will soon give $500 fine payment to unknown person, because victims don't want to be in trouble with police, leave any bad record in police station, being prosecuted or put into jail. That is a tricking tactic to scare and defraud people into paying money. In fact fake warning message like this FBI page always masquerades as law enforcement, government department, police agency or other judicial institutions and organizations like FBI department, cyber crime center, Department of Justice or British Metropolitan Police to scare victims first. In fact, pretending to be these law enforcements is a tricking tactic developed by cyber criminals to scare people, and make people believe they did something illegally and should be responsible for their behavior and conduct. FBI warning ransomware just wants to take out victims' money. Even though you have sent your $500 and expect your phone can be unlocked, your phone is still locked. Cyber criminal just wants to cheat your money but doesn't care if your phone is unblocked or not. Once your phone is locked by FBI page, you should think about it logically but not give so-called 500$ fine payment immediately as the FBI ransomware requests.
Screenshot of FBI page charges you 500$ Warning Message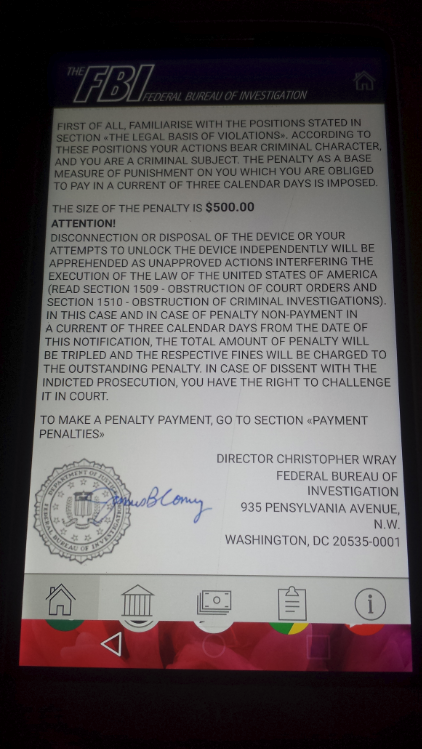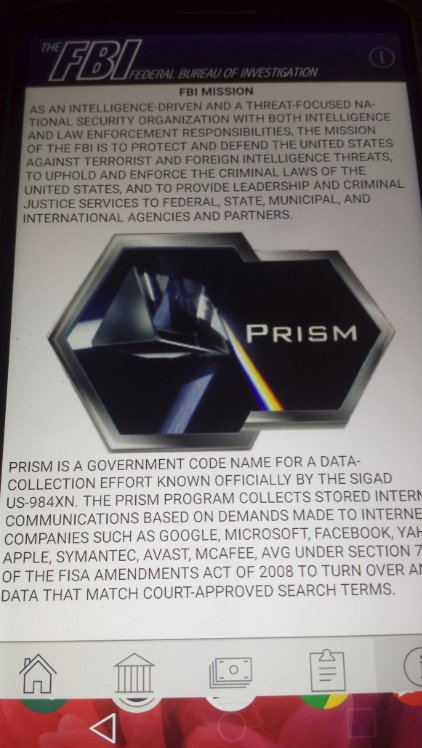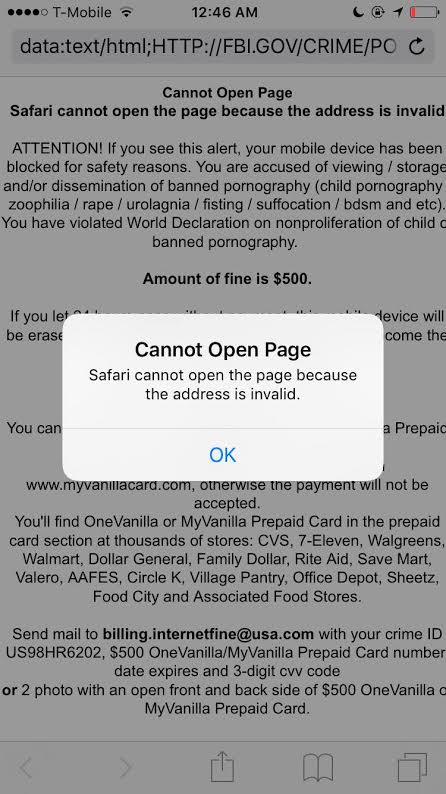 Dad Activities Created by Fake FBI Page Charging you 500$
1. The FBI Prism malware uses JavaScript to hijack browser then  pops up FBI warning alert on web browser like Internet, Browser , Chrome or Safari, locks the whole screen of android phone/tablet, blocks internet access on your android phone or tablet, applications using Internet will not work properly.
2. You're fined to pay for a penalty ranging from $200 to $500 USD through such payment system as Moneypak, iTune gifts card, Paypal, Vanilla card, PaySafeCard or Ukash to unlock your device. You're accused of violating the federal law due to violation activities like visiting, watching or distributing illegal adult porn contents, child porn or child abuse.
3. Soon as the FBI  Virus targets your phone or tablet, it blocks your device and prevents you from doing anything there. You even are not allowed to Turn off (shut down) your android phone/tablet or restart your device.
4. FBI Prism ransomware is sort of Trojan virus which can put other malware or virus into target device even allow cyber hackers to remotely access your android phone/tablet for your important personal data and other sensitive privacy details.
If you find any symptoms listed above showing on your cellphone or tablet, then your device must be suffered with a malware infection(which can be Cyber Police Virus, FBI scam virus, Mandiant U.S.A. Cyber Security virus, FBI Moneypak virus, FBI Prism virus, U.S.A Cyber Security virus, AFP Crime Commission virus and GVU Ukash Virus etc.) that blocks your access to your android smartphone or tablet. Welcome to contact YooSecurity Online Experts for manual removal guide. Also, we will provide a short removal guide below for phone and tablet literate.
NOTE: Being afraid to do any wrong operation during the process of removing fake FBI page warning notification message charging $500 on android phone or tablet? Please contact YooSecurity Online Experts, we are here to help you:

How do You Get Rid of an FBI Page Stuck on Your Phone?
If you see FBI page warning alert charge you 500$ on your android phone/tablet, it will be hard for you to remove it with security tool completely, because there is no perfect antivirus to kill threats on android phone or tablet and also this FBI virus is very tricky and can escape from security apps. And how to unlock your android phone or tablets from FBI Prism Virus? In this case, removing it manually with sufficient expertise online is the best way for tablet users to completely eliminate it from android phone or tablet.
1. Since your phone or tablet is blocked by this phony FBI page warning notification, you will need to restart your phone or tablet to safe mode which starts up without loading any third-party add-ons. By this way, you are capable to carry out malware removal steps on your device. Here are two examples for you to put the android phone and tablet to safe mode. The method mentioned below is also applied to most android phone. Take Dell Tablet as an example:
For Dell tablet: 1) Power down. 2) Turn on till you see the Vendor's logo, press and hold Volume Down key till you access to safe mode.
Note: Samsung, Sony, HP and other brands' tablet users can also try the same way as Dell's to put your tablet to safe mode. If you have put your tablet to safe mode successfully, you should see a text "Safe Mode" at the bottom left corner.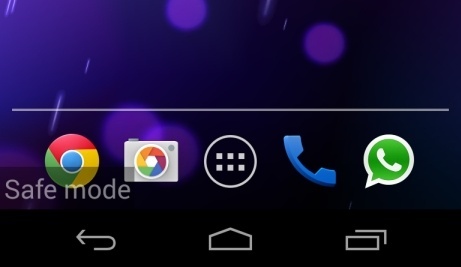 2. Once you have put your tablet in safe mode, you are capable to uninstall malicious apps of your tablet. However, the manual removal process of harmful apps requires sufficient expertise. To safely deal with this kind of ransomware and other hazardous apps, you had better contact an expert online for further removal help.
Conclusion
When your phone is locked by FBI page warning notice asking 500$, you should notice it is a hoax actually. It falsely claims your phone is blocked for reasons of your distribution of pornographic material, spam and copyrighted content, which you even have never done before. That scaring message is a ransom message caused by a virus. It is not with real government department or police agency as it mentioned on message screen. So when FBI Virus page asks you to pay a non-existent fine of $250-$500 via Moneypak, Paypal My Cash card, Vanilla card, Ukash or PaySafeCard payment method or asks you to buy $100 iTune gift card for a code, you don't do that. Fake FBI page just aims at extorting some money from inexperienced people via different tricking tactics. When you see this kind of FBI Prism page blocking the web browser on android phone or tablet or even locking the whole device, you must first figure out the way to remove this fake FBI cyber police warning manually. Sending non-existed fine as it requests will not help to unlock your android phone and tablet.
Suggestion: Have spent a lot of time but can't get out of FBI page on your android device phone and tablet? Contact online experts for tech support now!


Published by Tony Shepherd & last updated on November 9, 2017 1:52 am