My brand new Samsung phone is now entirely locked by the Metropolitan Police for illegal activities. After watching porn on the internet, something was installed on my phone saying that illegal activities have been detected. I have searched around and it is pretty clear that it's a virus. My phone stays on the popup screen and I can't do anything on it. It says it wants me to pay 500$ or they will send something to all of my contacts, and they took a picture with my camera! I have tried to reboot my phone and all it does is give me a few seconds before it pops back up. Can they really do these things? I don't know what to do! How do I get rid of this? All help needed please, get this damn thing off my phone
Samsung Phone is Locked by Metropolitan Police due to Illegal Activities?-Is it Real?
Do you receive a Metropolitan Police popup which says, "This device was locked to stop your illegal activity."? Is the popup real? No, it is not sent by the Metropolitan Police. It is a harmful virus created by the hackers to attack your device for money. This fake police virus belongs to the Troj/Urausy Ransomware family which mainly targets devices in United Kingdom. At the same time, it also attacks users in other countries and regions. It steals the name of Metropolitan Police or British Police to lock users' devices for money illegally. If your device was attacked by this virus, you would be locked out of your device and apps. In order to access your device again, you are requested to pay a fine of $ 500. Do not trust this scam virus. You are not in trouble with the police or any other legit agency. Though it is not an easy job to remove this nasty and stubborn virus, do not try to fix the problem by paying the fine. It turns out that it is useless to pay the fine like it demands. Many users were freaking out and paid the fine without a second thought. However, they got nothing and their devices were still locked after many days they sent the prepaid card code. Therefore, you should remove the Metropolitan Police virus off your device instead of paying the non-existed fine.
How Metropolitan Police Virus Works?
According to a report, the Metropolitan Police virus is able to attack ios, android and windows etc. devices. Among them, android device is the easy target because it allows apps from third-party sources to be installed. Therefore, the malicious virus can be installed on device without your permission of knowledge. Being aggressive enough, it changes your device settings to get administrator privileges so that it can achieve deeper access to the system.
Once everything is ready, it blocks your screen to have your attention. In order to scare you, it claims to be Metropolitan Police. You are told that the police have a full scan of your device and detect illegal content. They lock your device to stop your illegal activity. The popup police threat tells that you must pay a fine within the given time. The countdown shows up on the screen and the time just flies. Usually, it demands a fine which ranges from 100 to 500 pounds via Ukash or Paysafecard within 48 or 72 hours. Why Ukash or paysafecard? It is because they are prepaid cards. It is hard to trace where the money is going to when using prepaid card. We are not able to find out who are behind this virus. It is just similar with FBI Moneypak virus. It threatens that you will be taken to court and thrown into jail if the fine is not paid in time. Your friends and family will know about your illegal activity because the police will send email to them.
The Metropolitan Police virus is able to block Internet and other apps on your device. It can hijack your Internet on Safari, Google Chrome and Firefox etc. with the "horrible" police warning. Every time you open the browser app, the warning pops up and urges you to pay the fine to unlock. You can't bypass the warning to access new content there. It will not go away after you close the app. Sometimes, this virus blocked everything on the device. Even the home screen is not accessible. Sometimes, you can turn off the phone and get away from this warning for a while to take a break. However, the virus can be more powerful. It stops the power button to work. You can't turn off the device at all. It is so frustrated to see such a warning while you can't do anything to fix the problem. In this case, you must believe that you really are facing problem with the police and hurry to pay the fine. You need to calm down. It is only a virus which is trying to ruin your device for precious information and money. Problems will be fixed after you get rid of Metropolitan Police virus completely.
Metropolitan Police Warning
Metropolitan Police Working together for a safer London Location: United Kingdom.
This device was locked to stop your illegal activity!
To unlock the device you must pay a fine of 100 pounds.
You could pay the fine in two ways:
1) Paying by Ukash:
To do this, you should enter the 19 digits code in the payment form and press OK. (if you have several codes, enter them one after the other and press OK). If errors occur, send your IP address and payment code to email: [email protected]
2) Paying by Paysafecard:
To do this, you should enter the 19 digits code in the payment form and press OK. (if you have several codes, enter them one after the other and press OK). You could buy Ukash in many places: shops, stand-alone-terminals, online or via E-Wallet (electronic cash). Below you can find the list of points of sale of Ukash in United Kingdom…
Some specialties of this fake police Scam

Lock you out of your phone/tablet, and you just can turn your device off and turn it on.


Saying that you have visited some illegal websites or watched porn or something like that, but you never did before.


Asking for payment to unlock your device in a limited amount of time. And says if you don't pay, you might get police trouble.


It can remotely access to your phone/tablet and get your personal information.
If you find any symptoms listed above showing on your cellphone or tablet, then your device must be suffered with a malware infection(which can be Metropolitan Police virus,United Kingdom Police virus scam, FBI scam virus, Mandiant U.S.A. Cyber Security virus, FBI Moneypak virus, Prism virus, U.S.A Cyber Security virus, AFP Crime Commission virus and GVU Ukash Virus etc.) that blocks your access to your smartphone or tablet. Welcome to contact YooSecurity Online Experts for manual removal guide. Also, we will provide a short removal guide below for phone and tablet literate.
A Screenshot of Metropolitan Police Virus and similar virus Blocked Android Phone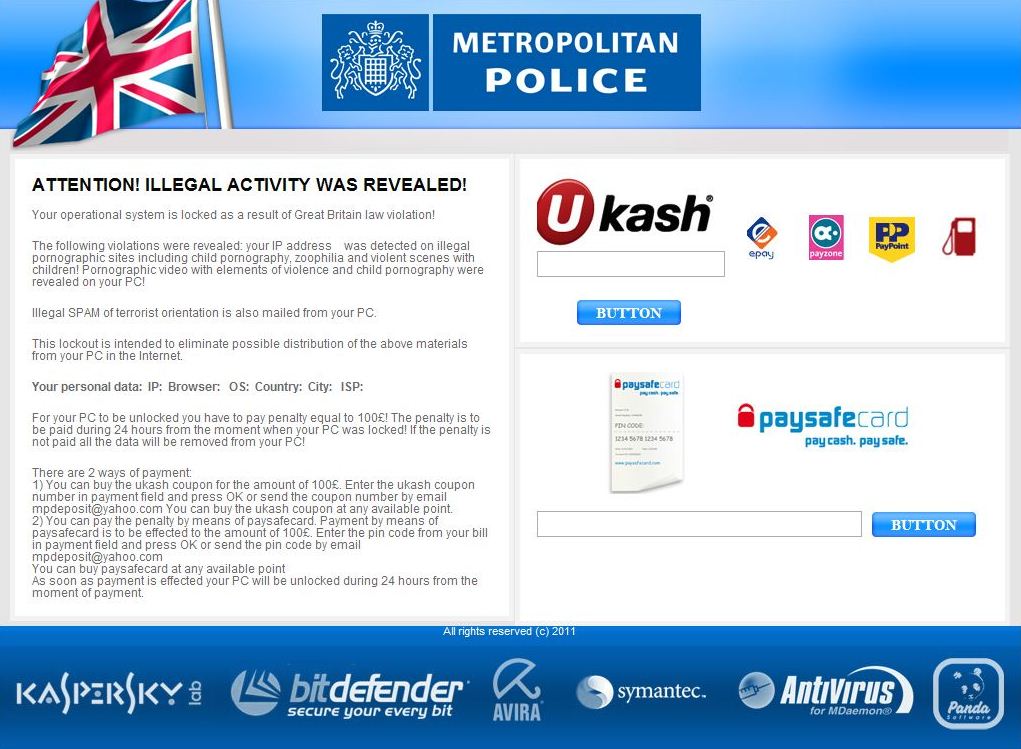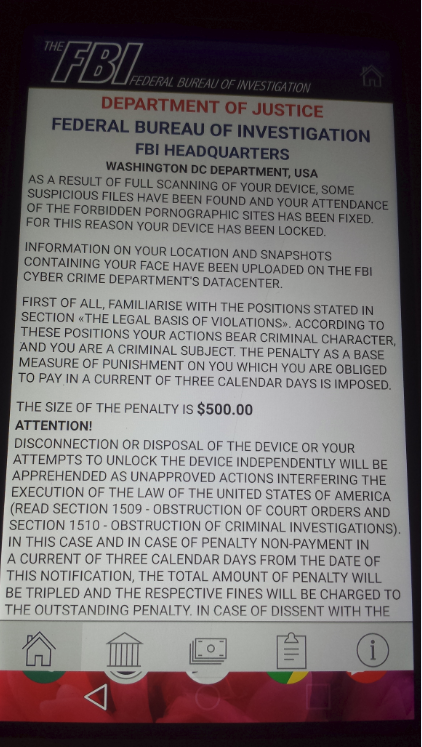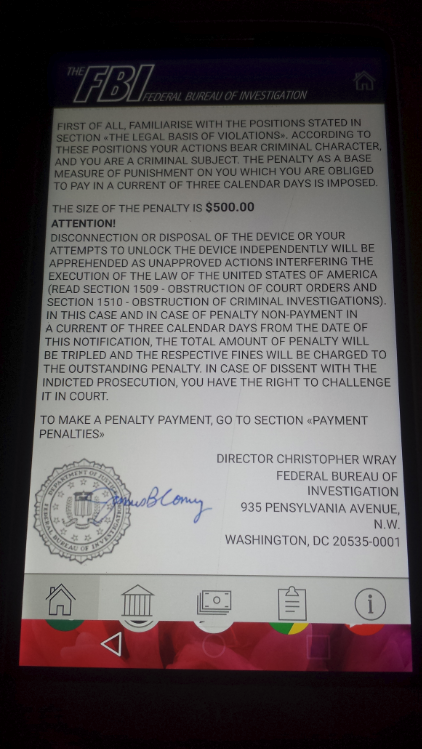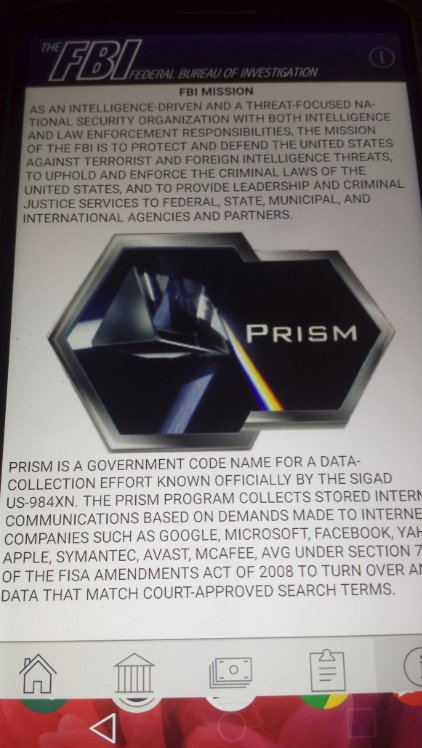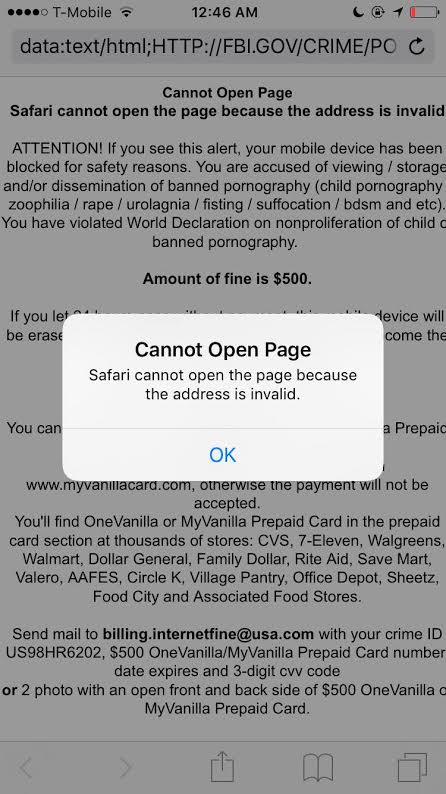 NOTE: Being afraid to do any wrong operation during the process of removing Metropolitan Police scam virus on tablet or phone? Please contact YooSecurity Online Experts, we are here to help you:


Samsung Phone is Locked by Metropolitan Police due to Illegal Activities?-How to Fix? Here are the guides
1st. Since your phone or tablet is blocked by this malware, you will need to get your phone or tablet first then turn it on to safe mode. By this way, you are capable to carry out malware removal steps on your device. Here is the example for you to put the android phone or tablet to safe mode. The method mentioned below is also applied to most android tablets.
Take LG Phone as an example: 1) Power down. 2) Turn on till you see the LG's logo, press and hold Volume Down key till you access to safe mode.
Note: Zte, Sony, Samsung and other brands' phone users can also try the same way as LG's to put your phone to safe mode. If you have put your phone to safe mode successfully, you should see a text "Safe Mode" at the bottom left corner.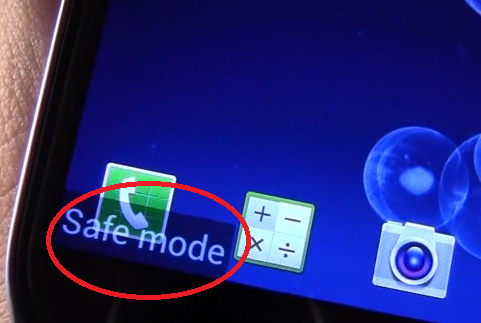 2nd. Once you have put your phone in safe mode, you are capable to uninstall malicious apps of your phone. However, the manual removal process of harmful apps requires sufficient expertise. To safely deal with this kind of ransomware and other hazardous apps, you had better contact an expert online for further removal help.
Conclusion
In those years, ransomware becomes more and more aggressive powerful. Metropolitan Police virus and FBI virus are the most classic ones. The virus is spread all over the world. No matter where you are, the virus can attack you on the Internet. It detects your IP address, operating system and other basic information to decide which police it will pretend to be and in which language the warning will be written. Of course, the information also is used to scare you. Before the virus popped up, you might were watching porn or downloading free software thus feeling guilty. Seeing the listed law items and punishment you might receive, you would think the warning is real. Though it has the police "logo" and appears to be authentic, it is not reliable. It is a dangerous virus which is trying to steal valuable information and money from you. Do not be fooled by it and pay it money. In order to protect your device and information, you have to remove the Metropolitan Police virus in time. Stop it before it ruins your device and grab your money. So far, manual virus removal is the most effective way to unlock your device from the fake police threat. Take action right now!
Suggestion: Have spent a lot of time but can't get out of Fake police Message on your mobile device? Contact online experts for tech support now!


Published by Tony Shepherd & last updated on August 11, 2017 3:16 pm