I just got blocked by a warning alert 'Windows Health is Critical' with a blue screen error showing on my Internet Explorer. I am now shocked a lot as I just bought this laptop based on Windows 10 a week ago. All is new. Right now I can't shut down this blue screen warning alert. It seems everything is frozen or blocked by this warning alert. It strongly suggests call a toll free number for technical support from Microsoft or visit www.microsoft333.com to solve this lockup screen. I am just wondering if this alert is really from Microsoft. And how and when can Microsoft remotely detect and find out the Windows problem on my laptop? Is it possible? Moreover, my laptop is just a new one. I don't believe there is something wrong with my laptop. What can I do now?
Computer is Blocked by 'Windows Health is Critical' – Is it Real from Microsoft?
'Windows Health is Critical' warning is a fake alert created by cyber crook to deceive computer users into calling the toll free number provided on the fake blue warning screen. This kind of fake alert has been categorized into a scam tech support list which usually pretends to be from Microsoft or other legitimate tech company to display scamming alert to scare victims force victims into paying money for useless service and product. This fake Windows error alert can display randomly as the fake alert is associated with some kind of scareware, adware, malware, ad-supported extension or add-on or plugin on web browser. So, 'Windows Health is Critical' fake alert is actually a malicious program, malware, virus even spyware itself which is harmful to system and must be eradicated immediately. Once the malicious thing is installed into your computer system, it will soon pop up in a new tab on your infected web browser without your permission. Fake Windows security error displays a blue page which looks like a genuine blue screen death with system error code in order to make victims believe that their computer system has been damaged by hazardous virus and system error code happens even a  blue screen of death. For example, it may say 'BSOD: Error 333 Registry Failure of operating system –Host: BLUE Screen ERROR 0x000000CE'. In front of this blue error screen, there is another white box of fake alert covering, and the white box alert notices you that suspicious activity have been detected from your IP address and your computer network connection has been blocked. 'Windows Health is Critical' fake alert further prompts you to call the provided hotline number for technical support from Microsoft if you want to unblock your internet connection and repair your computer blue screen error code. It even doesn't allow you to restart or shut down your computer by threatening your data will lose if you do that. All this fake alert says is just to redirect you to call the toll free number.
Here below is the screenshot of  'Windows Health is Critical' fake alert: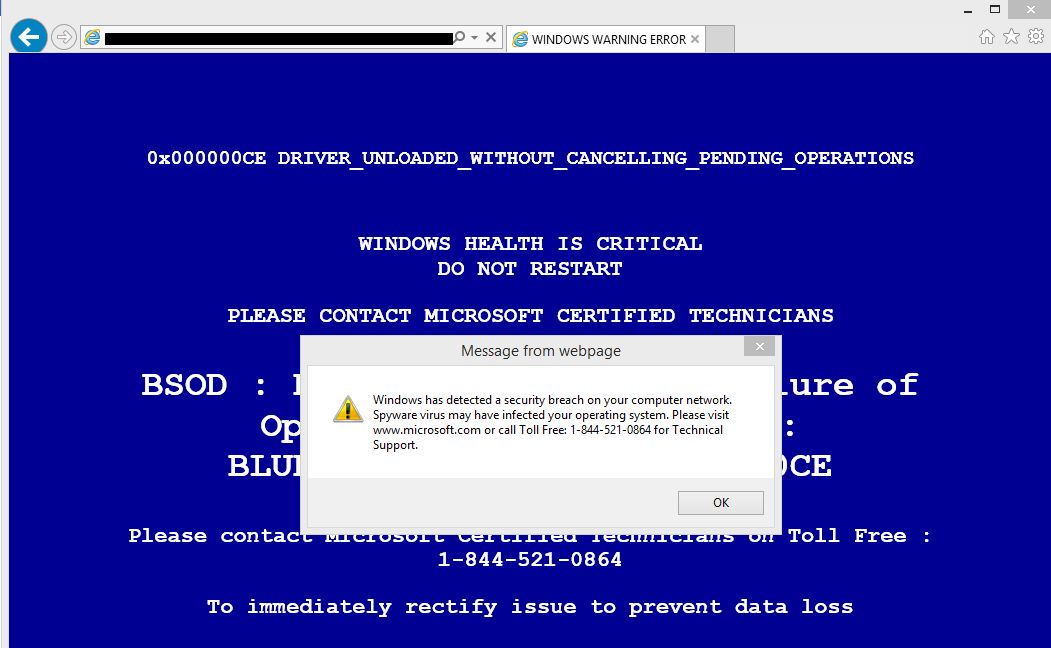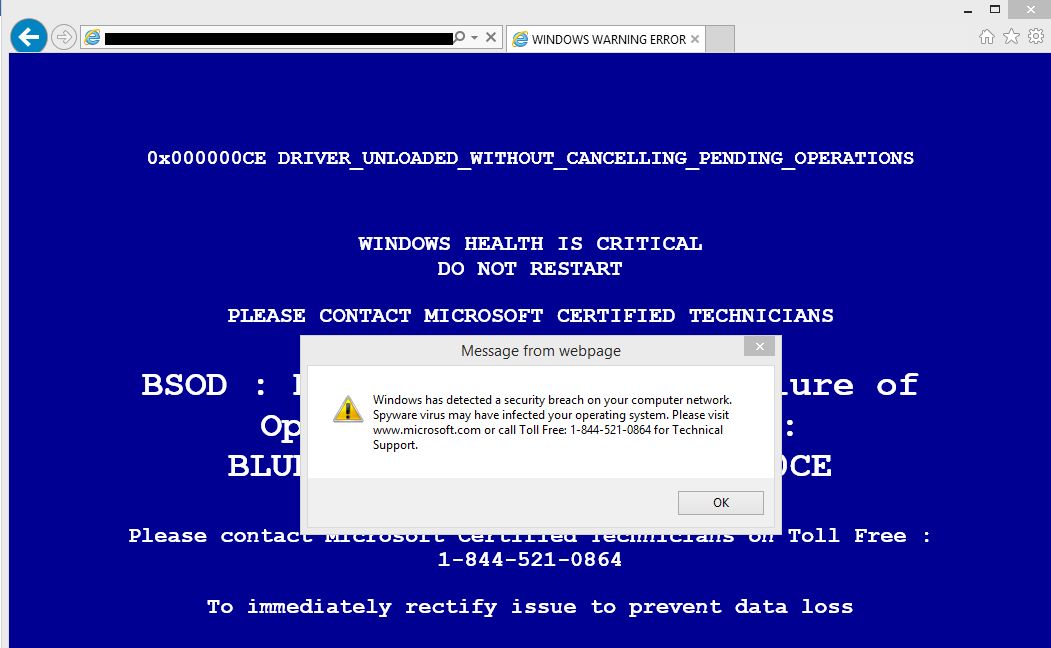 What Harmful Activities will be Caused by this Fake Warning Message
Many victims find this 'Windows Health is Critical' fake alert popping on their web browser like IE, Google Chrome, Edge or Firefox, they will become very nervous and call the provided number as soon as possible to expect some exact support from some technical person, because their computers are really blocked by this fake alert and the web browser can't be closed. It looks like everything is locked up.  However, this is a tricking tactic to cheat people into calling the provided toll free number. cyber crook who designs this kind of fake tech support warning aims at convincing victims into calling given hotline number and they so-called technical person at the other side of phone will soon further redirect and persuade the victims to purchase their service or products. If victims believe what 'Windows Health is Critical' fake alert says and use scam tech support service or products, victims will face another big threat to computer security. The fake Microsoft technician will get the permission to remotely access your computer after you buy their service, they pretend to fix the problem but actually they may hack your computer,  get your personal data and information ad search some important data like credit card details, login password or bank account info etc. Similarly, if you buy and install their product, you may bring some malicious programs or files even spyware, virus or ransomware installing into system. Or you may install some program that is actually bundled with software which can hack your computer by remote hackers as soon as your windows system runs. In a word, 'Windows Health is Critical' fake alert is nothing but a big hoax to promote unnecessary service and product in a high price, and it even will be a big threat to computer security and personal information safety.
NOTE: If you find any of symptoms mentioned on your computer, your PC is under attack and seriously infected with this or other kind of ransomware. If you are not a computer savvy, Please contact YooSecurity Online PC Experts to remove this fake alert message for you.

 
Manual Removal Guide of Fake Alert 'Windows Health is Critical' (For Computer Literate)
There is a removal guide of 'Windows Health is Critical' fake alert Lock Screen provided here; however, expertise is required during the process of removal, please make sure you are capable to do it by yourself.
Step 1: Press CTRL, SHIFT and ESC  these three keys together at the same time to pull up Windows Task Manager; click Processes tab on top and scroll down the list to find and end odd processes causing this lockout. Names of the processes are random.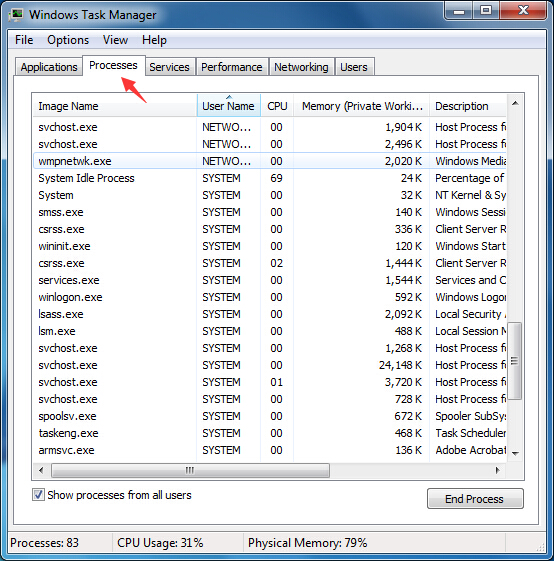 Step 2: Open Control Panel from Start Menu, then open Programs, click on Uninstall a program. Find suspicious programs or tool-bars related to the 'Windows Health is Critical' fake alert malware. Right click on it and select Uninstall.

Step 3: Go to Folder Options in Control Panel, select the View tab, and then mark "Show hidden files, folders, and drivers" and unmark "Hide protected operating system files" (Recommended) and then click Apply or OK.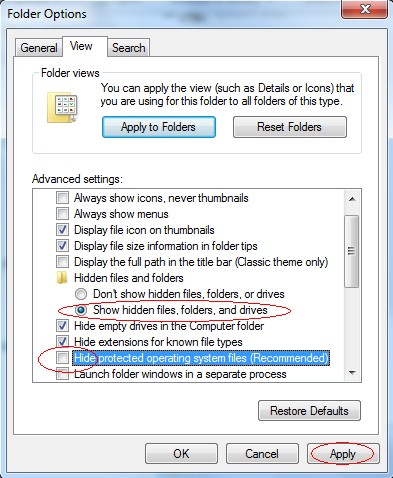 Step 4: Go to Registry Editor to delete the path of the related items with the 'Windows Health is Critical' fake alert.

Step 5: Clear all history, data and cookies of your infected web browser.
This fake alert has the ability to insert into web browser and spy on user's online activities, so it is suggested to delete all history, data and cookies of the infected web browser before a complete removal. Take Internet Explorer for example:
a. From the "Tool" menu button in the upper-right corner of the Internet Explorer window, choose "Safety" > "Delete browsing history…".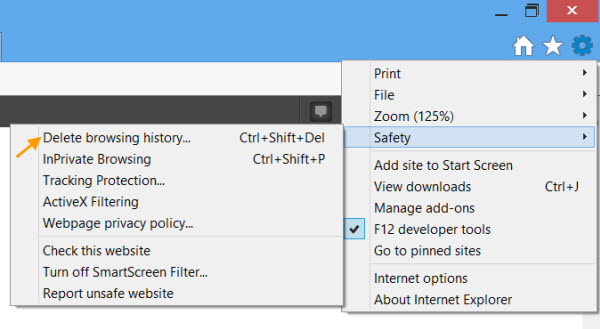 b. Then tick Cookie and website data and History, click Delete.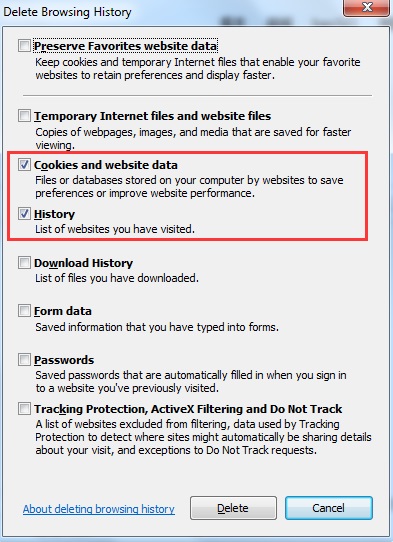 Step 6: Change your homepage of the infected web browser (Take Internet Explorer as Example)
From the Navigation toolbar in Internet Explorer, click Tools menu and select Internet Options, then click General tab, and input the URL you want into the Home page box and then click OK.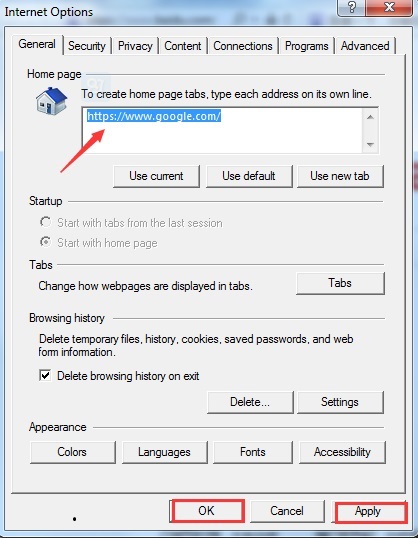 Similar video on browser hijacker removal:
Conclusion:
'Windows Health is Critical' fake alert just wants to redirects victims to call the provided toll free number, and the fake technician can further trick victims into purchasing unnecessary, useless even malicious service and product in a high price. At last, you not only lose money but also put your computer into a risk. The authentic Microsoft Company will not send users any unsolicited and strange warning alert message, notification or email notice or make inexplicable phone calls to tell you about computer system error even will not ask you any financial request. Microsoft Company can't detect and scan your computer automatically without getting your permission. So it's impossible for Microsoft to know that your computer has some suspicious activities and system blue error code even block your computers. This warning alert is just a hoax. This fake Windows error alert is actually a malware or virus itself which must removed as soon as possible.
Suggestion: If you still can't get out of this lock screen scam message? Contact online experts for help now!

Published by Tony Shepherd & last updated on June 29, 2017 1:11 pm