TorGuard VPN is one of the top-performing VPN providers that offers privacy protection, Wi-Fi security, and encryption for a truly private web browser experience, regardless of your location. It encrypts your internet access and provides an anonymous IP so you can browse securely. Is TorGuard VPN truly private and anonymous? Is it good for streaming? Does it work with Netflix? Is there a Kill Switch? If you want to know whether TorGuard VPN truly delivers the speed, security, performance and features that you want before you buy, just read our full TorGuard VPN review here. We help you choose the perfect VPN that you desire.
What's TorGuard VPN?

TorGuard is a US-based VPN service that is popular with people who use a VPN for torrenting and it has always been one of the fastest VPN services in the industry. The US is not an ideal privacy jurisdiction (Five Eyes) although the country may host the world's largest number of VPN service providers. However, on a positive side, TorGuard is a no logs VPN provider with a huge network with over 3000 fast servers in 50+ countries, secure DNS servers, strong VPN encryption, DNS/IPV6/WebRTC leak blocking, kill switch, and fast VPN download speed. It helps you stay secure and anonymous online while granting you access to all your favorite content without restrictions. Not only can TorGuard give you complete Internet freedom, but the VPN can encrypt all of your data in a virtual "tunnel" from end-to-end. Simply put, no one can take a peek at your online activity. Not even the government or your ISP can see your online activities.
TorGuard VPN is good for torrenting. While other VPN services will charge extra for gaining access to torrenting servers and even send a bill when exceeding limits, TorGuard keeps it simple and offers unlimited bandwidth and usage network wide, so you can rest assured your download session takes place in complete privacy. Besides, TorGuard lets you add a dedicated IP add-on when you purchase the VPN subscription. This is ideal for unblocking and watching streaming services because without a dedicated IP, many popular streaming services like to block shared IP addresses and it's easy to blacklist them. With TorGuard, you can unblock geo-restrictions and access content worldwide easily. On security front, TorGuard VPN supports a wide variety of VPN protocols, including OpenVPN, PPTP, L2TP/IPSec, SSTP, and iKEV2. It uses AES-256 encryption, which is the industry standard for strong protection. In addition, TorGuard's secure DNS servers and built-in DNS and IPv6 leak protection will add another level of security. With Stealth VPN, Stealth Proxy, and the most robust protocol options on the Web like Stunnel and Openconnect, TorGuard's security stands out from the pack and ensures that total anonymity is an option anywhere in the world.
Apps for TorGuard VPN are available for Windows, macOS, Linux, Android, and iOS, and browser extensions are available for Chrome and Firefox. You even can use TorGuard on a router. With one single account, you can connect five devices simultaneously. So what are you waiting for? Experience the speed of TorGuard and download torrents faster than ever before. Say goodbye to buffering and proxy errors!
Pricing Plans & Discount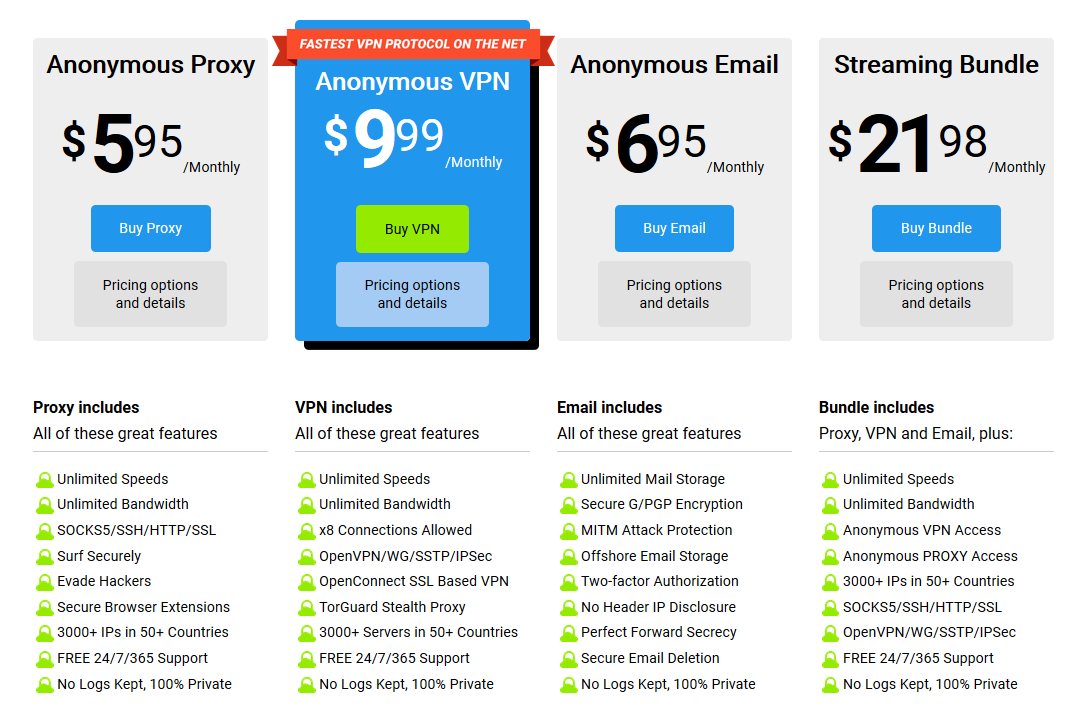 TorGuard offers multiple services, including Anonymous Proxy, Anonymous VPN, Anonymous Email and Streaming Bundle, costing $5.95, $9.99, $6.95 and $21.98 per month, respectively. Give the details a look, and select the best option that you need:
| | | | | |
| --- | --- | --- | --- | --- |
| Anonymous Proxy | $5.95 (Monthly) | $14.95 (Quarterly) | $29.95 (Semi-Annually) | $46.95 (Annually) |
| Anonymous VPN | $9.99 (Monthly) | $19.99 (Quarterly) | $29.99 (Semi-Annually) | $59.99 (Annually) |
| Anonymous Email | $0.00 (10MB storage, Monthly) | $6.95 (30GB storage, Monthly) |  $15.95 (30GB storage, Quarterly) | $49.95 (30GB storage, Annually) |
| Streaming Bundle | $21.98 (Monthly) | $41.98 (Quarterly) | $61.98 (Semi-Annually) | $121.00 (Annually) |
Different packages have different subscription plans based on the length of the subscription. You can subscribe for one month, three months, six months or one year. The longer your subscription period, the higher the discount. Now, for a limited time you can even take 50% off all TorGuard VPN packages. The discount can be applied on any VPN, Proxy and Encrypted Email plan. Whether you purchase new service or renew any existing plan, just get HALF OFF over the entire subscription!
Payment Options:

TorGuard currently accepts over 200 different payment options through all forms of credit card, PayPal, Bitcoin, altcoins (e.g. dogecoin, litecoin + more), Alipay, UnionPay, CashU, 100+ Gift Cards, and many other methods. That means, whether you want to pay with all forms of credit card, Visa, Amex, Mastercard, Discover, or PayPal, Bitcoins and other Cryptocurrency (via CoinPayments), and even Gift Cards, all are acceptable at TorGuard. You can even pay for your TorGuard VPN Service with secure pre-paid PIN cards. Purchase 24 hours, monthly, Quarterly, and Yearly Pre-Paid billing options from the TorGuard store or from one of their participating Retailers. It is worth mentioning that TorGuard was the very first VPN provider to begin accepting Bitcoin and Litecoin Lightning Network payments in early 2018. All your subscriptions are covered by 7 days money back guarantee. (Please note that the guarantee is not available to anyone that pays with cryptocurrencies.)

TorGuard Features:
Most VPNs will restrict torrents to specific server locations, but TorGuard VPN allows torrents on all of their VPN service packages for no extra charge. Their Netherlands, Canada, Romania, Swiss, and Russia VPN endpoints are optimized for the best torrent experience possible with full support for ports and udp traffic. TorGuard is compatible with some of the most popular torrent apps out there like uTorrent, Vuze, qBittorrent, and more. You can rest assured that your traffic is hidden forever and be anonymous while torrenting no matter where you are!

Choosing a Zero-logging VPN is essential for maximum privacy. TorGuard doesn't keep any logs of your online activity, or keep any metadata logs showing which VPN server you connected to, which IP address you were assigned, and how much data you transferred etc. The company value your privacy, anonymity, and security.
TorGuard's VPN service comes with unlimited bandwidth and upload/download speed. At TorGuard, you can torrent as much you want without exceeding any limits.
If you want to stay anonymous while torrenting in a BitTorrent swarm, TorGuard's SOCKS5 Anonymous Proxy ensures your complete privacy. It lets you plug VPN credentials into your favorite BitTorrent app to secure the app's outgoing traffic by hiding and replacing your IP with a shared anonymous IP.
5 simultaneous connections:
TorGuard allows 5 simultaneous connections per account, meaning – for example – you can use the VPN service on your desktop, laptop, tablet, smartphone, and one more device in parallel. If that's not enough, you can add more connections/devices for $1 each (per month) from within your account.
TorGuard includes an Internet Kill-switch. When it is enabled, it will instantly kill all internet access to your computer if the VPN disconnects by accident. This will prevent your true IP address from leaking to others.
TorGuard VPN secures your data with Advanced Encryption Standard (AES) 256-bit VPN encryption, recognized as one of the most powerful forms of encryption available.

Why Choose TorGuard?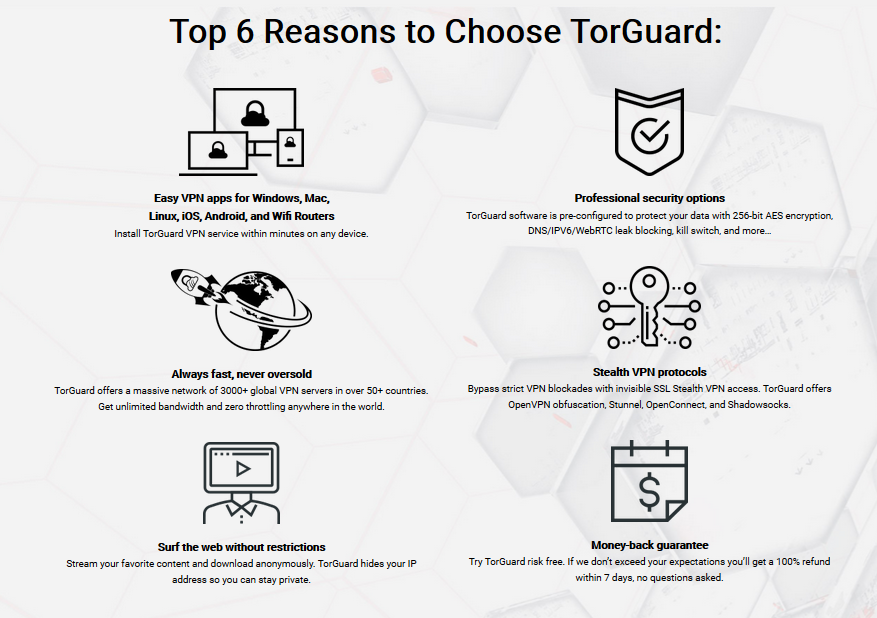 Without a VPN, it leaves any internet user vulnerable to criminals who might steal your banking or credit card information, governments who might want to eavesdrop on their citizens, and other internet users who might want to spy on you for a whole range of nefarious reasons. TorGuard creates a private tunnel over the open internet and adds a layer of encryption to Internet users. With TorGuard VPN, any communication from your computer through to this VPN service provider is encrypted. There's no way for your ISP or anyone trying to sit between the connection to collect or harvest your internet usage. TorGuard VPN increases the anonymity of your online activities and reduces the chances of anyone eavesdropping on your communications whilst connected to your home or office network. Moreover, it saves you from a world of troubles and helps you browse the internet without being tracked. Besides giving you foolproof security, this VPN also gives you unrestricted access to geo-restricted, region-locked or censored content anywhere in the world.
Is TorGuard VPN Safe?
TorGuard is a US registered company. That means the VPN is based in one of the five eyes countries and you may end up not protecting your online privacy at all. Yes, you still can use TorGuard VPN to unblock censored or restricted websites, but your data will most likely be kept by the US government since the US government could issue warrants and gag orders forcing TorGuard to comply with investigations without informing you. If you're a privacy conscious individual, TorGuard may not be a good fit for you. However, TorGuard's privacy policy states that it keeps no usage or connection logs, which is ideal. In order to protect user's internet connection from monitoring by outsiders, TorGuard VPN encrypts the connection using AES-256 encryption and it also uses OpenVPN with TCP/UDP, PPTP, L2TP/IPsec, SSTP and iKEV2 protocols. SOCKS5, SSL or even a HTTP proxy are also available through TorGuard. TorGuard VPN accepts Bitcoin payment, so it is possible for Torguard customers to remain totally anonymous while using their VPN. Browse and download safely with TorGuard anonymous VPN & Proxy!

Is There a Free Trial?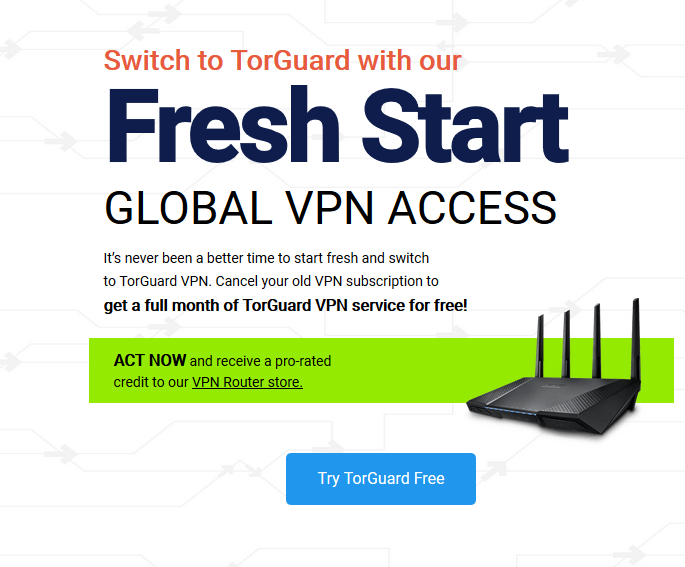 TorGuard is a leading VPN, which generally ranks among the best around. Do you want to give this VPN a shot? Now TorGuard is offering a 7-day free trial only if you are already using another VPN service and consider switching the provider. It's the best opportunity for people who are not happy with their current VPN service. To get it, you have to send your latest VPN bill to TorGuard. After approval, you will be able to test unlimited version for one week, which should be enough to make up your mind. After 7 days free trial, if you still want to stick with TorGuard, you just need to send them an email with the proof of canceling your current VPN subscription, then you'll get a free one month subscription to TorGuard VPN.
Customer Support:
TorGuard offers 24/7 live support chat on its website, along with a trouble ticket submission system and a searchable knowledge base. If you have any questions related to TorGuard products or services, simply start a live chat and their representatives are highly engaging, knowledgeable, and friendly. In addition, you can use a ticket system to email them, and you will get a reply within 24 hours from their tech team. TorGuard also provides setup guides and tutorials to help people set everything up. Overall, TorGuard VPN has an excellent customer support that is much better than many competitors.

Top 10 + Best VPN Services Worldwide
View More Top 10 Best VPN Services Here »
Conclusion:
TorGuard VPN is a leading VPN that comes with a wide range of different server locations around the globe. It gives users access to IP adresses from Ukraine, Germany, Switzerland, England, Romania, Malaysia, Australia, Brazil, Singapore, Finland, Poland, Italy, Spain, USA, Hong Kong, Norway, Netherlands, New Zealand and around 50 nations in total. This VPN provides completely anonymous VPN services with bitorrent proxy and P2P/Torrents, and allows up to five simultaneous connections per VPN account. TorGuard VPN guarantees 100% server uptime and provides 24/7 support for 365 days a year. In terms of speed, stability and potential, TorGuard VPN is probably a good fit for people who looking for a decent VPN. The only drawback for this VPN is it is based in USA. As we know, the USA is one of the founding members of the 5-Eyes Intelligence Alliance which is not an ideal VPN jurisdiction. And TorGuard VPN will cost you extra if you want a dedicated IP address for Netflix streaming. The monthly price for TorGuard VPN is slightly pricey but it will be much more reasonable if you pay on a yearly basis.
TorGuard is offering 50% off all services. Redeem TorGuard VPN 50% OFF coupon code by clicking the below button. With the code you can get discount from the whole order whatever you choose VPN service, server or Protected email, this discount applies to all!
Published by Michael Myn & last updated on May 18, 2020 7:01 am