Have you heard of Surfshark VPN? If you want to know about it the best way is to read the Surfshark VPN review. Surfshark VPN is a well-known and new VPN service provider located in British Virgin Island where there is no obligatory data retention law. Surfshark also practices strict no-logging policy. That means Surfshark does not log your online activities or any other VPN usage data. You can get complete privacy here in Surfshark. And it supports unlimited devices! What is more, Surfshark cost is very low, but do you know if it is worth buying? Is it an emerging VPN service?
Why Surfshark Attracts More and More Users?
Surfshark is one of the most stable VPN services in the world, and it has the website can be normally visited in mainland china, it supports Google and Firefox and a browser plug-in, the android and apple APP are released at the same time, the most important thing is that the APP can be downloaded in China, this is very convenient for users to use the VPN, it is recommended to use Firefox plugin as you need to access the Google market to download Google browser plug-in, You can also set up the computer to download plug-ins so that it will not affect the use of other software through domestic network. Surfshark support team also provide free trial for people who begin to use Surfshark VPN service and want to test the VPN performance. Surfshark adds no-hassle 30-day money-back guarantee in every of its plans. No matter which plan you choose, you can enjoy this 100% money-back guarantee deal. Surfshark successfully attracts new users for the some reasons: Strong reviews and great conversion rates on some famous sites; Attractive price (starting from $1.99/mo) which enables they to capture a broad market share; Robust and simple to use product with unique features: unlimited devices, split tunneling, integrated ad-blocker etc. More ever, Surfshark provides excellent and impressive VPN service which usually make every customer satisfied. Actually, almost every user plans to renew the Surfshark VPN service before they finally choose it. What special features or performance you can experience from this reliable VPN service? They provide high-end and professional technologies like Kill Switch, CleanWeb, diamond-strong protection, IP masking, Zero-knowledge DNS and WiFi protection etc. All these features and technologies are included in all packages provided by Surfshark. You can use unlimited devices with Surfshark account simultaneously. This is the biggest difference from other VPN service providers. You can get super-fast speed while using this VPN tool. It is easy and fast to access any websites and stream any contents wherever you are.


Surfshark Plans & Pricing for Customers
1-Month Plan $11.95/Month ($11.95 billed every 1 month SAVE 0)
1-YEAR Plan $5.99/Month ($143.40 $71.88 billed every 12 months SAVE 50%)
2-YEAR Plan $1.99/Month ($286.80 $47.76 billed every 24 months SAVE 83%)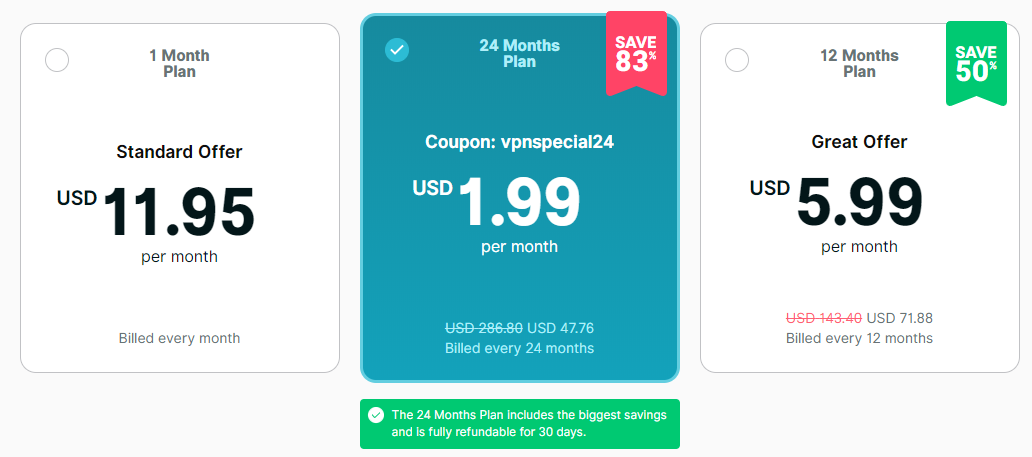 You should select your favorite plan to meet your VPN requirement. Here you should notice that all these three plans can give customers such benefits as unlimited simultaneous connections, no logs policy, complete security and privacy, unlimited and fast content delivery, 30-day money-back guarantee, 24/7 friendly customer support and high-level infrastructure and reliability.
Which You Should Choose? Surfshark VPN vs FREE VPN
There are many different newborn VPN tools on the market, and many users would like to use free VPN to access different blocked websites due to censorship or geographical restrictions. However, it is not secure to use free VPNs. You're strongly suggested to use a paid VPN service like Surfshark. First, Free VPN just can offer very slow speed at connection, and the speed is not stable. Disconnection would happen often and it takes a long time to load the webpage even can't open the site. Free VPN actually has only few servers to let customers choose. Some free VPN even has no the server location that you want. However, paid VPN tool like Surfshark expands their huge network to over 800 servers in 50+ countries, you can choose the location you want to connect. All popular server locations are included in Surfshark network. Therefore, paid service like Surfshark can give customers extreme fast speed and stable connection. Surfshark adds the most advanced security protocols to increase more security for customers, but Free VPN uses outdated and lower-security protocols, which cannot guarantee the online security for customers. Protocols are usually used to connect the device and server. Free VPN uses weak encryption method, which seems like that it creates a low-security password for your account. It is easy for hackers and professional cyber criminals to decrypt weak encryption method, so hackers can easily intrude into your internet traffic and get your personal data.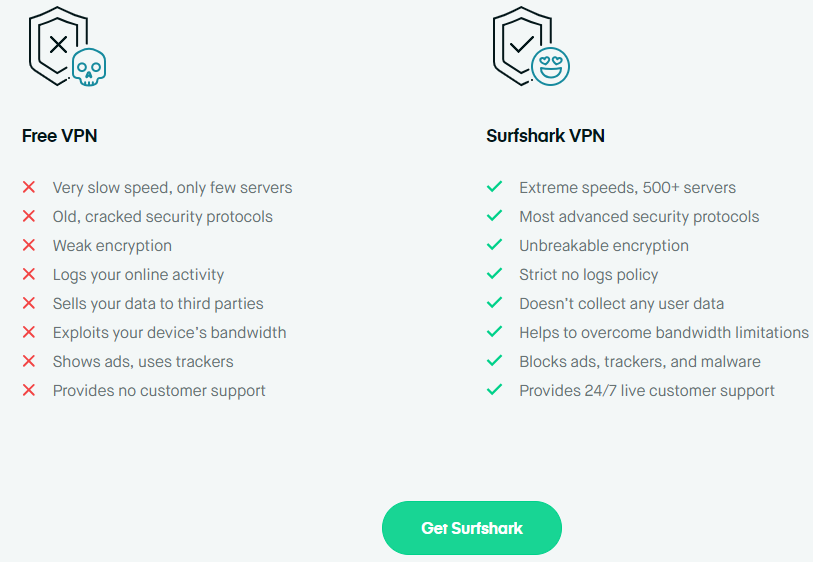 In encryption aspect, Surfshark VPN applies the best-in-class and diamond-grade encryption which no one can break it into, so all your network traffic will be protected and encrypted completely. Strong encryption is one of the most important performance of a VPN tool. Surfshark does not log any of your activities as they have strict no-logging policy, but Free VPN can randomly log your online activity and collect your data, even sells your important data or information to third parties. Non-logging is a must-have when it comes to choose a safe VPN tool. Free VPN should not be the first choice when it comes to select a VPN tool. Besides, Free VPN usually can exploit your device's bandwidth and use too much traffic usage. When you are browsing the webpage, the Free VPN provider would show ads, popups, and even uses trackers or cookies to trace your online activities. However, Surfshark VPN never collect any user's data but uses advanced technologies to stop and clean up ads, popups, trackers, phishing and malware things. Paid VPN can really help save bandwidth usage. No throttling happens with paid VPN. If you have problems with Surfshark, you can consult with their 24/7 friendly support, but FREE VPN has no customer support. Anyway, it is wise to select secure and trusted paid service other than FREE VPN to access websites and stream contents.
You can Freely Access Websites Anywhere and Anytime!
Let us continue to read more introduction about Surfshark VPN review to deeply understand why it becomes more better and attracts users in the world. Surfshark build a huge and wide network with more than 800 servers in 50 countries. That means Surfshark spread and locate their super-fast servers in almost corners of the globe. They settle their over 800 servers in the Americas, Europe, Asia, Middle East and Africa. Surfshark spread their servers in United States, Canada, United Kingdom, Switzerland, Romania, Poland, Netherlands, Italy, Germany, Czech Republic, France, Greece, Russia, Australia, Hong Kong, Japan, Malaysia, New Zealand, Singapore, South Korea, India, etc. You can use this Surfshark VPN to visit any blocked websites from anywhere and anytime. Almost corners of the globe are set by Surfshark's servers. Surfshark has spread ultra-fast servers in all major popular locations like United States, United Kingdom, Canada, Australia, France, Hong Kong and more. All these server locations are necessary for VPN users. Therefore, you can use Surfshark to access any internet-censored websites and stream popular contents from Netflix, Hulu, BBC iPlayer, BT Sports, Spotify music and more. As long as you put your device connecting to network, then run Surfshark VPN on your device, next connect your device to US or UK servers, then you can soon access any websites and stream your favorite movies, TV shows, programmes, live broadcasting sport events, listen to the music and more entertainment activities.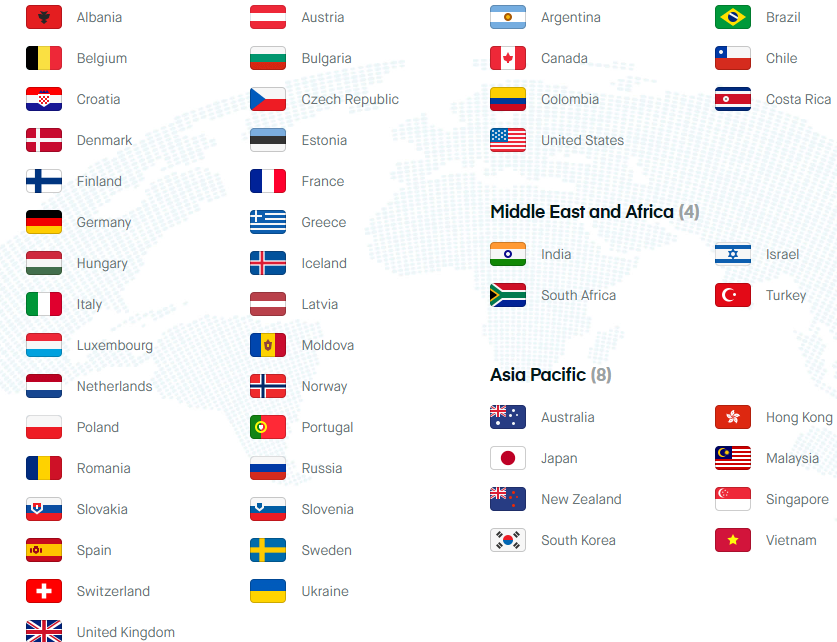 Surfshark VPN Helps Block Ads, Trackers And Malware!
Surfshark VPN is a really reliable and useful VPN tool even equipped with security tool's performance and features. Surfshark VPN is created with features blocking ads, trackers and malware. It can keep your webpage clean. You will not be interrupted by unknown and annoying popups. Surfshark VPN is among the few VPN services that has features to block ads, phishing trackers and malware. We usually should see some popups, ads banners or flash videos things showing on the webpage, which is very disgusting even dangerous to our personal information security. Actually some websites are controlled by cyber criminals who want to spread malicious ads, popups and malware things to target internet users' devices and intrude into user's network, then they can spy on what users are browsing online, what websites users are usually visiting, what items users prefer to purchase and what payment types users usually use while making payment. Actually all these ads, popups and malware are forms of phishing and identity theft. Random popups, ads and other banners are carried with different malware, virus and ransomware. And cyber criminals can make these random popups and ads more attractive to lure people to click on.
If internet users click on these attractive but dangerous popups and ads, their devices will be soon infected with malicious programs or apps. And those malicious programs and apps not only can damage device' system and disorder functions, but also can continually redirect you to malicious sites or scamming sites. Or you may receive strange but attractive email. This is because the cyber criminals have got some personal information like email address by spreading their malicious ads or popups, so they can soon send you scamming email. Similarly, in the email, you will see they give you attractive contents with active links, and even these kinds of emails are usually titled with legitimate companies or organizations like credit card company, bank corporation and other legit organizations. However, they are classified into fraudulent emails which aim at defrauding people out of money. Once you click on the links in the emails or those ads/popups showing on webpages, you will be redirected to a website where asks you to fill in your personal sensitive information like credit card number, bank account, email account and other relative information. If you don't think it over and enter your sensitive information, the cyber criminals will soon collect precious data. Your personal data would be illegally used by cyber criminals or you would be further scammed or your information is sold to other illegal third parties. In a word, it is dangerous when your sensitive information is exposed.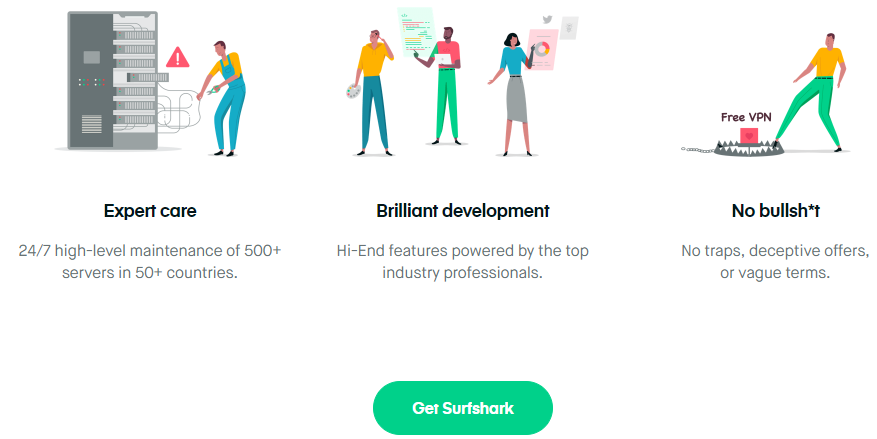 However, if you are running trusted and high-security VPN tool like Surfshark, then you can browse online with total ease. You won't worry if there is ad or popup showing up to interrupt you or steal your sensitive information or make your device infected with virus or malware thing. Surfshark is equipped with advanced technologies to block ads, trackers, popups, and malware things. Therefore, you actually not only have a VPN tool but also an antivirus or security tool. The technical team of Surfshark takes customer's online security more seriously, and design such a brilliant and high-performance feature. Therefore, it is trusted and useful to use Surfshark VPN on your device. With Surfshark VPN, you not only can access any websites from anywhere but also can avoid any malicious things on the internet and get complete security. So before choosing it it is better to read this Surfshark VPN review.
Surfshark VPN Masks Your IP And Stream Popular Contents
To bypass different kinds of restrictions like censorship or geo-blocking is one of the most important abilities that a strong and reliable VPN should possesses. And this is one of the most important reasons why internet users use a VPN tool on their devices. Internet users use VPN tools not only want to get protection from VPN encryption but also want to access blocked websites and get complete anonymity and freedom online. But how a VPN like Surfshark VPN can give customers online anonymity and freedom? Surfshark can masks internet user's real IP address and then alter their real identity, then internet users can get anonymity online.
Many popular websites especially streaming services like YouTube, Netflix, Hulu, BBC iPlayer, Spotify music, Pandora, and HBO are not available for all locations in the world. Take Netflix for example, Netflix service is available only for US residents or their specific locations. If you try to visit and open Netflix from outside United States, you will be blocked by such a message saying "Netflix is not available in your country". Netflix website actually uses a technology called geo-restriction. Similarly, if you are a fan of YouTube and usually watch favorite videos there, you will find some videos on YouTube is not available in some locations. This is because the provider of that video does not allow people in some locations to watch their videos, and these providers also applies geo-blocking technology to limit people in certain location to watch and share their videos. Thy typical example should be BBC iPlayer. Only UK residents can watch BBC iPlayer contents.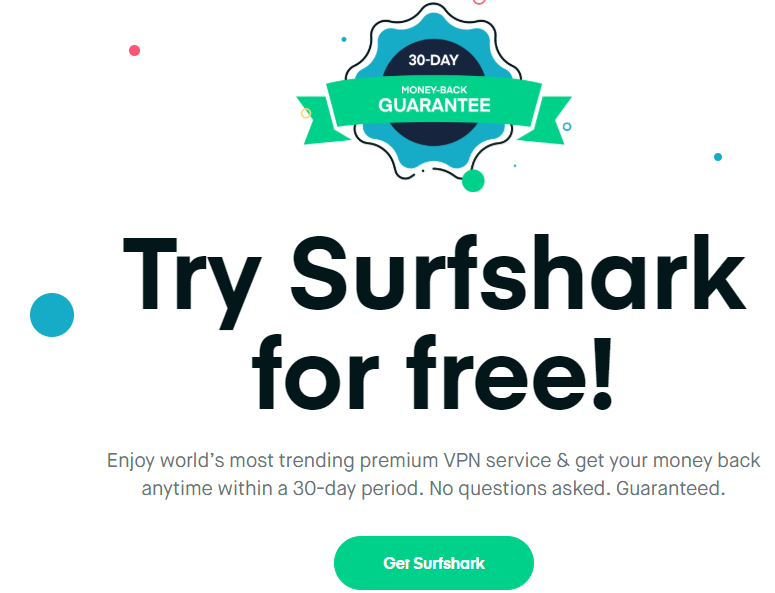 Geo-blocking or geographical restriction is one of the strong barrier stopping people to use certain website service. Geo-blocking technology is usually used by companies or websites to restrict people in specific locations to use their services, and people from disapproved locations will not be able to access and use the service. Geo-blocking Websites can detect your IP address and identify your real location, as one IP address can tell your location and other information. This is why website can know where you are from. Therefore, to successfully access and use such popular website and stream services like YouTube, Netflix, Hulu, BBC iPlayer, Spotify music, Pandora, and HBO, the best way is to use a strong VPN tool to mask your real IP address and change your real location. Surfshark VPN provides over 500 servers in 50 countries like United States, United Kingdom, Canada, France and more. Once you run Surfshark VPN on your device and connect it to servers in US or UK, then Surfshark VPN will soon mask your real IP address but instead give you a new IP address assigned by server, then you will have a new identity information. That means you are now in a new location, and your real location is also hidden by Surfshark. This is how Surfshark VPN masks your IP and stream popular contents.
News About Surfshark
Surfshark VPN passes independent security audit with flying colors. Surfshark VPN has just passed an independent security audit, becoming one of the very few VPN service providers to be investigated by professional experts. The audit of Surfshark browser extensions for Chrome and Firefox was carried out by the acknowledged German security company Cure53. As there are close to none VPN providers which have been audited, this is a unique case in the industry. So share this content with users!
Surfshark Updates For New Languages & Innovative Features: Surfshark moves fast as they keep working on some exciting things that add great value to their product and users.
Some new features: Smart DNS made easy for anyone! (+ Linux app)


Surfshark team present their two significant new additions: smart DNS for devices that cannot support VPN apps (PS4, Xbox, Apple TV, smart TVs & more) and a dedicated Linux app.
New languages & targeted landing pages


You can see that Surfshark website is now available in 7 languages (EN, FR, DE, ES, ZH, IT, NL)! And their apps are now available in 5 languages (EN, FR, DE, ES, ZH, and AR)!
8 Netflix libraries unlocked + many local streaming sites

With Surfshark you can find what you're looking for in Netflix libraries of the US, the UK, the Netherlands, Japan, Italy, Canada & Germany! A lot of exclusive content is only available in these specific countries, and users love that. Also, they've unlocked Hotstar, RAI Play Italy, BBC iPlayer, and many more.
Video Shows Surfshark VPN Review
Top 10 + Best VPN Services Worldwide
View More Top 10 Best VPN Services Here »
Summary of Surfshark VPN
Surfshark is a forward-thinking and fastest growing VPN service. Being the only provider in the world to allow unlimited simultaneous connections, Surfshark covers all the platforms, operating systems, and much more. Surfshark VPN right now provides the biggest discount on yearly plan and it just cost you $1.99/month which is almost the lowest price for VPN service in industry. Now many customers choose to use Surfshark's yearly plan. You can experience the world's most trending premium VPN service. Every month you just need to charge almost 2 USD dollar, then you can complete protections from hackers, ads, malware, you can surf online anonymously, you can visit any websites and steam any contents freely. It is really worthwhile, as $1.99/mo includes lightning fast speed, secure 800+ servers in over 50 countries, cutting-edge technologies like Kill Switch, multihop, cleanweb, zero-knowledge DNS and more, and 30-day money-back guarantee. You even can use the same Surfshark account on unlimited devices at the same time as $1.99 USD gives all your family and friends unlimited simultaneous connections. You should be impressed by Surfshark VPN's ultra-fast speed, hundreds of servers switching, high-level security protocols, diamond-grade encryption. What's more, no ads, popups, trackers and malware popping up while you're browsing online with Surfshark VPN. So after reading the Surfshark VPN review you understand it is an emerging VPN service with low cost, why not choose Surfshark VPN immediately? The key points are 1. Unlimited devices support 2. Very rapid speeds 3. Have a strict zero log policy 4. Based in the British Virgin Islands 5. All of their servers are obfuscated.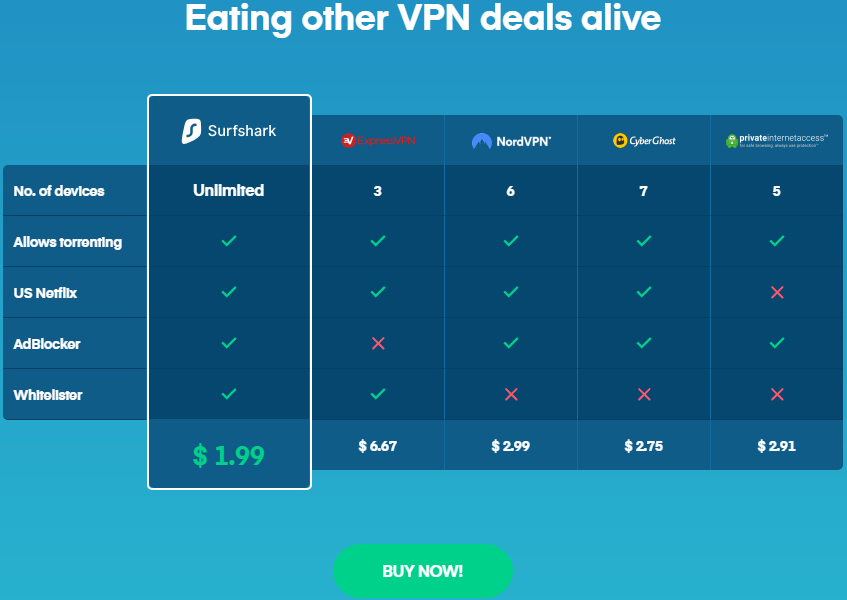 Published by Tony Shepherd & last updated on June 15, 2020 4:47 pm