Have you heard of Private Internet Access? If not or just know little about it then you can read this Private Internet Access review to better understand this VPN service. Private Internet Access alias PIA is the most anonymous VPN service in the world. It offers the highest quality for the lowest price. Private Internet Access is the leading VPN Service provider specializing in secure, encrypted VPN tunnels which create several layers of privacy and security providing you safety on the internet. Private internet Access provides dedicated VPN service for all people from different countries and regions. PIA has a huge network with 3,335+ servers covering over 33 countries. You can enjoy the fast speed and anonymity on the internet. They have a strict no traffic logs policy, that means there is no data or information logged by PIA. Since service is backed by multiple gateways worldwide with access in 33+ countries, 46+ regions, you can use Private Internet Access VPN to unblock any websites due to net censorship and geo-restrictions.


There is no problem accessing Facebook, Twitter, WhatsApp, YouTube, Netflix, BBC iPlayer, Hulu and more wherever you are from. Once you create a secure VPN account with Private Internet Access and sign up with one package, you can use PIA VPN to enjoy encrypted WiFi. There is unlimited bandwidth. PIA supports multiple VPN protocols like PPTP, OpenVPN and L2TP/IPSec. It allows 10 simultaneous connections. Private Internet Access VPN even can block Ads, trackers and malware. You also can download torrent contents as it also allows P2P. Private Internet Access offers instant setup and easy-to-use software and apps working on different popular systems like Windows, macOS, Android, iOS, and Linux.
Three Pricing Packages ( 2 Year Deal is the Best Value and Most Popular!)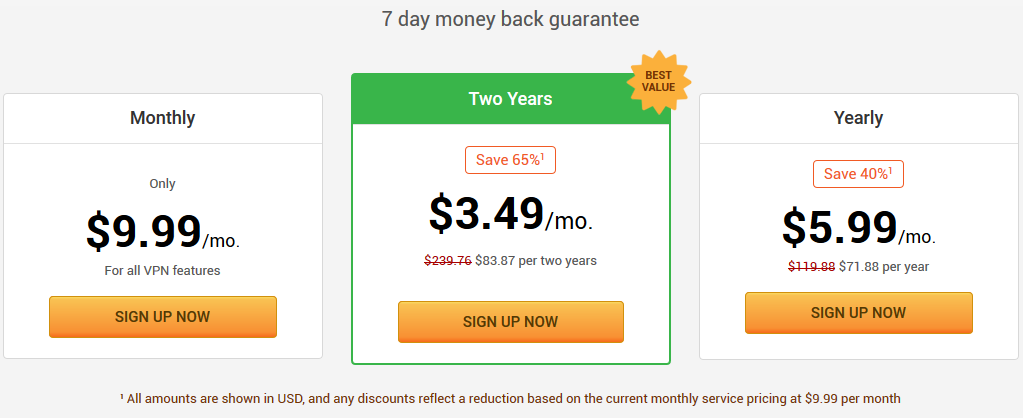 1-Month Plan $9.99/Month ($9.99 billed every 1 month SAVE 0%)
1-YEAR Plan $5.99/Month ($71.88 billed every year SAVE 40%)
2-YEAR Plan $3.49/Month ($83.87 billed every 2 years SAVE 65%)
Private Internet Access 2 Year deal now is the best value, it is down to $3.49/month, saves up to 65% (Compare with $9.99/month). It is More than half OFF!
Private Internet Access accepts payments via Amazon, Bitcoin, CashU, Google Wallet, OKPay, PayPal, and Ripple accounts, as well as credit cards. All plans include 7-day Money-back guarantee.

Basic Features of Private Internet Access (PIA)
Multiple VPN Gateways: 3,335+ Servers in 33+ countries
Multiple VPN technologies: PPTP, L2TP/IPSec, SOCKS5 and OpenVPN
Unlimited Bandwidth
10 devices simultaneously
No traffic logs
Secure VPN Account
Encrypted WiFi
P2P Support
Port forwarding
Block ads, trackers, and malware
SOCKS5 Proxy Included
Access via UDP/TCP
DNS leak protection
IPv6 leak protection
Internet Kill Switch (prevent traffic going elsewhere when VPN gets disconnected)
Instant Setup, Easy-to-use custom VPN software
24/7 North American VPN Support

Worldwide Coverage with 33+ Countries
Private Internet Access (PIA) is a well-known VPN service provider that has been around for many years. Almost PIA Users know that it provides plenty of servers across the globe at a low price. Private Internet Access servers operate almost 3,335 VPN gateways in 44 regions across 33 countries: Australia, Austria, Belgium, Brazil, Canada, Czech Republic, Denmark, Finland, France, Germany, Hong Kong, India, Ireland, Israel, Italy, Japan, Mexico, Netherlands, New Zealand, Norway, Romania, Singapore, South Korea, Spain, Sweden, Switzerland, Turkey, UK, US. You can use PIA VPN to stream your favorite movies and videos from anywhere you like. For example, you can stream Netflix and BBC iPlayer from China and other countries. PIA offers blazing speed.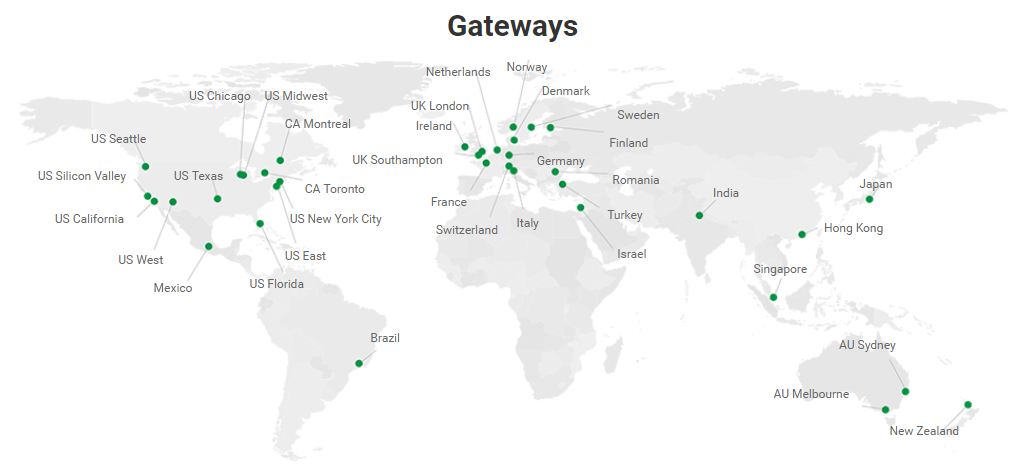 Does Private Internet Access Log My Information or Share with Other Parties?
No, Private Internet Access doesn't keep any logs! No Traffic or Request logs from Private Internet Access. That is to say this VPN service won't collect or log any traffics or use of its Virtual Private Network ("VPN") or Proxy. It also does not share your private information with any third parties. Private Internet Access does not share user's personal information with third parties for direct marketing purposes. You can check the info uses policy by Private Internet Access as following:
E-mail address is used to send subscription information, payment confirmations, customer correspondence, and Private Internet Access promotional offers only.
Payment data is used to manage client signups, payments, and cancellations.
Google analytics data is used to improve our website.
Apache webserver logs are regularly pruned and are created by the webserver. No usernames or passwords are ever logged by the webserver.
Contact submissions and e-mails will be used for correspondence.
Temporary cookies are used to handle control panel logins.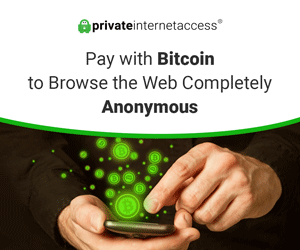 How Strong is the Data Encryption Level of Private Internet Access?
Private Internet Access supports the AES (128-bit or 256-bit). Data encryption is the symmetric cipher algorithm with which all of your data is encrypted and decrypted. The symmetric cipher is used with an ephemeral secret key shared between you and the server. This secret key is exchanged with the Handshake Encryption. The default setting of data encryption is Advanced Encryption Standard (128-bit) in CBC mode. SHA1 (HMAC using Secure Hash Algorithm (160-bit) is set by default for Data authentication. This is the message authentication algorithm with which all of your data is authenticated. This is only used to protect you from active attacks. If you are not worried about active attackers, you can consider to get the Data Authentication disabled. All Private Internet Access's certificates use SHA512 for signing.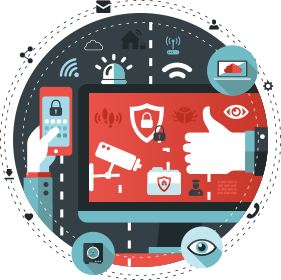 Different Kinds of VPN Protocols Supported by Private Internet Access Support?
Private Internet Access provides multiple VPN protocols including PPTP, L2TP/IPSec, SOCKS5 and OpenVPN for customer to choose from. And the PIA VPN can set the most secure protocols for you automatically by default by to fit for your network environment. The VPN protocols is the technologies increasing a layer of security. If you need encryption, please use the Private Internet Application or OpenVPN protocol with PIA service.
PPTP (Point-to-Point Tunneling Protocol) is one of the oldest VPN protocols. PPTP is used for both connecting to internet and intranet. Due to the lower encryption standard, PPTP is one of the fastest VPN protocols. PPTP is almost the same as L2TP, but this is a slightly older protocol and works great on older devices. This protocol is also supported by some Router models.
L2TP/IPSec  IPSec is a protocol suite that encrypts IP packets for transport and tunneling. Available for most mobile devices, IPsec protects all application traffic over an IP network. L2TP is mostly used by routers and modems, this is a protocol with an average speed but works on a lot of devices. Services that use L2TP are frequently bundled with security protocol IPsec. Once implemented, L2TP/IPSec becomes one of the most secure VPN connections available. It uses AES-256-bit encryption, and has no known vulnerabilities
SOCKS5 proxy The main advantage of SOCKS5 is the additional ability to provide authentication so only authorized users may access a server. This makes it more secure than other proxy servers. SOCKS5 proxy servers are very flexible and compatible with all kinds of Internet traffic, including POP3 and SMTP for emails, FTP for uploading files to websites, and P2P. The most awesome benefit to a SOCKS5 proxy service is a faster speed. A proxy server even a more secure SOCKS5 proxy lacks of encryption but helps ensure faster speed. The data going back and forth is not really encrypted, just the access to the SOCKS5 proxy server. proxy servers are great for quickly streaming high bandwidth content direct from the browser and many find this works faster than a VPN.
OpenVPN is one of the most popular VPN protocols due to its open-source nature. It's used by many people and organizations for different purposes on many different systems and devices. OpenVPN is an open source VPN protocol. OpenVPN uses a custom security protocol that relies heavily on OpenSSL, similar to the encryption used on HTTPS websites. Because it can be configured to use any port, it can easily be disguised as normal internet traffic and is therefore very difficult to block. It supports several encryption algorithms, the most common being AES and Blowfish. OpenVPN allows users to protect their data using essentially unbreakable AES-256-bit key encryption (among others), with 2048-bit RSA authentication, and a 160-bit SHA1 hash algorithm. OpenVPN is also available to almost every platform: Windows, macOS, Linux, Android, iOS, routers, and more. Even Windows Phone and Blackberry can use it!

Special and Advanced Features of Private Internet Access VPN
Let's go ahead for the Private Internet Access review. Private Internet Access VPN is used by thousands of users all around the world. PIA provides the highest quality VPN service with low cost. And it is powered by different special and advanced feature and technologies, which increases more privacy and security for people. Special features and technologies include internet Kill Switch, Port Forwarding, DNS Leak Protection, Encrypted WiFi, IPv6 Leak Protection and Identity Protection.
Simple VPN Client
One click VPN connect
Port Forwarding
DNS Leak Protection
Disconnect Protection
Detect Best Server
Alternate Configurations
Buy Safe and Secure VPN
24/7 North American VPN Support
The Most Anonymous VPN Service
Highest quality for the lowest price. Period.
Worldwide coverage with 33+ countries
Massive network with 3,335+ gateways
Easy to use custom VPN software
Private Internet Access 3335 Gbps+ Network
No logging.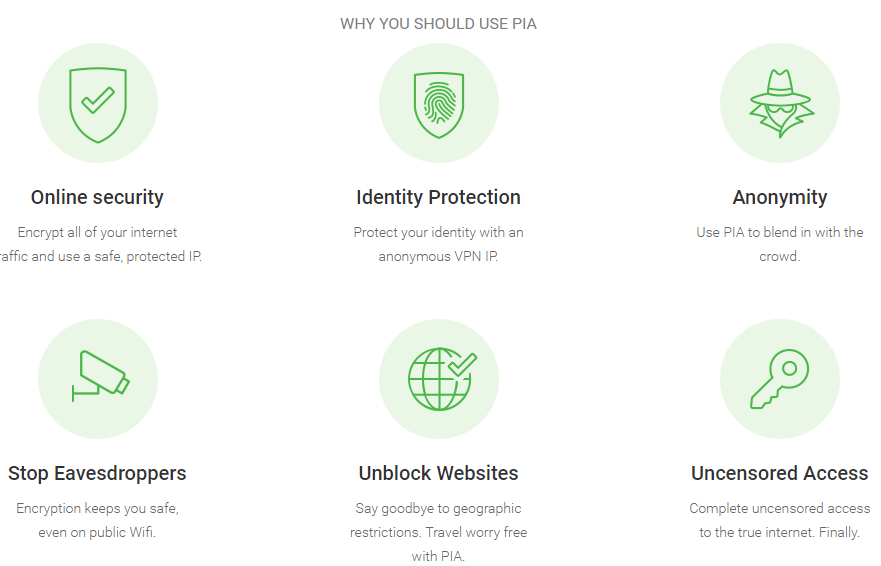 1. Internet Kill Switch
The internet kill switch activates VPN disconnect protection. If you disconnect from the VPN, your internet access will stop working. It will reactivate normal internet access when you deactivate the kill switch mode or exit the application. Kill Switch is an advanced VPN feature that prevents you from accessing an unprotected Internet connection when your online traffic is not forwarded through VPN. Even though AirVPN offers highly stable and reliable connection, it does not dare to take any risks to compromise the users' privacy and security. The PIA connection may be dropped for some certain reason, and when it happens, users is by default connected to the web through the regular connection provided by their internet service provider.
Internet kill switch feature is specially created to solve this problem to make the connection more secure and private for internet users. If internet Kill Switch detects any change (it could be a drop in the VPN connection), it immediately cuts off your internet connection until the VPN connection is restored or you shut down the VPN. Internet Kill Switch is actually an additional security layer to protect all your internet traffic from being exposed. This feature of Private Internet Access (PIA) VPN ensures that your IP address is never sniffed out when the network connection of the VPN server drops.

2. Port Forwarding
Since an IP address can easily be traced by anyone, most people prefer using services, like VPN or proxies to hide or change their IP address. These services employ the Port forwarding feature to change the IP address of any device.
Port forwarding, also referred to as Port tunneling, is a behind-the-scenes process of intercepting data traffic heading for a computer's IP combination and redirecting it to a different IP. Usually, a VPN or proxy program is used to cause the redirection, but it can also be done via hardware components such as a router, proxy server, or firewall. This allows you to send requests to servers across the internet without other people knowing the original location or IP address of these requests, guaranteeing your privacy on the internet.
Normally, a network router examines the header of an IP packet before sending it to any linked and appropriate interface. It, in turn, then sends the data to the destination that's in the header. But Port forwarding changes things a bit. In port forwarding, the intercepting application (your VPN client) reads the packet header, notes down the destination, and then rewrites the header information before sending it to another computer or server—one which is different from the computer/server you intended.

3. Encrypted WiFi Feature
With WPA and WPA2 now kracked, you need a VPN to protect your WiFi everywhere – not just in hotspots, coffee shops, cafes, hotels, and airports. If you use WiFi hotspots without encryption, your data can be seen, blocked, throttled, censored, or otherwise changed. Encrypted WiFi feature of Private Internet Access (PIA) helps to protect your information and data when you're under low-secure public WiFi network. If you are surfing on the internet by connecting with a lower secure WiFi spot, this feature of Private Internet Access (PIA) will automatically activate and run to keep hackers, snoopers and malware even virus out. Public Wi-Fi spots are where you are most vulnerable to online threats, but with PIA VPN, every network is a secure network. Therefore, you don't worry if your device would be infected with phishing ads or malware thing or your important financial information will be stolen by the cyber criminals or hackers as long as you run the PIA VPN on your device like smartphone or tablet. Private Internet Access deploys state of the art OpenVPN SSL based encryption layers over all the tunneled connections. There will never be an unencrypted moment. Additionally, this website has been encrypted since its inception. As long as your data connection is encrypted, even if they can access your data at a public wifi hotspot, they will not be able to decipher the data. It will look like cryptographic gibberish.

4. IPv6 Leak Protection
most VPN software fails to direct IPv6 traffic through the VPN tunnel, so when you connect to an IPv6 enabled website, your browser will make an IPv6 DNS request outside the VPN, which is therefore handled by your ISP. Private Internet Access offers IPv6 Leak Protection by disabling IPv6 traffic while on the VPN. IPv6 leak protection disables IPv6 traffic while on the VPN. This ensures that no IPv6 traffic leaks out over your normal internet connection when you are connected to the VPN. This includes 6to4 and Teredo tunneled IPv6 traffic. This will not block IPv6 on Windows XP if you have manually enabled it.
5. DNS Leak Protection
The DNS Leak Protection feature activates VPN DNS leak protection. This ensures that DNS requests are routed through the VPN, which enables the greatest level of privacy and security but may cause connectivity issues in non-standard network configurations. DNS Leak Protection can be enabled and disabled in the Windows application, while it is enabled by default on PIA macOS application.
Private Internet Access engineers their own private DNS servers for your DNS queries while on the VPN. After connecting they set your operating system's DNS servers to 209.222.18.222 and 209.222.18.218. When using a DNS Leak testing site, you should expect to see your DNS requests originate from the IP of the VPN gateway you are connected to. If you change your DNS servers manually or if for some other reason they are changed this does not necessarily mean your DNS is leaking. Even if you use different DNS servers the queries will still be routed through the VPN connection and will be anonymous.

6. PIA Identity Protection
Phishing attacks, data snoopers, thieves, hackers and criminals are constantly trying to obtain your identification credentials in order to steal your identity, or worse, access your online accounts to steal data, personal photos and more. These attacks and breaches of security are becoming more rampant as the economy has negatively impacted many people who have been forced to engage in illegal, malicious activity.
Identity protection provides a safeguard against these disasters and provides a layer of security effectively protecting your identity while browsing online. Private Internet Access offers state of the art, identity protection services which helps prevent and protects you from being exposed online. While many services exist offering "identity protection" services, many of these services take a reactive approach providing assistance only after your identity has been stolen. PIA service differs as we take a proactive approach, hiding your identity every step of the way to prevent identity theft before it happens.

Video Guides Private Internet Access Review
Top 10 + Best VPN Services Worldwide
View More Top 10 Best VPN Services Here »
Private Internet Access Review Summary
Private Internet Access VPN is well-known VPN service based in United States. It offers user-friendly internet face and easy-to-use navigation. PIA offers a lot of great features. You can make sure that your sensitive data is protected as you browse as PIA offers a no-logging policy. PIA does not offer a free trial but does have a 7-day money-back guarantee. Different packages and prices are provided by Private Internet Access to meet different people. It does offer different ways and options like Visa, Mastercard, American Express, PayPal, AmazonPay, Bitcoin, Ok Pay, Z-cash, Mint, Mobiamo to pay for Private Internet Access package, or you can choose anonymous payment way. PIA great features like internet kill switch, socks5 proxy, DNS leak protection, IP Leak protection, port forwarding to increase more layers for privacy and security on the internet. therefore, it is comfortable to use Private Internet Access VPN on your device. It absolutely protects and ensures your online privacy and anonymity. It is the best choice to use Private Internet Access to encrypt all your data, protect against any hackers and snoopers, access blocked websites and stream videos or movies. Get started to try Private Internet Access for 7 days Risk-Free now.

Published by Tony Shepherd & last updated on April 4, 2019 8:07 am