Have you heard of Sticky Password? Is it offering free plan and premium plan? Don't know if this password management tool is secure? Read this Sticky Password review here to get the information you want and see if it is the best password manager software. Well, Sticky Password Premium is a cross-platform Password management software, it can help you remember your dozens or even hundreds of different passwords, and can achieve a key fill, through the cloud synchronization, it can also be called at any time on other devices. If one wants password security, the expert suggests using random passwords. Password security is the most important, do not waste brain, with a powerful and confidential software!
Introduction of Sticky Password

Sticky Password is a solid and robust password management software solution. It provides professional security tool with rich features to help users manage and store tons of passwords, online accounts, applications and identity information. Sticky Password manager is used by over 2 million people worldwide. Sticky Password manages all your passwords and personal data. Your data is always encrypted and only your Master Password known to you exclusively can unlock it. There is any never any access to your data by anyone, as all passwords are being encrypted locally on your device, and the master password is known only to you not staffs of Sticky Password. Besides, Sticky Password uses highest and the most advanced encryption AES-256 bit to encrypt all your passwords and personal data. AES-256 bit is an unbreakable encryption method used by US government to store high-secret documents and files.
Autofill feature of Sticky Password can automatically fill forms for you online. It is convenient to use Sticky Password as you don't have to remember passwords but all is done by Sticky Password. If you need it to create strong passwords, it is easy for Sticky Password to generate extra-strong new passwords. You don't need to worry your sensitive banking details on the internet as all your credit cards, online banking info, or other online billing transfer information will be completely protected by Sticky Password. Sticky Password works on your PC, Mac, Android / iOS tablets and smartphones. Sticky Password really simplifies your life!
Sticky Password Plans and Packages
1 user/lifetime $74.98 $149.99

Save $75

1 user/1 year $14.99 $29.99

Save $15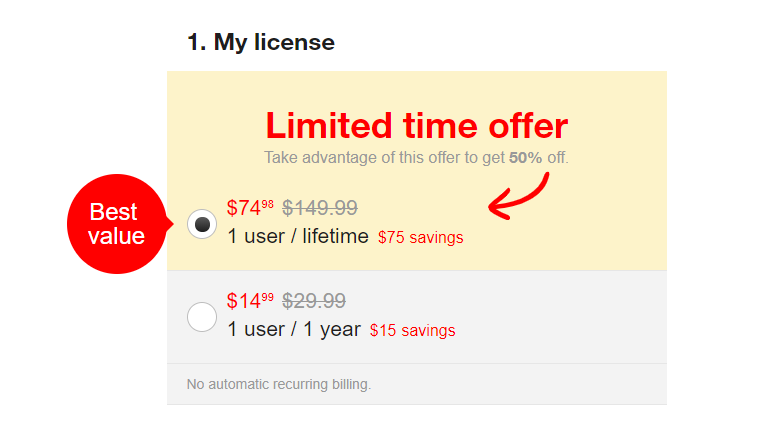 What is the Sticky Password licensing Model?
Sticky Password Premium is available as 1-year as well as lifetime license. During the active license period you will have access to free upgrades to all the available features and functionality for all of your devices associated with your personal Sticky Account.
Sticky Password Premium
Sticky Password Premium is their flagship product. In addition to all of the functionality available with Sticky Password Free – including unlimited password accounts and support for all your devices (Windows, Mac, Android, iOS) – the Premium version supports multiple data synchronization options. You decide how you'd like to synchronize your data: via our secure cloud servers, over your own Wi‑Fi or local network, or no synchronization.
Sticky Password Free
Sticky Password Free allows you to use the majority of the advanced security and usability features of Sticky Password. A key difference between the Premium and Free versions is that data synchronization and backup for multiple devices is supported only in Sticky Password Premium.
Why Sticky Password Premium is Preferred by Users?
Sticky password Premium provides such strong and solid features including password manager, autofill, form filling to make you store, manage, organize and share passwords, files, documents and other personal information. besides, you can use Sticky Password's password generator generates strong and complex passwords when you need a new password for new account. Sticky Password is protected and equipped with such advanced technologies including biometrics, supper secure encrypted data, AES-256 encryption, two-factor authentication. Sticky Password is compatible with all popular and major platforms based on Windows, Mac, android and iOS. And also it supports web browsers including IE, Microsoft Edge, Chrome, Firefox, Safari, Opera and more. you are allowed to sync Sticky Password account across all devices. Sticky Password even provides cloud synchronization across all devices. you can sync your account through Sticky Password's cloud servers. You can make synchronization via local Wi-Fi, which will give complete secure protecting against hackers to access your data and all your encrypted data will never leave your devices. Local Wi-Fi Sync feature mainly makes you sync over through local WiFi. With this feature, you don't need to synchronize online via Sticky Password's cloud servers. It is definitely secure to use Sticky Password as it applies military-grade encryption AES-256 encryption method which is a world's leading standard and can't be cracked by anyone. Besides, only you know your master password, even Sticky Password's employees don't know it. What's more, Sticky Password has Two-factor authentication which add one more layer of security to protect your passwords and other information. Fingerprint scanning or biometrics is one of Two-factor authentication form. That means the account holder need to unlock your account with one swipe of finger. And next you need to unlock Sticky Password by your master password and a unique time-based code generated every 30 seconds showing on your smartphone. Therefore, it is completely secure to use Sticky Password.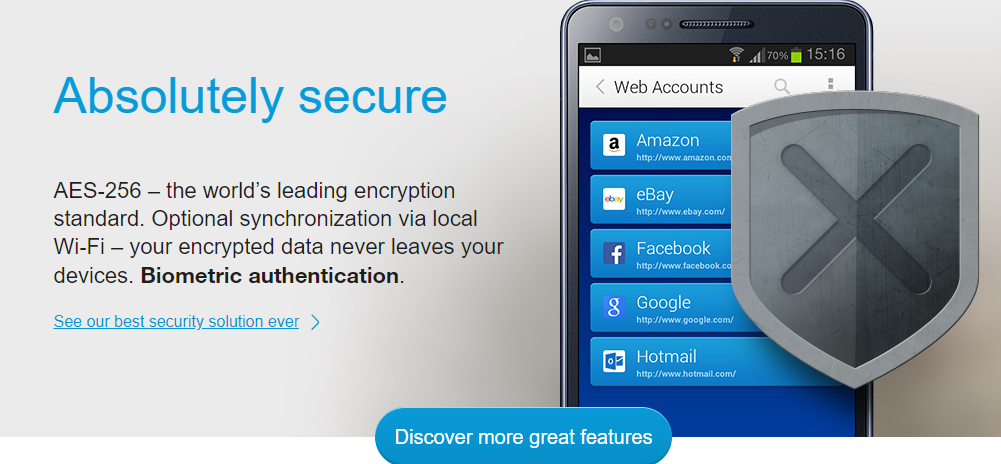 Is it Necessary to Use a Password Manager?
Passwords are the most popular form of authentication and they are often the only barrier between your personal information and a malicious person trying to steal it. The safest password technique is to create a new, strong password for each account. Of course, it would be inefficient to try to remember so many different passwords. Therefore, it is necessary to use password manager like Sticky Password Manager – a program designed to protect your passwords and provide effortless, authorized, access to them.
1. Sticky Password Stores all your passwords
Nowadays, we usually rely more on the internet, have different apps and accounts, then we have to create different logins and passwords. It is difficult for us to memorize tons of different logins and passwords by brain. Some people have to write down logins and passwords on a note book or a piece of paper or keep them in a text file saved on your device like computer, Mac or mobile. However, it is a big security risk if you write down all passwords into paper or save in computer desktop. If you throw away that paper written down with that passwords, or your computer desktop is hacked by remote hackers and snoopers, all your password will disappear or be stolen by hackers for illegal purpose. Once your passwords and logins are stolen by hackers, all your information on that account will be in a big risk. If your bank account number and passwords are known by someone, you will face a financial loss. Therefore, if you have tons of passwords, you are suggested to use a password manager like Sticky Password. Sticky Password can manage, store and organize all your passwords and other sensitive information in a secure vault with AES-256 encryption. You don't have to remember all passwords once you use Sticky Password, instead you just need to remember one master password, then all will be done by Sticky Password.
2. Creating More secure passwords
Usually remembering all passwords is impossible. Besides, it is difficult to remember long and complex passwords. Therefore, many people choose to create simple and easy-to-remember passwords, or even use the same password for different accounts. But actually the passwords we create is not strong enough to resist the hackers. That means the password is easily guessed and cracked by hackers. Simple and easy-to-remember passwords are actually very weak and don't have a strong ability to prevent cyber hackers. Besides, re-using the password for different accounts will put your personal information into vulnerable condition as hacker can access your account if password is decrypted by cyber criminals. Then all your information will be vulnerable to hackers. Therefore, it is important to generate strong and complex passwords. Password generator of Sticky password can automatically generate more complex password mixed with various length of uppercase letters, lowercase letters, numbers, digits, symbols and other special characters that are nearly impossible to guess. And Sticky Password's password manager can store all these long and complex passwords securely where no one but you can access them.
3. Protection against phishing
Right now many scammers defraud people's personal sensitive information through phishing emails, phishing ads and other forms. Phishing email usually pretends to be from legitimate company like credit card company, bank company and other legitimate organizations to send attractive message. The attractive message usually contains a links or attractive warning requesting you to click on, and once you click on the link, it will redirect you to fraudulent websites which requests you to input your personal information like credit card details, birthday date, identity info and more. However, if you enter this important sensitive information into fraudulent websites, your information will be collected by cyber hackers. You may face financial loss. However, Sticky Password not only has a form filling feature but also uses strongest AES-256 encryption method. It can identify the website address first that your bank or other secure website should be redirected to. If it is a fake sites, Sticky Password will stop you visiting the site. That means sticky Password can prevent you from any stealth redirection and give you a prompt warning. Anyway, you can enjoy a safer access to all sites.
4. Automatic login and form filling
Sticky Password provides automatic filling and form filler feature to help people save time online. It is a big reason why password manager attracts people. Automatic login and form filling feature increase convenience and security for online experience. After your logins, passwords and other personal information are stored in Sticky Password, it will be easily recalled by autofill and form filler feature. Once you visit websites or apps, Sticky Password can recognize your sites or apps and logs you in automatically. Besides, form filler mainly helps users to fill your information in long and tedious forms like payment form, shipping form, resume submission, credit card apply form and more. You don't need to type any words to fill in the information that form need. Form filler saves time and increase more security and convenience for online experience. Save time, type less is what users want. With form filler feature, you will not be bored by those long and tedious forms, as form filler will do everything for you. You just need to click on one button then every information will automatically be filled into the form. You don't need to spend time filling tons of information online any more.

The 4 key reasons why Sticky Password is absolutely secure
Sticky Password claims that they are a bulletproof vest for your passwords. That mean they can provide complete security for all your passwords and personal data. what reasons make them so confident that Stick Password is completely secure? Does Sticky Password give protection and security of your data? Here they give 4 key reasons why Sticky Password is absolutely secure:
1. Your master password is known only to you. No one else!
Mater password is an important encrypt and decrypt key to protect your Sticky Password. Actually the master password is only known to yourself. No one can know your master password. Your master password can't be saved on Sticky Password servers, Sticky Password will never send anything about you over the internet. You may be curious that if your master password is saved on device. Here you should be reassured that your master password will not be kept on devices or Sticky password servers. In fact, Master Password just exists in your brain. Your master password is not even gotten by Sticky Password's staff, administrator or any one else. Your master password does not exist in cloud storage. That means you have to remember your master password clearly. If you forget it, you will not be able to access your Sticky Password account.
2. Strong AES-256 Encryption to Protect Your Password and Data
AES-256 encryption is a strongest encryption method to protect personal information and all your password. Sticky Password is also equipped with this advanced encryption method, that is why most people choose to use Sticky Password. Secure storage is the first factor that people choose a reliable and excellent password manager. 256-bit encryption is used for encrypting and decrypting user's files and data. AES-256 encryption is used by US military and government to keep top secret files and documents. It is mostly use in most modern encryption algorithms, protocols and many encryption technologies including AES and SSL. 256-bit encryption is the longest encryption key use to encrypt a data stream or file. Since it is the longest encryption key which is impossible to be cracked and decrypted. Even though you group up all super-fast computers in the world in order to decrypt this longest encryption method, and you task themselves to decrypt your 256-bit encryption, it will not be possible to decrypt this longest encryption method by this group of fastest computers. With AES-256 encryption method, all your passwords and data will be completely protected by Sticky Password.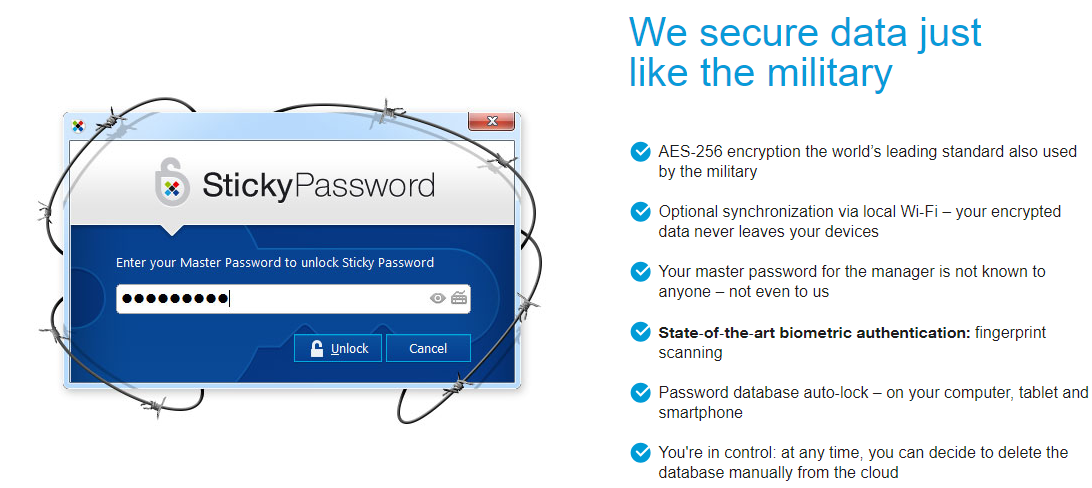 3. Offline Data Sync – via Local Wi‑Fi or Manually
Sticky password offers both cloud storage, cloud synchronization and local synchronization in order to give users more security to protect their password and other personal data. If you want to sync your passwords or data stored in sticky Password across your devices, you can choose to sync through cloud or via local network WiFi. Even though Sticky Password supports multiple options of synchronization to help back up your encrypted data base, you still can sync all your data and passwords across all devices. Syncing can also help update the passwords storage. The main advantage of cloud synchronization is to help you backup and sync your password and data through secure cloud solution. Then all your encrypted data just can be accessed on your devices not in the cloud. Local synchronization mainly helps sync all your devices with each other only through your local network or WiFi. You don't need to sync through cloud anyone. And local syncing is more secure as it just takes place via WiFi, and all you encrypted data and passwords will never run out into cloud.
4. Key biometrics: fingerprint scanning
Fingerprint scanning technology is usually used in device that has fingerprint scanners. Most device like iPhone, iPad, Samsung Galaxy and other Android devices are equipped with this fingerprint scanner technology. Fingerprint scanning is one of the important identity verification technologies. Device based on iOS system become popular due to its secure design and feature with Touch ID and fingerprint scanner. Sticky password with fingerprint scanning is completely secure as it adds one additional layer of security to protect against hackers. Sticky Password uses fingerprint scanning technology to identify the account holder. But actually it is easy to operate and you just need to swipe your fingerprint and your Sticky Password is unlocked. Sticky Password supports fingerprint scanning authentication on devices that are equipped with fingerprint scanners like iPhone, iPad and other android mobiles. Anyway, Fingerprint adds more layers of security for your Sticky Password account.
5. Two-Factor Authentication Standard: Adding More Layers to Protect Your Data
Two-factor authentication adds a second level of authentication to an account log-in. When you have to enter only your username and one password, that's considered a single-factor authentication. 2FA requires the user to have two out of three types of credentials before being able to access an account. Increase the security of your data by enabling Two-Factor Authentication (2FA). When activated, you'll be prompted to enter an additional unique security Code after entering your Master Password each time you unlock your database. Two-Factor Authentication (2FA) is the use of 2 pieces of information for authentication – each of which is from an independent source. The requirement of an additional component(s) to allow access increases security because the probability that multiple unconnected sources have been simultaneously hacked is small.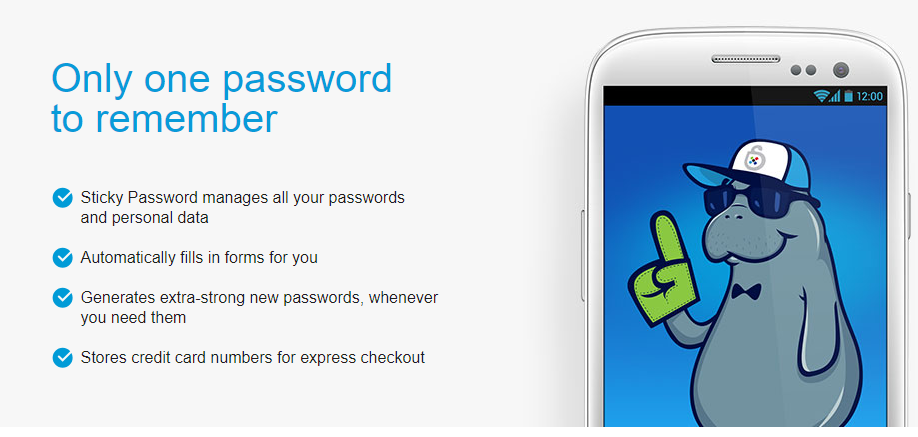 Watch This Video For Sticky Password Review
Top 5 Best Password Managers Worldwide
| Product | Rating | Support Platforms | Offers | Price(USD) | Official WebSite |
| --- | --- | --- | --- | --- | --- |
| | Rating #1 Dashlane Review | Windows, Mac, iOS, Android, Linux, Chrome OS, watchOS | Offers Free Version | $39.99/Year | Best Deals |
| | Rating #2 Lastpass Review | Windows, Mac, iOS, Android, Linux, Chrome OS, Windows Phone, watchOS | Offers Free Version | $36.00/Year | View Deals |
| | Rating #3 1Password Review | Mac, iOS, Windows, Android, Linux, and Chrome OS | Offers Free Version | $35.88/Year | View Deals |
| | Rating #4 Sticky Password Review | iOS, Android, Safari (Mac), Chrome and Firefox (Mac and Windows) | Offers Trial Version | $14.99/Year | View Deals |
| | Rating #5 LogMeOnce Review | Windows, Mac, iOS, Android | Offers Free Version | $12.00/Year | View Deals |
Summary
After finish reading this Sticky Password review you know well about this great password manager, correct? Sticky Password, founded in 2001, is a software utility that creates and organizes passwords to simplify a user's online life without compromising security. Sticky Password provides automatic login, one-click form filling, storage for personal data, and basic collaboration functionality for small groups. Sticky Password has user-friendly and intuitive interface, it is easy and convenient to use Sticky Password to keep all your passwords. It uses two-factor authentication and AES-256 encryption to secure passwords and personal data. State-of-the-art biometric authentication standard is also applied by Sticky Password to offer more security for your personal data. Sticky Password supports fingerprint authentication on iOS and Android phones and tablets that are equipped with fingerprint scanners. This includes Touch ID on iPhones and iPads, and the Samsung Galaxy and the other Android devices. So, Sticky Password is 100% secure password manager. Sticky Password is compatible with all popular operating systems such as Windows, Mac OS, Android and iOS. Sticky Password offers a number of useful features and solid security for login data. The synchronization feature allows users to always keep their data up-to-date on all their devices. Sticky Password is well suited for users who want to simplify their password management and securely store their login data in one place.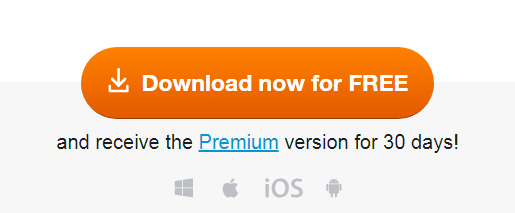 Published by Tony Shepherd & last updated on March 20, 2020 6:40 am