Can 1Password be trusted? Is it any good? How much will it be and is it worth the money? 1Password is one of the best and the most powerful password managers on the market that developed by AgileBits Inc. It stands out among its excellent competitions thanks to its ease of use, great interface and excellent security. 1Password is able to handle all your login credentials without compromising the security of your accounts, and the best thing is it takes the hassle out of creating and remembering strong passwords. Check out our full 1Password review before you buy so you can make a better decision.
1Password Overview: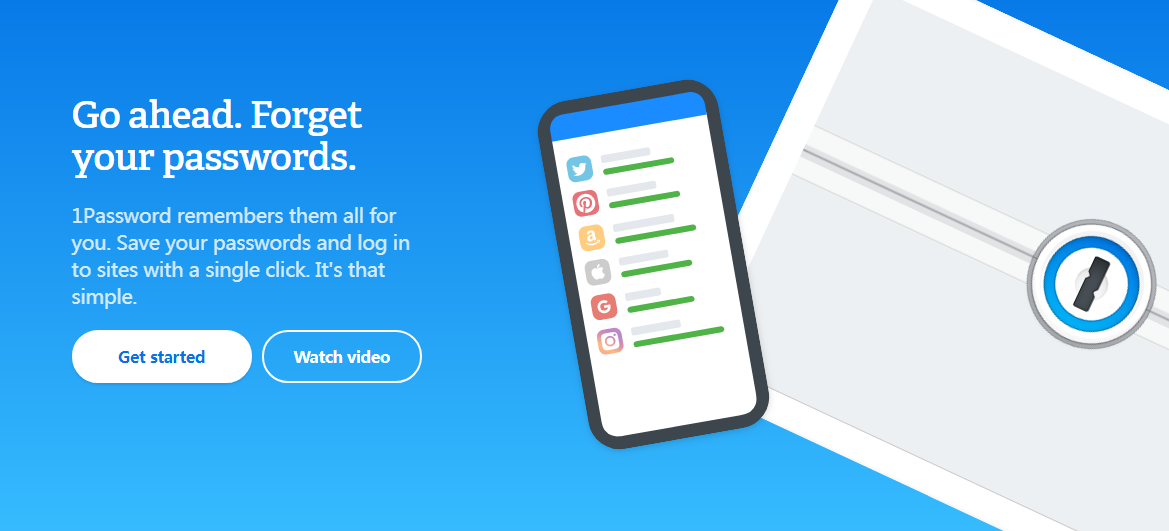 1Password is a privacy-focused password manager developed by AgileBits Inc, a Canada-based company. It is also a big name in password management, combining industry-leading security and award-winning design to be the most loved security tool on the market that is trusted by over 50,000 businesses and millions of customers. The service goes above and beyond password management, with strong form-filling features and the ability to generate new strong passwords uniquely for every site and service, and securely store your financial information, personal documentation, or anything you need to keep secure and accessible. 1Password applications and extensions are available for Mac, iOS, Windows, Android, Linux, Chrome, Opera, Edge, Firefox, and Safari. So, whether you are on a smartphone or a computer, 1Password can remove the pain of remembering passwords and requesting endless reminder emails by looking after your passwords for you.
When it comes to 1Password features, 1Password can auto-fill stored credentials. It saves your usernames and passwords when you sign in to websites, so you don't have to remember them. Besides, with its built-in strong password generator, you can create unique, random passwords for every site. Like everything you save in 1Password, they will remain encrypted and are only ever visible to you. 1Password comes with an unique feature called Travel Mode that protects your 1Password data from unwarranted searches whenever you travel. When you turn on Travel Mode, every vault is removed from your device except for the ones that you have marked as "safe for travel" and you can easily restore your data once you arrive at your destination. This is helpful in the event your device is lost or stolen while traveling. Now 1Password is widely used and integrates with Troy Hunt's Pwned Passwords database, so you can tell if a password that has been previously leaked or exposed in a data breach. The Watchtower feature will automatically check the login items you store in 1Password and alert you if any of your passwords have been compromised, even you are using reused or weak passwords, it will alert you and help you correct the problem and generate new and stronger passwords. 1Password also lets you share passwords to your family and coworkers securely so you don't need to rely on those unsafe methods like using emails or instant messages.
Everything you store in 1Password is protected by a Master Password that only you know and never shared with anyone, even AgileBits. You are the only person who can unlock your 1Password vaults and access your information anytime, anywhere. They're all protected by end-to-end encryption, so nobody can learn anything by intercepting your data while it is in transit or even obtaining it from AgileBits. In addition, AgileBits has partnered with Duo Security to bring two-factor authentication to 1Password for Teams and Business, you can get the peace of mind that your information is always secure with 1Password. Try 1Password free for 30 days now!
1Password Pricing Plans: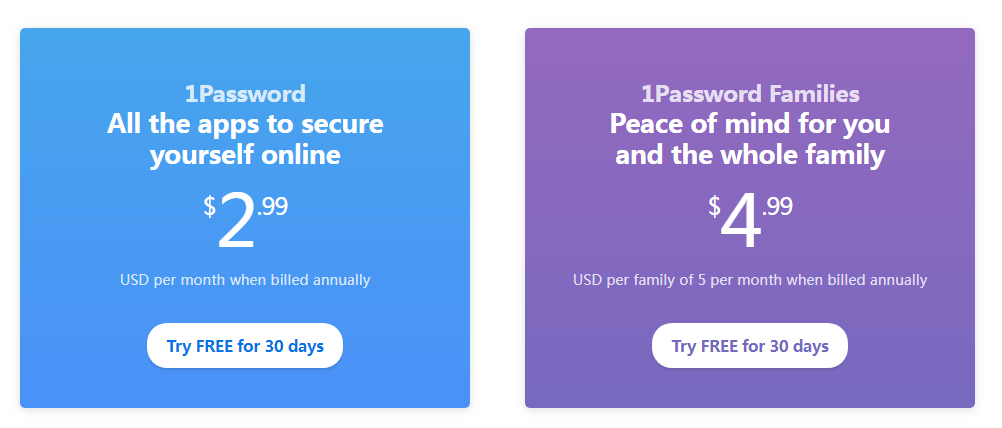 Unlike Dashlane and Lastpass which offer a free plan to their customers, 1Password only provides a 30-day free trial for new users. And after that, it is $35.88 per year for a single user, or $59.88 per year for a family plan good for up to five users. That means, if you take the single-user plan, it will be $2.99/month when billed annually. For that fee, you get unlimited password syncing across all your devices, account access both online and offline, a password generator, a security audit, security alerts, email support, 1GB of secure online storage, and one year of item history, which lets you restore deleted data and passwords.
For people who need to manage or share passwords with a group of friends or family, the Family Plan will be the best deal for them. It costs $4.99/month when billed annually. Compared to the single-user plan, this plan adds sharing of passwords and documents, permission controls, and account-recovery tools. Five members are covered under this plan, which includes the option of inviting up to five guests for limited sharing of the password manager service. Additional members can be added for $1 each.

1Password offers a good business password management service. It offers subscription products aimed at smaller businesses, group users and larger teams. For small work groups, you can take the Teams product which is priced at $3.99 per month per user. It offers unlimited shared vaults and item storage, administration controls, 1GB of online document storage and the ability to share with up to 5 guests for limited information sharing. The next level is 1Password Business, which is a perfect option for medium-to-large businesses and companies. The plan offers five times the storage, free Family accounts for each team member and a VIP support team, and it costs $7.99 per user per month. 1Password Business ensures your business maintaining the highest level of security while giving you the peace of mind you deserve. Apart from this, there is 1Password Enterprise which adds a dedicated account manager to the business tier, set-up training, and an onboard engineer. The plan is perfect for those with hundreds of employees. 1Password offers custom quotes for Enterprise instead of pre-set prices. Recently, 1Password has released a new Advanced Protection suite that provides business users with five key tools designed to protect their passwords. With the Advanced Protection suite, business users will get company-wide two-factor authentication enforcement, new firewall rules, better sign-in attempt management, complex Master Password policies and modern app usage requirements.
Features & Functionality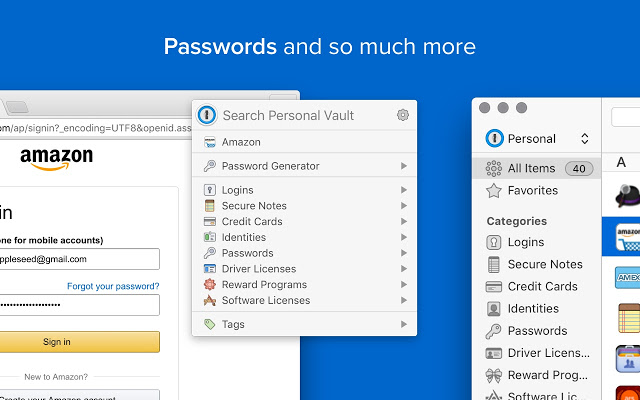 Support Major Browsers – 1Password features a browser extension for easy access to your saved passwords while you're browsing online. Chrome, Firefox, Safari, Edge and Opera are all supported.
Auto-lock – 1Password can automatically lock to make sure that no one can access your data when you're away from your desk or after closing the lid on your laptop.
Auto-Fill Login and Password Entry Fields – When you need to sign in on a website, 1Password enters your login and password and logs you into the website automatically.
Password Generator – Constantly struggle to come up with tough passwords? It's time to give 1Password's password generator a shot. Create strong, unique passwords for your accounts and services easily.
Support Synchronization – 1Password supports synchronization of password vaults using Dropbox (all platforms) or iCloud (MacOS and iOS only).
Two-factor authentication – 1Password lets you choose which second factors your team can use when they sign in on a new device: an authenticator app, security keys, or Duo and then enforce two-factor authentication for your entire team to make sure no one slips through the cracks.
End-to-End Encryption – 1Password uses end-to-end encryption no matter which device you use, which means your data is always secure.
Allow Recover a Deleted Login from Trash – 1Password allows you to recover deleted passwords for up to 365 days. So if you delete a password but then you find out later that you still need it, 1Password can restore it for you.
Fingerprint support for mobile devices – You can sign in to your 1Password app with just a touch of your finger.
Advanced Protection Suite (For Business) – You will be able to create security policies, prevent threats, and monitor your team's access and even restrict where employees can access 1Password, making sure to block sign in attempts from certain locations or IP addresses. It will give you an overview on any reported, blocked, and failed sign-in attempts.
Watchtower Vulnerability Alerts – The 1Password Watchtower service keeps track of compromised websites and services that could impact your personal security and alerts you to change your passwords or to be on the lookout for potential problems.
Travel Mode – The Travel Mode feature allows 1Password to temporarily remove all passwords, credit cards, and other stored data from a user's devices. It protects users worried about running into trouble with security agents while traveling. When you arrive your destination, you can restore access to them with just a single click.
Is 1Password Safe?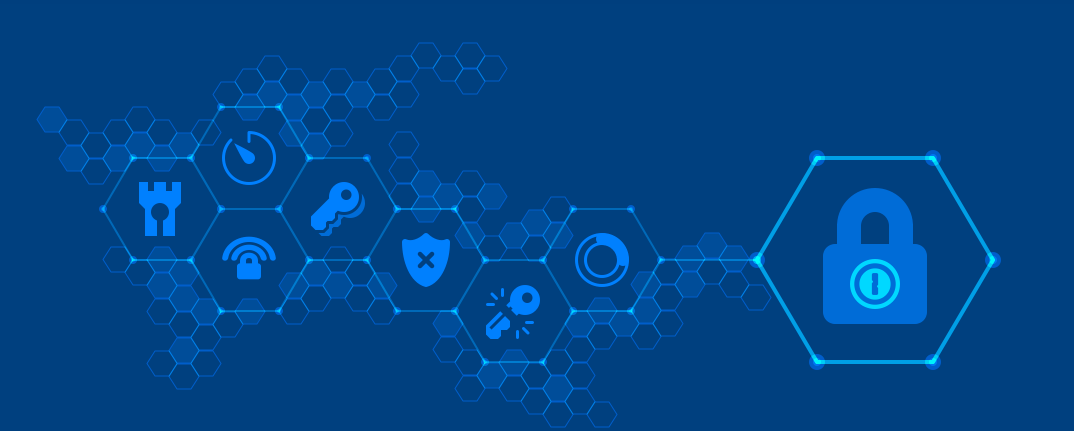 1Password is one of the best password managers that provides a simple way to store, manage and retrieve passwords for online accounts. It not only does the remembering but can also generates the random strings of lowercase and uppercase letters, numbers and symbols required to protect your online accounts from hackers and scammers. While that sounds appealing, there are some questions left to answer before you entrust this tool: Is 1Password safe? Since all your passwords are stored in 1Password, what happens when your 1Password account is hacked – as has occurred with popular password managers such as LastPass and 1Login? Can it really be safe to save all your passwords into a single online place?
Security experts agree that using a password manager is far safer than reusing passwords or writing them down, but there are security vulnerabilities to be aware of.  However, there is no such thing as "safe and secure." 1Password is a big name in password management and they take security very seriously. 1Password has never been hacked. If it was, your passwords and sensitive information would still be safe. That's why over 50,000 businesses and millions of customers choose their service. 1Password is so confident in its security, the service offered $100,000 in prize money for anyone who could hack one of its accounts. That is because 1Password's security model starts with a solid foundation of encryption, so that there's no backdoor so that you can use a Master Password of your choosing to secure your data. It can be as strong as you want it to be. And, on top of that, 1Password uses PBKDF2 to slow down attackers if they try to use automated brute force attempts to guess your password to break into your data. In addition, 1Password features two-factor authentication as an added layer of security and it offers Watchtower which will automatically notify you if there has been a security breach for a website you use. While it's impossible to be completely immune from the most advanced threats, selecting 1Password can help users to protect their credentials from the majority of attacks that they may face. Sign up for a free trial of 1Password today to take the right steps to keep your passwords safe and your information secure!
Pros & Cons:
Pros:
Simple and straightforward interface.
Sync/Multi-Platform supported.
256-bit AES encryption for storing your passwords.
Supports two-factor authentication.
Travel Mode that protects your 1Password data from unwarranted searches when you travel.
The ability to check the security of all your passwords and alert you to any password breaches.
1Password can store passport and driver's license info, WiFi passwords, email account info, bank account info, social security numbers, server info, and much more.
Cons:
1Password is based in Canada, they could be forced to hand over customer's data.
Can't change multiple passwords at once.
No live chat or phone support.
No free plan is available.
1Password Review Video
Top 5 Best Password Managers Worldwide
| Product | Rating | Support Platforms | Offers | Price(USD) | Official WebSite |
| --- | --- | --- | --- | --- | --- |
| | Rating #1 Dashlane Review | Windows, Mac, iOS, Android, Linux, Chrome OS, watchOS | Offers Free Version | $39.99/Year | Best Deals |
| | Rating #2 Lastpass Review | Windows, Mac, iOS, Android, Linux, Chrome OS, Windows Phone, watchOS | Offers Free Version | $36.00/Year | View Deals |
| | Rating #3 1Password Review | Mac, iOS, Windows, Android, Linux, and Chrome OS | Offers Free Version | $35.88/Year | View Deals |
| | Rating #4 Sticky Password Review | iOS, Android, Safari (Mac), Chrome and Firefox (Mac and Windows) | Offers Trial Version | $14.99/Year | View Deals |
| | Rating #5 LogMeOnce Review | Windows, Mac, iOS, Android | Offers Free Version | $12.00/Year | View Deals |
Bottom Line:
A good password manager generates, stores, encrypts, and retrieves complex username/password credentials and 1Password ticks all of those boxes. Once you have it, you can't live without it. The password manager secures your digital life and it can be your first defense against getting hacked. With 1Password, you can manage your login credentials, identity and sensitive data across all your devices while keeping them safe. 1Password also can generate unique, strong passwords to ensure you are not reusing them across your services. If you're looking for a trusted password manager app to keep your login information private and secure, 1Password is definitely the best solution to go. However, 1Password lacks a free version, but there's a 30-day free trial for either plan so you can test it out before committing. Overall, 1Password is a solid and affordable password keepers that ensures a more secure online experience as well as gives you a little peace of mind amid a stressful era of password leaks and data breaches. Try 1Password free for 30 days!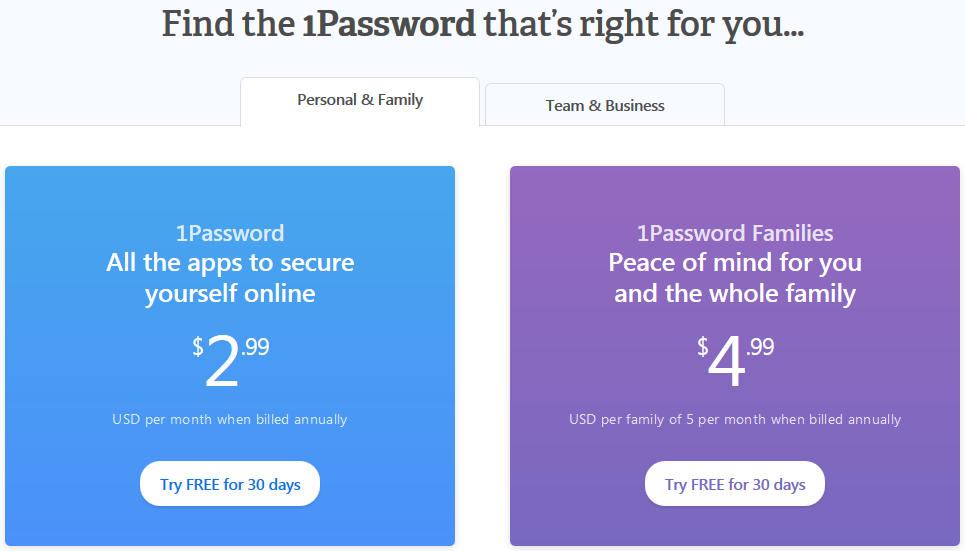 Published by Tony Shepherd & last updated on January 23, 2020 8:02 am