How do you know about LastPass? To learn more details about it please read the LastPass review here. LastPass has powerful features including password manager and password generator which locks your passwords and personal information in one secure place. With LastPass manager, you will not worry you will forget passwords. You can easily access all passwords in a secure place. LastPass autofills web browser and app logins for you, and generates new, secure passwords instantly. You just need to remember one master password. One password is all you need with LastPass, as your LastPass master password handles the rest. LastPass manager stores passwords and logins, creates online shopping profiles, generates strong passwords, tracks personal information in photo, audio notes and more. LastPass can make you enjoy such features as one-to-many sharing, emergency access, advanced multi-factor options, priority tech support, compatible applications and 1 GB encrypted file storage. You deserve the best in password security. LastPass keeps your information and data private, secure and hidden. Once you save a password in LastPass, you'll always have it when you need it; logging in is fast and easy. No More Forgetting Passwords – Easily Access All Passwords in a Secure Place! It's more convenient to access your accounts. LastPass delivers excellent functions like generating Secure Passwords, Autofilling Passwords and best-in-class Security.
*Disclosure: We are a professional site and we are independently owned and opinions here expressed are our own. This post contains affiliate links and we will be compensated if you make a purchase after clicking on our links.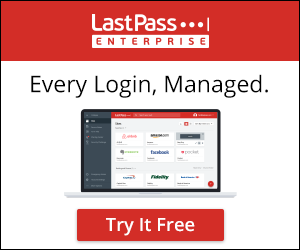 LastPass simplifies online life:
1. Password manager – Secure vault keeps your passwords safe
– Password storage – save and autofill personal info for all of your online accounts
– Secure vault holds all passwords – login with one password instead of dozens
– Anything you save on one device is instantly available on all your other devices
2. Password Autofill – Autofill passwords & personal info with Form Fill Profiles
– One password is all you need to manage your accounts. Sign in using your LastPass master password or fingerprint
– Autofill passwords in Chrome or Opera to make them into a private browser
3. Private notes – Secure safe info like credit cards, photos & more
– Vault keeps health insurance, credit card info & more safe
– Photo vault – attach photos to any note to lock them
– Audio notes – set custom voice memos that lock in the secure vault
4. Password Vault – Store & search logins & notes from your vault
– Password manager makes it easy to store, save & search passwords from all your sites & apps
5. Finger Scan Lock – Finger print lock secures passwords
– Fingerprint password activation – Scan your fingerprint and unlock your vault
– Autofill with fingerprint password fills
6. Data manager – Organize passwords in secure folders
– Store passwords in custom folders locked behind your LastPass password
– Sort into categories like Social, Shopping & more

7. Password Sharing – Share with friends and family
– Password, photo vault & note info can be easily shared
– Share login data for individual sites, or send secure notes to contacts
8. Secure Password Vault – Multifactor authentication secures your password vault
– Lock down your LastPass account further with multiple forms of authentication
– Choose from top apps like Google Authenticator, YubiKey & Duo Security
9. Emergency Access
– Plan ahead and give trusted family or friends a way to access your vault in case of an emergency.
– Add security and require a waiting period during which you can decline an Emergency Access request to your vault.
– Once access is granted, your vault syncs as a folder to their vault.
10. Password Generator – Generate secure, customized passwords
– Generate new passwords for all of your logins and apps
11. Password Audits – Audit the strength of passwords with the LastPass Security Challenge
– Test the strength of your passwords using our advanced auditing system
– Generate new passwords to replace weak logins
12. Secure vault makes data available offline
– Secure password storage available online or off
– LastPass never has the key to your encrypted data, so your information remains safe. Your vault is encrypted with bank-level, AES 256-bit encryption.
LastPass Pricing and Package Overview
1. Personal plan – for Personal Use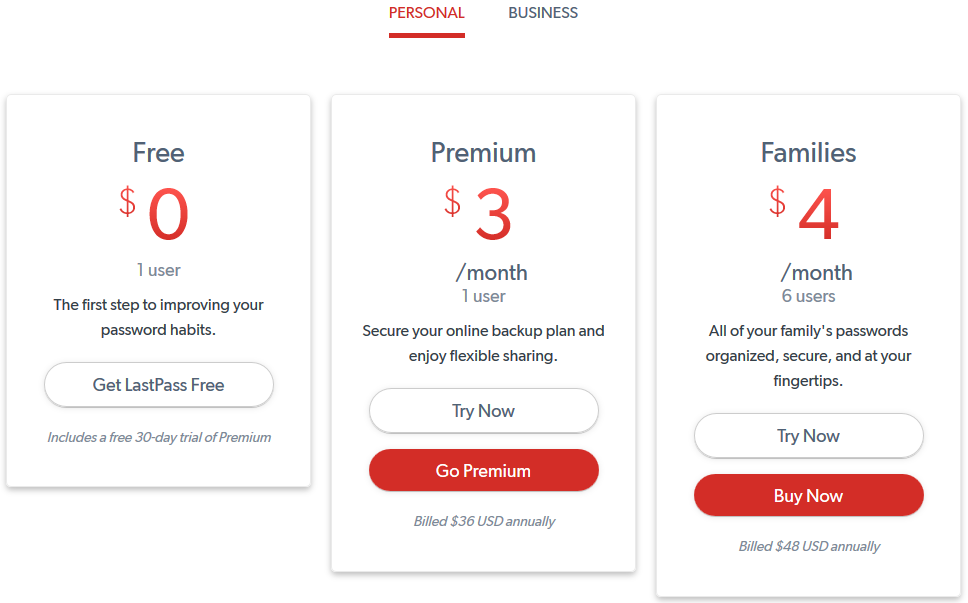 Premium Package: $3/month (1 user)
One-to-many sharing
Emergency access
Advanced multi-factor options
Priority tech support
LastPass for applications
1GB encrypted file storage
Families Package: $4/month (6 users)
Premium licenses
Group and share items in folders
Family manager dashboard
2. Business Plan – for Company Use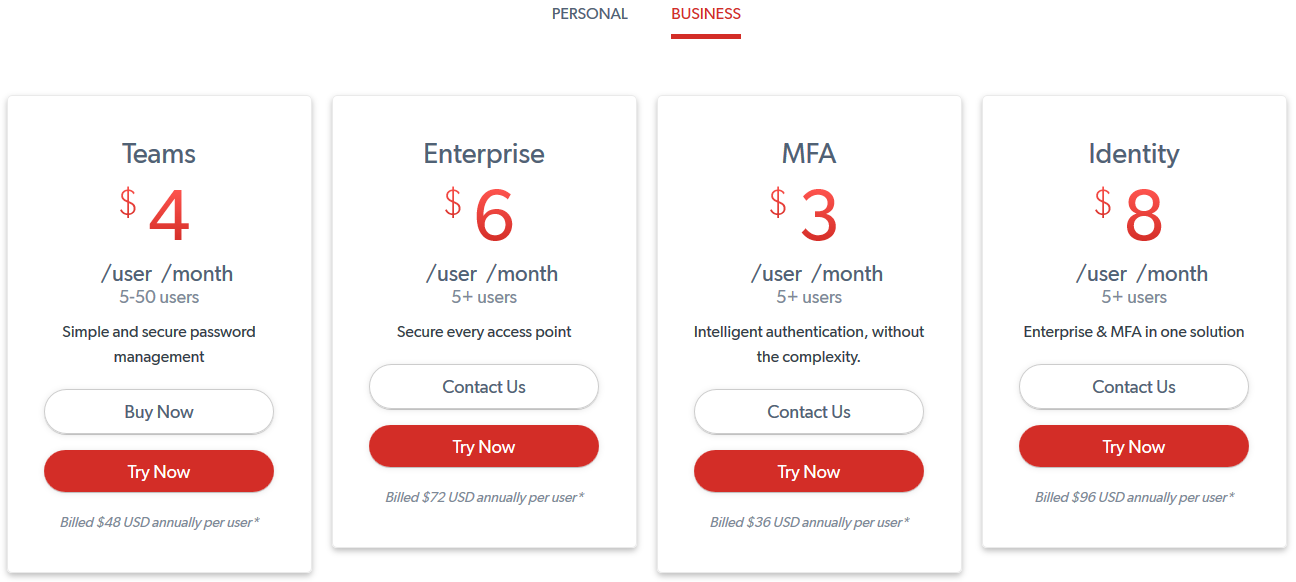 For Teams: Less than $4/user/month (teams of 50 or less)
A vault for every user
Unlimited shared folders
Admin dashboard
Easy user management
Standard security policies
Basic reporting
Advanced multi-factor options
Priority tech support
For enterprise: starting at $6/user/month
Directory integration with ldP
100+ security policies
Group management
Additional multi-factor options
Advanced reporting
API Access
SAML single sign-on
Cloud app provisioning
Dedicated customer support
Does LastPass Offer Free Trial?
Yes, LastPass provides a free 30-day trial of Premium service plan and a free 14-day Enterprise trial! LastPass will give you access to all product features for a limited time. If you stick with our free service for now, all of your stored data will remain available in your account and you simply lose access to the paid features.

LastPass – Secure Password Manager
Normally, we have many accounts and login password to remember, but we can't remember all the password to different accounts clearly. However, if you have a password manager like LastPass. A password manager is a tool that does the work of creating, remembering and filling in passwords. You just need to simply log into an online account for the first time and LastPass will store your username and password so every time you go back your credentials will be filled in automatically. LastPass stores personal information securely and privately. All your most valuable and important documents including passport, credit cards, social security, identity and more can be stored into LastPass. You can create a Secure Note for each and store all the relevant information with LastPass. LastPass helps fill in onlie forms. You no more need to enter your address or credit card information every time you shop online. All of this can be securely stored in LastPass and filled in with one click. You also have the right to share passwords with others you trust. If others need access to your accounts, share login information securely though LastPass either with your team at work or with your family at home.
What Important Sites should be Protected by LastPass?
Banking: While it's convenient to manage everything online, extra precautions are essential when it comes to protecting your money. Store logins for banking sites in a password manager where they're encrypted, and make sure every password is unique.
Email: Your email is the hub of your online life, and it's also the gateway to performing passwords resets for many online accounts. You need to protect it. A password manager can help you create a strong password and store it securely.
Social media: Social media sites contain a lot of personal information that hackers love. Create strong, unique passwords for these sites and save them in LastPass.
How to Use LastPass Password Manager?
1. Get the LastPass browser extension.
2. After you download LastPass, you'll find the LastPass button in your browser toolbar. Click the button and create an account.
3. Make a strong master password. Create your account with one long, secure master password and let LastPass do the rest. A memorable passphrase is the easiest way to create a strong master password. It could be a quote from a movie or lyrics from a song with your favorite color at the end to make it even more secure.
4. Add sites to your vault. As you log into your online accounts, LastPass will ask if you want to save them to your vault. Simply click add and they will be saved for next time.
5. Take the security challenge to see how strong your passwords are. If you have any weak or reused passwords, use the LastPass password generator to create new ones and update those accounts.
6. Download the mobile app. A password manager is only useful if you can access it wherever and whenever you need it. Everything you save in LastPass is synced automatically so you can access them on any device.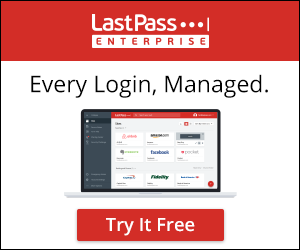 LastPass Password Generator – Generate a Secure Password
LastPass Password Generator is used to instantly create a secure and random password. LastPass provides a built-in password generator which is a strong and trusted password generator. It builds into your browser or an app on your phone. LastPass can create secure passwords tight as you sign up – and then remember them all for you. The LastPass browser extension and mobile app let you quickly generate strong passwords, manage your saved logins and more. LastPass is free to use as a secure password generator on any computer, phone, or tablet. Anything you create and save on one device is instantly available on the others. LastPass gives effortless security. That means anywhere you create a new account, LastPass is there too. LastPass generates strong passwords for your websites and apps in just a click from their sign-up forms.
How to Create Strong Passwords?
1. Always use a unique password for each account you create. The danger with reusing passwords is that as soon as one site has a security issue, it's very easy for hackers to try the same username and password combination on other websites.
2. Don't use any personally identifiable information in your passwords. Names, birthdays, and street addresses may be easy to remember but they're also easily found online and should always be avoided in passwords to ensure the greatest strength.
3. Make sure your passwords are at least 12 characters long and contain letters, numbers, and special characters. Some people prefer to generate passwords which are 14 or 20 characters in length.
4. If you're creating a master password that you'll need to remember, try using phrases or lyrics from your favorite movie or song. Just add random characters, but don't replace them in easy patterns.
5. Use a password manager like LastPass to save your passwords. We keep your information protected from attacks or snooping.
6. Avoid weak, commonly used passwords like asd123, password1, or Temp!. Some examples of a strong password include: S&2x4S12nLS1*, JANa@sx3l2&s$, 49915w5$oYmH.
7. Avoid using personal information for your security questions, instead, use LastPass to generate another "password" and store it as the answer to these questions. The reason? Some of this information, like the name of the street you grew up on or your mother's maiden name, is easily found by hackers and can be used in a brute-force attack to gain access to your accounts.
8. Avoid using similar passwords that change only a single word or character. This practice weakens your account security across multiple sites.
9. Change your passwords when you have reason to, such as after you've shared them with someone, after a website has had a breach, or if it's been over a year since you last rotated it.
10. You should never share your passwords via email or text message. The secure way to share is with a tool like LastPass that gives you the ability to share a hidden password and even revoke access when the time comes.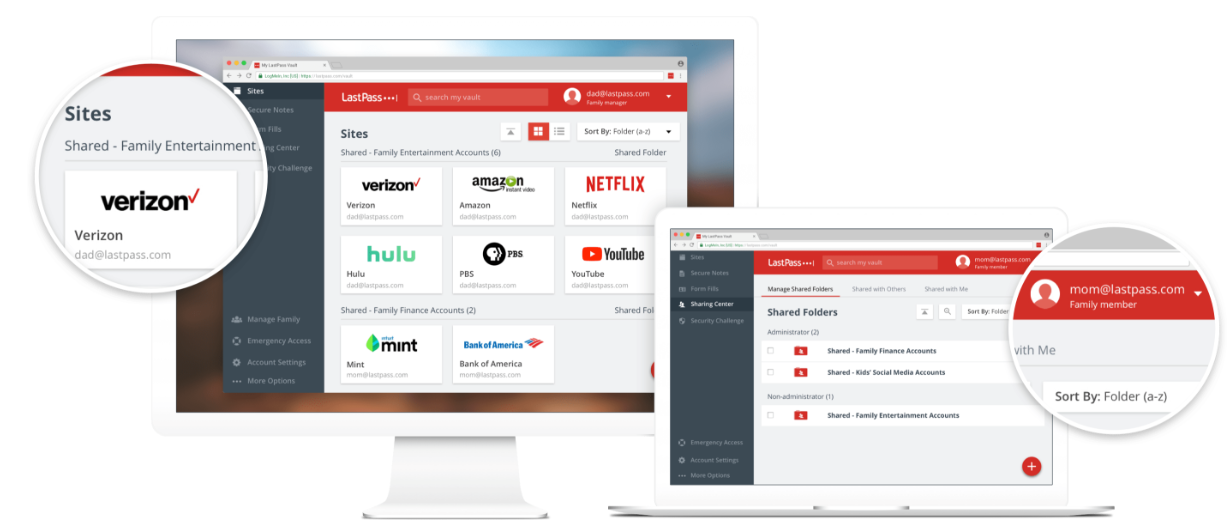 LastPass Authenticator – The only authenticator app you need
LastPass Authenticator offers a unique one-tap password verification experience that no other authenticator app delivers. LastPass Authenticator offers effortless two-factor authentication for your LastPass account and other supported apps. With one-tap verification and secure cloud backup, LastPass Authenticator gives you all the security, without any of the frustration. LastPass Authenticator is a multifactor app for Android, iOS and Windows phone devices. It supports 3 ways to login:
Time based 6 digit codes
One-tap push notifications
SMS 6 digit codes
LastPass Authenticator is also TOTP compliant, meaning it's compatible with all apps and websites that support Google Authenticator like Facebook, Dropbox, Evernote, WordPress, and many more. That means you can conveniently manage two-factor authentication for multiple services, all from LastPass Authenticator.
Why try LastPass Authenticator?
Add more security: Worried about phishing attacks or malware? Two-factor authentication keeps hackers locked out.
Enjoy a better experience: User-friendly, secure verification with one-tap login to top sites, including Google, Facebook, Amazon, and more.
You choose how to login: The app supports 6-digit generated passcodes, SMS codes and automated push notifications for one-tap login.
The only Authenticator app you need: Enable push-based notifications for commonly-accessed sites, and auto-generated passcodes for others so you only need one app.
Leverage what you already have: You always have your smartphone with you, so there's no need to keep track of extra devices.

How to Use LastPass Authenticator?
1. Login to LastPass.
2. A dialog asking for LastPass Authenticator will pop up: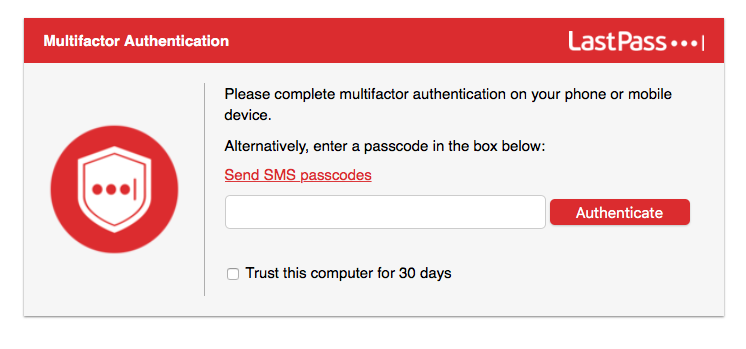 3.Approve the login:
3.1 On your mobile device, you will be prompted to verify your login. Open the app to approve the login.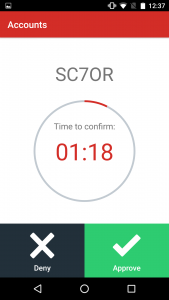 3.2 Alternatively, enter the 6 digit code to in the authentication field and click Authenticate.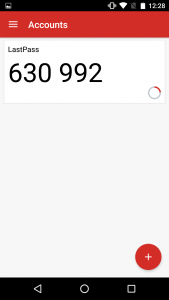 3.3 If you lost your device, use your backup SMS codes to login by clicking Send SMS passcodes and input the 6 digit code into the authentication field and click Authenticate.
How Strong is the Security Level of LastPass?
LastPass takes security and privacy more seriously and their mission is to offer customers complete security. safeguarding your data is what they do. LastPass uses different proven security models including SOC 2 Type 2 compliance, Regular audits & pen tests, Strong data encryption, Bug bounty program, Reliable Service, Transparent incident response; Secure product architecture and Powerful security features like Multi-factor authentication, Centralized IT control, Password audits, Phishing protection to completely protect your data and information.
SOC 2 Type 1 compliance: This detailed review of our controls and processes is a "gold standard" for confirming the security and reliability of LastPass.
Regular audits & pen tests: They engage trusted, world-class, third-party security firms to conduct routine audits and testing of the LastPass service and infrastructure.
Strong data encryption: Sensitive data is encrypted at the device level with AES-256 before syncing with TLS to protect from man-in-the-middle attacks.
Bug bounty program: Their bug bounty program incentivizes responsible disclosure and improvements to LastPass service from top security researchers.
Reliable Service: LastPass operates out of multiple, geo-distributed facilities that can handle all customer traffic for redundancy.
Transparent incident response: LastPass team reacts swiftly to reports of bugs or vulnerabilities and communicates transparently with their community.
Secure product architecture
Private Master Password: LastPass does not send or store the master password. We believe that if LastPass can't access your data neither can hackers.
End-point encryption: Encryption happens exclusively at the device level before syncing to LastPass for safe storage, so only users can decrypt their data.
256-bit AES encryption: This algorithm is widely accepted as impenetrable – it's the same encryption type utilized by banks and the military.
PBKDF2-SHA256 for brute-force attacks: We strengthen the master password and encryption key against large-scale, brute-force attacks by slowing down guesses.
Powerful security features
Multi-factor authentication: Add extra security by requiring a second login verification step with LastPass Authenticator or other top multi-factor services.
Centralized IT control: The admin dashboard gives visibility into password hygiene and over 100 configurable policies to improve security.
Password audits: Scan passwords in the vault to identify and replace any weak, reused, compromised, and old passwords.
Phishing protection: LastPass will only fill in passwords on the sites you've saved and have trusted.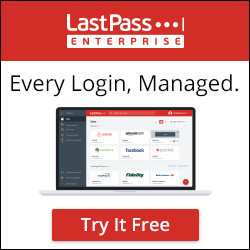 Video About LastPass Review
Top 5 Best Password Managers Worldwide
| Product | Rating | Support Platforms | Offers | Price(USD) | Official WebSite |
| --- | --- | --- | --- | --- | --- |
| | Rating #1 Dashlane Review | Windows, Mac, iOS, Android, Linux, Chrome OS, watchOS | Offers Free Version | $39.99/Year | Best Deals |
| | Rating #2 Lastpass Review | Windows, Mac, iOS, Android, Linux, Chrome OS, Windows Phone, watchOS | Offers Free Version | $36.00/Year | View Deals |
| | Rating #3 1Password Review | Mac, iOS, Windows, Android, Linux, and Chrome OS | Offers Free Version | $35.88/Year | View Deals |
| | Rating #4 Sticky Password Review | iOS, Android, Safari (Mac), Chrome and Firefox (Mac and Windows) | Offers Trial Version | $14.99/Year | View Deals |
| | Rating #5 LogMeOnce Review | Windows, Mac, iOS, Android | Offers Free Version | $12.00/Year | View Deals |
Summary
LastPass is one of the most famous password management on the market right now. After reading LastPass review you must well know about its cool features. It offers strong, competitive and powerful password managing service for customers and enterprises. It offers easy-to-use and friendly software and apps for customers. People also are attracted by its cutting-edging interface and designs. LastPass service strikes an excellent balance of providing many features and technologies without overwhelming the user. The software and applications of LastPass compatible with numerous popular systems and platforms. With LastPass, you can sync your passwords, data and information across all your devices. the Free LastPass can make you experience many excellent features of LastPass like getting unlimited passwords, a password generator, secure note storage, one-to-one sharing and a "challenge" to test their own security situations. LastPass Premium costs $36 a year for a single user, or $48 a year for a family plan that supports up to six users. Premium brings with it 1 GB of encrypted file storage, credential storage for desktop applications, priority tech support, advanced two-factor authentication options (including hardware keys), emergency access and one-to-many sharing. The Family plan adds a management dashboard and unlimited shared folders to the rest of the Premium features. To use LastPass is to simplify your life and get security for your passwords. Try LastPass Premium for 30 days or Start a free 14-day Enterprise trial now.

Published by Tony Shepherd & last updated on July 3, 2020 7:31 am