Have you head of Dashlane and is Dashlane Password Manager the best one in the industries? You will get the answers after reading this Dashlane review here. Dashlane is a reliable and well-known password manager and digital wallet. Dashlane helps you remember all your passwords and store information. You will never forget passwords. You just need to remember one master password and the rest will be done by Dashlane. You can store the passwords securely as you browse because Dashlane helps store and manage your passwords securely as you browse online. Over 8 million users worldwide are using Dashlane password manager and Digital Wallet. Dashlane is one of the best password manager for simple, safe logins because it can also autofill them and log in instantly to your favorites websites. Dashlane develops and designs apps and software compatible with all popular systems including Windows, Mac, Android, iOS, and also has extensions working well with browsers like Microsoft Edge, IE, Chrome, Firefox, Opera and Safari. Dashlane's browser extension integrates seamlessly into your browsing experience. As you use and create passwords Dashlane saves them into a secure vault that only you can access. Dashlane then logs you in automatically to your saved accounts, ensuring you'll never forget another password. Dashlane enables users to securely sync their data between an unlimited number of devices on all platforms and devices.

Dashlane Highlights & Features:
– Save and organize all of your passwords in a password vault only you have access to.
– Generate unique, secure passwords for all of your accounts with our password generator.
– Store important information and security codes with Secure Notes.
– Automatically log in to apps and websites in seconds.
Organize Unlimited Passwords with Dashlane
– One master password is all you need to access your private information.
– Autofill passwords for all your apps and websites in seconds.
– Create new passwords regularly to be extra safe.
– Search passwords in your Password History to make sure you never lose one again.
– Organize and store credit cards securely in your mobile wallet.
– Sync up all of your apps for express checkout on any website.
– Keep your receipts under lock and key in the Payments section.
– Always have your passport and ID information at hand in Dashlane.
– Let Dashlane fill in web forms for you instantly.
Dashlane Plans and Pricing Overview
Dashlane provides 3 different plans and packages to meet different requirement from different users: FREE, Premium and Business.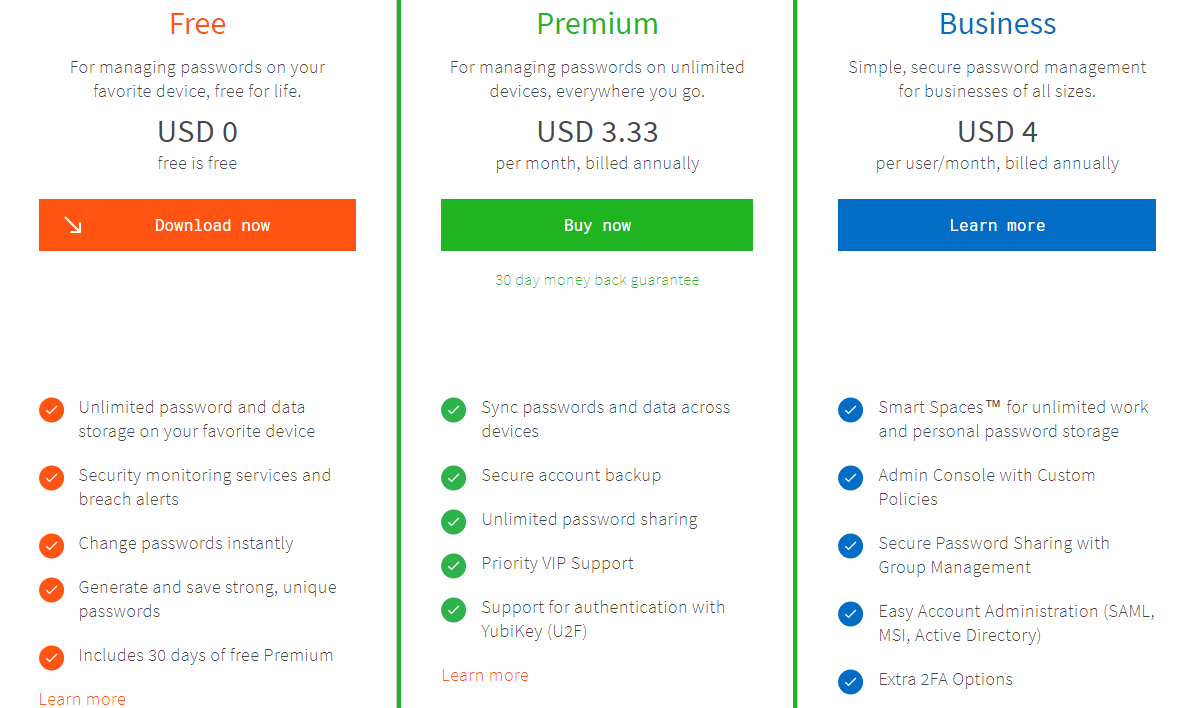 Dashlane Free Plan: No Charge never.
Dashlane Business Plan: $4.00 USD per user/month, billed annually
Dashlane Premium Plan: $3.33 USD per month, billed annually
1-Year Deal Billed USD $39.99/Year
3-Year Deal Billed USD $99.99/3 Years (Save 17%)
5-Year Deal Billed USD $149.99/5 Years (Save 25% Best Value!)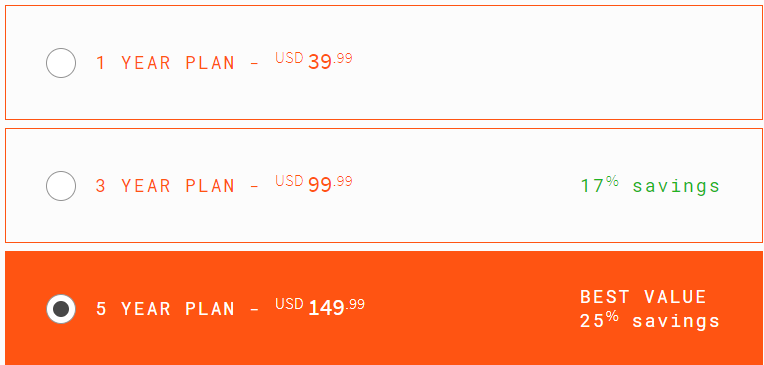 The Best Choice: Dashlane Premium Gives You Ultimate Password Security
– Sync instantly across all of your devices to keep passwords up to date.
– A secure cloud backup of your passwords.
– Access your password vault and mobile wallet from our secure web app.
– Priority user support.
– Log in to your Dashlane account from website for access to all of your passwords, even if Dashlane is not installed on the device.
– Grant shared access to an unlimited number of items. Changes are synced to everyone you share with, and all their devices, automatically.
– Dashlane Premium allows you to log in to Dashlane using a U2F YubiKey without the hassle of opening an Authenticator app.
Useful and Friendly Dashlane's Browser Extension
From the above content of Dashlane review, you learn about what is Dashlane and its pricing and plans. Now we go ahead to learn more about it. Browser extension of Dashlane is a great feature and design. Dashlane's Browser Extension is available on major browsers, including Chrome, Firefox, Internet Explorer, Safari, and Opera. Dashlane downloads and manages passwords for free in a web browser. The Dashlane premium version has the following advantages, saving you password trouble and providing superior security for your passwords: 1) Real-time synchronization between Dashlane extensions in all browsers keeps passwords up to date no matter where you are. 2) Use Dashlane's suite of apps on all your devices to enjoy extended features such as electronic wallets and encrypted note storage. 3) Priority user support. With the Dashlane Browser Extension, you can:
-Log into all of your web accounts with a single click.
-Fill in registration forms for on every website you sign up for.
-Fill in your credit card information for online purchases.
-Automatically create and store unique and secure passwords in form fields.
-Use our Password Generator tool to create strong passwords. -Read tips regarding Internet security from the Dashlane Blog.
-Disable Dashlane on a specific webpage or domain and to report any issue you might notice in the extension.

Dashlane Takes Your Password Security Seriously
– Dashlane uses AES-256 security encryption to secure your data with backup to the cloud or local-only storage.
– Choose your method for data storage: local-only or synced and backed up to the cloud.
– Unlock Dashlane with your fingerprint on select Android devices.
Dashlane can strongly protect and encrypt all your information and password. No one can access or get your information and passwords. Dashlane stores your data on its servers, and on your devices, using the same AES-256 bit encryption as most of the password managers on the market. Two-factor authentication is an additional security to protect your password and data, Two-Factor Authentication standard is available on desktop app. You choose whether to require it for all aspects of Dashlane, or simply when registering new devices — it depends on your level of security concern. Therefore, you can get complete security and privacy while using Dashlane.
256-bit encryption technology is mainly used 256-bit key to encrypt and decrypt data files. It is mostly use in such high-tech industry like algorithms, protocols and technologies including AES and SSL. 256-bit encryption technology is the most advanced and secure encryption method in the world and used in most fields in modern technology. It was used in US government to store high secret files and documents, which is usually treated as a military-grade encryption. And 256-bit encryption has the longest length of the encryption key, so it is hard for hackers or snoopers even the fastest computer to decrypt a data stream or file encrypted by AES-256 encryption method. you may group up all world's super computers or the ultimate brute force attack and task them well, or there is no possibility to decrypt AES-256 encryption method to access important data. Therefore, Dashlane password manager encrypted by AES-256 encryption gives users complete security and privacy. No one can decrypt this AES-256 encryption to steal your passwords and personal information.
Two Factor Authentication Standard
Two Factor Authentication, also known as 2FA, two step verification or TFA (as an acronym), is an extra layer of security that is known as "multi factor authentication" that requires not only a password and username but also something that only, and only, that user has on them, i.e. a piece of information only they should know or have immediately to hand – such as a physical token.
Using a username and password together with a piece of information that only the user knows makes it harder for potential intruders to gain access and steal that person's personal data or identity. Using a Two Factor Authentication process can help to lower the number of cases of identity theft on the Internet, as well as phishing via email, because the criminal would need more than just the users name and password details.

Can My Master Password and Data Be Seen by Dashlane Employee?
No. Dashlane employee cannot get hold of your Master Password and access your data.
First, Your data is encrypted with your Master Password
Your data is encrypted locally on your device with your Master Password. Your data can only be deciphered using your Master Password.
Only you know your Master Password. It is never sent to our servers and never transmitted over the network.
By default, your Master Password is never stored on your device. However, if you prefer to sign in to Dashlane automatically without entering your Master Password, an option to securely remember your master password can now be found in the Preferences on Windows and macOS, and in the Settings on Android and iOS.
Second, only an authenticated device can decipher your data
Your encrypted data can only be deciphered if the device has also been authenticated. The device's authentication is always checked before trying to decipher your data and open your Dashlane account.
When authenticating a new device, a temporary security code is automatically sent to your contact email address.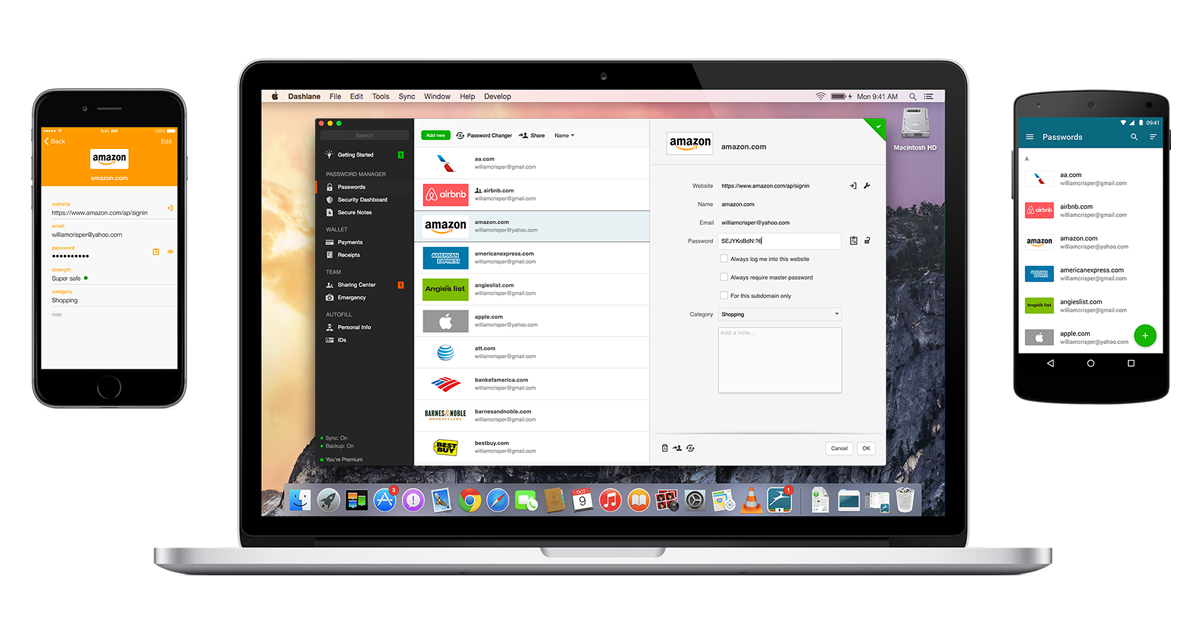 Magic and Remarkable Functions Provided by Dashlane
On this section of Dashlane review, we continue to introduce some functions provided by Dashlane password manager. We'll cover some of its key features in several ways.
1. Password Manager
Password manager of Dashlane can store, manage and organize all your passwords, items, files documents and other personal information. How can it store and keep all your passwords? Dashlane password manager can keep track of all your passwords and then store them into Dashlane's vault. Once Dashlane keeps all your passwords already, you can use them whenever you need them and type them for you automatically. You don't need to type passwords one by one letter. Usually when you don't use a password manager like Dashlane, you have to remember passwords by writing into notebook, or paper, or save them into the web browser like Google Chrome. However, it is not safe enough to keep the passwords into these places, as you may throw away the notebook or paper accidentally. Or hacker can remotely control your desktop computer, mobile or Mac to steal the passwords stored in the web browser. Therefore, Dashlane password manager is the necessary tool to store and manage all your passwords in a complete secure way. It is convenient to use Dashlane password manager as it can automatically keep track of all your passwords and store them into secure vault. Dashlane password manager will not forget your password and you don't have to spend much time to remember tons of passwords by brain.
2. Form Autofill
You usually may get bored with long and tedious forms like payment form, shipping details, credit card applying form and more, and these forms will request a detailed personal information like names, addresses, email, phone numbers, payment types, payment methods and others. Dashlane has a fantastic feature called Form Autofill which mainly helps fill all personal information into that long and tedious forms online. Dashlane Form Autofill can be used in all major and popular systems including Windows, Mac, android and iOS. Form Autofill saves your time and increase more convenience for your online experience. Autofill feature works with other features like password manager, password generator and Digital Wallet to help you enter all annoying information in that long form. You don't need to enter personal information, passwords, logins into the webpage online. Sometimes, we may input wrong letters or digit when entering so much information online. However, once you use Dashlane Form Autofill feature, you just need to click on one button, then all the information needed to input into the form will automatically enter into the form within few seconds. But first all these important information should be imported and stored into password manager, and your payment information like names, emails, addresses, shipping details and other information should be imported and kept into Dashlane's Digital Wallet. When you need them, the Form Autofill will soon work together with password manager and digital wallet to export into the form immediately.

3. Digital Wallet
Digital Wallet is a great and fantastic feature mainly to help keep all details of your payment, payment types and payment methods. Digital Wallet has a purchase tracking specialty that can keep track of your online payment when you are shopping online. It keeps track of all your payment information and import the information into this Digital Wallet. And only you are able to access your payment details. This purchase tracking and Digital Wallet make your online experience easy and convenient when purchasing online even at retailers you don't have accounts with, and these two features can search all of your online orders in one place. Purchase tracking and Digital Wallet are excellent features that can track your online passwords and payment information and give you're a complete secure place to store all these information, and the most important thing is that Digital Wallet can automatically fill in these detailed information into the long forms when you need them. Dashlane even provides unlimited storage for payment types so that you can store credit cards, debit cards, bank accounts, Paypal inform and more into Dashlane's digital wallet.
4. Password Generator
Password generator is great tool to automatically create strong and unique passwords according to rules that you set to generate strong, random and unique passwords for each of your accounts. Password generator not only save your time to create password by yourself but also helps you create strong passwords that has a strong resistance to hackers. It is hard for us to remember all different long passwords by brain, so many of us would prefer to create simple and easy-to-remember passwords for accounts, and some even create same password for different account. However, weak password and same password for different account are dangerous and vulnerable to hackers. If you are using weak and easy-to-remember passwords, it can be easily guessed by cyber hackers. weak passwords can resist cyber hackers. What's worse, if you use the same passwords for different accounts, it will be a big risk of being hacked by cyber hackers. Hackers can guess the passwords and log in all accounts with same passwords. You even would face financial loss. However, Dashlane's password generator can mix uppercase letters, lowercase letters, numbers, symbols, pronounceability, length and strength to generate strong and unique password. even though password generator creates too long hard-to-remember passwords, you don't have to remember them at all and password manager can help you manage and organize them well, and you can also easily use all of your strong passwords.
5. Password Changer
Password Changer emphasizes on replacing old passwords with strong new ones. Password Changer can check and detect if there is a weak password among your tons of old passwords. If there are weak passwords stored in password manager, it will alert you immediately and ask you change them into strong ones. After your turn weak passwords into strong ones, Password changer will securely store these new and strong passwords into password manager, then you don't have remember and type them by yourself. It is easy for you to automatically fill information into the form. Actually Dashlane's password changer can gives you immediate alerts through Dashlane's Security center. If your security score become lower due to weak passwords, then Security Center will give you alert immediately. Actually Dashlane's password changer increase your security score in an instant. It is convenient to change weak passwords and you don't need to spend time updating passwords by hand. You just need to click on one button to change one or dozens of passwords into strong ones.

Dashlane Creative Refresh
We are excited to share some updated Creative from Dashlane with our followers.
Brand Description:
Dashlane is a mobile and desktop app that gives you a shortcut for everything you do online. Log in instantly, fly through forms, and breeze through checkouts on every device you own without compromising on security.
• Fill forms fast with one-click logins & autofill for personal info and payment details.
• Works everywhere on every device, across platforms and operating systems.
• Prevent breaches and hacks with by automatically enforcing strong password habits.
• Respond quickly to data breaches with personalized security alerts and Dark Web Monitoring.
TRAVEL
• Sync all your information between devices.
• Buy tickets and book travel easily by autofilling everything from your address and credit card to your passport number.
• Built-in VPN lets you access the content you want when you want it.
SHOPPING
• Fill out addresses and payment details in just a click.
• Sign in automatically and never miss out on a time-sensitive sale.
OPTIMIZED LIFESTYLE
Dashlane is a lifehack: It makes what you're already doing better, faster, safer, and more efficient:
• Always have the right password when you need it.
• Fill forms in a single click.
• Don't hunt for your credit card. Fill your payment details instantly.
• Share passwords easily.
ENTERTAINMENT
• Built-in VPN lets you access the content you want when you want it.
• Buy tickets on the fly.
ENTREPRENEURS: You need to be able to run your business anywhere—and Dashlane goes with you.
• Always have your most important info and accounts when you're on the move.
• Transact securely with VPN.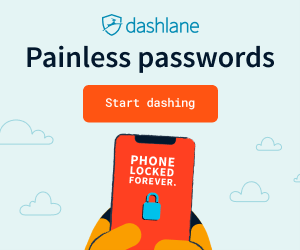 Video Guides Dashlane Review – The Perfect Password Manager?
Top 5 Best Password Managers Worldwide
| Product | Rating | Support Platforms | Offers | Price(USD) | Official WebSite |
| --- | --- | --- | --- | --- | --- |
| | Rating #1 Dashlane Review | Windows, Mac, iOS, Android, Linux, Chrome OS, watchOS | Offers Free Version | $39.99/Year | Best Deals |
| | Rating #2 Lastpass Review | Windows, Mac, iOS, Android, Linux, Chrome OS, Windows Phone, watchOS | Offers Free Version | $36.00/Year | View Deals |
| | Rating #3 1Password Review | Mac, iOS, Windows, Android, Linux, and Chrome OS | Offers Free Version | $35.88/Year | View Deals |
| | Rating #4 Sticky Password Review | iOS, Android, Safari (Mac), Chrome and Firefox (Mac and Windows) | Offers Trial Version | $14.99/Year | View Deals |
| | Rating #5 LogMeOnce Review | Windows, Mac, iOS, Android | Offers Free Version | $12.00/Year | View Deals |
Summary
After reading about Dashlane review in this article you understand that Dashlane is the Perfect Password Manager in the world. Dashlane, which has more than 8 million users worldwide, is an excellent password manager that allows simple, secure logins. Dashlane's browser extensions blend seamlessly into your browsing experience. And you can always use Dashlane for free. You can get even more with Premium. Dashlane is free to download and manage passwords on a single device. Dashlane is free to download and manage passwords on a single web browser. Dashlane Premium gives you ultimate password convenience and security. By using Dashlane, you can get instant sync across the Dashlane Extension in all of your browsers to always keep passwords up to date, no matter where you are. You also can use Dashlane's suite of apps across all of your devices, with expanded features such as our Digital Wallet and Secure Note storage. The most important thing is that Dashlane offers a secure cloud backup to store your passwords. Dashlane protects your passwords with the industry's strongest security encryption. You also can choose local-only or synced and backed up to the cloud to store your password and data. Dashlane offers a free model and uses most basic functions, such as password management, auto-fill, e-wallet, and a subscription model on top of that, meaning that once you buy Dashlane's services, you can use them directly on different platforms. The paid version mainly adds features such as account backup to the cloud, multi-device synchronization, unlimited password sharing and web page access. Tired of searching for passwords? Stop forgetting and resetting passwords – Try Dashlane now!

Published by Tony Shepherd & last updated on January 23, 2020 8:06 am