Why has my computer been blocked by the police? Laptop locked by metropolitan police Ukash vouchers, we were using our computer and a random block up came up. It said it was from Metropolitan Police Ukash Virus warning, charging us with 100 pounds. How do we unblock it? My desktop just got locked up by Ukash Metropolitan Police virus. I am using my friend's computer to ask for help. How to get rid of malware message says pay £100 determing you have been downloading copyrighted material?
Computer locked by Metropolitan Police Ukash Virus Scam?
The Metropolitan Police Ukash virus will lock the PC users computer screen and demand 100 pounds within 48 hours or 72 hours in order to unlock the computer due to illegally downloading music and video files. This is an extortion attempt by a group of ransomware hackers called "Rannoh" that is spread throughout infected sites and files that they place online. And it is a variant of Ukash virus. Not only will this virus lock the computer preventing operation, but it also makes its way deep into the system and encrypts the files that are stores on the hard drive.
The hackers responsible for this virus are committing fraud and braking international law and they make it very difficult to be traced. Even the way they request the payment of 100 pounds is done in a way that is not traceable. They require payment is made with ukash, which is a prepayment method that allows the user to load cash on to a Ukash card and then transfer the assigned account number and that instantly transfers the money to the hackers. While the name of the virus is the Metropolitan Police Ukash virus, it is important for computer users to understand that the Metropolitan Police have nothing to do with this warning. If a government or law enforcement agency has a problem with a computer user they will address them in person and never attempt to take over their computer system. This is all the work of highly sophisticated criminals that set out to perform fraud in order to gather a large sum of money that is untraceable.
There have also been reports of different versions of this Metropolitan Police Ukash Virus scam from users outside of the UK.  They are Cheshire Police Authority Virus, PCeU virus, West Yorkshire Police Ukash Virus, The hackers are very good at geo targeting PC users in each specific area in order to infect them with a message that appears to be from their local authorities. Since the virus prevents the user form accessing any other part of the computer there is no way they can quickly run a virus scan to check the authenticity of the claim, or even perform an Internet search. If something like this ever does appear on the computer it is a good idea to use a smart phone's mobile Internet to do a quick search. If users were able to do this then they would quickly learn that this is a fraudulent claim and it should not be paid.
Kindly Reminder: To save your computer, live chat with YooSecurity experts now, or you can follow the manual removal guide below to get your problem fixed. (For advanced computer users)


Metropolitan Police Ukash Virus Screenshot: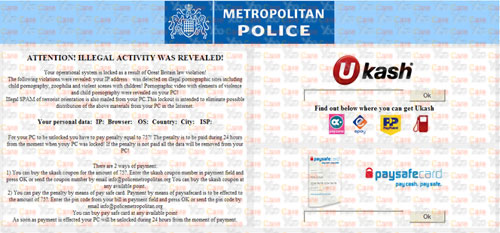 New Version of Metropolitan Police Virus Ukash Scam Asking For 100 Pounds 2012.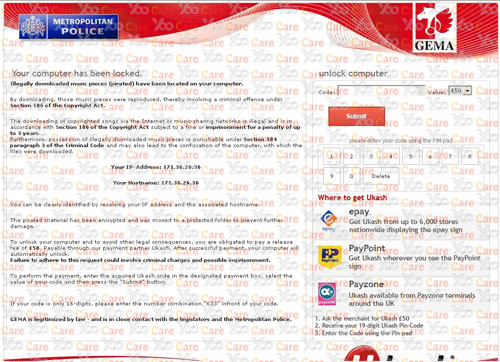 Metropolitan Police Ukash Virus – Your PC is blocked due to at least one of the reasons specified below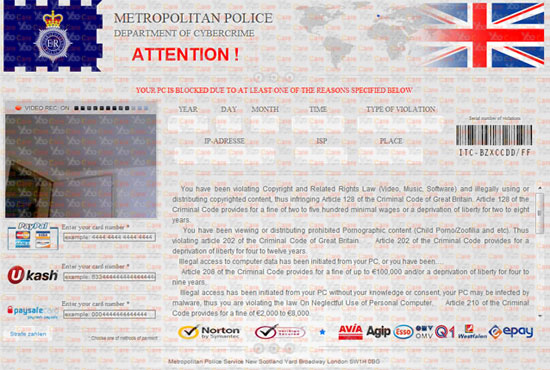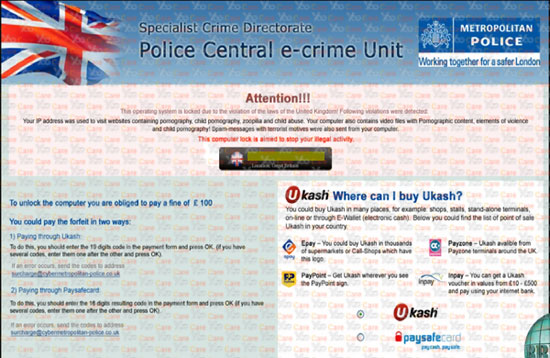 Symptoms of Metropolitan Police Ukash Virus Infection
Your computer has been locked! It Claims To unlock your computer and to avoid other legal consequences, you are obligated to pay a release fee of
100 GBP Via Ukash or Paysafecard.
The work of your computer has been suspended on the grounds of unauthorized cyberactivity.
Described below are possible violations, you have made:
Article 274 – Copyright
A fine or imprisonment for the term of up to 4 years (The use or sharing of copyrighted files – movies, software)
Article 183 – Pornography
A fine or imprisonment for the term of up to 2 years (The use or distribution of pornographic files)
Article 184 – Pornography involving children (Under 18 years)
Imprisonment for the term of up to 15 years (The use or distribution of pornographic files)
Article 104 – Promoting Terrorism
Imprisonment for the term of up to 25 years (You have visited websites of terrorist organizations)
Article 297 – Neglect computer use, entailing serious consequences
A fine or imprisonment for the term of up to 2 years (Your computer has been infected with a virus, which, in turn, infected other computers)
Article 108 – Gambling
A fine or imprisonment for the term of up to 2 years (You have been gambling, but according to the law residents of the your country are not allowed gambling in any format)
In connection with the decision of the Government as of August 22, all of the violations described above could be considered as conditional in case of payment of a fine.

Amount of the fine is 100 GBP. Payment must be made within 48 hours after the discovery of the violation. If the fine has not been paid, you will become the subject of criminal prosecution.

After paying the fine your computer will be unlocked
How Do I Get Metropolitan Police Virus Ukash Scam?
There are several ways that a computer can catch the Metropolitan Police Ukash virus. The hackers use Trojans to infect users and they also hide the virus in downloads that allow the virus to access a system when the user clicks on the download link. The most common places foe these to be placed are on file sharing sites, specifically music and video download sites. Since they are placed on these types of sites it makes their claim of illegally downloaded music and video scare some users since there is a good chance they picked up the virus while illegally downloading files.
How to Remove Fake Metropolitan Police Ukash Scam Efficiently?
I'm trying to get rid of this Ukash virus from my other computer, but i don't seem to be able to startup in safe mode as the laptop freezes when i try, i am having trouble staying connected to the net on this laptop as well so i keep dropping from the internet.  Many people want to boot into safe mode to fix the problem but only got the White screen, and the PC froze or shut down itself.
As no antivirus programs can deal with this Metropolitan Police Ukash Virus successfully, it is better to do the removal job manually. In case you may make any mistakes during the process, please do a backup of system beforehand. Next follow the steps given as below:

Step A: Reboot your infected computer and keep pressing F8 key on your keyboard. Use the arrow keys to highlight "Safe Mode with Networking" and press E/Enter (For Windows XP, Vista and Win 7; Learn more for guide to boot in safe mode with networking in Windows 8).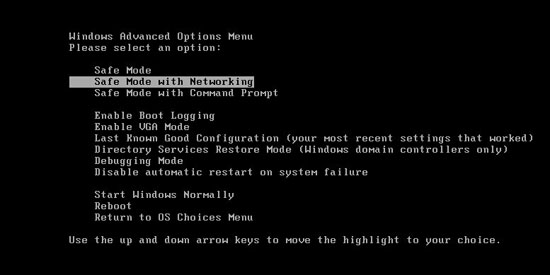 Step B: Press Ctrl+Alt+Del keys together to open Windows Task Manager and then end related process [Metropolitan Police Ukash Virus ].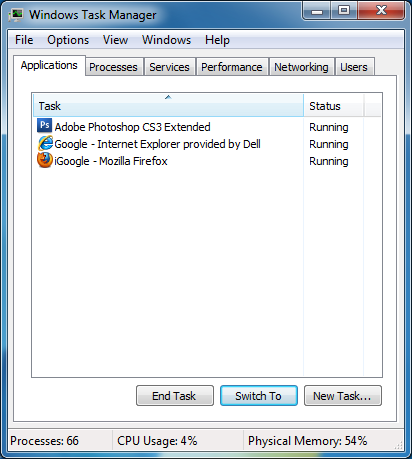 Step C: Open Control Panel from Start menu and go to Folder Options. Under View tab to tick Show hidden files and folders and non-tick Hide protected operating system files (Recommended) and then click OK.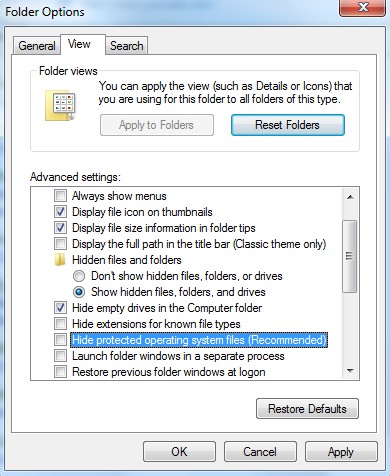 Step D: Press Windows+R keys to open the Run window and then type in regedit to open Registry Editor.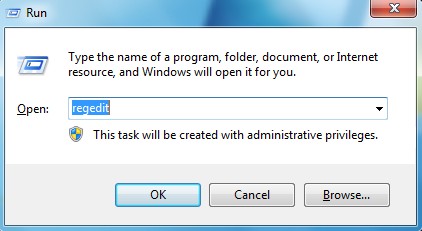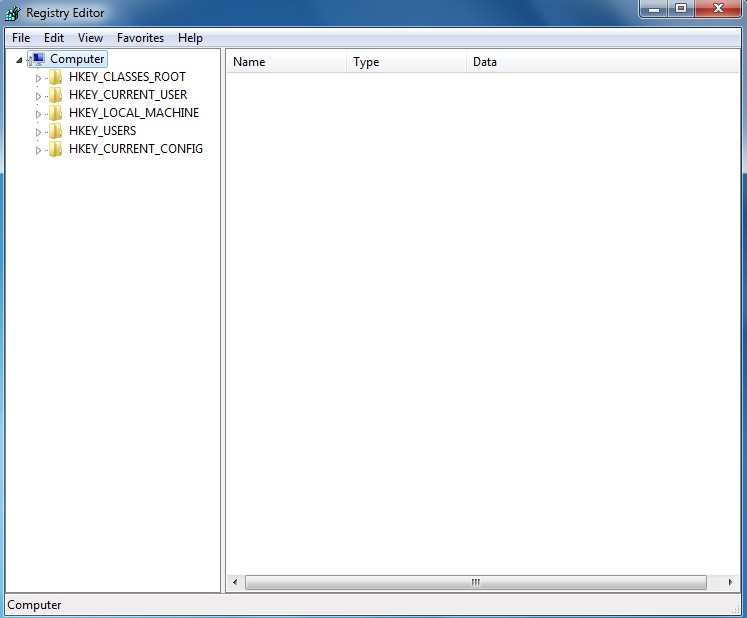 Step E: Find out and delete all these associating files as below:
Go to %userprofile%\appdata\local\temp
The virus can have names other than "random.exe" but it should look like it doesn't belong and should have a create date/time the same as a .class file if you sort by file mod/create time you'll find it.
To permanently remove Metropolitan Police Ukash Virus / Malware, you may have to crack open the registry too in order to suppress some funky startup errors but removing the exe file will cure things and removing the class file.
%AppData%\random character
%Documents and Settings%\[UserName]\Application Data\random character
%AllUsersProfile%\Application Data\.dll
%AllUsersProfile%\Application Data\random character
Step F: Find out and remove all these associating registry entries:
HKEY_CURRENT_USER\Software\Microsoft\Windows\CurrentVersion\Run " "
HKEY_CURRENT_USER\Software\Microsoft\Windows\CurrentVersion\Settings "net
HKEY_LOCAL_MACHINE\SOFTWARE\Microsoft\Windows\CurrentVersion\Run " "
HKEY_LOCAL_MACHINE\SOFTWARE\Microsoft\Windows NT\CurrentVersion\Winlogon\"Shell" = "*.exe"
By the way: How to remove fake Ukash paysafecard virus from registry? Manually remove Fake Metropolitan Police Virus / Malware is a rather difficult work if you are not a professional computer expert. I recommend you to get YooCare online service 24/7 in time. This is the real fastest and safe way to remove it.
Video Guide On How to Remove Metropolitan Police Ukash Scam Malware
TO SUM UP:
Some of the victims said:"I have somehow contracted the Metropolitan Police Ukash Virus. I'm in the Task Manager – Processes – and I am unsure which files are the virus and which are not the virus. Most things have 'descriptions' that are, Google chrome, windows task manager, etc. But some 'description' fields are blank.". For this reason we highly recommend that every user install a legitimate copy of a current antivirus program and keep it updated while running regular scans of the entire system. Since the only way to make the Metropolitan Police Ukash virus disappear is through full removal, a manual process is the best route to take. This way it can be sure that all of the files are removed from the system, preventing any future problems. The longer it stays in your computer, the more dangerous the situation can be!
Special tips: Having trouble to deal with this nasty Fake Metropolitan Police Virus? Be confused with the whole removal processes of [email protected] or [email protected] virus? To safely and completely get rid of Metropolitan Police Ukash Virus please contact PC experts now for further help:


Published by Tony Shepherd & last updated on March 18, 2013 3:43 pm