West Yorkshire Police charging 100 euros for viewing basic porn? Is your computer blocked by West Yorkshire Police Ukash virus and it is asking for 50 pounds (£50) or 100 pounds(£100) via Ukash to unlock the computer? Why antivirus program didn't catch and detect Ukash West Yorkshire Police virus? Have you tried many ways to unlock your computer but still in vain? The manual removal guide will help you remove this Ransomware step by step.

Computer Has Been Blocked By West Yorkshire Police Ukash Virus – How to Unlock It?
West Yorkshire Police Ukash Virus (alias West Yorkshire Police Virus) is a new member coming from the fake Metropolitan Police Ukash Virus family that can lock your computer with this alert: Your computer is locked! We are sadly to tell you that this virus is a new version of the fake Metropolitan Police Virus. If you search on Google and other search engines to seek for solutions,  you may know currently such Lockscreen virus effects user's computer with different versions in different languages. Fake West Yorkshire Police Virus was found in England, Ireland, Scotland, Germany, France, Italy, Spain, Portugal, Netherlands, Canada and other countries. Now it infects American users. Once the computer has been affecte by this virus, it locks the system in Windows XP, Windows Vista and Windows 7, even in safe mode the full screen virus can pop up within seconds. From that time, your PC must be taken over by a scam notice from the fake West Yorkshire Police.

According to the fake warning message, it says computer is locked and you need to pay 50 pounds (£50) or 100 pounds (£100) to unlock your PC through Ukash or Paysafecard. Both of them are the forms of prepaid money transfers which you can buy from shops, stalls, E-wallet etc. The hackers only accept this method since there is no way to track the payment or get it back once they learn that they have been scammed. To further scare innocent users, it even says if a user inputs an incorrect code for 3 times, the data on the hard drive will be erased and it will cause criminal case against you which means you will be caught by the West Yorkshire Police and sent to jail. Seemingly, paying the fine to get the computer unlocked is the only choice to get rid of such trouble. However, it is not true because this is not a legitimate warning from the Police, nor the government. Instead, all it displays is a bogus message created by the foxy criminals. Many users end up paying the fine because they do not want to risk having more trouble. They feel that if they pay this fine all of their troubles will go away. But the only thing happen after the payment is sent is money loss. Computer will not be unlocked if you type in the code it gives you because the greedy cyber criminal wants to get as much as money from the victims.
Your computer was attacked by the virus because you were clicking on links associated malicious portals. The hackers may use email spamming where they include the virus as an attachment and try to get the recipients to open the attachment by telling them it is a picture of them or some other personal information. Simply opening the attachment will infect the computer with the virus. Another chance you get such virus is from porno sites. That is the reason why those people who always visit bad sites are extremely scared when they see the virus page.
The West Yorkshire Police Ukash virus removal is rather difficult. From some forums we see that the computer users have ever tried a system restore in the safe mode to remove this virus like the way they removed the Metropolitan Police Virus but it didn't work. Windows keeps showing system restore fails to restore error. Even by running a full scan, it still does nothing because anti-malware cannot detect the virus presence at all. If you keep this malware foe a long time, it can even disable all of the safe mode options. Under such circumstance, you will not be able to start your computer and see the desktop. As soon as you log in from safe mode, computer restarts itself automatically and shuts down. As mentioned above, we can see how dangerous if the computer is attacked by Ransomware. So don't trust West Yorkshire Police Ransomware or pay anything for it, just get it off to unlock your computer and keep it safe.
To completely get rid of this Ukash virus, live chat with YooSecurity professionals now, or you can follow the manual removal instructions below to get rid of this West Yorkshire Police Ukash virus (for advanced computer users).


West Yorkshire Police Virus comes from the Version of Metropolitan Police Virus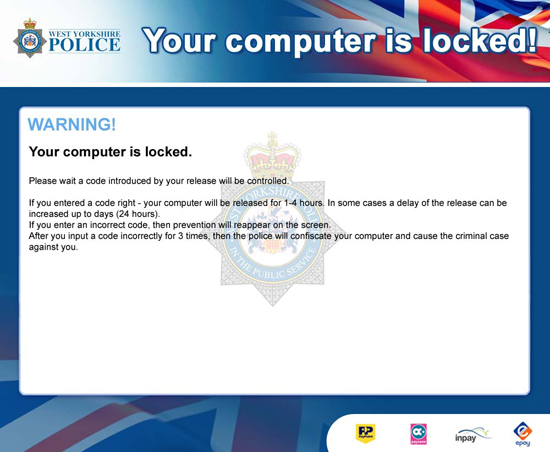 Your computer is blocked! West Yorkshire Police Ukash Virus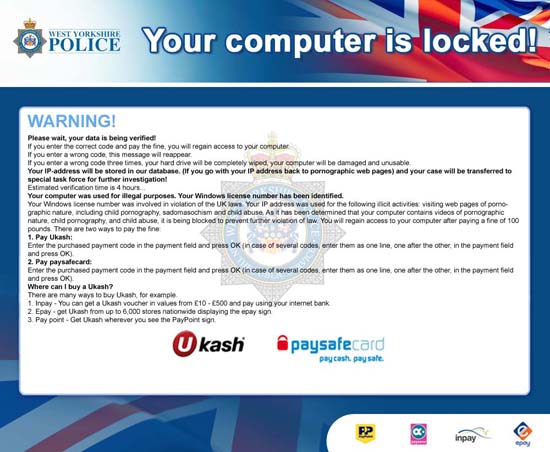 New Version of West Yorkshire Police Virus Warning Message – Your computer is locked for violating the law of Great Britain, you are asked to pay a fine of 100 pounds through Ukash to unlock your PC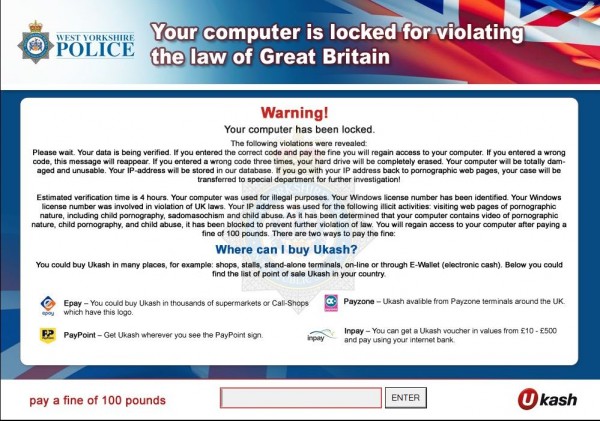 How dangerous is the West Yorkshire Police Virus?
West Yorkshire Police Ukash Virus is a nasty virus, it can lock your computer immediately as soon as you log in your system. It modifies your system setting then all your screen will be covered with its warning alert. One of the victims said:"I had the Your computer is locked for violating the law of Great Britain Virus before but I managed to get onto Safe Mode and do a system restore after which point I installed Microsoft Security Essentials. However, since the virus had disappeared i uninstalled the anti-virus and the next thing I know I get a more malicious West Yorkshire Police virus."  Many of them even tried pushing the shut down button which temporarily closes the full screen virus as the computer begins shut down and shows their desktop with a 'programs are being closed – end process'. They tried opening run and pressing 'shutdown -a' but this doesn't abort shut down. Restart your computer and get in safe mode with networking, if you can log on, try the guide below.
Best Way to Unlock Your Computer:
There is only one way to remove West Yorkshire Police Ukash virus locked page, that is to delete the virus files from the computer. Paying the fine will do nothing more than deposit 100 GBP more into the hackers account. They have no intention of removing the files from the users once they pay the fine. There only concern is to infect as much compromised computers as possible with the Ukash virus. The instructions below show the steps can help you remove the block and fully delete the Ukash virus files from the computer.
Manual Removal Step by Step Instructions
Step A: Restart computer in safe mode with networking. To do this, keep hitting F8 key during system startup till Windows Advanced boot option screen and safe mode options show up; use arrow keys to highlight wanted option and hit Enter key afterwards( click here for more details in Windows 8):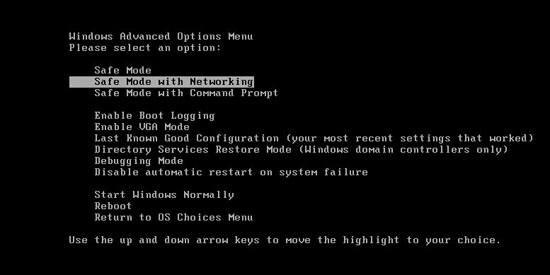 Step B: Stop all processes of the virus from Windows Task manager, first you need to open the Task manager by pressing Ctrl+Alt+Shift keys at the same time, then click on Processes tab to seek for the virus.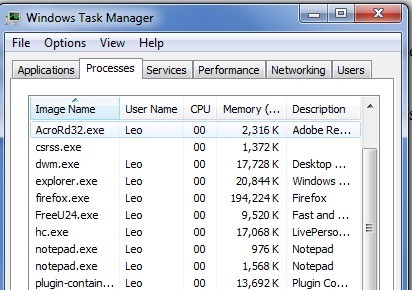 Step C: Delete all the files related to West Yorkshire Police Ukash Virus on the infected computer:
Step D: Delete registry entries of this infection created in registry editor.
HKEY_CURRENT_USER\Software\Microsoft\Windows\CurrentVersion\RunOnce\*.exe (Random letters)
HKEY_CURRENT_USER\Software\Microsoft\Windows\CurrentVersion\RunServicesOnce\*.exe
HKEY_LOCAL_MACHINE\SOFTWARE\Microsoft\Windows\CurrentVersion\RunOnce\*.exe (Random letters)
HKEY_LOCAL_MACHINE\Software\Microsoft\Windows\CurrentVersion\RunServicesOnce\*.exe
Video Tutorial On How to Modify Windows Registry:
Sum-up: West Yorkshire Police Ukash is a Ransomware that can spread across file sharing sites or downloaded from illegal websites. Now this kind of virus is widely spread and fool computer users with its sneaky tactic. Although it seems to be a legitimate message by showing the badges and logo of UK Police, it is a malicious virus designed to scare you and then rip you off. Don't believe or follow what it says. The virus prevent you doing anything on you computer. Even though you try different things like pressing Alt+Crtl+Del to get Task manager, it keeps preventing. When you try to shut down and turn the PC on again, same window pops up. You are not able to minimize or close the Ukash virus page because this virus can modify your system setting and let itself launch every time system boots up. Apart from the virus locked page, it still can do many harmful things on your computer such as open a backdoor to let remote hacker access compromised computer easily. That means your privacy and personal information such as password, credit card information etc. will be exposed to cyber criminals without your permission. Don't waste your money by giving any ransom to the criminal as there is no guarantee that the so calledUkash voucher codes are valid to unlock your desktop. You have to take immediate measure to unlock Ukash West Yorkshire Police malware manually.
Note: If you failed to remove West Yorkshire Police Ukash virus, please contact with YooSecurity experts to fully disable the virus, unlock your PC and make sure that your computer is virus free.


Published by Tony Shepherd & last updated on February 26, 2014 12:09 pm