My computer has been locked by PCEU and a letter pops up saying its the Police Central E-Crime Unit (PCEU) Virus…If i pay 100 pounds through Ukash then my computer will be unlocked? No. I was on my computer browsing and all of sudden my computer locked and there was a screen saying it was the PCEU and that I had to pay?100 via Ukash and it accessed by webcam. Learn more here.
Remove Police Central E-Crime Unit (PCEU) Virus; this virus now wants to get paid
As if we didn't have enough things to worry about when we use the internet, we now have to worry about imposters of government, public officials, or lurking programs piggybacking our access to favorite sites trying to get what they can from us. The newest virus that is making the round is the Police Central E-Crime Unit (PCEU) virus.  It's also known under a variety of different names including but not limited to Strathclyde Police Ukash virus, and various extensions bearing Reveton or lockscreen in their file name. The ransowmare virus makes incursions into users computers by some exploit kits which are attached in some email messages, downloading and unsafe websites. The virus can infiltrate computers when computer users when they use some out-date programs if the exploit kits infected the programs.  Therefore, internet user may reduce the risk of such an infection by keeping up-dating your program. Once gets the infection of the PCEU virus, computer users should get a complete removal of the virus to get rid of it as soon as possible, instead of pay the fake fine by the Ukash.
Just like the so-called notices from major banks, some social services agencies, online merchant payment services, and the federal government; Police Central E-Crime Unit (PCEU) Virus Ukash Scam is a variant of West Yorkshire Police Ukash Virus or metropolitan police ukash scam. This virus is being coined as "ransomware" disguising itself as bogus emails are designed to draw your attention, opening them hence corrupting and locking up your system. An error message appears stating the one or more violation originating from your unit/IP address and you will not be allowed to continue until your rectify the situation via fines/payments. They also can gain access thru the back door as Trojan software attaching themselves to themselves to links and downloads from trusted sites.
To save your computer, Live Chat with YooSecurity Expert Now, or you can follow the manual removal guide below to get your problem fixed. (For advanced computer users)

ScreenShot of Police Central E-Crime Unit (PCEU) Virus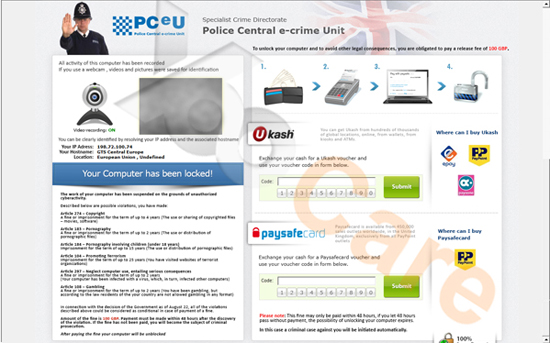 Police Central E-Crime Unit Virus (aka PCEU virus) – Your computer has been locked! On December 4, 2012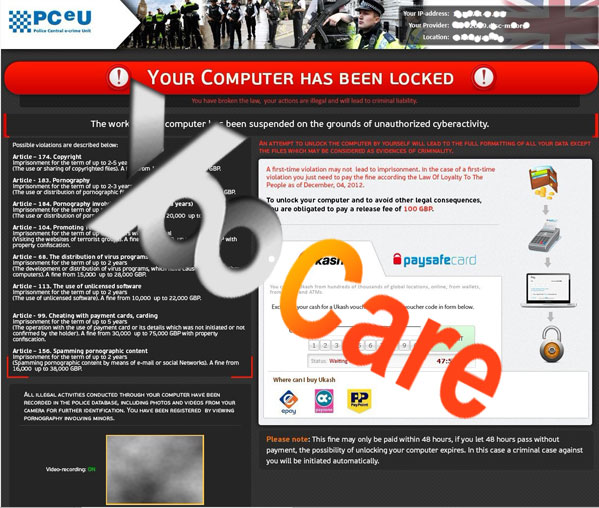 New Screen of PCEU Virus – Metropolitan POLICE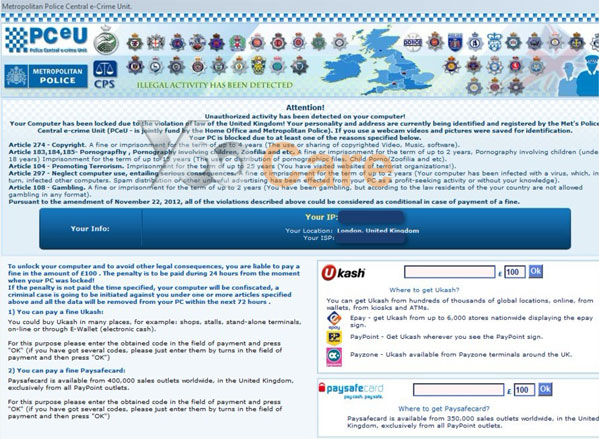 New Screen of PCEU Virus – United Kingdom Police Virus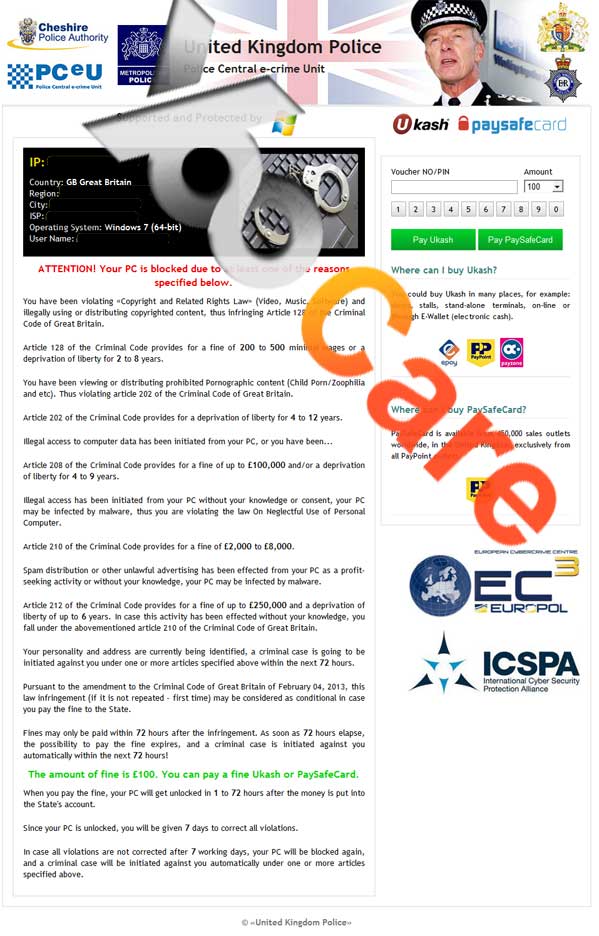 What is Police Central E-Crime Unit (PCEU) Virus? PCEU is the recent wave of viruses and malware that remotely captures their victim's computers and or other mobile devices, hijacking their content and private information and requiring some kind of ransom for its return. This can vary for a few to hundreds of thousands of pounds or dollars. Seen in many parts of Europe, we are now starting to feel its effects in the US. There have been reports that they're striking small business owners and individuals alike, capturing their vital information and requesting exurbanite amounts to release it back to their owners, if they ever do. Another symptom of the virus is the complete lockdown of your computer, even in safe mode.
Like many viruses and malware attacks, they are generated faster than many removal software applications can detect and eliminate them. And what makes similar versions even trickier is that they act like the legendary Trojan horse, set up shop in both the primary and subroutine programs in the registry and other core programs making them difficult to get at. Issue that exist in the registry; first aren't always detected by security and removal software; and second, because of their location, it can still cause havoc in the system (many core programs still run in safe mode); and third, attempts to perform cleaning operations may limit its effectiveness when in safe mode.
Where Can I Get My Computer Fixed Efficiently Without Taking It to A Local Shop?
There are a number of companies online charging varying rates to Remove Police Central E-Crime Unit (PCEU) Virus. Companies like YooScurity have a standard or basic program, usually free and for a given time period, may detect all the viruses and malware on your system but will remove a limited number of the more maligned viruses while requiring your to purchase the full or premium programs to rid all of them. The advantage of using a service is the continuous technical support for any additional issues.
Assuming that you do have some control and functionality of your computer, there are a couple of things you can try if you want to try and remove PCEU virus yourself.  First, backup your files onto an external storage device. Once your system is cleaned, you can review, run removal applications, and reinstall programs that you know are safe. The key is to first stop it from operating in its current spot or migrate to other programs.  Begin by gaining back some control by doing a system restore (start menu, programs, accessories, system tools, system restore. Then follow the steps) to roll back the computer's timeline a few days before you noticed the problem.  Once this part is done, then you can run variety of antimalware software to eradicate the virus.
For those who have more technical skills, you can attempt to remove Police Central E-Crime Unit (PCEU) Virus from the registry yourself. Take care with moving about the registry as any accidental deletion of a program can severely affect your computer, possibly rendering it useless. Most viruses have identifiable indicators in their file name such as random, ransom, etc. as well as the obvious Trojan and malware. These are the ones that either removal software or manual actions will go after.
Don't take system restore as you will make all things gone, you can manually go in and reset the registry against this particular virus. There are a couple of ways to access the registry portion of your operating system. For those familiar with the operating system DOS (the base upon which Windows operates), we will be working in this mode. Some computers will have a command routine or maintenance program that will bring you directly into the DOS mode. Another way of reaching it is
Start menu
Run or search programs
Type 'msconfig" then enter
The other way is to go under system explorer:
Start menu
Computer
C drive
Windows.
System
Once in DOS mode, you can type in the following commands:
HKEY_CURRENT_USER\Software\Microsoft\Internet Explorer\Dowmload "RunInvalidesignatures" = "1"
HKEY_CLASSES_ROOT\PersonalSS.DocHostUIHandler
HKEY_CURRENT_USER\Software\Microsoft\Windows\currentVersion\Internet
Video Guide to Remove Met Police Warning Virus (PCEU Virus)  From Regedit Manually

There are many websites and software developers that lay claim to remove Police Central E-Crime Unit (PCEU) Virus and other similar viruses, most barely touch them.  Think of it like a weed in the garden, you can kill the leaves, flower head, and part of the root but if you don't get all of the tap root, it will grow back and take over.  There are few software programs that appear to be able to remove some of these malicious viruses and  help removing PCEU virus. Download the program onto an external device will ensure that the application is safe as well as ensuring that it isn't being transmitted to others. Care needs to be taken as some sites attempt to get you installing other programs that can do just as much or more harm than the original. As with all viruses and malware, it has been evolving and becoming somewhat problematic. The PCEU is no different.
Tips: If you failed to fix your computer after a dangerous Police Central E-Crime Unit virus attack, please contact YooSecurity experts 24/7 online in time for help.

Published by Tony Shepherd & last updated on January 16, 2014 5:26 am