Is RememBear good or not? RememBear password manager comes from the makers of TunnelBear, a reputable VPN service that began development in 2011 and was acquired by Security giant McAfee in 2018. This standalone app is designed to make your life easier by remembering all of your passwords for you, and it lets you store, manage and retrieve passwords for online accounts in a secure way. With the constant security breaches in the headlines, RememBear is surely one of the best investments to protect your data and online privacy. With it, you will never get the pain to keep track of your passwords or forget your passwords again. In this RememBear review, you will learn everything about RememBear, like its features, pricing, security, and support. Please read before you buy. We hope our RememBear review did help some people still on the fence with their decision.
About RememBear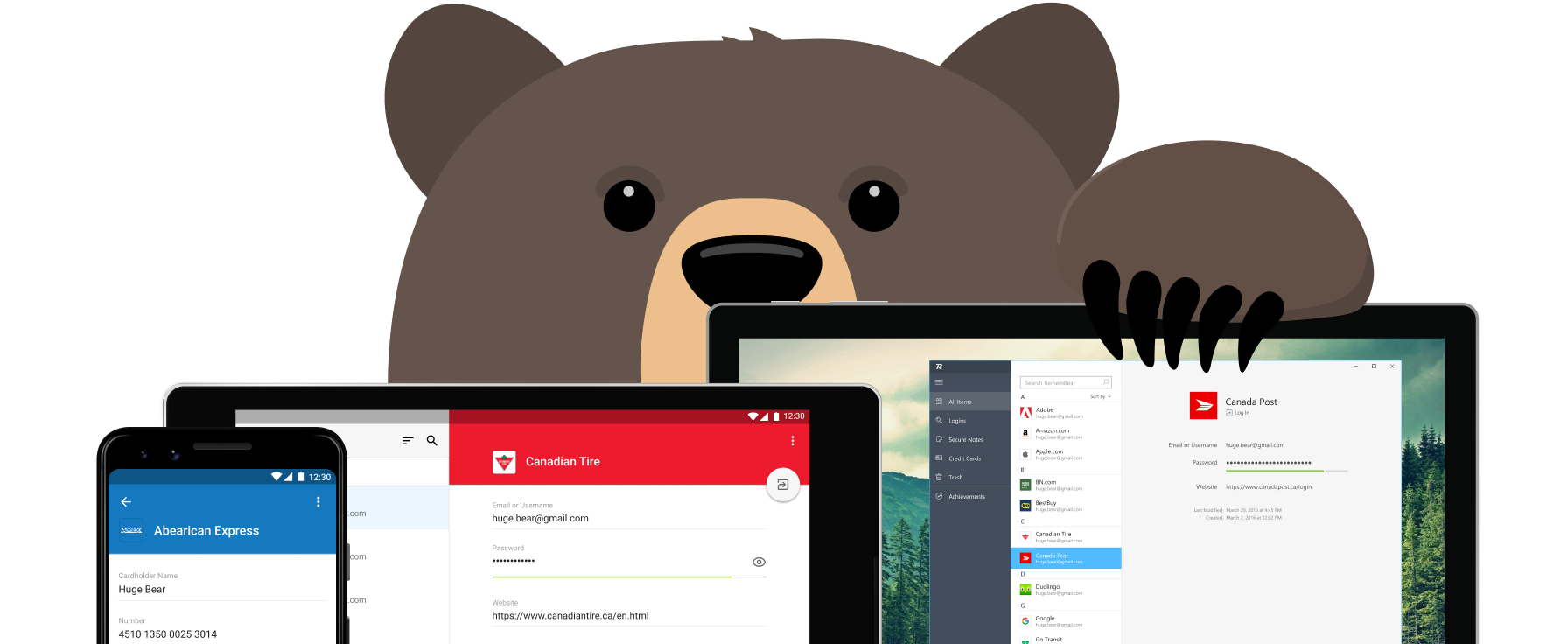 You've probably heard of TunnelBear, a Canada-based VPN service that got a lot of praise for offering a truly free service. But did you also know that the company behind TunnelBear has also launched a password manager? Last year, TunnelBear has ventured into password management and it launched a standalone app named RememBear.
RememBear is a relatively new password manager but it should be enough to satisfy users with basic password management requirements. The product was launched in April 2018, and after more than a year of development, RememBear has perfected its features and functions, getting a good reputation among users. RememBear works on all major platforms including iOS, Android, Microsoft Windows, and Mac OS, so you'll likely be covered as you switch between computers and smartphones. RememBear also provides extension for Chrome, Firefox or Safari that automatically fill in your password for you. In addition to Auto-Fill feature, RememBear also helps you generate and save strong, unique passwords when you sign up to new websites. That means whenever you go to a website or app, you just need to pull up this password manager, then click on a handy button on your browser and choose which account you need to fill in your information, then you're in. Your passwords are automatically synced across all your computers, phones, and tablet so you can take your passwords anywhere with you. RememBear password manager brings you both convenience and safety. It is more than just a password keeper, but it's also a secure vault in which you keep the keys to your wallet, your data, your entire digital life. With RememBear, each one of your accounts can have its own unique, impossible-to-memorize password, while you only need to remember one master password – the one that gets you into the RememBear password manager.
To ensure your security, RememBear uses end-to-end encryption with top-notch AES-256, which means that data never leaves your device or RememBear's servers without first being encrypted. Encryption and decryption happen on your device, so it's unreadable to RememBear or anyone who may intercept it during transit. And RememBear supports two-factor authentication that adds another security layer to the login process, reducing the chances of account hacking. If you haven't used a password manager yet, it's time to put a Bear in your PC or mobile now and start securing your passwords.
How Much does RememBear Cost?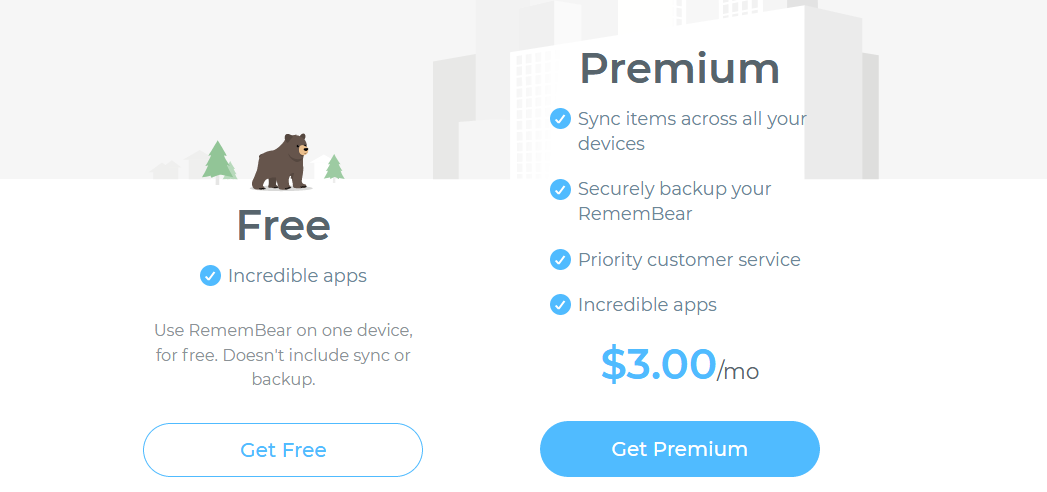 RememBear makes it much easier for everyone to form good password habits for life. When it comes to its pricing, it's good to see that RememBear offers a free plan with many basic features that you'd expect, like password generator, auto-fill, face and fingerprint ID support on mobile devices, browser extensions for Chrome, Firefox, and Safari and cross-platform support etc. However, the free plan allows you to use RememBear on only one device and it doesn't include sync or backup feature. If you need those features, you have to upgrade your plan to RememBear Premium. The Premium Plan is priced at $3.00/mo ($36 billed annually), it covers everything you can have in the Free Plan, plus priority support, seamless sync across your devices and cloud backup.
For $3.00/month, the same price as Lastpass Premium, RememBear's price is not competitive. After all, LastPass is one of the top names among famous password managers and it also offers free version. LastPass Premium covers emergency access and the ability to share single passwords and items with multiple people, those are which you can't find from Remembear Premium. Despite that, RememBear, as a helpful password manager, often helps you save your money in the long run.
RememBear Primary Features: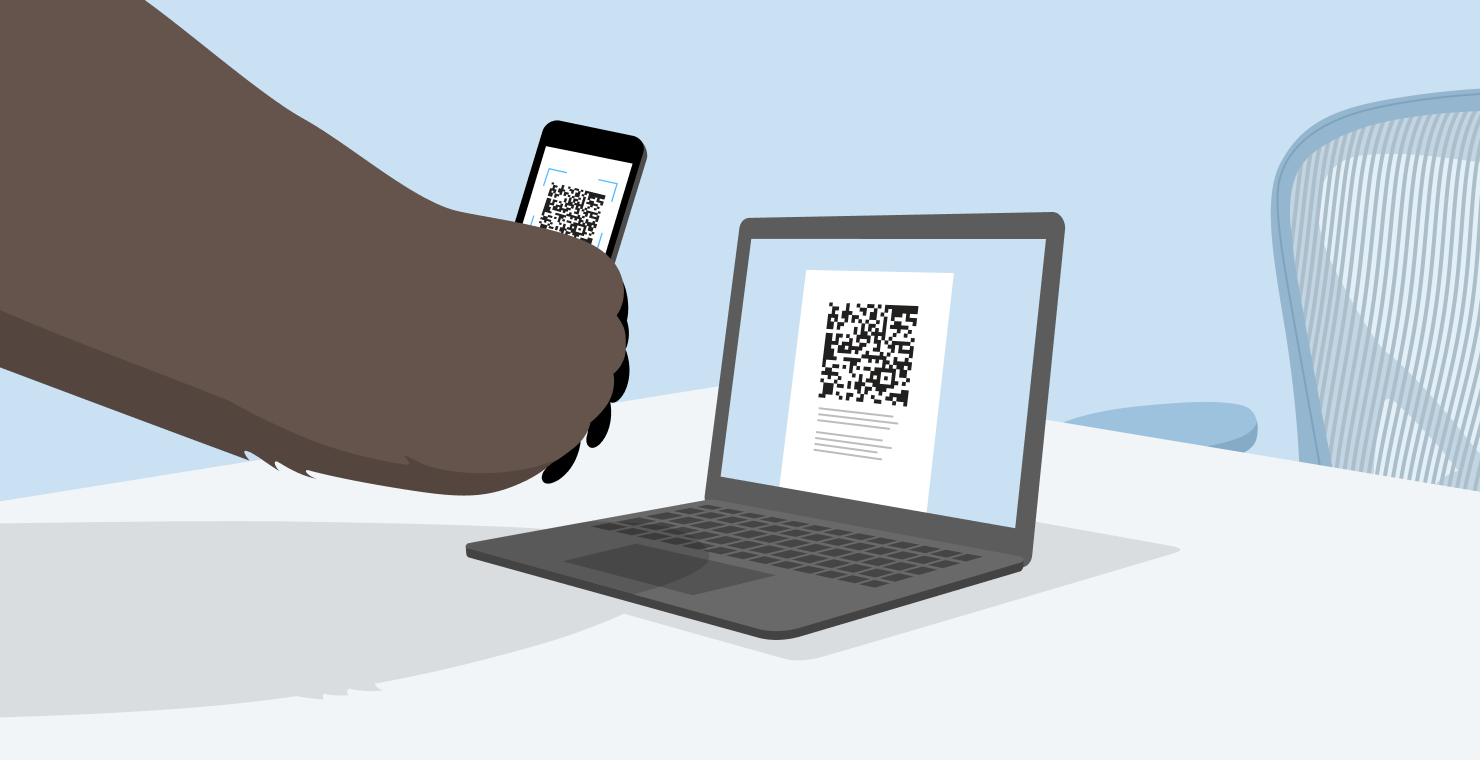 Support Major Browsers – RememBear browser extension integrates seamlessly into your browsing experience. It is available for Chrome, Firefox and Safari.
One Click Logins – Leave the hassle of typing usernames and passwords behind. Let a Bear type your passwords and login to websites with one click.
Auto-Fill In One Click – No need to remember, write down, or fill in your passwords. The Auto-Fill feature lets you spend less time filling out forms, and more time doing what matters.
Password Generator – Securely generate and remember strong, unique passwords for each and every one of your accounts with RememBear.
Sync Password – The RememBear Premium allows you to keep your passwords backed up and in sync across all your browsers and devices.
256-Bit Encryption – RememBear comes with AES 256-bit encryption and files are secured from end-to-end. All of your logins are stored in an encrypted vault that only you can access.
Import and Export Feature – RememBear has the ability to import passwords, credit cards and secure notes from LastPass and 1Password, and it also allows you to export any data stored in RememBear.
Two-Factor Authentication – Two Factor Authentication (2FA) is available on RememBear now. 2FA options include Google Authenticator, Authy, Microsoft Authenticator and other time-based one-time password (TOTP) authenticator apps. It adds an extra layer of security for you.
Store Sensitive Notes for All Devices – RememBear is more than a password manager, it is also a place for saving your secure notes that need an extra layer of security.
Support for face and fingerprint ID – Unlock your vault securely with Touch ID or Face ID.
Why You Need RememBear?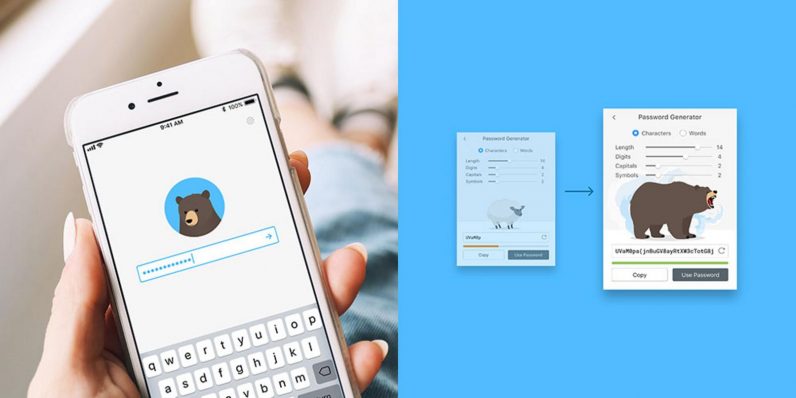 According to a new survey, the average cyberattack cost rockets to $4.6 million this year, and data breaches now number in the millions. Most Internet users these days still haven't fully understood the importance of creating secure passwords. Over 50% of the users still use the same passwords (or very similar and easily hackable ones) for different services. And they usually save their passwords using unsecure technology, or just writing down on a note kept nearby. That is why data breaches are happening all the time, all around them. ​To prevent password leaks from being so damaging, people should use strong and unique passwords on every website. Creating strong passwords may seem like a daunting task, especially when the recommendation is to have a unique password for each site you visit. How do you do that? And how to remember and keep track of all your passwords? The secret to complete the task to use a password manager, like RememBear.
Without a password manager, most people will compromise their security in one way or another. Like mentioned before, they may choose a less secure password that's easy to remember or use the same password at multiple sites. RememBear takes care of remembering passwords, and it also stores them, keeps them safe, and tells you how strong your passwords are. Using RememBear password manager allows you to generate and use secure, complex, and appropriately long passwords. You will never need to type or remember passwords – RememBear password manager remembers them for you while keeping them ultra-safe. You can say goodbye to un‑bear‑able password resets with the help of RememBear. On top of that, RememBear password manager adds several features that make improved security even more convenient. It stores your password for all types of site with strong AES-256 encryption and protects your passwords from hacking and data theft. There is a Password Generator for creating strong secure passwords in your RememBear subscription which costs no money at all.
In this age of digital security, everyone wants to have a way to have peace of mind when it comes to their important information. RememBear Password Manager allows you to secure your information so you can have the confidence that your passwords and critical data is encrypted and safe from hackers. RememBear has joined McAfee – the industry leading threat defense experts to make sure that your data is well-protected. Protect and manage all your logins and passwords, credit cards, identities, bank accounts, passports with RememBear Now!
Is RememBear Safe?
Since RememBear comes from the maker of TunnelBear, a reliable VPN that has helped nearly 20 million people browse a more secure and open internet, it should receive the same care regarding overall security. On its privacy policy page, RememBear clearly outlines how they collect the minimum amount of information possible necessary to provide their users with a secure and reliable service. Besides, the RememBear team has invested a lot of time up front into thoughtfully engineering the strong end to end encryption that RememBear uses today. RememBear security architecture and implementation have already been thoroughly audited by the cybersecurity firm, Cure53. While using RememBear, all data is encrypted locally with military-grade AES-256 encryption. The only key for unlocking your encrypted data is a Master Password which you set up for yourself and no one else knows. Nothing related to your master password ever reaches RememBear servers. RememBear also supports two-factor identification, in which you enter your password as well as a one-time code provided by your smartphone when logging in from a new device. You will get assurance that RememBear team have a major focus on security.
RememBear Customer Service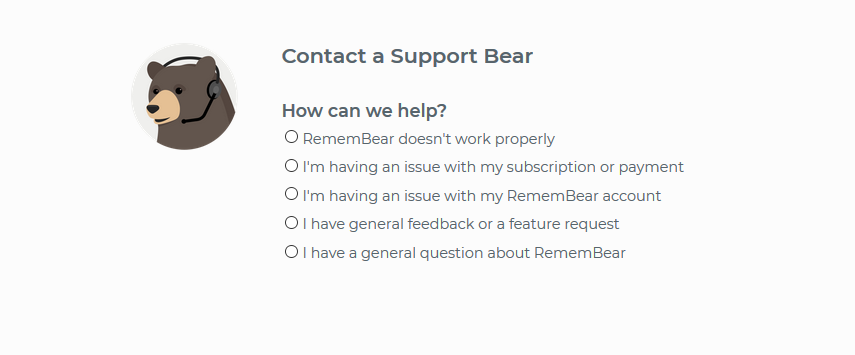 Customer experience is a critical factor in the success of  business. However, to be frank, RememBear customer service is not perfect as expected. It usually takes between a few days for the staff to get back to you, regardless of whether the feedback or question is sent via an email inquiry or the company's social media pages. RememBear doesn't offer phone support or live chat support so you just have to wait on hold. Additionally,We hope RememBear Team will improve their customer service in the furture.
Top 5 Best Password Managers Worldwide
| Product | Rating | Support Platforms | Offers | Price(USD) | Official WebSite |
| --- | --- | --- | --- | --- | --- |
| | Rating #1 Dashlane Review | Windows, Mac, iOS, Android, Linux, Chrome OS, watchOS | Offers Free Version | $39.99/Year | Best Deals |
| | Rating #2 Lastpass Review | Windows, Mac, iOS, Android, Linux, Chrome OS, Windows Phone, watchOS | Offers Free Version | $24.00/Year | View Deals |
| | Rating #3 Sticky Password Review | iOS, Android, Safari (Mac), Chrome and Firefox (Mac and Windows) | Offers Trial Version | $14.99/Year | View Deals |
| | Rating #4 LogMeOnce Review | Windows, Mac, iOS, Android | Offers Free Version | $12.00/Year | View Deals |
| | Rating #5 Intuitive Password Review | Windows, Mac, iOS, Android | Offers Free Version | AUD $24.00/Year | View Deals |
Bottom Line:
In this digital life, password security is a serious problem that everyone should pay highly attention to. Basically, the stronger your passwords are, the harder for an attacker to guess or crack. RememBear securely keeps your usernames and passwords in one place and makes them easy to retrieve whenever you need to log in to something. It is a password manager application offered by the makers of TunnelBear, a VPN company that was acquired by Security giant McAfee. RememBear is available on Windows, macOS, Android, and iOS. It can be used for free, or you also can pay for the premium version. Both have an easy-to-use and pleasing design that is stylistically similar to the company's much loved TunnelBear VPN application. With RememBear, you can autofill passwords for all sites, including credit card and payment information, thus making purchasing items online considerably easier. You no longer need to remember multiple passwords for different internet sites, and the best thing is RememBear can generate nearly-unbreakable passwords for each and every one of your accounts. RememBear also features the ability to store and protect sensitive notes for future access. It even provides account recovery backup kit in case your device is lost or you forget the master password.
However, since RememBear is only one year old, it still has some drawbacks that need to be improved. It lacks some useful features like Secure Password Sharing, Emergency Access, and more when it compared with its competitors. This features may be added in the future. But comparatively speaking, RememBear is more suitable for people who is new to password management and don't need any advanced features. RememBear free plan is pretty good which lets you get unlimited password storage on a single device with support for all entry types. Overall, RememBear is a fantastic choice for storing and managing your passwords.
Published by Tony Shepherd & last updated on March 25, 2020 2:54 pm