I can't access Dropbox on my android phone here in China! I need to get some files and photos stored in Dropbox, but right now it said it can't be accessed. How can I get the files, photos and documents that I stored them into Dropbox? I usually keep what I want to save into Dropbox especially all documents about work. What can I do now? Can you help me?
What's Dropbox and What You can Benefit from Dropbox?
Dropbox is a file storage app which offer cloud storage, file synchronization, personal cloud and so on. You can keep your photos, documents, videos, music and other files in Dropbox. And all the files you save in Dropbox are safely backed up and you can get to them from all your devices. It is easy to send large files without using email attachments to any one even if they don't have a Dropbox account. Contents of all your files kept in Dropbox are synchronized to Dropbox's server and to other computer and devices that user has install Dropbox on.  Dropbox keeps the same files up-to-date on all devices. Dropbox Basic users are given 2 GB of free storage space. Dropbox Plus users are given 1 TB of storage space as well as additional features, including advanced sharing controls, remote wipe, and an optional Extended Version History add-on. Dropbox is very useful software to safely back up files you want and keep updating and syncing to other devices. Many business persons, working staff, college teachers and students more tend to use this kind of online storage tool.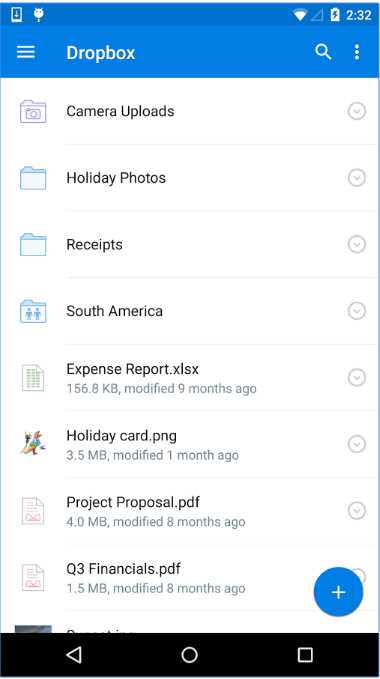 How to Access Dropbox in China on Android ? Is A VPN Really Helpful?
However, many people travelling to China always complained that their Dropbox can't be accessed for some reason. In China, many foreign websites like Facebook, Instagram, Google, Gmail and Twitter and son on are not allowed to access in normal way. In order to preserve China's "cyberspace sovereignty", Chinese government creates and operates its filtering system dubbed the Great Firewall (GFW) to censor its Internet. And Chinese government keeps updating its internet censorship to control their internet safety. Internet censorship is the control or suppression of what can be accessed, published, or viewed on the Internet. China's Great Firewall (GFW) is a censorship and surveillance project created to block potentially unfavorable incoming data from foreign countries. That is the reason why you can't access Dropbox in China. So how to access Dropbox in China? The best solution is to use a strong VPN bypass China's Firewall and access the websites and apps you want.
VPN is secured encrypted tunnel that masks your geo location hiding your IP address and so helps to bypass all Internet restrictions. VPN has a strong ability to change your IP address so you can avoid Chinese Internet censorship. VPN service is a secure and encrypted network, created over the public internet connection to enable the users hide their identity over the worldwide web. It has a strong ability to bypass geo-restrictions and help internet users to access any abroad websites successfully. So if you sign up with a strong VPN server, you can smoothly access Line and other foreign websites especially social media sites and applications blocked by China government's internet censorship. Once you sign up with a VPN service and install VPN software on your device like android, you will easily get access to websites and apps like Dropbox, Facebook, Instagram, Twitter, Line, Google, Gmail, Youtube, Hulu, Vimeo and other foreign websites blocked by China's government.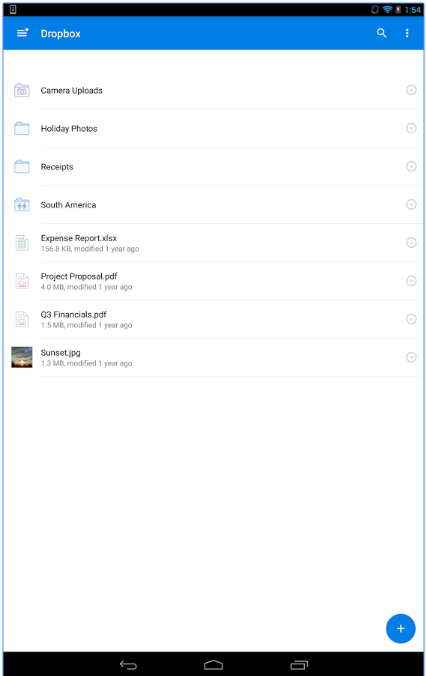 What You will Benefit from the Best VPN?
Access All Websites
A VPN offers universal access to websites and apps that are blocked due to geo-restrictions ruled by some countries and regions. No matter where you are located, a VPN will give you an easy access to a number of servers located around the world, allow you to access your favorite music and video streaming websites from anywhere in the world. Besides, the internet speed will become faster and video's picture quality will be clearer and more impressive. By using a VPN service, you can freely and easily visit geo-restricted sites like Bloomberg News, the New York Times, Netflix, YouTube, Hulu, BBC iPlayer ,Twitter, Instragram and Facebook and free hosting services owned by foreigner.
Strong Security, Privacy and Anonymity
Why so many people choose to use VPNs on their android phone and tablet? The most important reason is that VPN provides secured and safe data, strongly protects your privacy and offers your anonymity. VPN server provides privacy by hiding your internet activity from your ISP and government, allows you to escape from censorship controlled by school, work, your ISP, or government. If you send or receive any sensitive information on the Internet, a VPN is vital. VPN is particularly safe to use for those using public Wi-Fi networks, such as those at hotels, airports, and coffee shops, because VPNs also cloak your computer's actual IP address, making it harder for advertisers (or spies, or hackers) to track you online. Anyway, a VPN offers a greater level of privacy since a secure connection is made between your device and the server or network you are connecting to.
Remote Access (especially for trade business staff)
One of the major reasons why businesses use VPNs is that a VPN allows their worker staffs who work at home or even go on business trip abroad a secure remote access to their networks and servers. Since a large of business activities are often carried out on the move, it's very crucial and critical to enable to connect with office server directly and securely. Therefore, a VPN plays a very important part to deliver that secure connection.
Low Costs for both private person and business
Once a VPN is set up, the maintenance of the connection is very low. What's more, the VPNs services are improving and become upgraded. For the part of cost, Businesses with large roaming sales personnel will reduce large amount of costs when a VPN is implemented. This is also one of the major reasons why there are so many enterprises and businesses choose to use VPN Service. A VPN client not only helps save time and money but also speeds up working efficiency.
How to Choose the Best VPN to Access Dropbox in China on Android?
Now more and more VPNs (such as ExpressVPN, NordVPN, PureVPN, HideMyAss!, IPvanish, VyprVPN, Strong VPN ect.) are created and flood in online market. And more and more internet users are using VPNs to unblock geo-restricted websites and service online. The most important reason why they choose VPN client is its strong ability to protect personal privacy and data safety. However, for many internet user especially beginner, it's hard to choose the Best VPN to Access Dropbox in China. Some of them even don't know how to compare among various VPNs. In reality, it's not easy to figure out a VPN service is the best one just by reading its brilliant introduce and description on their provider's websites. The best way to check if it's safe, fast and stable is to test it on your device. So what important aspects or factors should we consider when we select one VPN server?
1. Price – check if the price is reasonable by comparing with many VPN services
2. Speed – see if the speed provides by it is stable and fast enough
3. Privacy – all VPN providers promise privacy, but A VPN does not make you anonymous.
4. Security – this is mainly to see if the technical measures are strong enough to prevent an rival like hackers, the NSA, etc. forcing access to your data.
5. Number of servers/countries – if you need to connect to servers located in numerous places, then the more the better. Then you can find a server where you need it.
6. Number of simultaneous connections – some providers will only let you connect one device to their service at a time, while others allow you connect your PC, laptop, Mac, smartphone,tablet and your other friend, family member or colleague's device all at once.
7. Customer support – many VPN users especially beginner are still learning the ropes, so customer support will help answer your questions and solve problems while you're using the VPN software service.
8. Free trials and money back guarantees – free trials can help you decide if a VPN service is suitable for you and really helpful before you purchase its service.
9. Software – VPN software or app should look concise, good and be easy to use and also be with special features.
Kindly Prompt: if you are confused and don't know which VPNs you should choose to be the Best VPN to Access Dropbox in China or have any other questions about VPN, you're welcome to contact our Yoosecurity online technical team by clicking Start Live button bellow:


How to Set Up A VPN Service on Your Android Device?
In order to Access Dropbox in China, you should first purchase a VPN service, then install its software and then do some set-up on your device, then you can smoothly use the VPN internet successfully, here below is the guide on how to set up VPN on android device. If you now are not familiar with all steps or can't finish processes by yourself, you can contact our online support!
Step 1: Open the Settings app.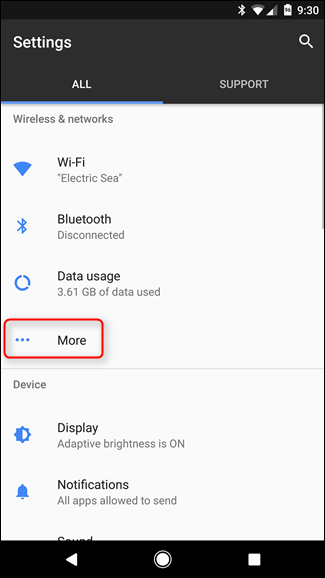 Step 2: Select "VPN" under the "Wireless & networks" section, select "More".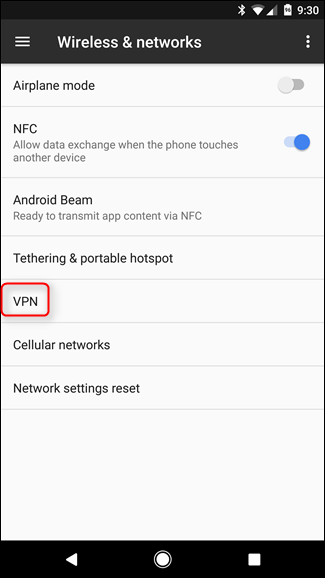 Step 3: On the top-right corner you will find a + sign, tap it.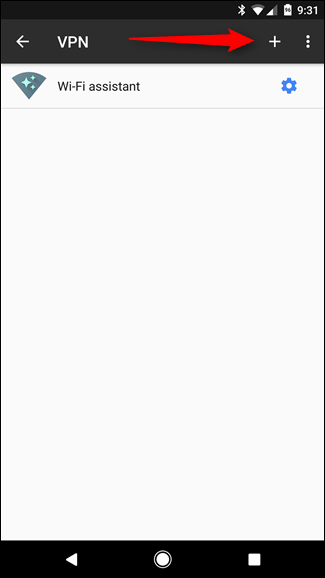 Step 4: Your network administrator will provide you with all your VPN information. Simply select your desired protocol and enter all the information. Enter a name to help you remember which VPN is which into the Name field, select the type of VPN server you're connecting to, and enter the VPN server's address (either an address like vpn.example.com or a numerical IP address). Hit "Save".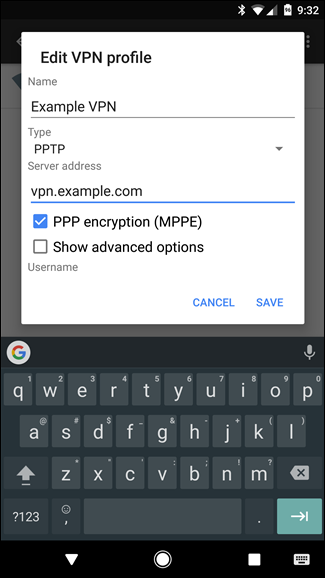 Tap the VPN to connect once you have set it up. You can have multiple VPN servers configured and switch between them from the VPN screen.
Step 5: You can connect by going back to the VPN settings and selecting your VPN of choice. You will be asked to enter a username and password. However, you can save this account information for next time.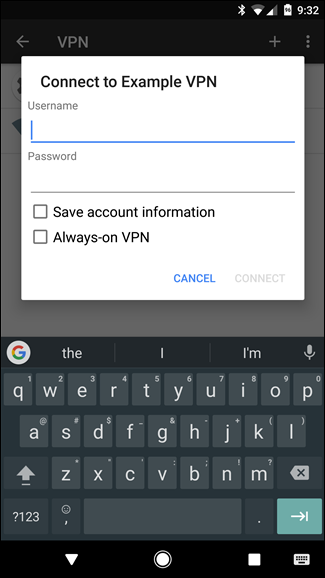 While connected to a VPN, you will see a persistent "VPN activated" notification in your notifications drawer. To disconnect, tap the notification and tap Disconnect.
Step 6: You can also hit the 3-dot menu button to set your VPN to always be on.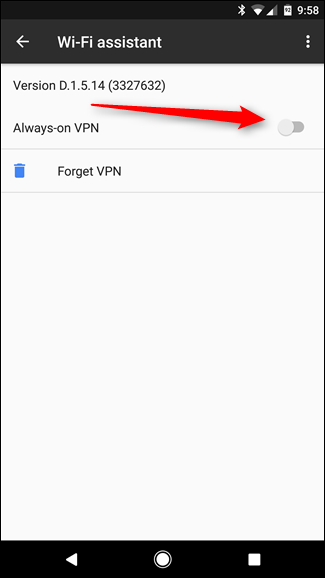 Kindly Note: Not all Android devices are on the same way of setting up VPN client. If you're experiencing any difficulties while your android settings looks a bit different, you're recommended to let us know the details by clicking Live Chat button bellow and we'll do our best to help you out.
Video Guide Show You How to Access Dropbox in China on Android/h3> Top 10 Best VPN Services
| VPN Provider | Server | Jurisdiction | # of Connections | Price(USD) | WebSite |
| --- | --- | --- | --- | --- | --- |
| | 1500+ VPN servers in 94 countries. | British Virgin Islands | 3 | $6.67/Month (Save 49%) | Best Deals |
| | 1,000+ VPN servers in 60+ countries. | USA | 5 | $6.49/Month (Save 46%) | View Deals |
| | 2643 servers in 56 different countries. | Panama | 6 | $3.29/Month (Save 72%) | View Deals |
| | 750+ VPN servers in 140+ countries. | Hong Kong | 5 | $2.04/Month (Save 79%) | View Deals |
| | 70+ global servers in many countries. | Switzerland | 3 / 5 | $4.16/Month (Save 50%) | View Deals |
| | 700+ VPN servers in 34+ countries. | Israel | 3 | $2.49/Month (Save 75%) | View Deals |
| | 30+ locations in many countries. | Malaysia | 5 | $4.99/Month (Save 50%) | View Deals |
| | 3000+ Servers in 55+ Countries. | USA | 5 | $5.95/Month (Save 50%) | View Deals |
| | Over 200 servers in 69 countries. | Bulgaria | 6 | $4.92/Month (Save 50%) | View Deals |
| | 300+ VPN Servers in many countries. | Seychelles | 3 | $3.33/Month (Save 34%) | View Deals |
Conclusion (How to Access Dropbox in China on Android)
VPN is the software mainly helping internet users to unblock websites blocked by geo-restriction. It creates a "tunnel" over your internet network to let you access any websites. And it not only can unblock the websites but also protect personal privacy and data. Therefore, if you can't access Dropbox in China, the best choice is to use VPN. So if you sign up with a strong VPN server, you can smoothly access Dropbox and other foreign websites especially social media sites and applications blocked by China government's internet censorship. And meanwhile, VPN is a secure network to protect your personal information and privacy while you're using free wifi network in such public places as café bar, supermarket, restaurant, airport, and library etc. Therefore, VPN is reliable software to unblock websites and prevent your privacy and data from being hacked. ExpressVPN $6.67/Month (Save 49%) is stable with high ratings that still work in China.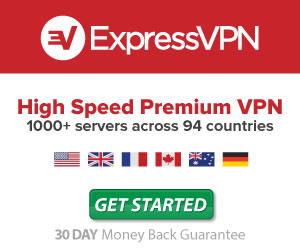 Warm Suggestions: If you still don't know which is the Best VPN to Access Dropbox in China on Android or how to set up VPN on Mac, Windows computer, android smartphone, tablet, or iPhone & iPad device, you're recommended to live chat with Yoosecurity Online Expert for instant help!

Published by Leo R. Oscar & last updated on February 8, 2018 9:11 am