Hide.me is a Malaysia-based Virtual Private Networks (VPN) that helps you stay anonymous on the internet and lets you be free to use the internet without unnecessary monitoring. The service offers Internet users a truly private web browser experience, regardless of their locations. Is Hide.me truly private? How does its connection speed compared to the industry leaders like ExpressVPN and NordVPN? Is it really the world's fastest VPN as it markets? Does it keep logs? Let's take a close look at what makes hide.me VPN great, and also at some of its downsides to help you decide whether it's the right VPN for you.

What's Hide.me VPN?

Hide.me isn't a new name in the VPN industry. They have been offering top-notch services and providing internet security and freedom for every internet user since 2012. Currently, Hide.me VPN offers 1400+ servers across 56 locations in 34 countries, across Asia, Europe, and North and South America, so you certainly won't feel any sluggish speeds with Hide.me, no matter where you are. Unlike other VPNs, Hide.me VPN doesn't place any limitation on its connection speed, and the best thing is this VPN does not store logs of your online activities, which guarantees the absolute privacy needed to browse the Internet without any fear of being tracked. Besides, it provides top-of-the-line encryption and a wide range of protocol options PPTP, L2TP, IPsec (IKEv1 and IKEv2), OpenVPN, SoftEther and SSTP for maximum security.
Hide.me VPN is easy to use. It is compatible with multiple devices including: Android, iOS, macOS, Routers, Windows, Windows Phone, Chrome, Firefox, and BlackBerry, and allows up to 10 simultaneous connections. The service offers many amazing VPN features such as IP leak protection, split tunneling, and a kill switch, ensuring users' privacy is always protected. With Hide.me VPN, you can keep your online activities complete anonymous and hidden at all times and use public Wi-Fi without any risk. When you travel to a country where limits your internet access and blocks certain websites, like China, Hide.me VPN lets you easily bypass the government's internet censorship and gives you complete Internet freedom.
Hide.me VPN is trusted by more than 15 million users globally because of its top grade security, anonymity and speed. If you're worried about your information or browsing history being tracked, or you need a high level of privacy and an effective service to bypass restrictions, Hide.me VPN is always a good option.
Pricing Plans: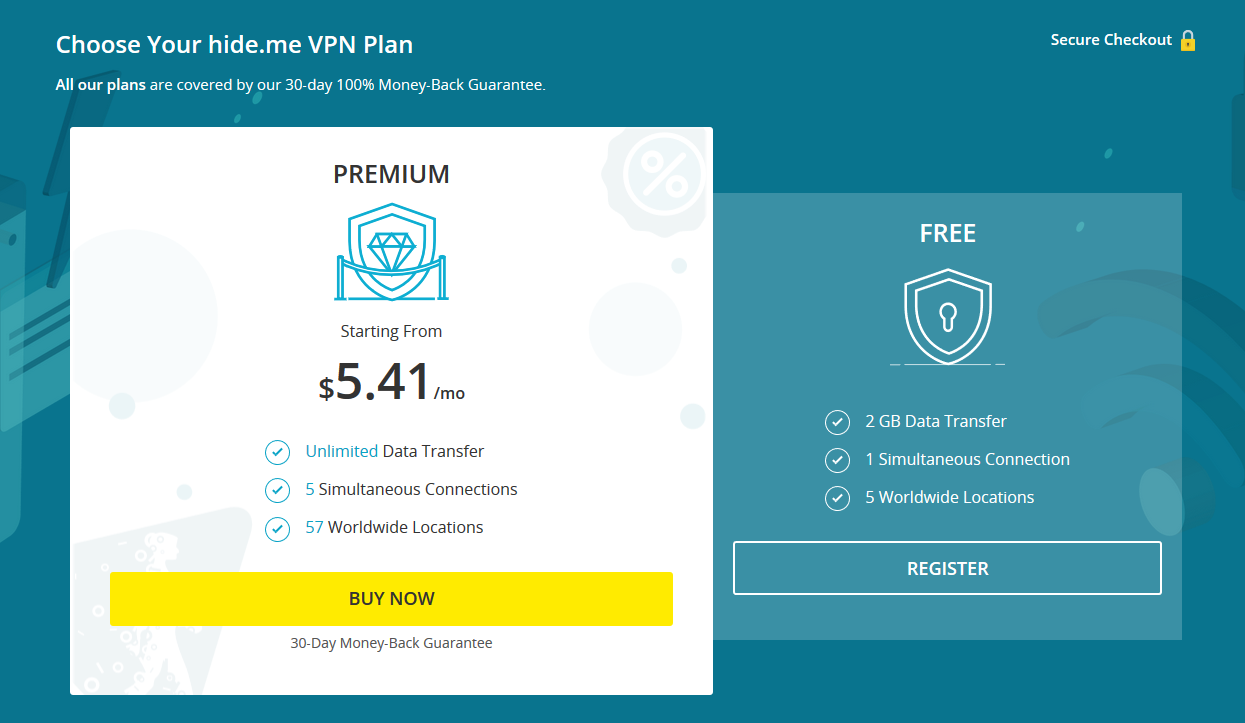 Hide.me VPN offers both a Free plan and several pricing options for a Premium plan. The free plan only allows you to access 5 worldwide locations and it limits the number of simultaneous connection to be just one, and only 2 GB data transfer is allowed, which may not sufficiently meet your VPN needs. There is always the option to upgrade to the premium plan for the best security.
Hide.me VPN offers three pricing option for users to choose from for the Premium Plan. Here are the details:

$5.41/Month (24-Month-Plan. Billed $129.95 every 24 months. Save up to 64%)
$9.99/Month (12-Month-Plan. Billed $119.95 every 12 months. Save up to 34%)
$14.95/Month (1-Month-Plan Billed $14.95 every month. NO SAVINGS)
Hide.me VPN Premium plans start from $5.41 per month and it offers full access to 1400+ servers in 56 locations, unlimited data transfer, 10 simultaneous connections. If you only need a VPN for a month, Hide.me VPN is not a good choice. Their monthly fee is much more expensive than the industry leaders. However, if you would like to pay for 2 Years, it drops the price to only $5.41 per month, saving up to 64%. The premium plan comes with comprehensive features that suits heavy VPN users, especially businesses.
Hide.me accepts a wide range of payment options, including: credit card (Visa, Mastercard, Amex, Diners Club), PayPal, SEPA, SOFORT, bank transfer and Cash2Code (Austria, Germany, Italy). Bitcoins are also accepted in case you need even your payment to be anonymous. All premium plans are covered by 30-day 100% Money-Back Guarantee.
Hide.me VPN Features:

Kill Switch is an important feature in today's online landscape. It's great to see that Hide.me adds Kill Switch feature to its VPN Client as an extra layer of protection. This feature will block all the outgoing and incoming traffic, if for any reason your internet connection drops. In other words, it helps avoid IP leaks or any accidental exposure to maintain user's anonymity. Therefore, enable Kill Switch all the time to reduce the risk of leaking your real IP address.

Hide.me VPN is located in Malaysia, far away from any Western government jurisdiction, so this VPN is not legally obligated to store users' Internet session logs or hand them over to any authority. On its website, Hide.me emphasizes it strictly doesn't log any personal data, or monitor browsing behavior. Besides, Hide.me is the only VPN provider in the industry who volunteered itself to be audited by one of the most reputed independent security analyst, Leon Juranic from Defensecode, who certified that hide.me does not store any user logs. Therefore, you can rest assured that your online privacy will not be compromised.
Hide.me supports a wide range of protocols: IKEv2, PPTP, L2TP, IPsec, OpenVPN, Softether, SOCKS, and SSTP. A VPN protocol usually determines exactly how your data routes between your computer and the VPN server. We suggest you use OpenVPN which is the most flexible and secure protocol you can get today.
Hide.me VPN allows unlimited bandwidth. Having unlimited bandwidth means you're able to download as much data, stream as much video or listen to as much music as you'd want to without any restrictions.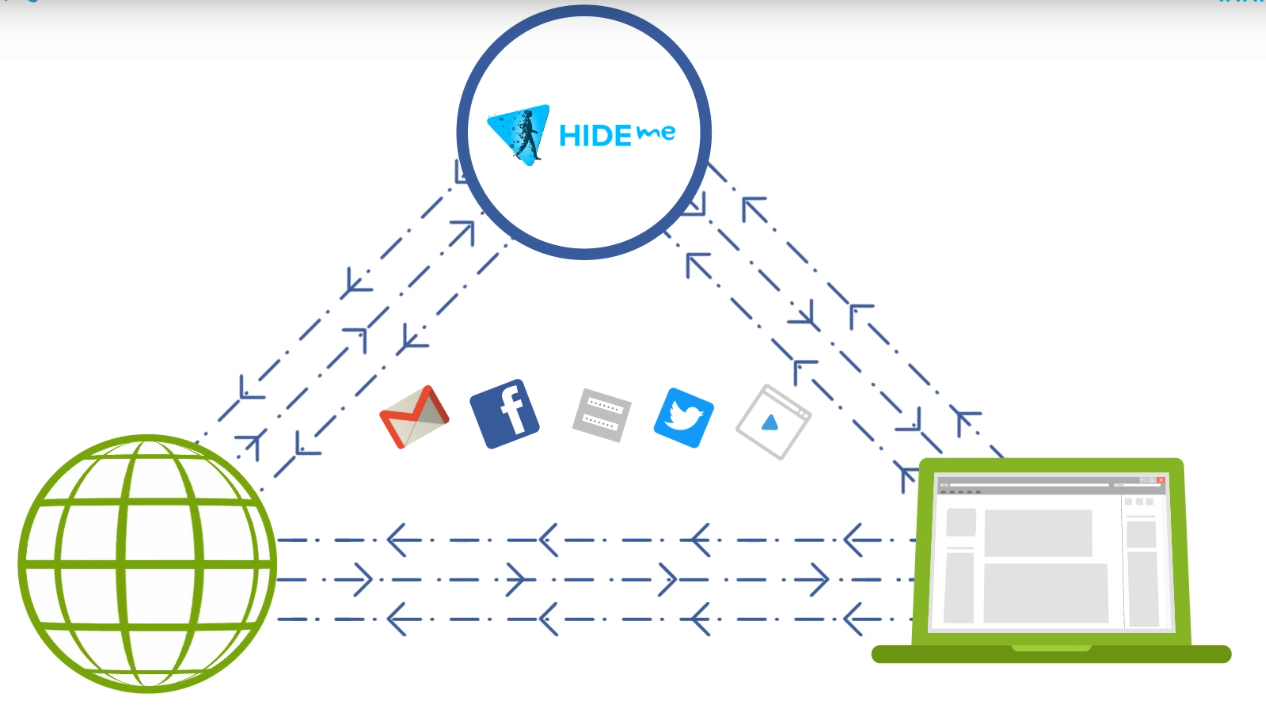 Use on Up to 5 Devices at Once
The ability to connect multiple devices is highly convenient for users looking to enjoy the full benefits of a VPN. Hide.me VPN Premium plan offers up to 10 simultaneous connections so you can establish 5 VPN connections on your desktop, mobile and smart devices at the same time. With this VPN service, all your devices are completely protected.
IP leak can compromise security and allow other entities to control and access your data. For security and privacy reasons, Hide.me offers protection against DNS, IP and even IPv6 leaks.
Hide.me's Stealth Guard feature is available in Windows and macOS apps that gives you the flexibility to either choose certain apps or your entire internet connection and limit them to a VPN connection. That sounds like split-tunneling, but with Stealth Guard, those apps won't work unless the VPN is running.
Privacy & Security: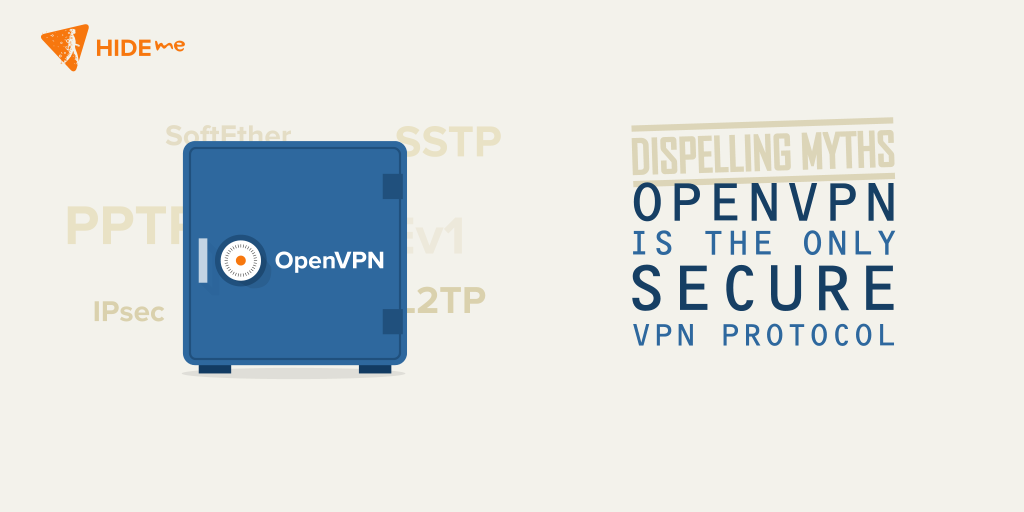 Hide.me VPN is based in Malaysia-based VPN, which is an ideal place for privacy, being outside of the "14-eyes". On its Privacy Policy document, Hide.me clearly states they do NOT keep logs of your VPN sessions, browsing behavior, websites you visit or any activity related to your VPN connection. In addition, they NEVER store VPN connection logs and timestamps that match your incoming and outgoing IP address or session duration. The only information they need is your email address. Hide.me will store your email address in encrypted form, on completely encrypted servers. Their entire system is independently managed and created without the ability to log user data or activities. When it comes to data security, Hide.me uses an OpenVPN protocol that employs AES 256-bit encryption. This is considered one of the highest encryption standards in the VPN industry. Hide.me VPN features a kill switch in the desktop client, and also protects against IP leaks, IPv6 leaks, and DNS leaks. It uses its own non-logging DNS servers, so you don't need to worry about Google or another public DNS server provider tracking your activities.
Speed Test:
Hide.me VPN claims to be the "World's Fastest VPN." You might want to know if what they claim is true and if it is really the fastest. We used a test server in Canada and connect to various test servers for each provider in the UK, the US, Hong Kong, Germany, and Australia, then we found the speed is ok but it's not the fastest one we've been testing. However, Hide.me is still fast enough to stream HD and potentially even 4K content and download files.
Does Hide.me Unblock Netflix?
Unfortunately, Hide.me does not unblock Netflix using any of the servers we tested (US East, US West, and London, UK). The Netflix VPN ban can be quite the headache and this is an ongoing struggle for many VPNs as streaming sites like Netflix crack down. Once they detect an IP address is actually one from a VPN provider, they'll block usage and deliver an error message. If you're hoping to view the latest Netflix show while traveling overseas, or you want to watch a show that's only available on Netflix in other countries, then you'll need to look elsewhere.
Customer Support:
Hide.me VPN offers Support Ticket (for opening a support request), 24/7 Live Chat (for billing and sales questions), and email support. You also can go to Hide.me VPN Community to ask any questions that you want. The forums are in English or German that cover many of the questions you might have. And there is a limited set of FAQs that might be helpful for you, but your best bet would probably start a live chat and get instant help when needed.

Pros & Cons:
Pros:
Strong encryption
Apps for Windows, Mac OS X, Android, and iOS
1400 servers in 56 locations
No log policy
Torrent friendly
Kill switch, Leak Protection & Split Tunneling included
Supports anonymous payment – Bitcoin
Cons:
Netflix and BBC iPlayer blocked
A bit on the expensive side
A limited number of servers for the free plan
Limited bandwidth for the free plan
Top 10 + Best VPN Services Worldwide
View More Top 10 Best VPN Services Here »
Conclusion:
Hide.me VPN is a no-logging VPN based in Malaysia, which does not have laws about data logging. So, if you deeply care about your privacy and security, then hide.me VPN is one of the best choices for you. And since it is torrent-friendly, Hide.me can be used for fast P2P connections and for torrenting. Most of Hide.me VPN's servers allow torrenting. In terms of the jurisdiction, logging policy, and encryption standard of this VPN, Hide.me is a great option for people looking for online privacy. As for the features, Hide.me VPN not only offers blazing fast speeds and reliable performance, but it also offers up to 10 simultaneous connections, unlimited bandwidth, Kill Switch, Split Tunneling and Stealth Guard to keep you safe while surfing the web.
Hide.me generously offers free plans to Internet users. Free subscribers get up to 2GB of free data per month. If that data allowance is sufficient, you can choose to stick to the free plan. Just note that the free plan only allows you to access 5 worldwide locations and you only can connect to one device at a time. There is also a premium plan for a heavy user, which lets you use unlimited data transfer and full access to 1400+ servers in 56 countries. Premium plans start from $5.41/Month with a 30-day full-refund policy. On the down side, Hide.me VPN's price is generally higher than many competitors but the added bonus of being able to pay with anonymous cryptocurrency is certainly a boon. Hide.me VPN claims as the fastest VPN in the industry, but it turns out it doesn't live up to the hype. The worse part is the service doesn't provide access to Netflix. We strongly suggest you get a free trial before you commit to this expensive service.
Published by Tony Shepherd & last updated on May 18, 2020 6:59 am