Are you searching for Hide.me VPN coupon code or promo code? What is the best Hide.me VPN coupon discount? Recently, there is no Hide.me VPN coupon code or promo code available for users. Hide.me won't provide any codes at this time but offers big discount to users who can be offered up to 64% off discount. Learn more about how to get Hide.me coupon and deal below.
Hide.me VPN Coupon: Get 64% OFF Discount
Now Hide.me is offering up to 64% off discount without applying with coupon code, promo code! Here you can get Hide.me VPN coupon to reduce cost on Premium plans. With up to 64% OFF Hide.me VPN coupon for yearly plan, every month it will just respectively cost $5.41 on 2-year plan. The Premium Plan is the best value with unlimited bandwidth and 10 simultaneous connection allowance.

Hide.me VPN Plans and Pricing
Hide.me VPN provides 2 options for its products and service: Free, Premium:
Free: no charge, free forever!
The free plan has some limited features:
Only 5 locations: Canada, Netherlands, and Singapore
Minimum 3 Mbit/s
Data transfer is limited to 2GB/month
PPTP L2TP SSTP and IPsec (IKEv1 and IKEv2)
Premium:
$5.41/Month (24-Month-Plan. Billed $129.95 every 24 months. Save up to 64%)
$9.99/Month (12-Month-Plan. Billed $119.95 every 12 months. Save up to 34%)
$14.95/Month (1-Month-Plan Billed $14.95 every month. NO SAVINGS)

Free Plan is not the Best Choice
Since the free plan just allows access to servers in Canada, Netherlands and Singapore, you will be limited accessing servers in these three places. If the location or country you want to connect isn't in the list, the free plan is no use and help for you. Paid customers have higher priority when it comes to bandwidth, and they enjoy best VPN bandwidth policy on the market. free users' bandwidth is limited from time to time. The minimum bandwidth for free users is 3 Mbit/s, but there is no static cap at all. You can't randomly and freely download the files or play games online, as you just get 2GB/month data transfer. Besides, you can't use the more advanced and better protocols OpenVPN and SoftEther with free plan.
If you plan to use the free plan to test Hide.me VPN, you can experience overall features and performance of the paid Hide.me VPN. To test all features and functions, you're strongly suggested to sign up a premium plan, as the Premium plans are covered by 100% Money-Back Guarantee for within 30 days of the service. But you should notice that you just can get this refund if you have used less than 50 MB of data before asking a refund. Premium also provides a one-day free trial if you email and ask the support desk.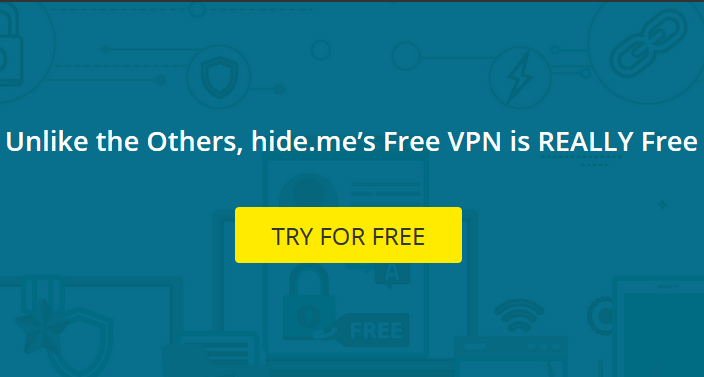 Payment Methods:
Hide.me VPN service accepts various payment methods including Credit Card, Paypal, Sofort, Giropay, CashU and Bitcoin. You're welcome to use Bitcoin to make payment for a subscription if you have bitcoins, which keeps anonymous while making payment.

Will Hide.me VPN Log My Payment Information?
No. All payments are handled by external payment providers, and Hide.me dos not log any personal information about you when you proceed with a payment. There is no way to connect your payment information to your VPN usage. You will always be anonymous with hide.me, even if you use a credit card.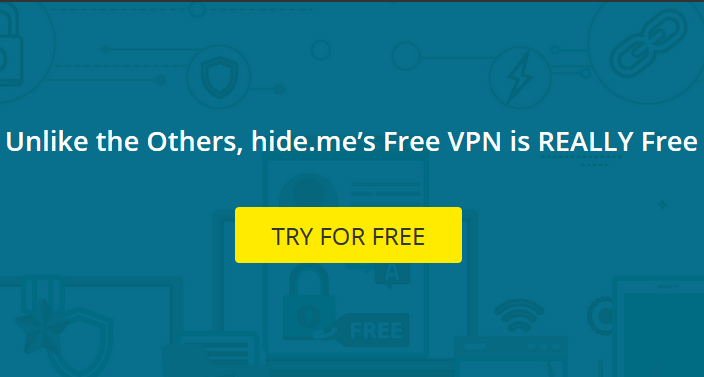 What's Hide.me VPN?
Hide.me VPN is trusted by more than 5 million users. More than 100 fast servers are scattered in over 30 countries worldwide.Hide.me VPN servers are created to support millions of connections with ease, and users don't have to deal with annoying disconnections. Therefore, Hide.me provides blazing fast speeds for your downloading, streaming, viewing and surfing with pleasure. Multiple protocols including PPTP, L2TP/IPsec, SoftEther, SSTP, OpenVPN & IKEv2 are used to protect your online security and privacy completely. It adopts strong encryption AES-256-bit encryption with 8192 bit keys to increase higher level of data encryption and protection from hackers and snoopers. Even though you are sending business email or make payment for online shopping, all your confidential information and financial data will be protected completely from pry eyes. Most users are attracted by Hide.me's lifetime free VPN even though there are some limited features with FREE plan. Free plan does not require you to add a credit card or other payment method and you can renew the free plan as you'd like. You can securely access websites like YouTube, Crackle, Spotify etc. from anywhere. Enjoy the true freedom on the internet with hide.me VPN.

What Devices Are Supported by Hide.me VPN?
With Hide.me VPN, you can browse securely, privately and anonymously onyou're your devices. Hide.me VPN supports and works seamlessly well with desktops, laptops, mobiles, tablets and even routers, smart TVs, gaming consoles and digital boxes.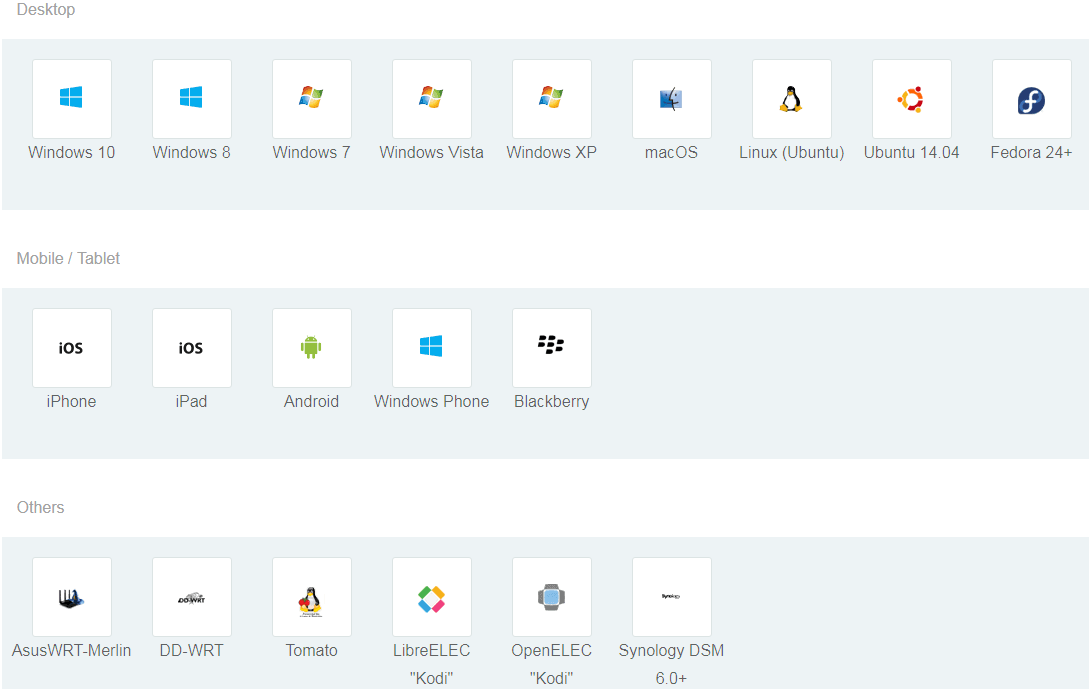 What VPN Protocols Are Supported by Hide.me VPN?
Hide.me VPN provides multiples protocols on different devices to guarantee security and privacy. It supports protocols including Layer 2 Tunneling Protocol (L2TP/IPsec), Point-to-Point Tunneling Protocol (PPTP), Secure Socket Tunneling Protocol (SSTP), Internet Key Exchange version 1 (IKEv1), Internet Key Exchange version 2 (IKEv2), OpenVPN and SoftEther VPN protocols. OpenVPN and SoftEther VPN protocols are more advanced right now and only available for Premium and Plus plans.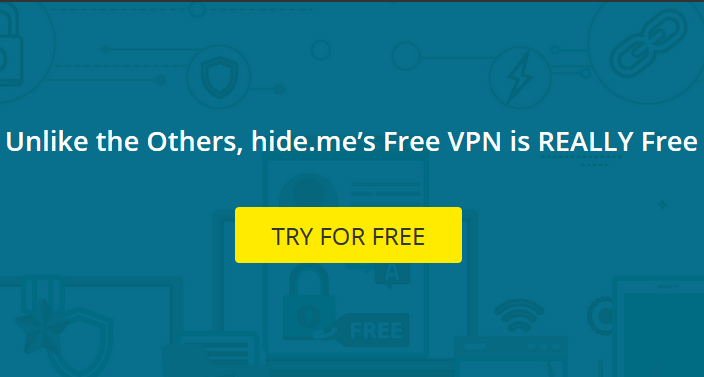 Does Hide.VPN Keep Logs?
Hide.me VPN is a Malaysia-based VPN supplier run by eVenture Ltd, a Malaysian based IT Security Company.Hide.me VPN offers Offshore VPN service as it is not physically located and operated from the countries like the United States participating in 'Five Eyes' or 'Fourteen Eyes'spy alliance. Since Hide.me VPN is based in Malaysia and no local laws and policies impose obligations on network service like VPN provider to store users' logs. However, countries like European, United States and Australia which are all alliances of FIVE EYES or FOURTEEN EYES alliance have no choice but to keep users logs because they have to abide by the laws asking to keep users logs. What's more, Hide.me VPN has strict and strong no-logging policy. No activity logs will be saved on any of Hide.me servers. Hide.me VPN are the only VPN provider who has been audited by independent security analysts, like Leon Juranic, who have certified Hide.me to be completely log free. As we all know that companies and ISPs, under the law, are forces to spy on and log all your online activities and transfer your metadata and information to the government. Since Hide.me doesn't keep log, no online activities and data will be transferred to the third parties.
No Third Parties Involved
No alliance or association with "Five Eyes" Countries
Keep absolutely no record of our users' online activities
What Hide.me VPN Usually Can Do for You?
1.  Evade Internet Censorship and Access Blocked Websites
Some websites and apps are blocked by the internet censorship in some countries. the most well-known example is internet censorship in China. the internet censorship in China is called the Great Firewall which blocks many popular foreign websites and apps especially social networking, streaming, communication platform, VoIP Services and photo sharing websites like FaceBook, Twitter, Instagram, YouTube, WhatsApp, Netflix, Hulu, Popcorn Time, Spotify, Line, Viber, Snapchat, Crackle, HBO Go, and Pandora Music etc.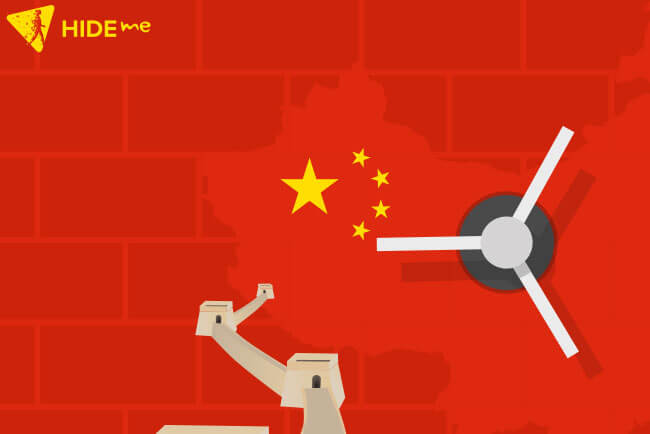 The Great Firewall plays a crucial role in the Internet censorship in China. It blocks access to selected foreign websites and to slow down cross-border internet traffic. It strictly limits access to foreign information sources, blocks foreign internet tools like Google search and mobile apps, and requiring foreign companies to adapt to domestic regulations. Besides censorship, the GFW has also had an impact on the development of China's internal internet economy by nurturing domestic companies and reducing the effectiveness of products from foreign internet companies. Any unfavorable content will be soon and immediately blocked by the Great Firewall.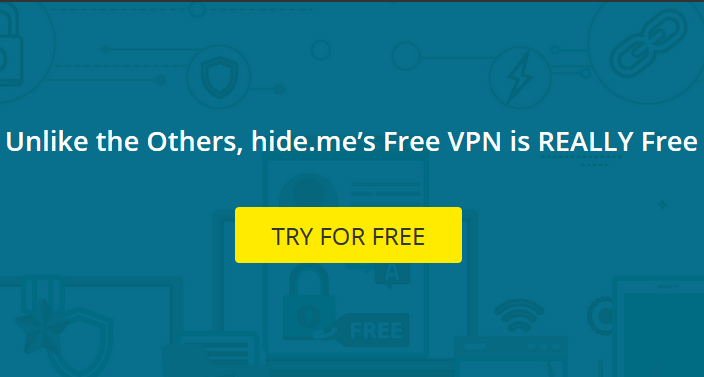 How does the internet censorship like Great Firewall know what websites you're logging in? Normally, Governments, Corporations, ISPs, Organizations and Agencies are taking control of the internet and monitor all your activities. How this works is that these ISPs or Government authorities log your browsing history based on your IP Address. IP address contains many identity information like you your city, region, country, ISP and location on a map. If you're using a VPN like Hide.me VPN, it will provide you an IP of another country which will help you hide your browsing activities. hide.me offers servers in more than 30 countries to make sure you can access any website securely. In China, government and law enforcement agencies prefers to monitor social media websites like Facebook, Twitter, YouTube etc. If you live in a country like China where social media sites are strictly censored, you have to use a VPN like hide.me VPN. Hide.me uses advanced standard encryption AES-256-bit encryption to encrypt all your online traffic and hide your real IP address and replace with a new IP address assigned by Hide.me VPN servers in other countries. in this way, you can anonymously and securely browse and access any websites blocked by the Great Firewall. With strong encryption and secure tunneling, a VPN can help you improve your online security and make your IP invisible.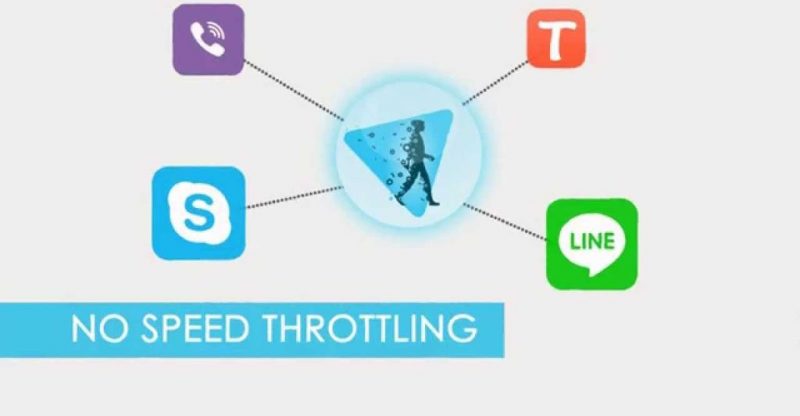 2. Access Geo-blocking websites Anywhere and Anytime
Some websites and streaming service are practicing strict geo-restrictions. Geoblocking is the system used to limit your access to the internet, based on your geographic location. Geo-blocking technology is usually used by companies and websites to allow people only in a specific geographic location to access certain site or service. When the website detects that you're not in the specific geographic location, you will be blocked to access any contents or servers from the websites. The websites detect by checking your device's IP address and tell where is your location. Websites like Netflix, BBC iPlayer, Sky GO, HBO GO, Amazon Prime Video, SHOWTIME, and Sling TV are practicing geo-blocking.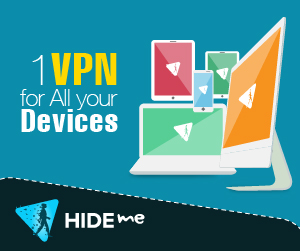 Take BBC iPlayer for example, BBC iPlayer is a streaming site for over 10 UK TV and radio channels. BBC iPlayer VPN provides many awesome and excellent contents news, sports, weather, children programmes and hit TV shows like EastEnders and Taboo for subscribers residing in the United Kingdom. However, BBC iPlyer is available only for the residents in UK. So, if you're outside of UK and want to watch BBC iPlayer, you're not allowed watching it no matter how you love their programmes and shows, as BBC iPlayer can detect your IP address and location. To watch geo-blocking websites like BBC iPlayer, it's best to use a reliable and strong VPN like Hide.me VPN. Hide.me VPN hides your real IP address and allows you to connect to U.K. servers from anywhere in the world. Then you will be assigned a British IP address which looks like you're from the U.K. VPN routes all your internet traffic through a remote location and all technology used by VPN is secure and reliable. Your privacy will not be monitored and leaked out. What's more, Hide.me VPN offers huge network with more than 100 servers in 30+ countries. there is no bandwidth limit for Premium users and no throttling. So you can fast stream any contents from BBC iPlayer or Netflix. While other VPN providers may throttle your connection, Hide.me's gigabit speeds ensure smooth streaming and uninterrupted downloads. Hide.me VPN doesn't log your information or activities so you can enjoy true freedom with your internet usage! With Hide.me VPN, it gives you access to news, sports, weather, children programmes and hit TV shows like EastEnders and Taboo on BBC iPlayer.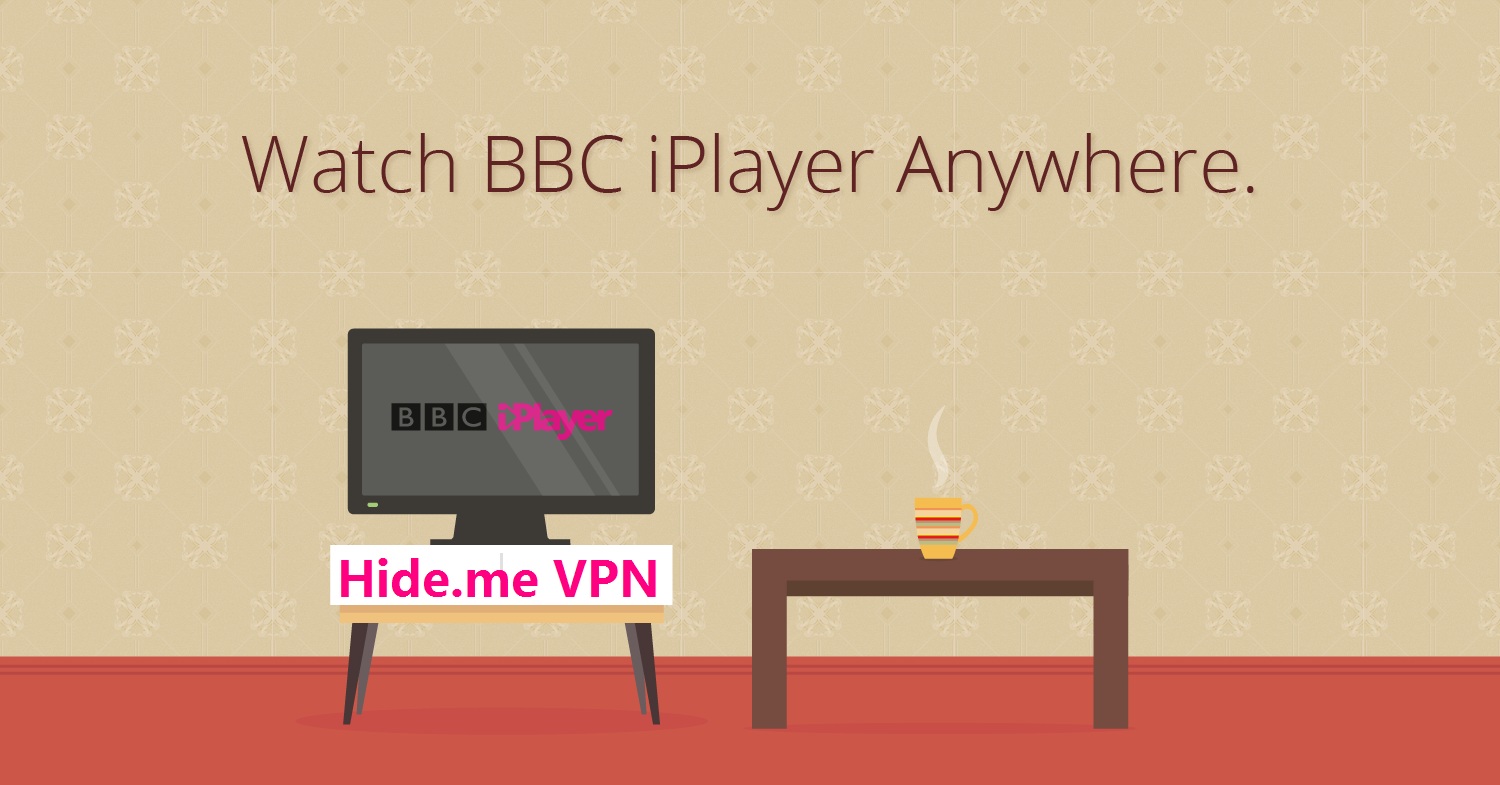 3. Avoid Being Tracked by Government, ISPs, Hackers and Cyber Criminals
Normally, when you want to browse and visit websites, you first connect to your Internet Service Provider (ISP), and then it redirects you to any websites or other internet resources that you wish to visit. All your internet traffic travels through your ISP's servers, and can be viewed by your ISP. If your lova government and ISP impose strict laws or police about data retention and browsing history logging, then all your internet activities absolutely are monitored and record by your ISP and transferred to the government. You should feel frustrated and no-freedom while surfing on the internet. once you're traced by someone even though they are authentic department like ISP, government, law enforcement, you have no freedom and are not private and anonymous on the internet. you would be worried if all your communication information with friends would be heard by these people. It's right and time to reclaim freedom, privacy, security and anonymity online.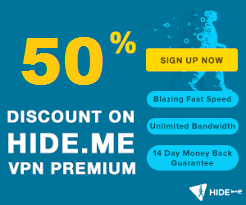 Besides, right now we usually work under networking. That means many work have to be implemented and done by using internet. for example, we need to video meeting with other business partner, the other team member in parent company in overseas, chatting with friends and other work staff. And we conduct these activities mentioned above under low-security free network like free wifi hotspot in café, library, airport and hotels. Low-security network actually is not secure for important data, confidential information and financial details exchange. When you use a public WiFi hotspot, your entire browsing activity while connected to that hotspot could be monitored and spied on. It is very much possible that the next person sitting beside you can read your communication easily. Free wifi circumstance is usually a place for hackers, snoopers and cyber criminals breed. Hackers and snoopers are also professional in networking technology and knowledge and they have method to invade your network and monitor what you do on the internet. It is easy for hackers and other cyber criminals to spy on what you do on the internet and steal important information like financial details under free and low-secure level WiFi network.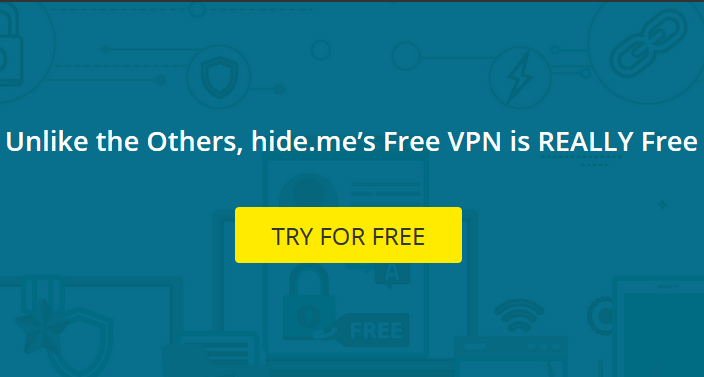 To avoid being tracked by Government, ISPs, Hackers and Cyber Criminals, the best way is to us strong and certified VPN service to protect and encrypt all your internet traffic and activities. Hide.me VPN uses AES-256-bit encryption to safeguard all your internet activities and communication path. When using Hide.me VPN, you connect to a server run by Hide.me via an encrypted connection looking like a secure tunnel. All your data going though between your device and the hide.me server is securely encrypted so that only you and the hide.me server can see it. Hide.me VPN employs strict no-logging policy which will never log your data and nay sensitive information. With Hide.me VPN, ISP and government will not see your data and know which websites your visit, because all internet activity is routed through the encrypted hide.me VPN server. Hide.me provides privacy by hiding your internet activity from your ISP (and government) and protects you against hackers when using a public WiFi hotspot.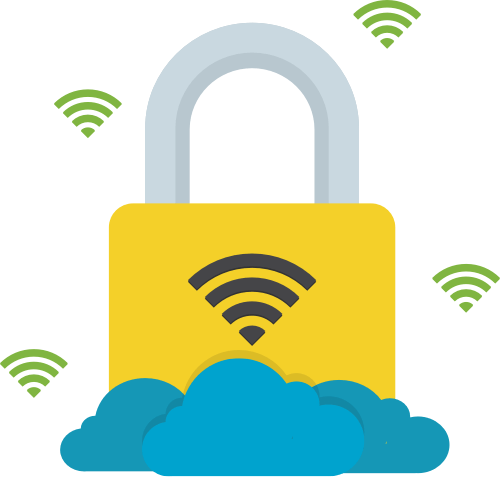 How to set up VPN on Windows 10 with PPTP
Step 1: Open the settings and then click on "Network & Internet".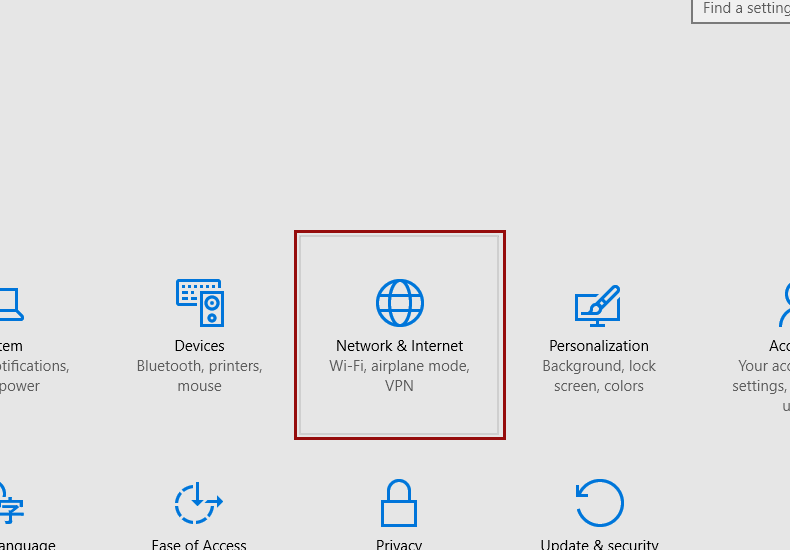 Step 2: Then select "VPN" and click on "Add a VPN connection".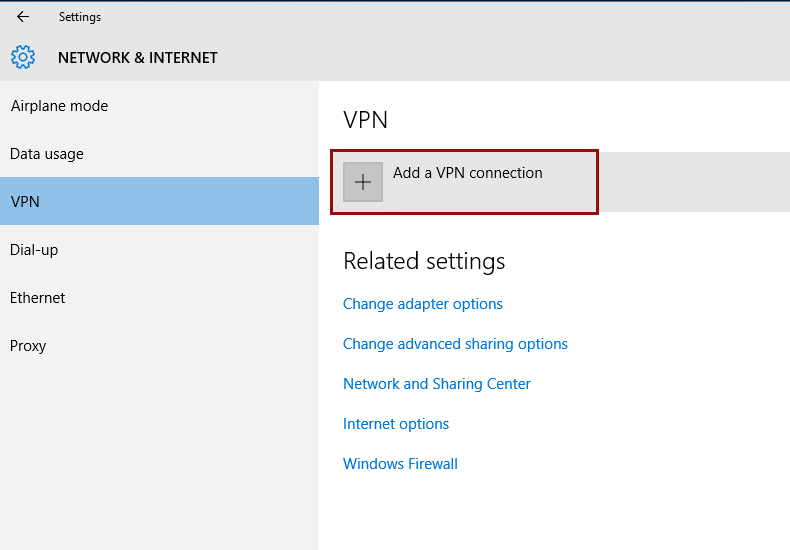 Step 3: Adopt the settings from the screenshot, enter your login credentials and click on "Save".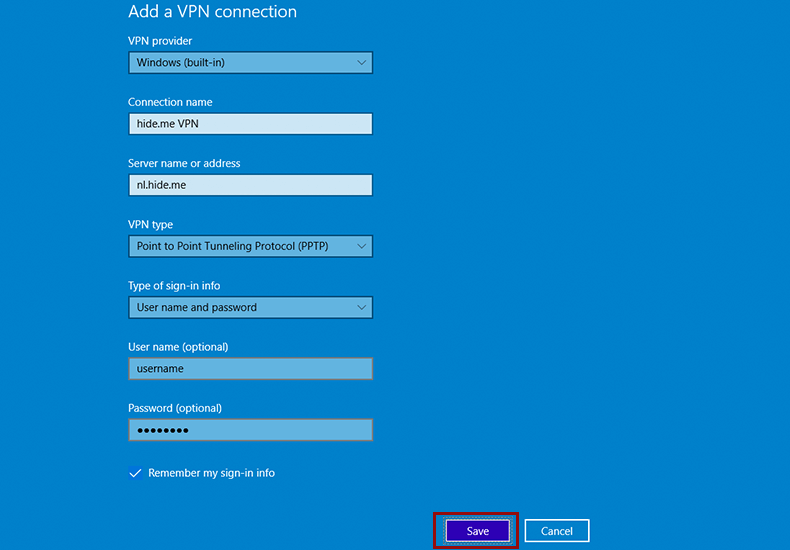 Step 4: Click on "Change adapter options".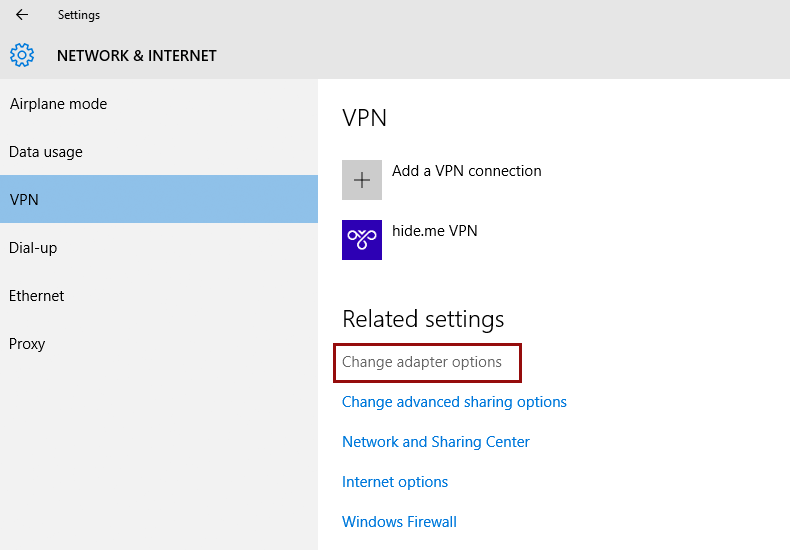 Step 5: Click with right on the VPN network adapter and then click on "Properties".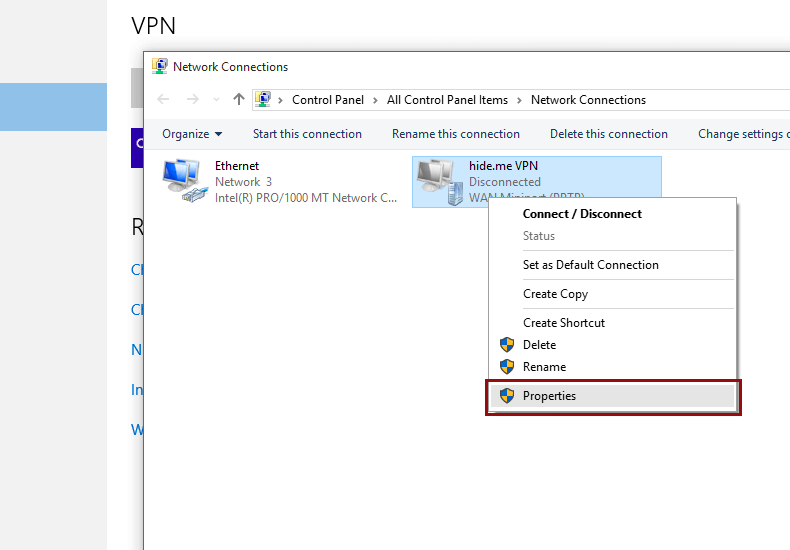 Step 6: Switch to the tab "Security", select Type of VPN "Point to Point Tunneling Protocol (PPTP)" and adopt the settings from the screenshot. Then click on "OK".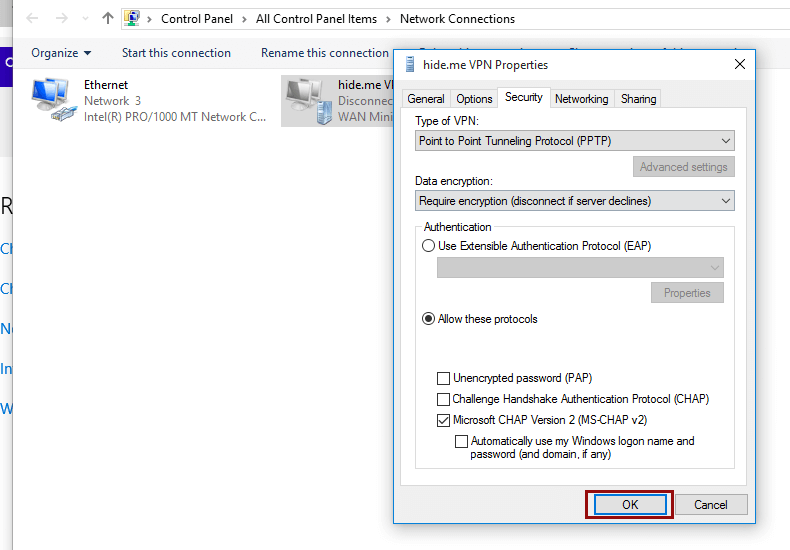 Step 7: Click on "Connect" to establish a VPN connection.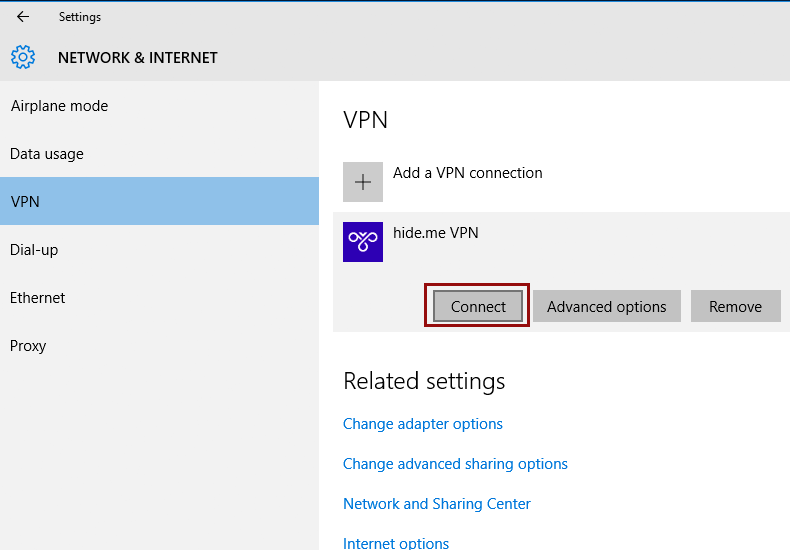 Step 8: If connection has been successfully established, it displays "Connected". You can manage your VPN connection in the settings.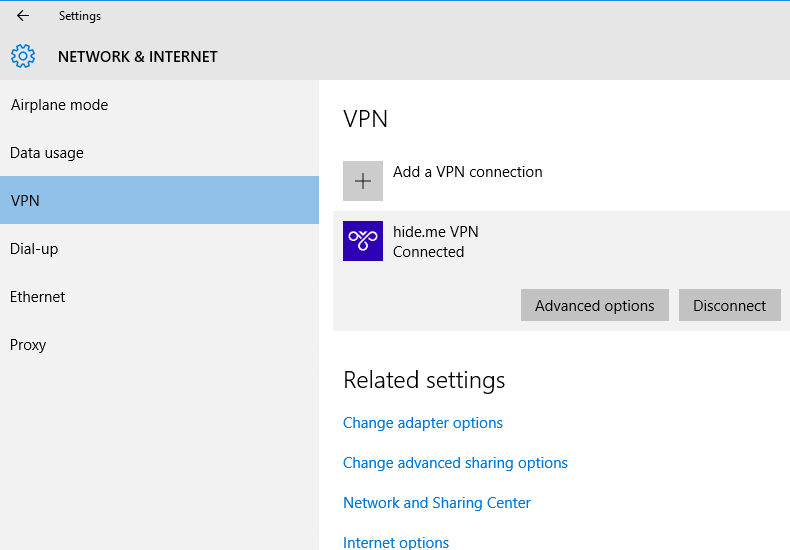 Video on Hide.me VPN Coupon: Get 64% Off Discount
Top 10 + Best VPN Services Worldwide
View More Top 10 Best VPN Services Here »
Hide.me Review Conclusion
Hide.me VPN's company is located in Malaysia and no obligations laws from loca government impose on VPN provide to store users' logs. And it also conducts strict zero log policy which is the good points about its service. Hide.me VPN encrypts your internet connection, and allows you to browse the internet anonymously. You can unblock popular websites like Facebook, Twitter, Youtube, Instagram, Netflix, Popcorn Time, BBC iPlayer, HBO GO, Viber, Snapchat, Vimeo, Gmail and more where you live and get back your right to free speech. With Hide.me VPN, you can enjoy complete online freedom and experience overall security and privacy while surfing on the internet.Hide.me provides easy-to-use and friendly apps and software to work on all devices you can imagine. Hide.me VPN is amongst the most loved VPN providers in the industry because it makes using a VPN as easy as switching a button on and off.Hide.me is a VPN provider with a great reputation and high performance for security, anonymity and transparency and they are certified log-free.

Note: Now Hide.me is offering up to 64% OFF discount on Premium plans. Don't miss out on the special offers!
Published by Tony Shepherd & last updated on October 25, 2019 3:36 am