Goose VPN is a customer-friendly VPN service that allows you to surf the web with more security and privacy, overcome regional restrictions and get around firewalls as well. Its unlimited connections and low yearly price have a lot of appeal. Is this VPN fast, secure and reliable as promised? Do they allow torrenting/P2P and streaming Netflix? How many servers does Goose VPN offer? Are all the servers come with industry standard OpenVPN tunneling protocol and AES 256-bit encryption? Before you purchase Goose VPN, you must read the following in-depth Goose VPN Review 2019 first to find out if it lives up to the hype.
What is Goose VPN?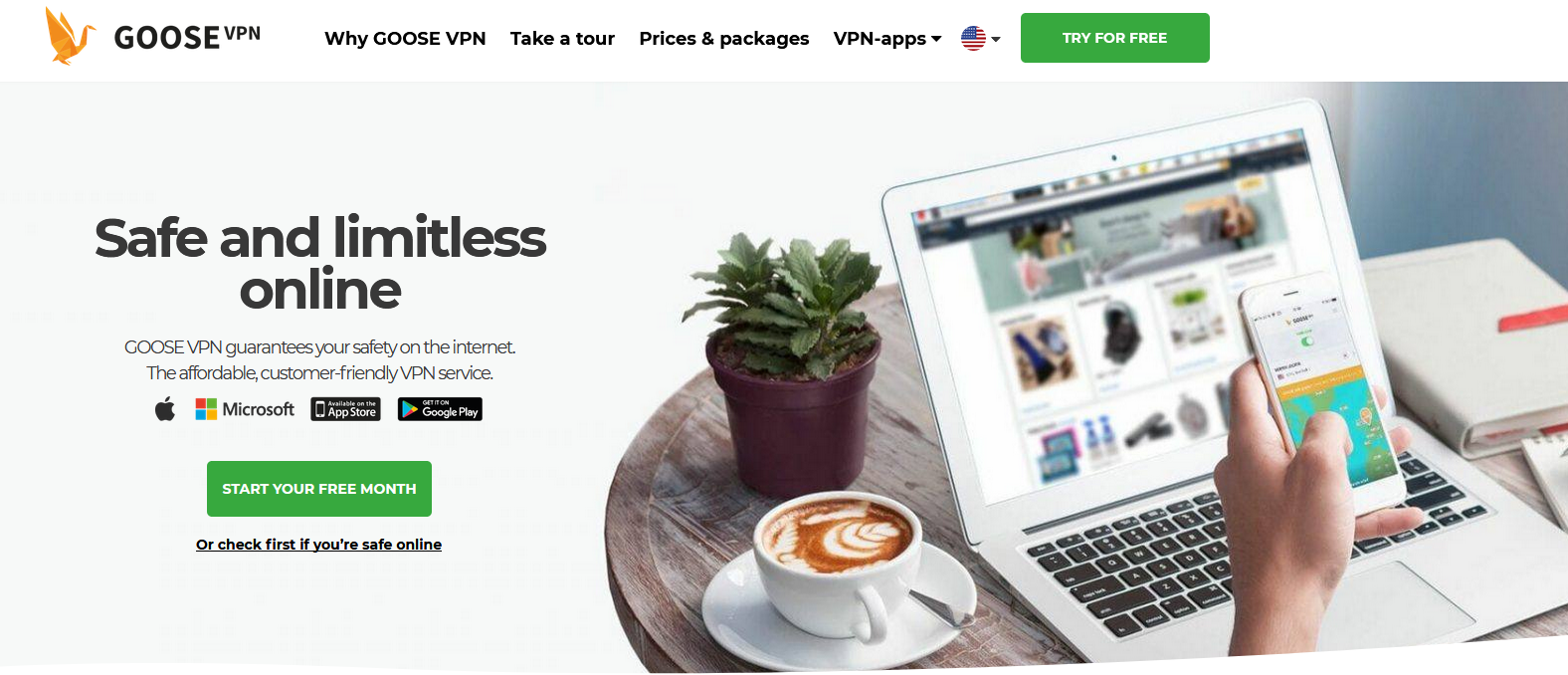 Goose VPN is a very easy-to-use VPN that allows you to change IP address, thus making you more anonymous online and helping you get around blocked websites whenever you are at home or on the go. This VPN is based in Netherlands. Although Netherland is a member of the extended Nine Eyes intelligence allegiance, and they're legally obligated to share online user information with the other eight members of the agreement in the interests of national security, VPN use is completely legal in the country and Goose VPN sticks to a strict no-logging policy, which means your activity is never stored for later mining or sale. Compared to the top VPNs, Goose VPN doesn't offer a huge network. Their network is a fair size with locations in 26 countries. Most are in Europe and North America, but there are also servers in Hong Kong, India, Israel and Singapore. Torrenting or P2P sharing is allowed on specific servers. Another added benefit of directing your communications to Goose VPN's international servers is that you can access content services such as Netflix and Hulu in countries where they would be restricted.

Goose VPN works with standard Windows, MacOS, Linux, iOS, and Android devices and it offers a Chrome extension to make sure you're always safe and limitless online while browsing the web through Chrome. In addition, and there are bonus setup instructions for many other devices and platforms such as Android TV, routers, and Linux etc. Goose VPN offers coverage for unlimited devices, so a subscription can cover you and your family's smartphones, laptops, and PCs. On top of this, you won't experience bandwidth throttling, so your family's devices can browse the web faster. Just like the other quality VPNs, Goose VPN also makes its mark with top-notch security coverage. Shielded inside their fortified, 256-bit encryption connection, your data is fully cloaked at all times from a cybercrook's best efforts. And Goose VPN supports four VPN protocols, including IKEv2, L2TP/IPSec, PPTP and OpenVPN, providing you the same level of encryption used to secure government and military data.
Having Goose VPN on your device means that you can browse the internet anonymously without being traced by your ISP or even the government as it provides you with a free Internet with no restriction. Moreover, by masking your IP address and routing traffic through hundreds of its servers, Goose VPN lets you easily get access to blocked social media like Facebook, Twitter, Instagram, Pinterest, Tumblr, Snapchat, Google+, and streaming services like Youtube, Vimeo and BBC iPlayer wherever you are. Now Goose VPN generously allows you to try it free for 30 days. You just need to enter your email address and your payment details, then your account will be ready immediately. Don't worry, you're not billed until the trial month is up and the best thing is Goose VPN also offers a 30 days money-back guarantee. You will have plenty of time to decide whether Goose VPN is good for you. No Risk. Try Goose VPN packages for 30 days now!

Payment & Pricing: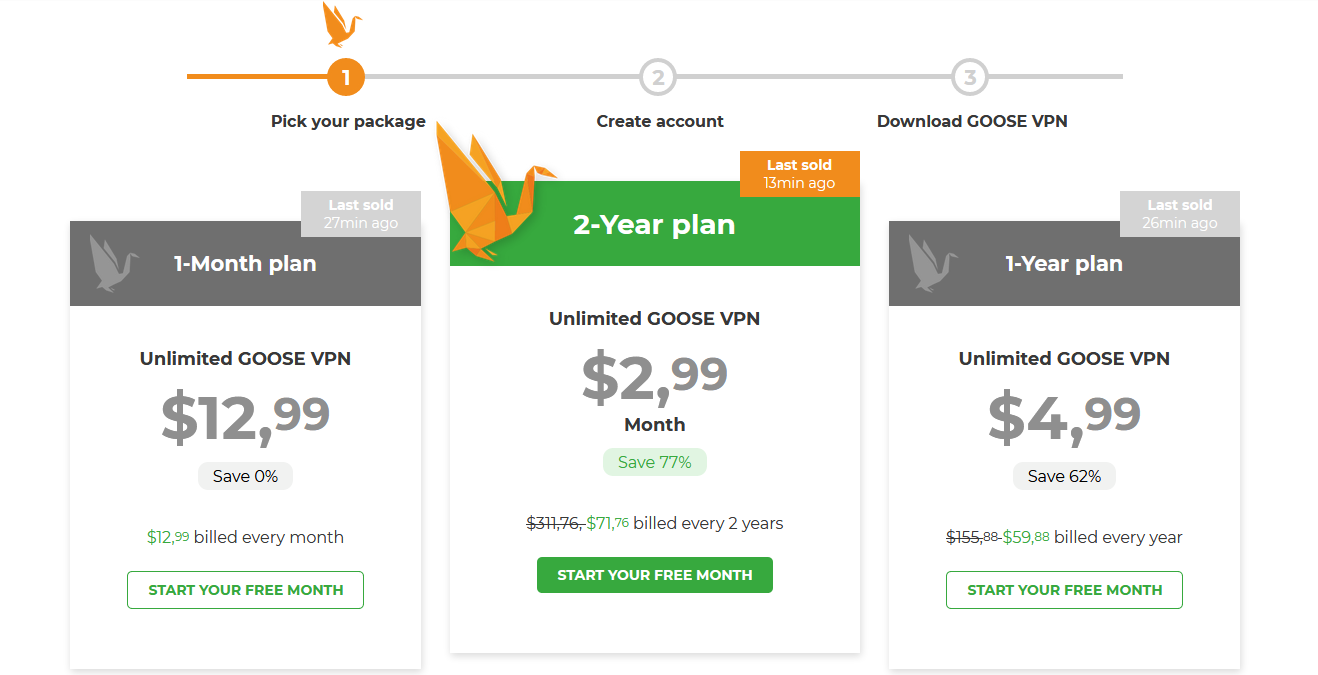 Goose VPN offers three pricing plans for users to choose from. Here are the details:
1 Month Plan: $12.99  Save 0%
1-Year Plan: $4.99/month (Billed $59.88 every year) Save 62%
2-Year Plan: $2.99  (Billed $71.76 every year) Save 62%
Goose VPN plans start at $12.99 per month with a monthly billing cycle. If you only need a VPN for a month, Goose VPN is not a good choice. Their monthly fee is even more expensive than ExpressVPN, which is #1 Trusted leader in VPN. You can also opt for 1-Year Plan or 2-Year Plan to enjoy a discount and lower the price. The 1-Year Plan is priced at $59.88 ($4.99 per month), while the 2-Year Plan will set you back $71.76 ($2.99 per month). All the 3 plans come with unlimited bandwidth usage.
Multiple payment options are available like iDeal, PayPal or a credit card. However, you cannot use cryptocurrencies or cash payments. So forget about anonymous payments.

What Platform does Goose VPN Support?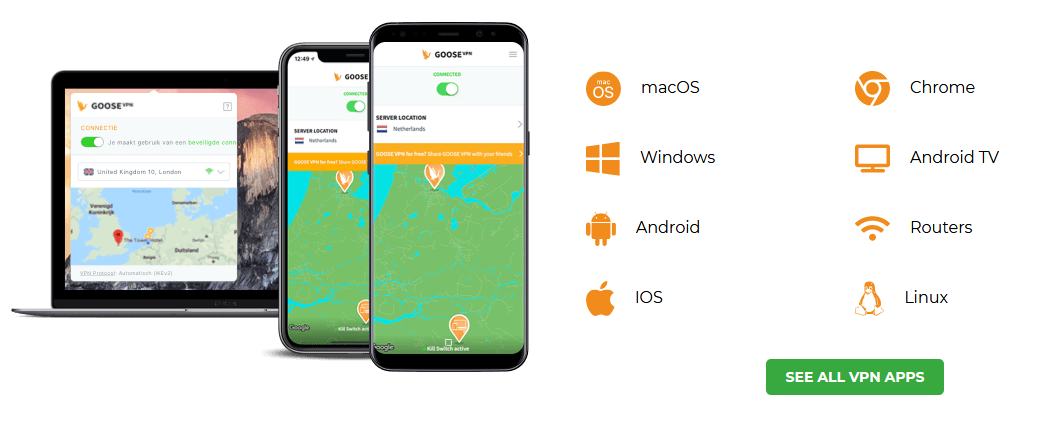 Goose VPN is compatible with most devices and operating systems. It offers easy-to-use apps available for Windows, Mac, iOS and Android. Besides, it also offers helpful installation guides for setting up the VPN directly on Wi-Fi routers, Linux systems, and Android TV. Browser extension is currently available for Chrome, and Goose will further expand the list of supported browsers to Safari, and Firefox. GOOSE VPN service guarantees your safety on the internet no matter what device you are on. Just sign up, install and press Connect, all set up within 3 minutes. Goose VPN's client is extremely simple to use. No technical knowledge is required. Please note that there is no limit on the number of devices you can install GOOSE VPN on.
How Many Servers Location does Goose VPN Have?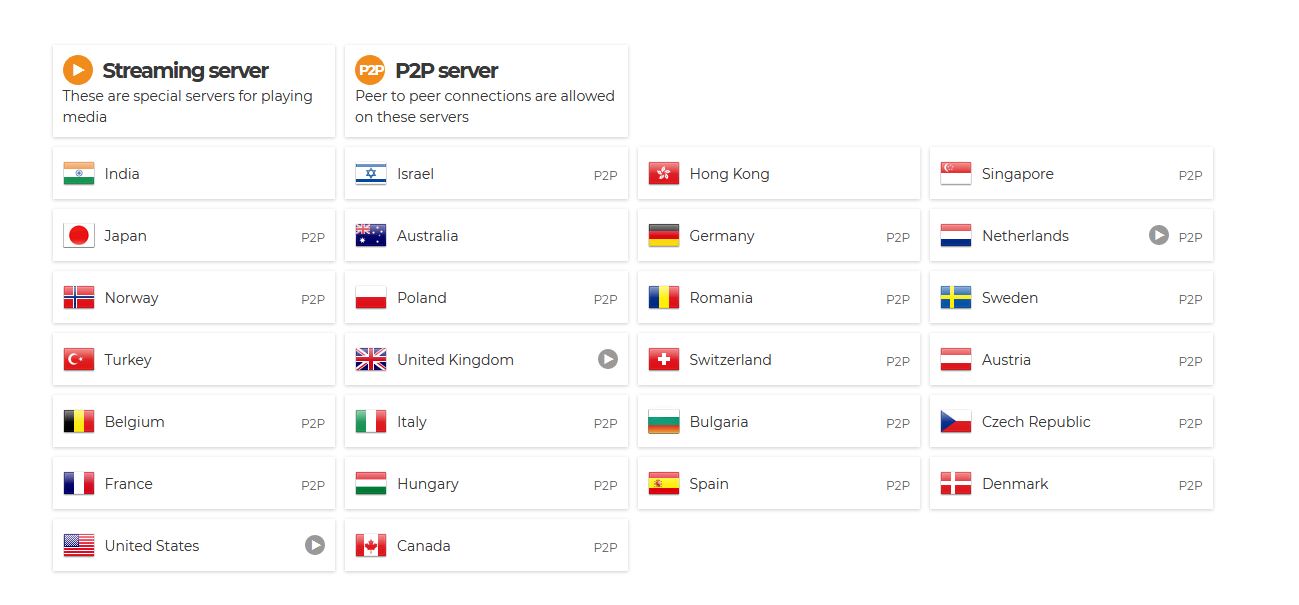 Goose VPN is constantly searching for new and faster servers to add to their network. As for now, it comes with a network of more than 110 servers in 26 countries, so your IP address and sensitive information like bank access and credit card numbers can stay protected anywhere you go. This server number is not huge, but it covers in Europe, Asia, Africa and North America. If you want a huge variety of servers to choose from, then Goose VPN might not be the ideal service for you. But the good thing is Goose VPN has several servers available to use for torrenting and P2P sharing. That's pretty suitable for people who always need a VPN to download torrents.
Is it Safe & Reliable? (Privacy & Security)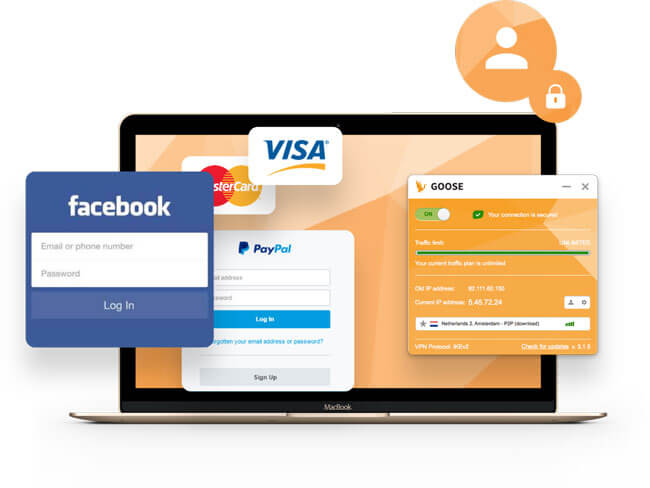 On the security front, Goose VPN takes your privacy and safety very seriously and it uses the industry-standard AES-256 encryption standard. As for the protocols, you can choose which security protocol to use when using the VPN. All options like OpenVPN (UDP and TCP), L2TP/IPSec, PPTP, and SSTP are available. You can easily switch between protocols at any time or allow the service to choose the best protocol for you. We recommend using either of the OpenVPN protocols for the best combination of security and speed.
According to the company's Privacy Policy, your online activity is never monitored and there are no traffic or connection logs, with the exception of bandwidth usage, which is logged for understandable reasons. Goose VPN has a 100% no log policy so that you can make unlimited and safe use of the internet. The company promises it will not keep logs or save user information unless someone suspects a Goose VPN user from criminal activities (terrorism, for example), then Goose VPN can keep a log on this specific user. One thing should be noted that Goose VPN is based in Netherland. Netherland is not an ideal VPN jurisdiction as it is a member of the Nine Eyes surveillance group and is known to share information with foreign nations. However, VPNs are legal to use in this country. If you mind that, you can choose other options.
Goose VPN Features: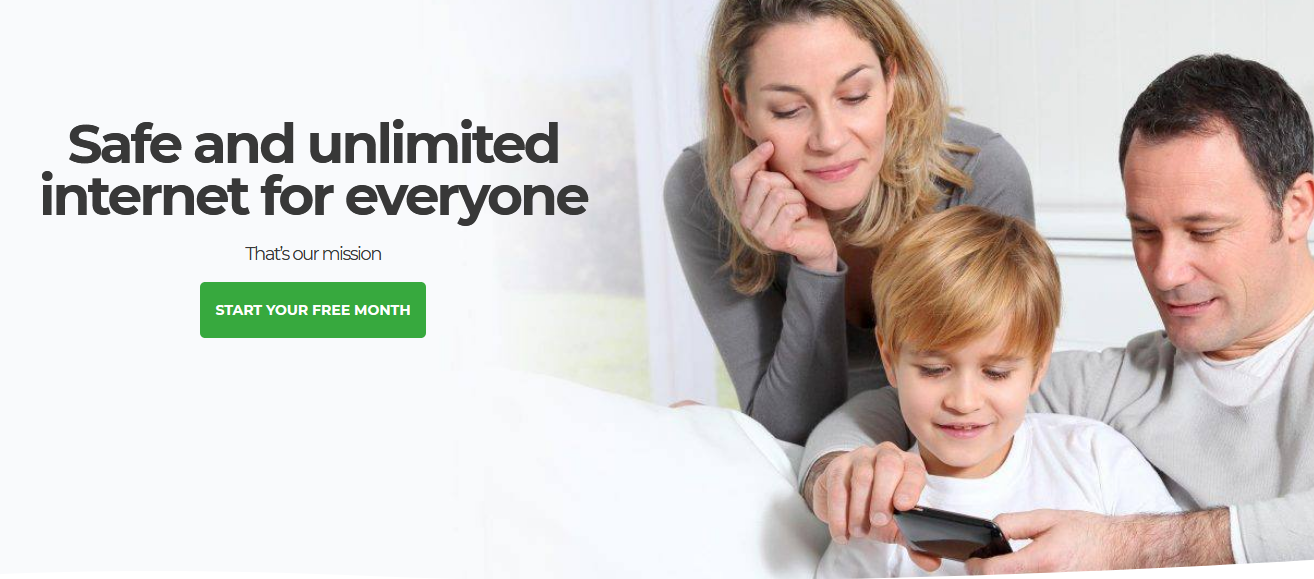 With all kinds of VPNs in the market, Goose VPN is not a feature-rich VPN. However, it can be a great fit for beginners and casual users who simply want their VPN to be reliable and user-friendly. Here we list a few notable features of this VPN:
Kill Switch – The Kill Switch feature is available in the Windows version of Goose VPN. This feature is a critical piece of your VPN security solution, and should be a top feature you look for in your search for the best torrent VPN because it makes sure that your true IP address is never exposed online in the event of a dropped VPN connection.
Use on Multiple Device – You can use Goose VPN on as many devices as you want with only one subscription. A good VPN will make you both anonymous and secure, as well as provide multiple other benefits on all of your devices. Goose VPN does well on it. Whatever device you own, you know that you are safe from hackers and identity thieves with the Goose VPN protection.
Unlimited Bandwidth – Goose VPN doesn't limit your bandwidth usage and it never caps your internet usage. This is an unlimited bandwidth VPN so you can free yourself of ISP speed limits.
Allow P2P & Torrenting –  Goose VPN is P2P-friendly. It offers specialized P2P and streaming servers for users to choose from, and guarantees users a good streaming and torrenting experience.
Bank-Grade Encryption – Goose VPN secures your data with Advanced Encryption Standard (AES) 256-bit VPN encryption, recognized as one of the most powerful forms of encryption available.
One subscription, unlimited devices, no contracts. Get started with Goose VPN to enjoy safe and limitless online browsing now!
Customer Support: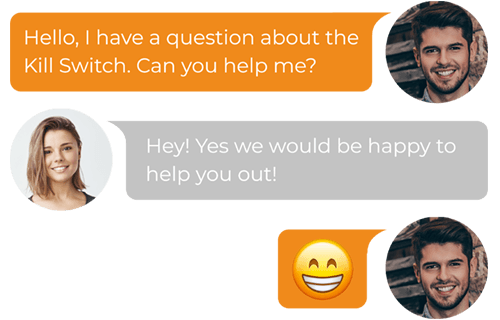 In terms of customer support, GOOSE VPN does rather well. When you meet any problem while using Goose VPN, you can contact the support team via email, social media, Live Chat, and its website features an excellent FAQ/Support section, which covers a vast array of topics that might be of interest to current and future users. Their support staffs are 24x7x365 available to answer your questions and they are highly responsive and helpful to resolve all customer issues within hours.
Goose VPN Pros & Cons: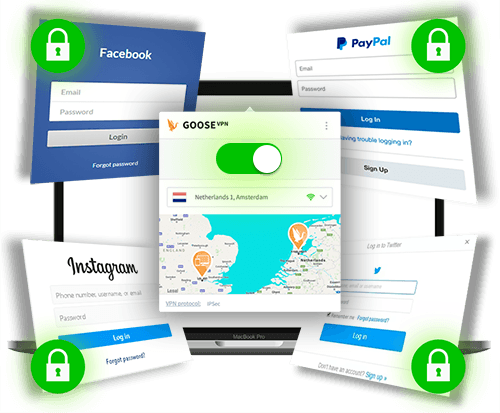 Pros:
1. Goose VPN is easy-to-use and it can work seamlessly across your devices, whether you are on Mac, Windows, Android, iPad or iPhone.
2. You can use Goose VPN on multiple device with one subscription.
3. Torrenting and P2P sharing are allowed on specific servers.
4. It features with a Kill Switch that protects you if your VPN connection suddenly drops is integrated into GOOSE VPN's Windows client.
5. 30 free trial & 30 days money back guarantee.
6. 24/7 customer support.
7. Be able to unblock Netflix.
Cons:
1. Goose VPN doesn't support Firefox or Safari browser extension.
2. It lacks in features like ad-blocker, DNS leak protion and split tunneling.
3. The number of server locations is limited.
4. Bitcoin payment is not accepted.
5. Based in Netherland.
Top 10 + Best VPN Services Worldwide
View More Top 10 Best VPN Services Here »
Conclusion:
Goose VPN lacks some security features and has a small network in comparison to the large VPNs such as ExpressVPN or NordVPN, but if you are a beginner and you just want to stay secure on public Wi-Fi and protect from government and ISP snooping, it is still a good option for you because the price for its 2-Year subscription is very appealing for as low as $2.99/month. Goose VPN offers online anonymity and protection of your internet traffic. It offer 256-bit encryption to secure your data, which is the golden standard at the moment and allows you to download torrents whilst remaining undetected, and to use the USA version of Netflix even outside of the United States. At Goose, there is 24/7 customer support available for any difficulties you might face. Goose VPN helps you to block geo-blocked content from around the world, including YouTube, Netflix, WhatsApp, Skype and more. With this VPN on, all the data you send and receive travels via an encrypted tunnel so that nobody can steal your private information or spy on your online activities. Not Convinced? Get a 30 days free trial to test a drive!

Published by Tony Shepherd & last updated on March 4, 2020 4:08 pm