Are you familiar with ZenMate VPN? If not, you may understand it well after reading ZenMate VPN review here. First, you must want to know is Zenmate a good VPN with high rating in the world? Of course, ZenMate VPN is a good VPN provider which is based in Berlin, Germany. ZenMate delivers high-quality and attentive VPN service to all people across the world. Up to now, there are over 45 million users have put their trust in ZenMate product. ZenMate has over 300 servers in over 30 different countries, including the USA and the UK, which means that you can unblock almost any website in the world by using ZenMate VPN. ZenMate provides security and privacy to people all over the world, and it keeps no logs or history of your activity online. You can get 100% anonymity online as the ZenMate practices strict non-logging policy. That means no data will be logged by ZenMate. It encrypts all your internet activities with advanced AES-256 encryption which is hard to be break by fastest computer savvy. AES-256 encryption is unbreakable protocol to complete protect user's sensitive data and information online.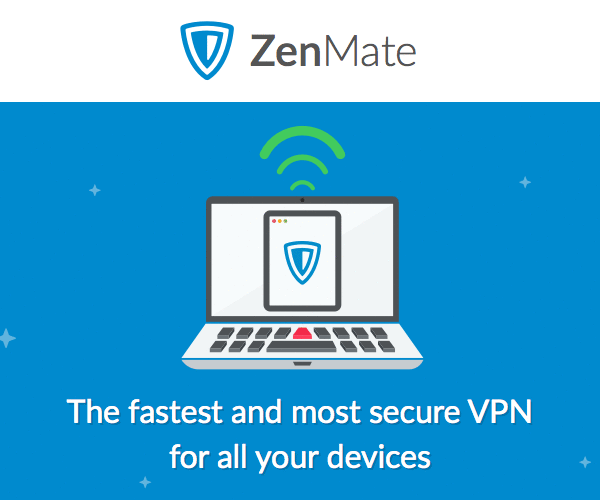 If you are a torrenter, ZenMate should be your best fit as it allows torrenting. So, you can use Torrents with a peace of mind. People use VPN specially for unblocking websites and defeating censorship from anywhere. ZenMate is possessed of such strong performance to circumvent internet censorship and bypass the geographical restrictions. You are able to watch such popular streaming services as Netflix, Twitch, Hulu, BBC iPlayer… from anywhere. You also can watch all these popular videos and movies in HD at a fast speed without a delay. Also, even though you watch Netflix from mainland China, ZenMate still can help you watch all movies smoothly. No censorship no worries. ZenMate VPN is also a friendly-use and instant setup app and software working on all desktop, mobile device and routers.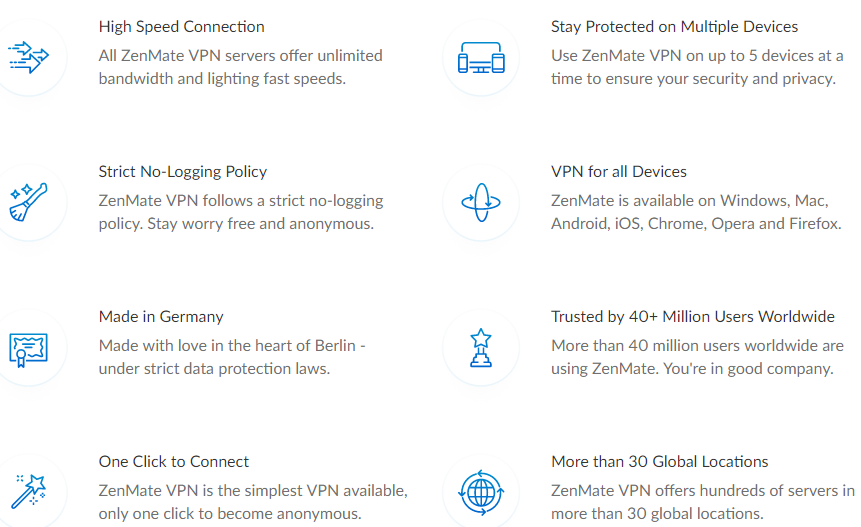 Why Over 45 Million Users Across the Globe Choose ZenMate VPN?
3000+ IPs on 300+ servers in 30 countries
Simultaneous connection on up to 15 devices
Super-fast, unlimited bandwidth, 99.9% uptime
Unbreakable AES 256 protocol
Unlimited server switching, unlimited P2P traffic
User friendly apps for all your devices (Win, Mac, Android, iOS)
Zero-Logs Policy never keep logs
Go around geo and government restrictions
Use Torrents with a peace of mind
Malware blocking and tracking protection for added security
Watch Netflix, Twitch, Hulu… You name it
Become 100% anonymous online
Premium customer support
30-day money back guarantee
ZenMate VPN Plans and Pricing Overview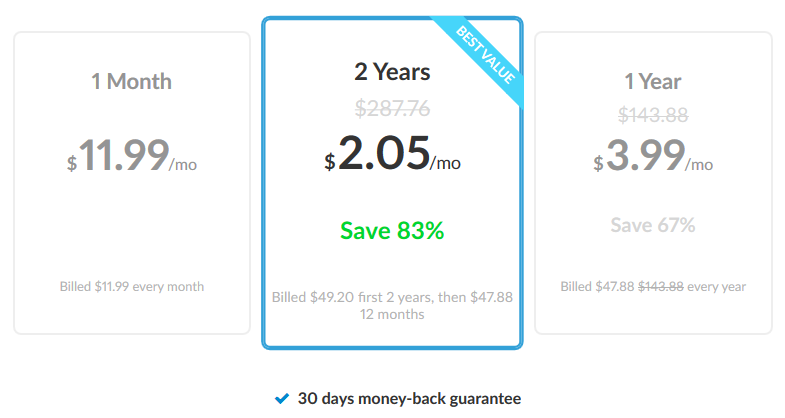 $11.99/Month (1-Month-Plan. Billed $11.99 every month)
$3.99/ Month (1-Year-Plan. Billed $47.88 $107.88 every year. Save up to 67%. MOST POPULAR!)
$2.05/ Month (2-Year-Plan. Billed $49.20 for the first two years, and then $47.88 every following 12 months. Save up to 83%

BEST VALUE!

)
After applying with real coupon code, you will get extra discount and it will up to 85% off on 2 years deal.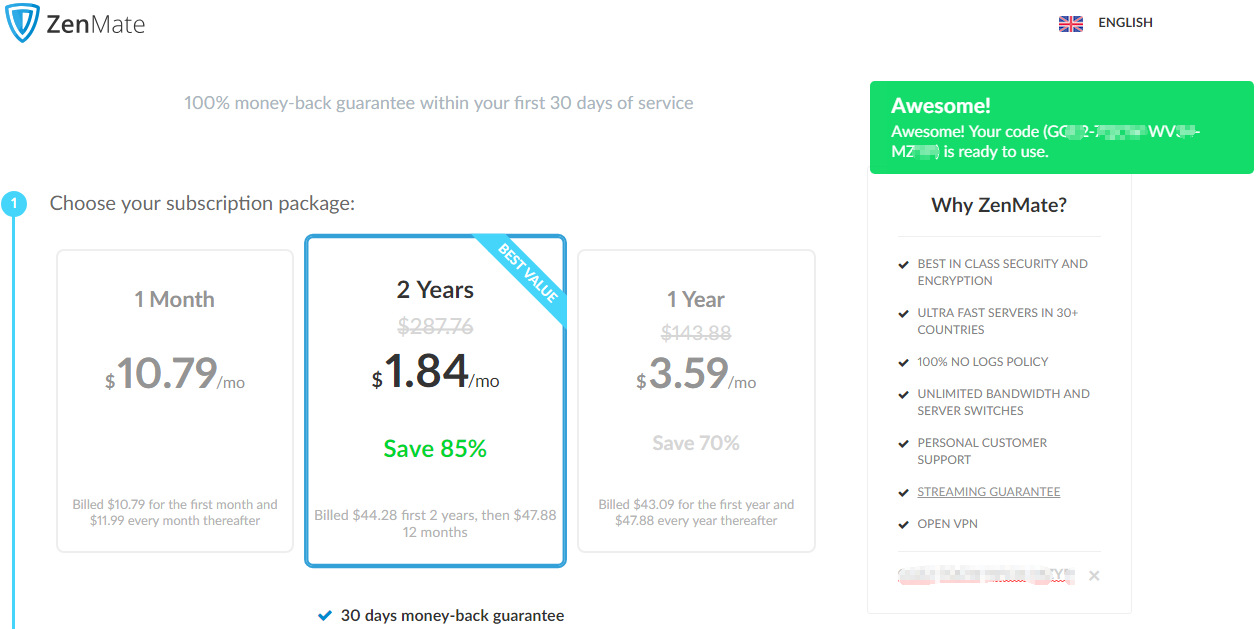 All plans include 100% money-back guarantee within your first 30 days of service. So, there is no risk to use ZenMate VPN service. If you are not satisfied with their service, you can feel free to ask for a refund within 30 days.
ZenMate accepts PayPal, Credit Card like VISA, MasterCard, American Express and other options of payment methods.
All Plans include such features:
Best-in-class security and encryption
Ultra-fast servers in 30+ countries
Apps for iOS, Android, Windows, macOS and more
Unlimited bandwidth and server switches
Premium customer support

Where are All the Server of ZenMate VPN Located in?
ZenMate is a German VPN service coming from Berlin and has been downloaded over 45 million times. ZenMate VPN helps customer to stay secure and anonymous online while helping you to access all your favorite content without restrictions. ZenMate has spanning its network to over 30 countries around the globe: Australia, Austria, Belgium, Bulgaria, Canada, Czech Republic, Finland, France, Germany, Hong Kong, Israel, Italy, Japan, Latvia, Luxembourg, Moldova, Netherland, Norway, Poland, Romania, Russia, Singapore, South Africa, Spain, Sweden, Switzerland, Ukraine, United Kingdom, United States, United States (West) and more. ZenMate keeps improving the functions of their products and expanding their network, so the number of servers will keep growing. You can get fast connection and enjoy 100% anonymous online as ZenMate offers 3000+ IPs in over 30 countries.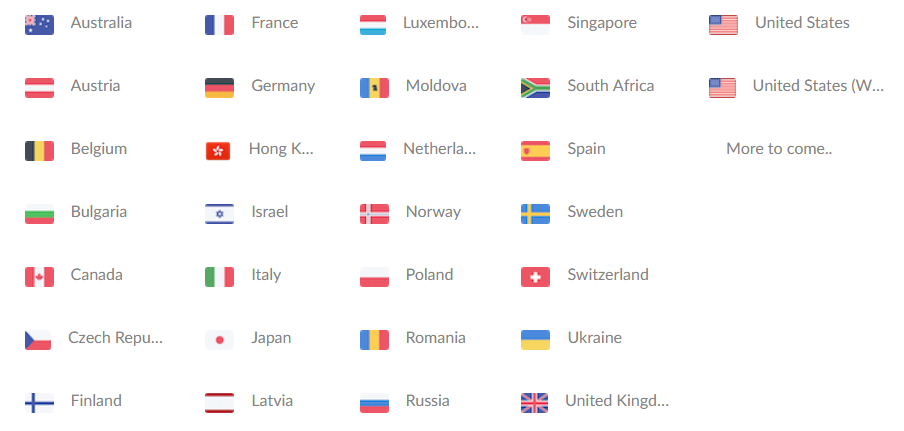 Does ZenMate Log My Data and Information?
ZenMate does not store or log your personal data which can be used to identify you or what you're doing online. ZenMate does not monitor your online sessions. In fact – ZenMate can't! Strict German privacy laws regulate ZenMate company's use of your information. As ZenMate doesn't store the data in the first place, this also means that they can't be forced into giving away personal data to any government or sell it to any 3rd parties. Here we will give you more details about how ZenMate's Privacy Policy work: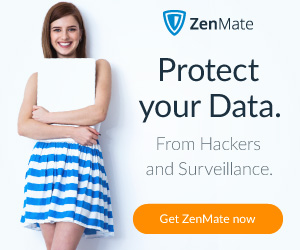 How Strong the Encryption Level of ZenMate VPN?
People use VPN also for data encryption and privacy protection online. A VPN should have a strong encryption level like AES-256 in order to encrypt data and protect privacy on the internet. So, ZenMate VPN does not only hide your IP and unblock all of your favorite content, it also provides data encryption. Data encryption disguises the data we share online into tiny bits, so nobody unauthorized can gain access to it unless they have a key to open it. ZenMate VPN uses the strongest and most advanced AES-256 encryption for data encryption and privacy protection. Why AES-256 encryption is so strong? 256-bit encryption is a technique that uses a 256-bit key to encrypt and/or decrypt data and files. 256 refers to the length of the encryption key, meaning that there are 2256 combinations to break the encrypted information. To put it simply, even the most powerful computers are usually unable to break 256-bit encryption. Most commonly, this type of online security is being used for data in transit. Interesting fact, the US government requires all its data to be encrypted using 256 bit methods, so that should give you an idea how secure 256 bit technique is! Due to its strong encryption performance, 256-bit encryption is mostly used for large corporations, sensitive financial firms, and government standards.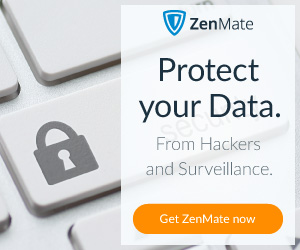 What Kinds of VPN Protocols does ZenMate VPN Support?
Different VPN protocols have different functions and performance, some focus on security, and others centers on fast speed but lack of security. Usually reputable VPN providers use multiple different VPN protocols to meet different requirement from different people. VPN providers pay more attention to security and privacy of customers and they will strict check and optimizes the VPN protocols they adopt. ZenMate VPN uses various VPN protocols IPsec, OpenVPN, PPTP, SSTP, which offer different encryption standards and levels of security. Different protocols have its unique feature and advantage, so it is hard to explain completely clear. Here we've put together this comparison so that you know what to look out for:
IP security (IPsec): This protocol is usually used alongside L2TP (Layer 2 Tunnel Protocol) in order to encrypt your traffic. Overall it is believed to be a secure method, however, it can slow your traffic in comparison to other VPN protocols.
OpenVPN: OpenVPN is the newest and most secure VPN protocol. It is much faster than other methods and there is also no reason to believe that anyone (including the NSA) has compromised OpenVPN connections. OpenVPN is not integrated into popular operating systems, meaning you will need a third-party app – such as ZenMate – to use it.
PPTP: There are many known security issues with point-to-point tunneling protocol. For a while now, it has been assumed that the NSA is decrypting PPTP connections meaning the security offered by this method is dubious. It is not recommended to use PPTP if you are looking for ultimate security.
SSTP: Secure Socket Tunneling Protocol is also a very secure form of protocol and uses AES encryption, which is basically the gold standard in encryption methods. Overall SSTP offers high levels of security, the main downside of SSTP is that it is mostly just for Windows users.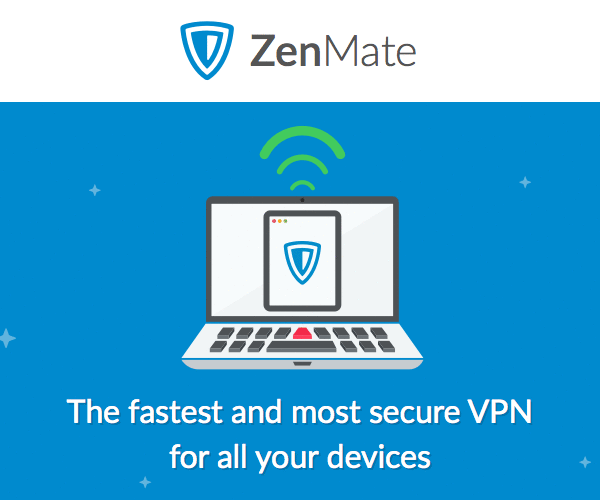 ZenMate VPN Protects against WiFi Hacking
In fact, most WiFi networks are extremely vulnerable to security breaches and are easier to be hacked than ever. It is necessary to have a password for WiFi security whether you are technically savvy or not. The free WiFi hotspot in café, restaurant, airport, supermarket, and grocery store are extremely vulnerable to hackers and snoopers. If you find your internet is a bit slower, but no compromises in your WiFi's security protocols, you should be cautious to WiFi hacking which usually slows down the internet and monitors what you do online. Wifi hacking is essentially cracking the security protocols in a wireless network, granting full access for the hacker to view, store, download, or abuse the wireless network. Usually, when someone hacks into a Wifi, they are able to observe all the data that is being sent via the network. An unauthorized person using your wireless network would be able to see pretty much everything you do online. Even if you visit a HTTPS secured website, a compromised Wifi would allow a hacker to view all information processed on those sites.
How can you protect yourself from Wifi hacking? You're suggested to use a reliable and strong VPN service as VPN tool is usually used by people to protect online security and stay privacy. VPN tool like ZenMate has a strong ability to prohibit hackers and snoopers from accessing your networking and stealing sensitive data. ZenMate VPN is equipped with the most advanced AES-256 encryption. The AES-256 is best in class and a kind of military-grade encryption, no one, including the fastest computer savvy, can't break. What's more, ZenMate VPN uses different kinds of VPN protocols to protect your internet connection. In a word, ZenMate VPN offers you two more layers to increase security. Once you're running ZenMate VPN on your device, all your internet traffic and data will just go through the VPN tunnel created between your device and the servers of ZenMate. Your ISP, hackers, thieves and cyber criminals has no way to break into your network. AES-256-bit encryption is unbreakable encryption specially used to encrypt data.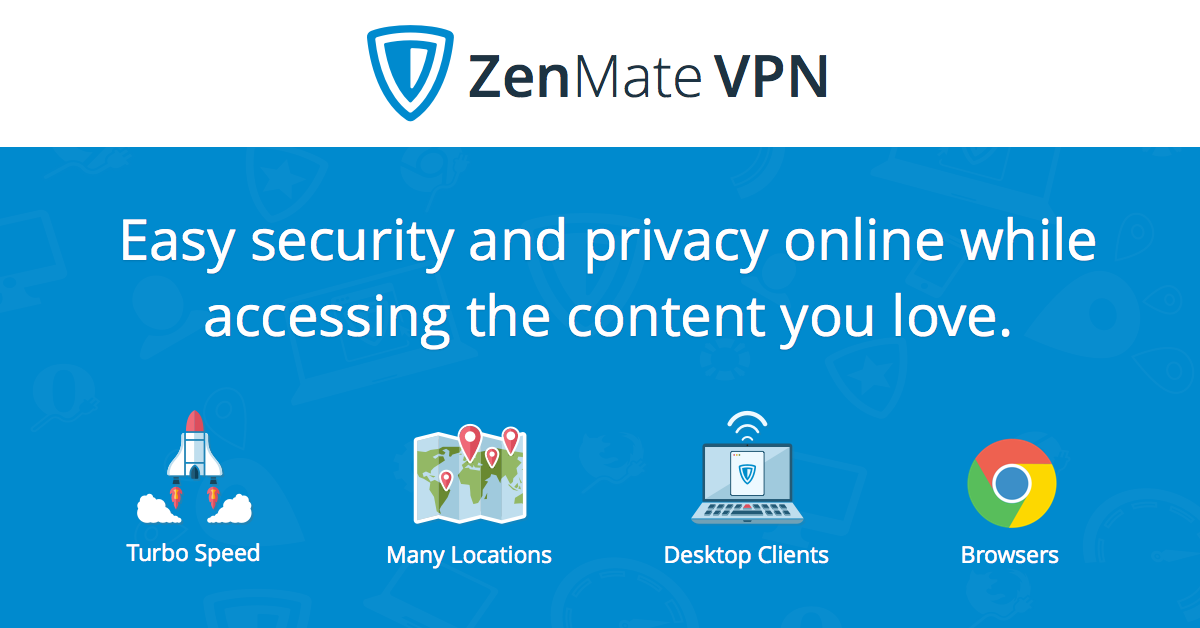 ZenMate VPN Helps Watch Geo-Restricted Contents YouTube, Netflix, BBC iPlayer, Hulu and HBO GO…
Websites can be blocked for various reason. For example, some social media, adult sites and messaging services are blocked by the government in some countries. You can watch US Netflix when living in the US, but can't watch any contents outside of the United States. You can stream popular Sport events alive in the UK, but can't watch any sports videos outside of the UK. Websites usually are banned one for internet censorship, and the other geo-blocking (geographical restrictions). VPNs like ZenMate VPN is specially used by almost internet users to bypass internet censorship and geo-blocking restrictions. ZenMate VPN gives you the fastest, safest and most reliable way to unblock websites and grain access to your favorite contents wherever you're.
Geo-blocking is a form of online restriction based on one's geographical location. In other words, one cannot access specific content if he or she is outside a certain region. Geo-blocking is used by many companies around the globe for various reasons. To follow licensing regulations, to release products one location at a time or to differentiate prices.
How does a company or websites know where you are from? Actually the company or websites can detect and check your device's IP address and identify your location. Your IP address is your online address; it easily reveals your current geographical location. If your IP address does not match the required requirements, you will not be granted access to content or website. The solve and bypass the geo-blocking restrictions, you should use a VPN like ZenMate VPN. A VPN allows you to change your IP address with ease. ZenMate VPN service providers own an infrastructure of servers located in various global locations and therefore are able to exchange your IP address with one of theirs. You just need to choose which location you would like to appear from and then you can unblock almost any website. This way, when connecting to a specific site, the IP address of the server you have connected to will be shown.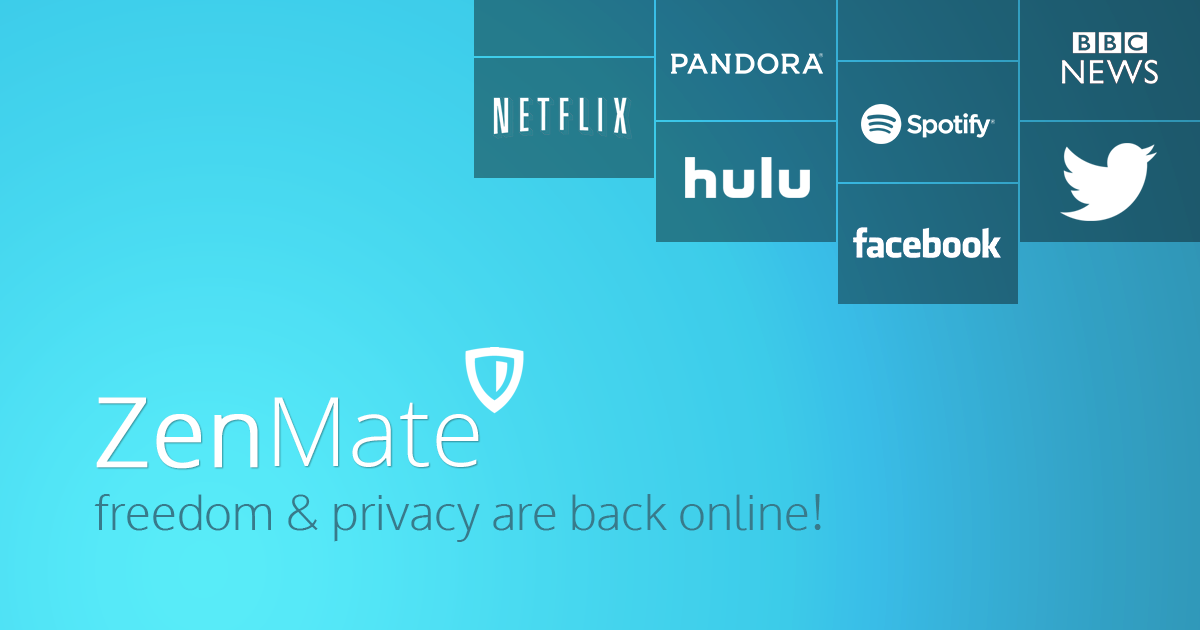 ZenMate VPN Circumvents Internet Censorship
If you travel to some countries where has a strict internet censorship, you will find certain websites are blocked. Internet censorship is another barrier to block people to access certain websites. Internet censorship controls and limits what and where people can browse, discuss and publish on the internet. countries like China, Russia, UAE, India, Iran, Israel, Syria, Korea and other Middle East countries put strict internet restrictions on their national internet to control and regulate what people can do on the internet. Take China for example, it put the most intensive and strictest internet restrictions on their domestic internet, any potentially unfavorable contents are immediately blocked by the internet censorship in China, the net censorship in China is usually called by netizens the Great Firewall. The GFW system especially blocks foreign social media, news, messaging apps, sharing websites like Facebook, Youtube, Twitter, WhatsApp, Viber, Snapchat and more. It is upsetting and inconvenient for people living in or traveling to China as they can't access all these popular websites and apps.
The best way to circumvent the internet censorship like the Great Firewall of China is to use a strong and reliable VPN service like ZenMate VPN. ZenMate VPN is used by over 45 million people all around the world and proved to be the solid VPN to defeat censorship and also work in China where has the most intensive net restrictions. ZenMate VPN can bypass the detection of any kind of internet censorship and VPN-blocking tools. Usually anti-VPN tools are combined with internet censorship and laws to filter VPN usage. However, ZenMate VPN has a strong performance and ability to survive from any strict internet censorship. ZenMate customers can use ZenMate VPN in any countries and access any websites. ZenMate VPN even provides fast connection speed and super-fast streaming Netflix, BBC iPlayer, HBO GO from these internet-censored countries. There is no risk to use ZenMate VPN at all as it practices strict non-logging policy, no data never is logged by ZenMate.
Overall, ZenMate VPN is a pretty good choice for anyone looking to hide their IP address, unblock websites and stay anonymous online. ZenMate is a globally trusted VPN service with over 45 million users worldwide. They have servers based in over 30 locations, including the US and UK, meaning you can choose from a wide variety of countries when changing the location you would like to access the web from and at the same time conceal your IP address.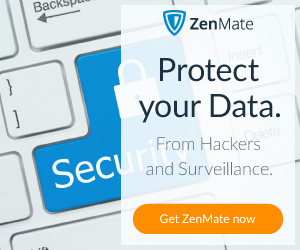 Video Shows ZenMate VPN Review
Top 10 + Best VPN Services Worldwide
View More Top 10 Best VPN Services Here »
ZenMate VPN Review Conclusion
ZenMate VPN is the best fit for people who travel to other countries, go on international business and study abroad. It provides customers with layers of security and guarantee privacy for people on the internet. So it is good for expats. ZenMate VPN also possesses strong performance to facilitate access to any blocked websites due to internet censorship or geographical restrictions. Therefore, ZenMate VPN secures your personal connection to the internet, encrypts your traffic, obfuscates your location and makes your safer regardless of the network you're connecting. Even though you're using the free WiFi hotspot in café, coffee bar, airport, supermarket, library, grocery store or restaurant, you're also still protected by ZenMate VPN with AES-256 encryption. ZenMate VPN will protect you while you're downloading or sharing files online. No one, including the government, hackers or unwanted advertisers, can track you and monitor your online activities. ZenMate VPN unblock websites including Facebook, Twitter, YouTube, Gmail, WhatsApp, Snapchat and more blocked by some kind of internet censorship in different countries. Also ZenMate VPN will surely hide your IP address and replace with a new anonymous IP address to change your location, which will definitely mask your real location and identity. Then you can watch any favorite content from anywhere as ZenMate goes around the go-blocking restrictions. Watching BBC iPlayer, Netflix, Hulu, YouTube, HBO NOW and Amazon Video with ZenMate VPN is great experience as it provides fast streaming speed without delay. That's why over 45 million people are using ZenMate VPN to keep online activity private and secure and watch popular streaming videos and movies from anywhere. Get ZenMate Ultimate and use it on up to 15 devices simultaneously now.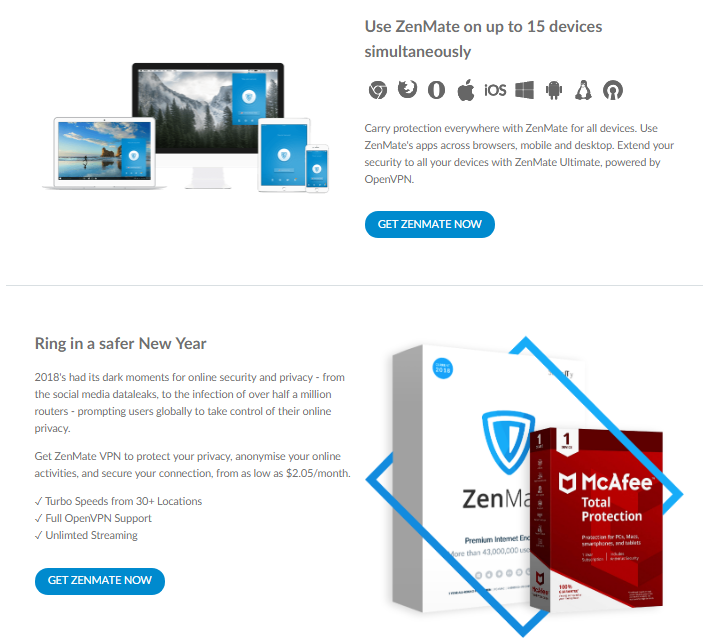 Published by Tony Shepherd & last updated on July 1, 2020 4:33 am