I need help with the Windows cleaning toolkit popup on my computer. It won't go away no matter how I tried to uninstall this program. It just popped up on my PC a couple days ago. Does the software belong to Microsoft? Ever since it arrived, everything is now blocked on my computer. I cannot run programs but get blocks from this software's popup screen saying that my PC is in risks and I need to purchase the registered version of the program to fix my computer. I do not want this program. How do I go about uninstalling Windows Cleaning Toolkit?

Windows Cleaning Toolkit Virus – How to Remove Rogue Antivirus
The pop-up Windows Cleaning Toolkit software on computers is categorized as a potentially unwanted program which is also known as Rogue Antivirus. This type of computer threat often pretends to be legit antivirus software from unauthorized resources and trick PC users into paying for its "registered" version so as to fix all the problems appeared on the compromised computers. Basically, the attack of this fake antivirus program includes two steps. First of all, it will report many problems and infections being detected on the compromised systems and convince the victims that their PCs are full of threats or adware. Then the Rogue program will claim itself as a helpful tool which can help you fix the problems. But first, you will need to upgrade the "Unregistered" version to a fully activated one via paying an amount of money so as to enjoy the full services. The fact is, this type of fake antivirus software, including the Windows Cleaning Toolkit scam ware, is not friendly to computers. All it wants from computer users is money as it's believed to be sponsored by third-party online. It's one of the cyber fraud activities conducted by cyber criminals. Computer Ransomware is another well-known cyber fraud that has scammed thousands of computer users all around the world.

Generally, computers that have Windows OS installed (including Windows 8, Windows 7, Windows XP and Windows Vista) are the major targets of this pop-up Windows Cleaning Toolkit virus. Mac book users haven't been found to be attacked by this Rogue software by far. According to victims of this cyber threat, they don't exactly know when and how they are attacked. The Rogue popup just appears on their computers all of a sudden and blocks everything. Through studies we believe that the install of this kind of infection does not need permissions from PC owners. It can finish the install process via bundling with some other unknown programs that have been downloaded into the systems. Soon as it's arrived, system structures will be modified and the process of this Rogue ware will be automatically set as the startup process of the system so that the unwanted program can be launched without commands each time the affected PC starts up.
What can this fake Windows Cleaning Toolkit virus do when it's fully activated inside your computer? Acting like a regular antivirus program, the Rogue antivirus software will pop up and start security scans through your computer without permission. This seems to be helpful as it looks like it's doing its job and protecting your computer. However, you will find yourself in a similar situation where you will get blocked every time you attempt to run a program on the computer. To be more specific, take Internet Explorer for example. When you try to launch the browser to go online, you will receive a report from the Rogue ware saying the program you are about to run contains viruses/infections. Basically, you will receive similar reports each time you attempt to run an executable program on the computer. The constant popups of security alerts have certainly stopped you from running these files or programs. So there seems to be no way for you to use the computer as usual. What's more, many infections/errors/fatal problems will be reported from Windows Cleaning Toolkit virus. While other programs on the computer are either blocked or disabled, one seems to have no other choices but purchase the "registered" version of this unknown software to fix all of the problems. Watch out! Once payment is submitted, there will be no way for you to get the money back. Hackers will receive this money and leave you behind with this nasty Rogue.
To unblock computer from Windows Cleaning Toolkit virus scam, a manual removal process is more efficient than antivirus removal tools. Contact YooSecurity Online PC Experts for removal help if you are not a computer savvy and don't have qualified expertise to deal with this Rogue effectively.


Fake Windows Cleaning Toolkit Virus Screenshot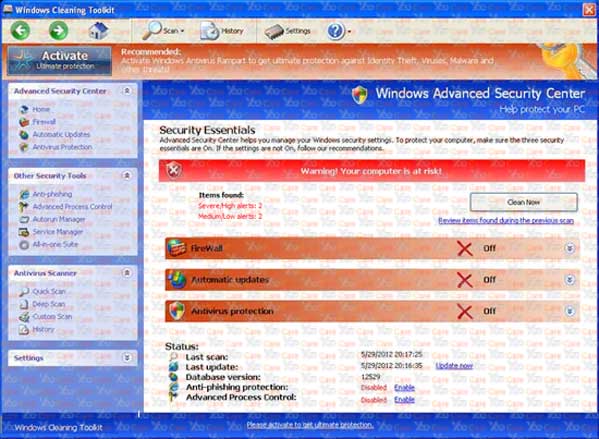 Above is a screenshot of this current Rogue scam ware. Looking from its appearance, average computer users can easily be tricked and convinced that it's legit and powerful, especially when it keeps detecting infections and errors inside the system while other antivirus programs remain still. "Warning! Your computer is at risk!" is what this scam malware tries to convince you. On top left corner of the virus screen, there's an "Activate Ultimate protection" button for you to click on and go ahead to pay for the "registered" version of this fake antivirus software.
Will you be able to fix all the problems and unlock programs from Windows Cleaning Toolkit malware by paying?
Usually, victims of this Rogue antivirus will receive constant security alerts on their computers when this unwanted program is installed. As a matter of fact, these pop-up security alerts are false statements that are generated by the Rogue. They do not represent the actual status of your computer but are false alerts designed to trick as many PC users as possible into paying for the fake program. Judging from the fact that it's a scam ware that mainly helps cyber criminals collect money from innocent PC users, paying for the full version of the Rogue is not going to help you fix this mess or unlock files and programs on your computer.
Consequences To Be Expected from Rogue Scam Malware
1. System default settings will be modified and the Rogue program will be set as the startup process of the infected system so that it can be automatically launched each time PC starts up;
2. Constant security alerts will pop up to convince you that your computer is at risk and force you to pay for the scam ware;
3. You will receive constant blocks whenever trying to run files or programs on the infected computer from this Rogue ware;
4. Certain functions of the affected system can also be disabled by this scam ware;
5. Hackers can collect illegal profits from victims by messing up their computers;
6. The overall performance of the compromised system will be badly affected causing lots of deaths.
A Step-by-Step Removal Guide of Rogue Antivirus
Notice: As mentioned before, most programs can't be run in regular mode due to this Rogue infection. Safe mode will be used in this case to temporarily disable the auto popup of this Windows Cleaning Toolkit Rogue software. To put the computer in Safe mode with Networking, please hit F8 key repeatedly while system is booting up BUT before it's logging in till you get advanced options on a black screen; use arrow keys to highlight Safe mode with Networking option and hit enter key to proceed system loading files into that mode: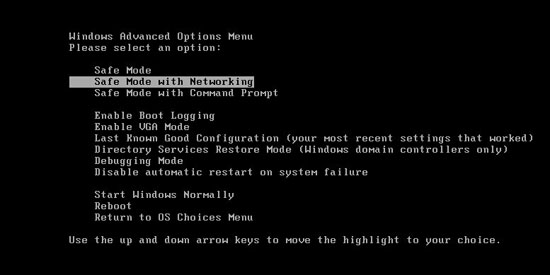 Step 1: Press Ctrl+Alt+Del at the same time to open the Windows Task Manager; go to Processes tab on top; then End processes associated with the Rogue:

Step 2: Open Control Panel from Start menu. Go to Uninstall a program list, scroll down to uninstall unwanted programs:

Step 3: Open Control Panel from Start menu. Go to Folder Options and under View tab, select Show hidden files and folders and non-select Hide protected operating system files (Recommended) then click OK: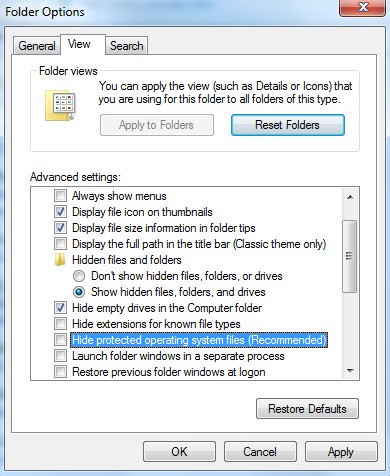 Step 4: Pull up Run box by hitting Windows+R keys then type regedit to open Registry Editor. Delete all the registry values related to the fake antivirus virus: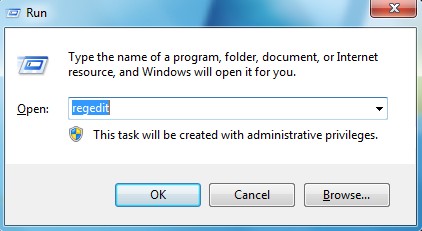 Video Guide to Uninstall Rogue Scam Virus
Conclusion
Windows Cleaning Toolkit virus is certainly not a friendly program to keep or use for PC protection considering it's a Rogue antivirus sponsored by online third-party to scam innocent computer users all around the world. Users can be attacked by this scam ware by visiting suspicious URLs or popups, downloading unknown programs from unidentified resources online or spam email attachments from strange contacts. Via bundling with these unauthorized mediums on the Internet, the Rogue program can get itself installed on computers without permissions from PC owners. Computers will be totally messed up once the Rogue software is installed. Everything on the affected computer will be blocked from running and constant fake security popups will be displayed trying to trick you into paying for this scam ware. It is warned that one should not trust this pop-up unknown security program or even pay for its unauthorized version. Hackers behind this scam ware can benefit a lot if more computer users are convinced. To uninstall the Rogue program and unlock computer, manual removal is the most efficient way to follow.
Suggestions: Can't uninstall Windows Cleaning Toolkit popup from computer? Have tried many online instructions with no success? Please contact YooSecurity Experts right away to get further assistance in order to save PC from all the potential risks:


Published by Tony Shepherd & last updated on November 26, 2013 3:58 pm