How can I get rid of Internet Security 2013 Virus? Recently, I have a Internet Security 2013 alert on my work computer and have tried everything to get rid of it. I cannot even get onto the internet on mine unless I am running it in safe mode. It will not allow me to open any applications (.exe files). Is it a legitimate or fake program? Do I really meed to pay money and activate the full version? If not, how do I remove it from my computer? Any help will be appreciated.

Fake Internet Security 2013 Virus Description
The Internet Security 2013 virus is categorized as a Rogue program which is an attack that used to cheat innocent computer users. Many people believe it is a legitimate computer virus scanning program because it has the same ability like other security tools to warn the user that computer is at risk due to several threats detected during the recent system scan. It is very similar to Win 7 Internet Security 2013 virus or XP Internet Security 2013. But does Internet Security 2013 virus really own virus detecting and removal ability and reveal the status of your computer? The answer is No. Even though it has a convincing appearance, it is just a rogue security program which uses misleading error messages in order to scam computer users into purchasing fake anti-virus software. Once it launches it performs system scan in real time and then returns a long list of malicious threats and attacks that have been detected.  When you click on any option in order to remove them all, you will be prompted to upgrade to the full paid version first and you need to pay for a great amount of money.
Apparently, Internet Security 2013 Virus is designed to extort money from computer users by pretending itself to be a legitimate virus scanning tool and mislead users into thinking paying the upgrade version can help to finish the removal of several dangerous threats found on the computer. Don't be fooled by that. Users should understand how this tricky virus works and avoid to being the victims of this scam. If this virus has been installed on the computer it will open upon start up and it will appear to perform a scan of the system files and look for potentially dangerous files. It will then show a list of infected files that it seems to be a threat to the users computer. Naturally, the user is going to select the option to immediately remove these files from the computer, but when any option related to removal action is selected there will be a notice that states that the program needs to be updated to the paid version in order to continue the removal.
Please remember that Internet Security 2013 Virus is not a real anti-virus or anti-spyware program and it does not actually perform a legitimate scan of the system, it is just a rogue application. All of the results that it shows are pre-programmed and will show up every time your computer boots up. This is a very complex computer virus that has been constructed to resemble many of the popular virus scanning programs that come pre-installed on Windows based computers. They do this so that the users think that it is those programs that are requesting to be updated. Many individuals fall for this scam because of the familiar look of the message. They also do not want to risk all of the claimed infected files doing damage to their computer so the upgrade fee is often paid without even questioning it or suspecting it is authentic or not. This enables these hackers to make a tremendous amount of money from this scam.
None of these warning messages are real and the entire Internet Security 2013 program is a complete scam. How do these hackers infect so many computers? They spread this attack in two ways. Firstly, they send out millions of emails daily that contain an attachment which is infected with the Internet Security 2013 virus and if the user opens the attachment, their computer will become infected. Secondly, the hackers spread the virus across several popular file downloading sites and when users visit these sites and download images, audio files, and video files they will pick up the virus. They focus on spreading it across as many PCs as possible as a way to increase the odds of users falling for the trick and sending their payment information. Not only will they be scammed for the "upgrade" but also they are virtually handing over their credit card details to criminals. Therefore, removing Internet Security 2013 Virus is the first thing you have to do to save your computer and privacy.
To save your computer, Live Chat with YooSecurity Expert Now. You can follow the manual removal guide below to get your problem fixed. (For advanced computer users)


Internet Security 2013 Virus Screenshot: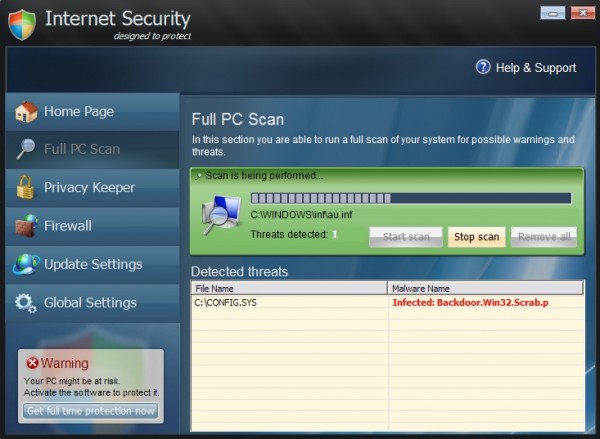 Internet Security 2013 Firewall Alert Keeps Bothering You?
Internet Security 2013 virus can show you a fictitious scan result to make you think your computer is in danger. It will keep alerting you there are many critical system problems on your computer. This program is far from legitimate. Along with the false scan results, it will also display bogus messages stating that the data stored on the computer is at risk to further scare inexperienced users. These messages include:
"System hijack!
System security threat was detected. Viruses and/or spyware may be damaging your system now. Prevent infection and data loss or stealing by running a free security scan.
Privacy alert!
Rogue malware detected in your system. Data leaks and system damage are possible. Click here for a free security scan and spyware deletion.
Privacy threat!
Spyware intrusion detected. Your system is infected. System integrity is at risk. Private data can be stolen by third parties, including credit card details and passwords. Click here to perform a security repair.
Virus infection!
System security was found to be compromised. Your computer is now infected. Attention, irreversible system changes may occur. Private data may get stolen. Click here now for an instant anti-virus scan."
Once installed it will disable several programs and if they are attempted to be opened the following message will display:
"Internet Security 2013 Firewall Alert
Internet Security 2013 has blocked a program from accessing the internet
Internet Explorer is infected with Trojan-BNK.Win32.Keylogger.gen
Private data can be stolen by third parties, including credit card details and passwords."
What is The Best and Easiest Way to Uninstall This Virus?
The only way to stop this message from being displayed is to remove the files manually. We have provided a guide below that will walk any users infected with this attack through the steps required to remove it from the system. Also, any user that has paid for this false upgrade is advised to immediately call their credit card company and dispute the charge as well as close the card as it may be used in the future for fraudulent charges. Follow the steps below to manually remove Internet Security 2013 virus fully from the computer.
Internet Security 2013 Virus Removal Instruction:
1. Restart your PC before windows launches, tap "F8" constantly. Choose"Safe Mode with Networking" option, and then press Enter key.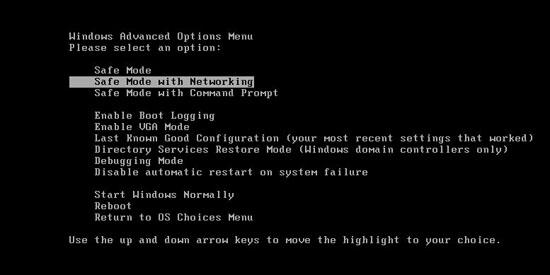 2. Press Ctrl+Alt+Del keys together and stop the process in the Windows Task Manager.
3. Delete associated files from your PC completely as follows:
%userprofile%\appdata\local\
%AppData%\Programs\[rnd].exe
%AllUsersProfile%\Application Data\random
4. Search for all related registry entries infected by Internet Security 2013 Virus and wipe them out:
HKEY_CURRENT_USER\Software\Microsoft\Windows\CurrentVersion\Policies\System "DisableRegedit" = 0
HKEY_CURRENT_USER\Software\Microsoft\Windows\CurrentVersion\Policies\System "DisableRegistryTools" = 0
HKEY_CURRENT_USER\Software\Microsoft\Windows\CurrentVersion\Policies\System "DisableTaskMgr" = 0
5. Reboot the computer to normal mode when the above steps are done.
Manual Removal Video To Show You How To Remove Internet Security 2013 Rogue Program
To sum up, Internet Security 2013 virus is a tricky virus that looks like a real virus protection program, but actually it is fake AV. It will sneak into your computer without your concept, it will automatically scan your whole system, telling there are millions of threats in your machine, therefore, the infected PC is in high level risk. And you need to purchase the reg key or activation code to get full version of the Internet Security 2013. Are all the results true? Of course not. All the files detected by the so called virus removal tool are fake, they don't exist at all. Don't pay for the scam, otherwise, neither it will clean all threats nor protect your computer. The purpose of this virus is to mislead you to buy it so that the criminals can get your money. Paying the upgrade version will not help to get rid of the bogus scan, and also the virus files will not be removed from the computer. The only way to clean your computer is removing the corrupted files one by one, manually. The instructions above can help to completely rid the PC of the Internet Security 2013 Virus. Manual removal is a complex and risky process, so please consult YooSecurity PC experts 24/7 online to help you uninstall the fake alert from your computer permanently.
Note: If you have trouble to deal with this fraudulent virus, please contact YooSecurity PC experts 24/7 online for assistance to help you remove Internet Security 2013 Virus from your computer completely.


Published by Tony Shepherd & last updated on October 10, 2013 3:39 am