Do you get this "Antivirus Security Pro" Virus screen popped up on computer? Does this unknown program belong to Microsoft? If not, does it get permission from you to be installed? Do you have difficulties in running other executable programs on the computer ever since this unfamiliar software is installed? I am trying to remove the antivirus security pro and I cannot follow any steps I have found online to get rid of it because I cannot download anything. The virus is so bad that I cannot ignore and continue to the site I would like to go to. I cant do anything. I can't even open my documents on the infected one. I'm trying to put the finishing touches on a paper due tomorrow and I cant even open it. So if I don't fix this, i have to write it all over again. Help!!!

How to Remove Antivirus Security Pro Virus? Uninstall Guide
Fake Antivirus Security Pro Virus is a newly released variant of rogue antispyware that has been reported to attack computers lately across the globe. Computers running under Windows OS environment are especially targeted by this virus even though they have got strong antivirus protection tools all the time. This fake thing, sharing common characters with Attentive Antivirus virus, can escape from many authentic antivirus protections and affect computers still. Once it's successfully installed, it won't be easily got rid of according to many PC users' experiences. Even though it has a very legitimate appearance, this malware can be treated as a cyber scam activity performed by cyber criminals. By reporting constant fake alerts and threats to its victims, the rogue program is trying to get as many PC users to sign up for its fake "registered" version as possible. We believe once the money is spent, there's no way to get it back.
This fake Antivirus Security Pro Virus does not belong to Microsoft or come with the system. It's a computer threat that can get itself installed on various computers without permission from PC owners. Hence, computer users who have got this unwanted software normally don't know when they install the program. The auto install of the rogue can be achieved by distributing its malicious program via bundling with free programs or spam email attachments. To be more specific, when downloading something unknown or unauthorized from the Internet, you may accidentally download this scam ware as well.
Default system structure will be reset by the Antivirus Security Pro Virus upon arrival for its own good. This scam ware will then set itself as a start-up process of the system to help launch its program each time PC starts. It looks like a legit antivirus and acts like one as well. But soon you will realize that the security checks performed by this software are unable to terminate. Each time you try to close this program and run random executable applications on the computer, the  malware screen and related security alerts will pop up to prevent you from doing so. Usually, many infections will be reported by such fake antivirus. To get rid of all these threats, you are asked to sign up or activate the full version of this fake AV first. A certain amount of money will then be scammed by cyber criminals instead of getting you a removal or protection service. Despite from its trustworthy appearance, this fake scam ware is not worth installing and should be removed ASAP.
To successfully remove Antivirus Security Pro Virus, Live Chat with YooSecurity Expert Now. You can follow the manual removal guide below to get your problem fixed. (For advanced computer users)


Fake Malware Security Suite Screenshot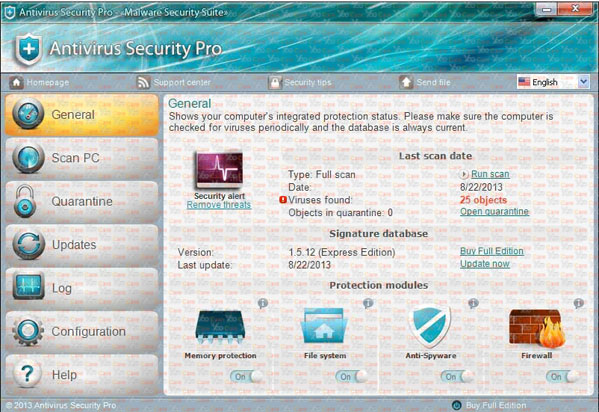 Fake AV Rogue Chaos
From the above screen shot we can see the virus looks like a legit antivirus program. It is with this deceitful appearance this scam can continuously help cyber criminals benefit and make innocent PC users suffering. Due to the fact that this scam ware is created by cyber criminals specifically to scam computer users, it can bypass most antivirus protection processes installed on computers to affect the machines in many ways.
Fake Antivirus Security Pro scam virus can:
– be distributed on the Internet via bundling to affect different PCs
– set its program as the start-up process of the infected computer to launch the auto security checks each time PC starts
– block users from running other executable programs on the computer by constant pop up virus screen and alerts
– report fake detections to get users to pay for a fake "registered" version of this fake application
– affect and slow down the performance of the system massively
Manual Removal of This Fake AV Step by Step Guide
A manual removal process is suggested here to help you remove this Antivirus Security Pro Virus. Virus files and registry values can be named differently. Hence, expertise will be required during the process to achieve a complete removal.
To put the infected computer in safe mode with networking or safe mode with command prompt, you need to keep hitting F8 key, where is the key?

Step A: Restart computer in safe mode with networking. To do this, press F8 key constantly while PC is booting up till the 3 safe mode options show on the screen like this: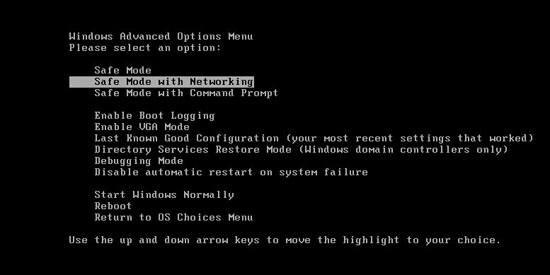 Step B: Press Ctrl+Alt+Del keys to open the Windows Task Manager to stop the progress of this Antivirus Security Pro virus. Because the name will be changed fast, it will be shown in different random names: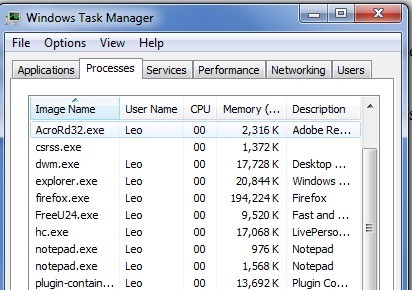 Step C: Delete all the files related to fake scam ware:
Go to %userprofile%\%AppData%\Programs\[rnd].exe
Step D: Delete registry entries of the rogue created in computer system: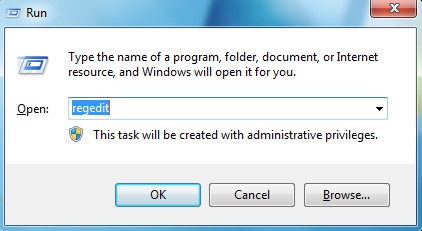 HKEY_CURRENT_USER\Software\Microsoft\Windows\CurrentVersion\Run ""
HKEY_CURRENT_USER\Software\Microsoft\Windows\CurrentVersion\Settings "net
HKEY_LOCAL_MACHINE\SOFTWARE\Microsoft\Windows NT\CurrentVersion\Winlogon\Shell ""
Similar Video Guide to Remove Antivirus Security Pro Rogue
Conclusion
There are many different antivirus applications for PC users to download and install to protect their PCs from the Internet. However, not all of them are friendly and helpful. There's this kind of computer threat that can dress up like a legit antivirus and try to scam innocent PC users. It's been a computer issue for quite a while. When getting this Antivirus Security Pro Virus on computer without even knowing, one should be careful because this is a fake antivirus software sponsored by cyber criminals. It can get itself installed on computers without consent and then require people to pay so that it can help get rid of all the threats in the systems. However, this is a total fake program. It even blocks you from opening other programs on the computers as well as causing other troubles to annoy you and get you to pay in the end. Even though it looks legit, the rogue is not trustworthy. To avoid or reduce the chances of being scammed by such fake antivirus, always avoid installing unknown programs from the Internet. When PC is under the attack of this scam ware, try to remove it ASAP to prevent all the possible consequences from happening.
Special tips: Still getting constant blocks by the Antivirus Security Pro Virus screen on computer? Contact PC experts now to get professional help online in order to prevent damages from happening on your computer.

Published by Tony Shepherd & last updated on October 29, 2013 6:53 am