I cannot remove the Windows Active HotSpot. I was wondering if the active hotspot virus is actually a legit product or a scam ware. I think I have downloaded a virus in the form of anti-malware, have uninstalled the program but can't get rid of the pop-ups. I can't access the internet on the infected PC. Is there any way to get rid of Windows Active HotSpot pop-ups without paying for a licensed version?

Windows Active HotSpot Virus – Fake Antivirus Removal
Do you have Windows Active HotSpot popped up on your computer? For the last few hours, this potentially unwanted program has attacked many computers and caused unpleasant feelings among PC users. This pop-up software, claiming itself as a legit anti-virus program and apparently appearing that way, is actually an unfriendly malicious application controlled by hackers. It's categorized as a fake anti-virus program or rogue antispyware which is known for its ability to dress up like an authentic PC protection software and scam innocent computer users by tricking them into paying for a fake "licensed" version of this program. Why would people want to pay for this unknown pop-up? That's because the scam malware usually detects and reports potential threats while other protection tools remain quiet. After failing to remove these "threats", users would be more willing to pay for this unknown program.

The Windows Active HotSpot is created by hackers for cyber criminal purpose. Most computer users install various anti-malware tools to protect their PCs from all sorts of viruses and infections. Fake antivirus programs can blend it and confuse average computer users with their deceitful appearances. Computers which have been hacked by this rogue software will be facing constant chaos. Let's take a look at these problems:
– Every time you turn on the infected PC, this unwanted software will automatically pop up right away and launch security scans through the system. This is caused because the rogue has modified the default settings and made it one of the startup processes.
– You cannot fully terminate the rogue. To be specific, it will pop up again whenever you attempt to run a file or program on the computer telling you that the file/program is infected. Basically, you are blocked from using the computer.
– You will also receive security reports of potential threats from this rogue. It not only pops up constant security alerts, but shows in its scan results that your PC is at risk.
– Other protection tools have been blocked or totally disabled leaving you with no choice to remove these "threats". You are tricked into paying for this rogue to get its "Ultimate protection" "Remove All" services.
– Other potential problems can also be caused by this rogue antispyware including possible hidden system loopholes, BSOD. Dangerous viruses/malware and even hackers can sneak or remote into the vulnerable computer to cause further pains.
If you are experiencing any of these above consequences, it is due to the effects of this fake antivirus. To stop it from compromising your system and to protect PC from being damaged by other problems, a successfully uninstall process should be done shortly. Will any anti-malware programs get rid of this rogue? The answer is negative. Compared with anti-virus removal, manual removal process is much more efficient in uninstalling Windows Active HotSpot virus malware.
Suggestions: To get rid of this rogue from system, Contact YooSecurity Online PC Experts for removal help if you are not a computer savvy and don't have qualified skills to handle such problem:


Windows Active HotSpot – "Warning! Your computer is at risk!" Screenshots
1. Potential threats are being found by this rogue software: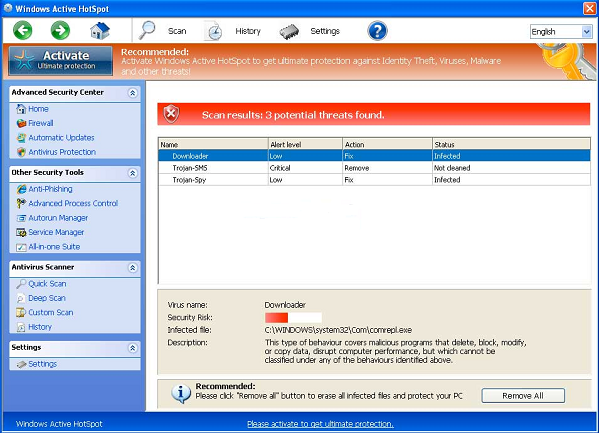 2. Security settings are mostly adjusted to "Off" "Disabled" status: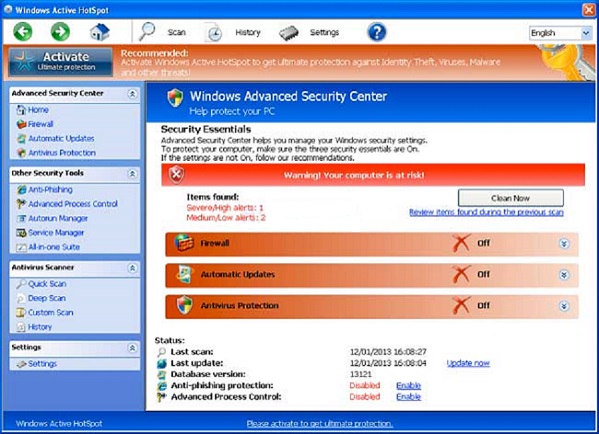 From the above two screenshots we can notice that this rogue appears to be no difference than other regular protection programs. When a computer is attacked by this scam ware, it will be badly messed up by this infection in a way that users cannot operate properly on the PC.
Where does the fake AV come from?
The fake Windows Active HotSpot virus is sponsored by hackers and released on the internet in all kinds of disguises. It can also bundle its program with other unfriendly tools which will help it to install on a system without permission from the owner. Basically, users' online activities are the major causes of this scam virus attack. Due to its ability to escape from most antivirus protections, the rogue software will be able to sneak into your computer when you visit hacked websites online or download unidentified resources from the internet. *This fake antivirus software does not belong to Windows or Microsoft.
Where can I get the Activate code?
A code will be required to enter if you want to activate this fake antivirus program. Users are warned to avoid any payment-related actions when computer is hacked by this virus scam. This Windows Active HotSpot is totally fake and it doesn't provide any "licensed" version to help protect your PC or remove the detected infections. Money will be transferred directly to hackers and will not be returnable. Think twice before you proceed to pay.
How do I stop the security alerts?
Have annoyed by constant security alerts? That is one of the strategies of this rogue to trick you into paying. As a matter of fact, these pop-ups are false statements as well which are specifically generated by the fake AV to convince you that your PC is infected. To stop these pop-ups, remove Windows Active HotSpot virus scam will be helpful.
A Step-by-Step Removal Guide of Rogue Antivirus
Notice: As mentioned before, most programs can't be run in regular mode due to this Rogue infection. Safe mode will be used in this case. To put the computer in Safe mode with Networking, please hit F8 key repeatedly while system is booting up BUT before it's logging in till you get advanced options on a black screen; use arrow keys to highlight Safe mode with Networking option and press enter key: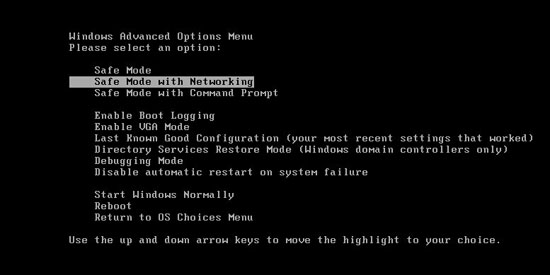 Step 1: Press Ctrl+Alt+Del at the same time to open the Windows Task Manager; go to Processes tab on top; then End processes of this fake Windows Active HotSpot:

Step 2: Open Control Panel from Start menu. Go to Uninstall a program list, scroll down to uninstall unwanted programs:

Step 3: Open Control Panel from Start menu. Go to Folder Options and under View tab, select Show hidden files and folders and non-select Hide protected operating system files (Recommended) then click OK: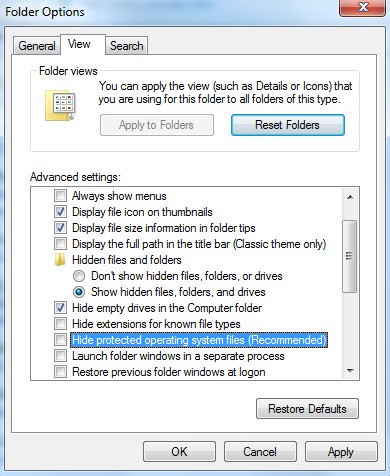 Step 4: Pull up Run box by hitting Windows+R keys then type regedit to open Registry Editor. Delete all the registry values related to the fake antivirus virus: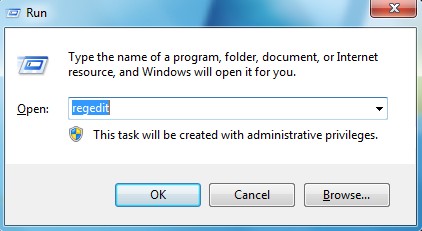 %AppData%\random-
%Desktop%\random-
HKCU\Software\Microsoft\Windows\CurrentVersion\Run\Random
HKLM\SOFTWARE\Microsoft\Windows NT\CurrentVersion\Random
Similar Video Guide to Uninstall Rogue Scam Virus
Conclusion
Having problems removing Windows Active HotSpot virus completely? Have the Active Hotspot pop-ups how do I remove these? What should I do about this scam? This pop-up PC protection tool is actually a rogue antispyware which can pose lots of troubles on a computer and scam the users in the end. The install of this rogue doesn't need permissions from users. Once it's successfully installed, it will become active right away when the infected PC is started. Victims of this fake antivirus will not only receive annoying security pop-ups on their computers, but being interrupted and blocked when using the computers. The rogue screen or its security alerts will pop up on almost every file/program you attempt to run. By convincing you that your PC is infected, the scam program is trying to get you to pay for its "activated" version which doesn't even exist. To get rid of fake windows active hotspot, one can do it manually to protect PC from all the potential troubles.
Note: Unable to remove rogue program popup from computer? F8 to safe mode doesn't work for PC? Contact YooSecurity Experts right away to get further assistance in order to save PC from all the potential risks:


Published by Karen Lawrence & last updated on December 2, 2013 2:23 am