What's VPN.ac? If you haven't heard about it then you may get a good understand about this VPN product after reading the VPN.ac review here. VPN.ac is privacy-focused VPN service. They use their own private DNS resolvers for all DNS queries by their customer. VPN.ac does not rely on third parties as it operates self-hosted, encrypted DNS services. VPN.ac company is certified to ISO/IEC 27001:2005 and ISO 9001:2008 standards by URS (United Registrar of Systems), an independent global, certification body, based in the UK and accredited by UKAS (United Kingdom Accreditation Service).VPN.ac provides plenty of servers in over 21 countries.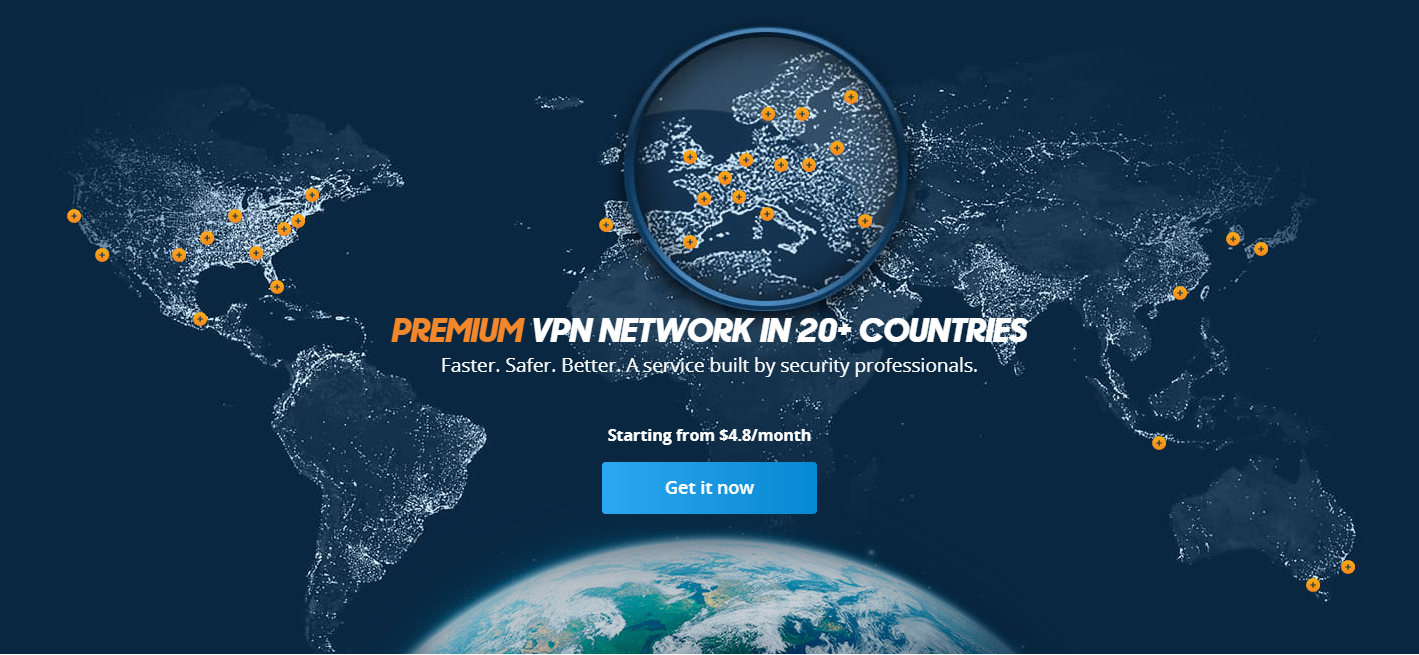 VPN.ac allows 6 simultaneous connections on multiple devices. VPN.ac practices no-logging policy. No data or information is collected from users. You can choose a VPN server which is closer to your location, as it would usually be faster due to better routing or peering. And it can match or almost match your regular connection speed. And VPN speeds also depend on the VPN protocol you use. VPN.ac offers OpenVPN over TCP, L2TP/IPSec, OpenVPN over UDP and PPTP. Different protocols focus on different functions and performance. OpenVPN (TCP) is slower by design, L2TP/IPsec, OpenVPN (UDP) and PPTP(insecure) are the fastest. VPN.ac allows P2P/torrent traffic. You can use VPN.ac to download torrents securely and anonymously. VPN.ac can work on different popular devices based on Windows, macOS, Android, iOS Linux and routers. VPN.ac can help you unblock websites banned by censored restrictions and geo-blocking. It is no problem streaming Netflix, Hulu and BBC iPlayer. With VPN.ac, you can enjoy complete privacy and security online.
Highlights of VPN.ac
Multiple VPN protocol types
Innovative Elliptic Curve Cryptography and obfuscation support
No activity logs
No speed limit
Premium Gigabit servers
SecureProxy browser addon included
6 simultaneous connections (3 with trial)
Truly secure DNS services
No protocols restriction
VPN Software for Windows, Mac, iOS and Android
Multiple countries: 21 (VPN), 32 (SecureProxy)
Advantage of VPN.ac:
1. Convenient switching between different geographical locations. Because VPN providers have servers all over the world, they can switch regions, giving them access to some geographically restricted network content.
2. Ideal P2P file sharing mechanism. Although this feature is disabled by many VPN services, VPNS are the most suitable for P2P file sharing.
VPN.AC Plans and Pricing Overview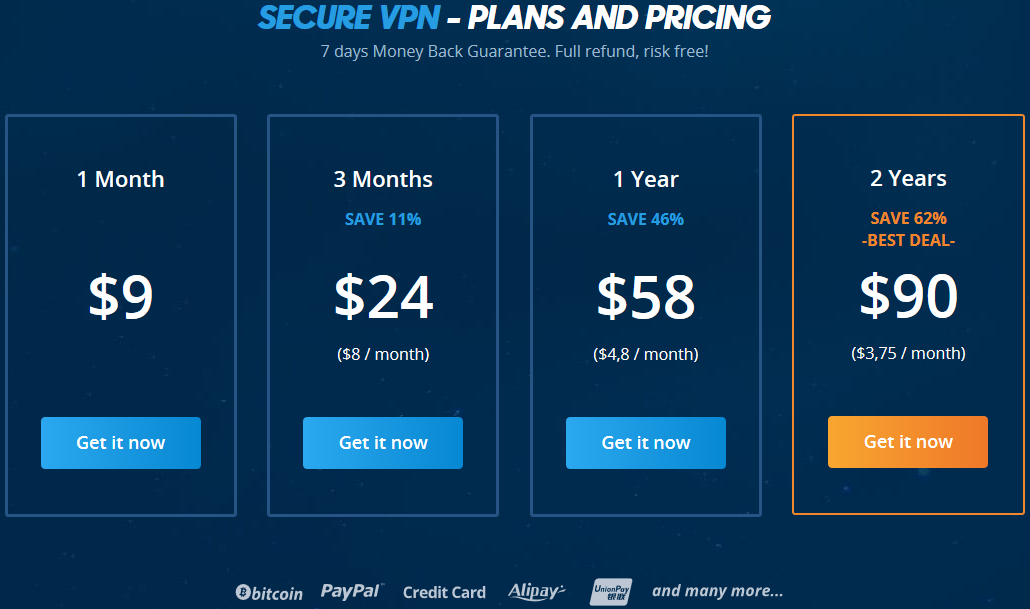 $9.00/Month (1-Month-Plan. Billed $9.00 every month)
$8.00/ Month (3-Month-Plan. Billed $24 every 3 months. Save up to 11%)
$4.80/ Month (1-Year-Plan. Billed $58 every year. Save up to 46% Best Value)
$3.75/ Month (2-Year-Plan. Billed $90 every 2 years. Save up to 62% Best Deal)
Payment Method Accepted by VPN.ac
Mainly PayPal and credit/debit cards
Region-based payments: Alipay, UnionPay, iDeal, WebMoney, SEPA Direct Debit and many more
Bitcoin and many altcoins, such as Bitcoin Cash, Litecoin, Ethereum, Monero, Dash and others
Gift cards (Openbucks and Subway)
VPN.AC Servers and locations
VPN.ac provides plenty of servers in over 21 different countries. You can access and use the fast speed and stable connection offered by VPN.ac service. ultra-fast VPN.ac servers are scattered in Australia, Canada, Switzerland, Germany, Spain, Finland, France, Hong Kong, Italy, Japan, South Korea, Lithuania, Luxembourg, Mexico, Netherland, Norway, Poland, Portugal, Romania, Sweden, Singapore, Taiwan, United Kingdom, US East, US West, US Central and more. although VPN.ac does not provide as many servers as other VPN provider, it does have the fast servers in all popular countries like United States, United Kingdom, Canada, Australia. So, you can use VPN.ac to stream such popular services as BBC iPlayer, Netflix, Hulu in any places all around the world.

Does VPN.ac Log My Information?
No, VPN.ac does not log/monitor any kind of user activity such as visited web-sites, emails, files transferred, instant messages, DNS queries etc.
However, VPN.ac keeps some connection logs (to our VPN service) for security and support purposes. These are kept on a separate, encrypted server (located in an undisclosed location) and are automatically erased on a daily basis. VPN.ac doesn't keep any logs on servers, not even common Linux daemon logs.
Keeping these logs also help us in identifying potential attacks against our service, such as brute-force and even some MiTM attack vectors.
How Strong is Encryption Level of VPN.ac?
VPN.ac provides strong encryption methods to protect all your internet traffic and data on the internet. VPN.ac uses strong and military-grade AES-256 encryption and different sorts of VPN protocols including OpenVPN over TCP, OpenVPN over UDP, L2TP/IPSec, IKEv2, PPTP, SecureProxy to increase more layers to guarantee security and privacy online. VPN.ac offers OpenVPN (with different encryption types, TCP and UDP on several ports), PPTP, L2TP/IPsec. These are the most widely used protocols, so you should be able to use them on virtually any OS/devices such as smartphones, tablets, HTPCs etc. All protocols support strong encryption.
Best-in-class AES-256 encryption
VPN.ac uses cutting edge VPN encryption up to AES-GCM 256-bit encryption with Elliptic Curve and/or 4096-bit RSA authentication, SHA512 HMAC and PFS. 256-bit encryption is the most advanced and latest encryption method. AES-256-bit encryption is one of the most secure encryption methods and used in most modern encryption algorithms, protocols and technologies including AES and SSL. 256-bit encryption is referring to the length of the encryption key used to encrypt a data stream or file. A hacker or cracker will require 2256 different combinations to break a 256-bit encrypted message, which is virtually impossible to be broken by even the fastest computers. AES-256 is a symmetrical encryption algorithm adopted by the U.S. and Canadian governments as standards for encrypting transited data and data at rest. Because of the 256-Bits length of the key and the number of hashes, it takes a long time for a hacker to perform a dictionary attack.

OpenVPN
OpenVPN is a very flexible protocol that is widely supported across platforms. It can work over UDP, which provides fast speed, or TCP, which provides higher reliability and stability. OpenVPN allows for multiple types of authentication methods, but ultimately uses SSL/TLS (similar to your web browser) for key exchange. While it typically offers faster access speeds than L2TP, it also requires a third-party software and certificate files to be installed in order to use it. So, you can connect to OpenVPN with 3rd party clients and set up VPN connection without the need of any VPN.ac software. You're recommended to use UDP (settings screen) for streaming and downloading while TCP for security and when on public Wi-Fi.
OpenVPN over TCP is the most popular and reliable VPN connection type. It uses error correction to prevent the loss of information packets during data transfer.
OpenVPN over UDP is often faster than TCP due to having no error correction. While lost packets are inevitable using UDP, certain web technologies are better experienced this way, particularly VoIP and online gaming, where real-time interaction would be interrupted by old, retransmitted data.
IKEv2/IPSec
IKEv2/IPSec combines strong key exchange over 2048bit Diffie-Hellman groups, AES-256bit encryption and SHA256 hashes for integrity checks. IKEv2 is considered a high VPN security standard but just as any other IPSec implementation
L2TP/IPsec
L2TP/IPsec – L2TP over IPsec is more secure than PPTP and offers more features. L2TP/IPsec is a way of implementing two protocols together in order to gain the best features of each. In this case, the L2TP protocol is used to create a tunnel and IPsec provides a secure channel. L2TP is most often used together with IPSec (Internet Protocol security) which guarantees very strong encryption on packet level at the expense of speed. L2TP operates on a fixed UDP ports 500/4500 which makes it easily blocked by firewalls (e.g. in China)

SSTP
SSTP stands for Secure Socket Tunneling Protocol. It is Microsoft proprietary protocol and used to be available for Windows only. Recently Linux and Android 3rd party clients were released. As it uses TCP over TCP it doesn't provide very fast speeds. SSTP uses SSL (Secure Sockets Layer) over a fixed TCP port 443 which makes it appear as general HTTPS traffic and hard to block by firewalls. SSTP is considered to be a very safe protocol.
PPTP
PPTP is a very basic VPN protocol based on PPP. PPTP was the first VPN protocol supported on the Microsoft Windows platform. The PPTP specification does not actually describe encryption or authentication features and relies on the PPP protocol being tunneled to implement security functionality. PPTP tunnels a point-to-point connection over the GRE protocol.
SecureProxy
VPN.ac SecureProxy browser extension for Chrome and Firefox is an addition to our VPN service and provides with the ability to surf the web securely and privately without connecting to the "classic" VPN. It works like a browser proxy and all browsing traffic is encrypted through a secure tunnel. You can check VPN.ac strong and advanced features of SecureProxy:
Strong encryption for all browsing activity using TLS (pure HTTPS traffic)
All SecureProxy servers are carefully chosen with hosting providers that have very reliable, fast connections and excellent peering
Encryption overhead is smaller than OpenVPN's, it is less CPU intensive, and due to design it can be much faster than OpenVPN
Stealth against Firewall/DPI: when inspected using DPI technologies, the connections using the SecureProxy don't trigger alerts like a classic VPN would usually do
There is no need to tunnel all your PC traffic through the VPN: you can have the browser tunneling the traffic through our servers and all other traffic sent via your regular ISP connection. You can call it "a VPN inside the browser"
Current locations available with the SecureProxy extension: USA (8 servers on West Coast optimized for Asian traffic and 4 on East Coast optimized for European traffic, 1 in Central US), Japan (6 servers optimized for Asian traffic), Hong Kong (3 servers), South Korea, Singapore (2 servers), India, Australia, Canada (Vancouver and Montreal), UK (3 servers), Ireland, Germany (2 servers), Austria, France, Hungary, Netherlands (2 servers), Finland, Norway, Czech Republic, Russia, Switzerland, Sweden, Italy, Bulgaria, Ukraine, Lithuania, Poland, Mexico, Denmark, Belgium, Spain, Portugal, Romania and South Africa.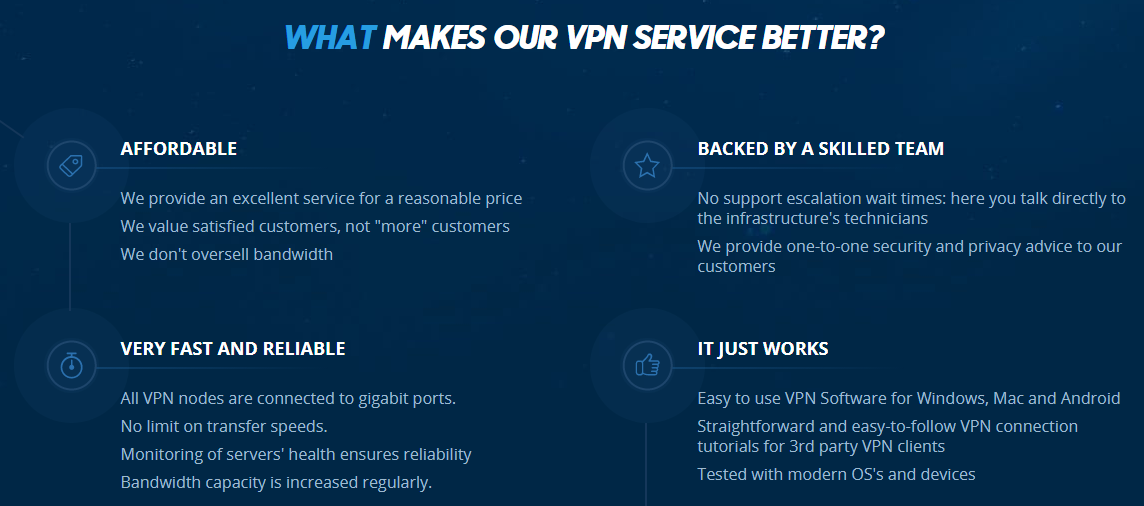 Stealth against Firewall/DPI Feature of VPN.ac Defeats High Censorship
In some countries like Iran, Cuba, UAE, China, Russia, and even Australia carry out strict internet censorship and even have strong measures and tools to prevent VPN use since they want to monitor and control data flow and even collect the metadata of internet users. On one side, these countries want to safeguard the security of the internet and stop any negative contents published on the internet as some unfavorable contents may cause riot, on the other side, some policies about the internet censorship have been limit freedom of online users. Moreover, some countries not only practice strong internet censorship but also uses different kinds of VPN-blocking tools together to block you using VPN tool. And many VPN tools with lower performance and technologies will not survive from intensive censorship. however, VPN tools with Stealth feature have the strong ability defeat internet censorship. A 'Stealth VPN' is simply a VPN server or protocol that is able to disguise VPN traffic as regular web traffic, even when subjected to deep packet inspection by your network administrator or firewall. Stealth VPN can either be implemented on a server or protocol. When you use a Stealth VPN protocol or server, your VPN usage cannot be detected by firewalls or applications that want to block VPN traffic.
Stealth VPN protocols and servers use SSL/TLS encryption that wraps the OpenVPN payload in a second layer of encryption through port #443 (this is the port that normal HTTPs traffic uses), which looks like a normal HTTPS traffic. 'Stealth' VPN technology scrambles or disguises your VPN traffic, making it unidentifiable as VPN traffic, or disguising it as regular TLS encrypted web traffic. Using a VPN service with obfuscation or 'stealth' technology allows your VPN connection to rewrite or obscure the packet headers, so it's unrecognizable. Therefore, VPN.ac has the strong performance to defeat internet censorship and help access any websites from anywhere. VPN.ac service provides top-grade security for WiFi sessions and even allows you to bypass surveillance and censorship from almost anywhere as VPN.ac is powered by Stealth against Firewall/DPI Feature.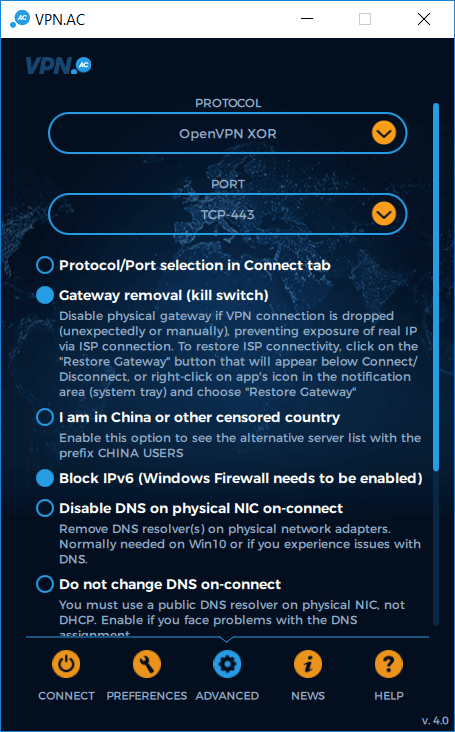 Can I Use VPN.ac to Stream Netflix, Hulu and BBC iPlayer?
Yes, it's perfect to use stream Netflix, Hulu and BBC iPlayer from anywhere across the world. Many popular streaming services including YouTube, Netflix, BBC iPlayer, Hulu and HBO GO etc are using geo-blocking to limit people in certain places to watch their contents. Geo-blocking technology is usually used by websites and company to control and allows people in their specific locations to watch or use the website service. if you are not in the location, you will be blocked to continue the browsing immediately. These kinds of websites like Netflix and BBC iPlayer block your access and any actions by detecting and checking your IP address and identifying your locations. For example, if you want to watch BBC iPlyer outside of the UK, you will not be able to watch any contents there but just receives a prompt telling 'Sorry this video is not available in your countries due to right issue'! Similarly, you can watch Netflix in the United States. If you are outside of the United States, you will not be able to watch Netflix in a regular way.
However, if you use VPN.ac, you can watch all these streaming services from anywhere as it can bypass the geo-blocking restrictions. VPN.ac masks your real IP address and gives you a new IP address to hide your location as these poplar websites block you by checking and identifying your location. For example, you are now trying to watch BBC iPlayer from China with VPN.ac, you just need to connect your VPN.ac with the UK servers and then you will be given a new IP address based in the UK. BBC iPlayer website will not see your real IP based in China but see the IP address based in UK. The BBC iPlayer will just think you are visiting the websites form the United Kingdom. By masking the IP address and changes the locations with VPN.ac, you can watch any contents you like on BBC iPlayer and Netflix from anywhere and anytime.

Video Guides VPN.ac Review – Fast & Secure VPN Service
Top 10 + Best VPN Services Worldwide
View More Top 10 Best VPN Services Here »
VPN.ac Review Conclusion
VPN.ac is a Romania-based VPN service proving high-quality service with low price. It currently has a huge network with 97 VPN servers in 20+ countries and Proxy servers in 32 countries. VPN.ac has professional staff and technical tram with over 15 years of experience in security and networking. Most of VPN.ac servers are connected to 1000 Mb/s (gigabit) channels, with many speed and reliability tests being done before their development in their infrastructure. They do not oversell bandwidth, nor engage in volume-selling and more VPN servers are regularly added to ensure against overuse of VPN.ac locations. At any given time, available bandwidth speed greatly exceeds users' needs- usually at least 10-fold. Double-hop connections for improved privacy and connection speed oversea are the advanced design. You can get complete privacy with Double-hop connections feature. There is no activity logging or monitoring of our users' internet activity. You can get increased privacy through shared IP addresses on VPN. You can also use VPN.ac to surf the web securely and privately without connecting to the 'classic' VPN. The unique and special feature of VPN.ac is SecureProxy. All SecureProxy servers are carefully chosen with hosting providers that have very reliable, fast connections and excellent peering. It is pretty worth using VPN.ac.

Published by Karen Lawrence & last updated on July 1, 2020 8:33 am