How do you know about TunnelBear? Is TunnelBear a secure and reliable VPN service? After reading this TunnelBear review you will get what you expect. TunnelBear is a secure VPN, which can help you browse securely even you are using public WiFi hotspot. It encrypts and protects all your internet traffic and personal information from ISP, snoopers and any prying eyes. You can use it to access any blocked websites due to internet censorship or geo-restrictions in some countries, so that you can open your favorite sites and stream popular streaming service online. There is no throttling or buffering as it is one of the fastest global VPN with fast network. Customers who use this TunnelBear VPN will experience its lightning fast speed om opening website and stream videos in HD mode.


TunnelBear expands their global network to 20 countries. TunnelBear uses the strongest and most advanced encryption AES 256-bit to safeguard user's traffic and personal data. TunnelBear VPN has their own technology called GhostBear which has a strong capability to defeat anti-VPN and bypass the censorship. You can use TunnelBear VPN on multiple devices up to 5 simultaneous connections. That means you are able to use the same TunnelBear VPN account on 5 devices at the same time. Therefore, it is economical to use TunnelBear VPN service with your family members and friends. TunnelBear VPN is compatible with PC, Mac, Smartphone and table based on Windows, Mac, Android, iOS and Chromebook.
TunnelBear Plans and Pricing
Go ahead to read TunnelBear review and learn more about its service plans. TunnelBear VPN provides several plans with different pricing. They are shown as following:
1. Free Trial No Charge
2. 1-Month Plan $9.99/Month ($9.99 billed every month)
3. 1-Year Plan $4.99/Month ($59.88 billed every year, save 50%)
4. 2-Year Plan $4.17/Month ($99.99 billed every two years, save 58%)
TunnelBear VPN provides FREE TRIAL for customers to experience and test basic performance and function of their VPN tool. You can have 500 MB data limit. You are allowed to use TunnelBear account on just 1 device at the same time. But TunnelBear gives free trial users secure internet connection. Even though you are using this FREE TRIAL plan, you still can experience TunnelBear's best-in-class and ultra-fast network scattered in 20 countries. And all your internet traffic is protected and encrypted by AES 256-bit encryption. Therefore, when you are free trying TunnelBear VPN, you are still completely protected by this strong encryption even though you are connecting to free WiFi hotspot.
The paid plans provided by TunnelBear mainly focus on offering unlimited data usage. You can choose the monthly plan or annual plan. Paid packages provide unlimited data usage, 5 simultaneous connections on multiple devices, safe internet connection, advanced and ultra-fast network, unbreakable AES-256 encryption and servers located in 20 countries. Paid plans allow unlimited bandwidth and unlimited server switching, so you can freely connect to over 20 countries while using TunnelBear's lightning fast network.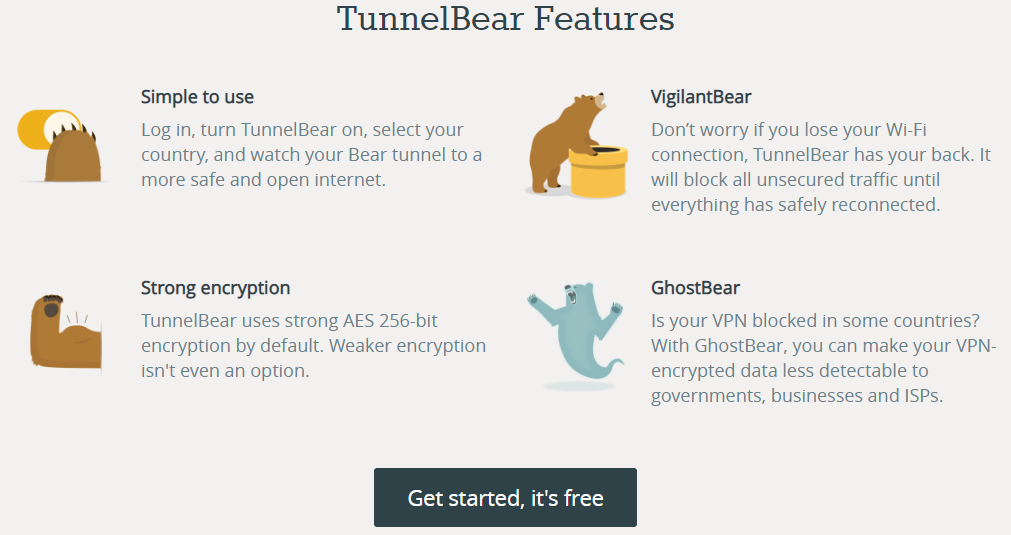 You Can Use TunnelBear VPN Tunnel Everywhere
TunnelBear has ever-expanding network and users can experience its lightning-fast network and connection speed. TunnelBear has expand their servers into over countries on globe: Canada, Germany, Japan, Ireland, Spain, France, Italy, Netherlands, Sweden, Swizerland, Singapore, Brazil, Hong Kong, Demark, Norway, Mexico, India, Australia, UK and USA. You may find that TunnelBear does not offer as many servers as other VPN providers. However, it does provide the ultra-fast servers in all popular and major locations like USA, UK, Hong Kong, Canada, Australia, France. You still can use this TunnelBear to access any websites you want and stream your favorite contents like movies, TV shows, games, sports events and more from anywhere around the world. When it comes to select VPN tool, you should choose the locations you want. If there is no location you want but the VPN service is at lower price, you still don't choose it, as it would become useless actually. Usually the VPN should have servers in such popular locations as USA, UK, Hong Kong, Canada, Australia, France, which seems to be a necessity. Generally, people use VPN tool to access blocked but popular sites and apps like Facebook, Twitter, Instagram, YouTube, Viber, Snapchat, Netflix, BBC iPlayer, Hulu, Amazon Prime Video and so on. Once your VPN tool helps you access the servers located in USA or UK, then you can easily use these popular social media apps and sites. You also can stream your favorite movies, TV shows, programmes, music, sports events from Netflix, BBC iPlayer, Hulu etc from anywhere globally. TunnelBear VPN scatters lightning fast servers in all these popular locations, so you can use it with total ease.
TunnelBear VPN is Equipped with Best-in-class Encryption
For take a look at the TunnelBear review you get the info that TunnelBear is equipped with Best-in-class encryption tech. AES-256 encryption is also one of the most important selling points. This strongest and most advanced encryption is usually applied by almost large and reliable VPN providers. TunnelBear VPN also uses this strongest encryption to encrypt and protect user's internet traffic, which seems to be an encrypted tunnel between your devices and servers. 256 bit means the length of the encryption key. AES stands for Advanced Encryption Standard which is the industry's standard for electronic data encryption. AES-256 bit encryption is an unbreakable encryption method as it is the longest encryption key. It even can't be decrypted by the fastest computer. Therefore, this encryption was used by the U.S. government and military to store the most important and super-secret information, file and data. This highest encryption means high level security and privacy. VPN tool with AES-256 can completely encrypt and safeguard user's all traffic and any personal data. Internet users usually would choose the VPN tool with this strongest encryption method for the sake of user's privacy and online security. With this best-in-class encryption, your ISP or government even has no way to access your traffic, spy on what you do online or collect your data or do metadata collection.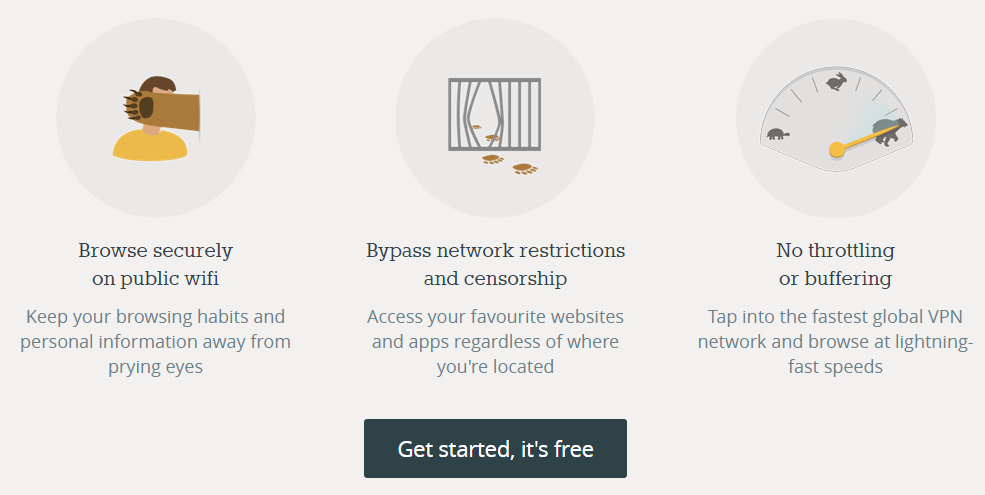 TunnelBear's VigilantBear Mode Protects Your Network Traffic
VigilantBear Mode is developed and applied by TunnelBear. This feature or technology looks like a Kill Switch. VigilantBear Mode aims at giving customers more online security and privacy from ISP and hackers. VPN tool like TunnelBear VPN can encrypt and hide your internet traffic from ISP, hackers and other prying eyes. The encryption of VPN is unbreakable but sometimes even the strongest VPN can fail in connection. Once the VPN tool fails in connection, all your traffic and personal information will be soon in a risk of being found and hacked, as all your internet traffic will travel back through the default servers of your ISP. And your ISP would be the first one who can view and spy on what you do online again. And it would be easy for them know you are using VPN traffic. That means if your VPN connection fails, it would leave your traffic exposed.
VigilantBear Mode is created to solve this kind of problem. This feature can keep your location and data private in that brief second while your TunnelBear VPN is disconnecting then connecting back. TunnelBear's VigilantBear can work well with Windows, macOS and Android currently. So, if you are using TunnelBear VPN on these devices, you can experience this advanced technology to protect your traffic and data completely. As soon as your VPN traffic fails in connection, this VigilantBear mode will immediately activate and automatically stop your traffic from entering or leaving your device. VigilantBear mode effectively prevents your network traffic being traveled back through your ISP and then exposed to prying eyes. Therefore, VigilantBear has a strong ability to protect all your internet traffic in brief seconds when TunnelBear VPN disconnects then reconnects. And if you have any problems with your TunnelBear's VigilantBear mode, you can consult with TunnelBear support.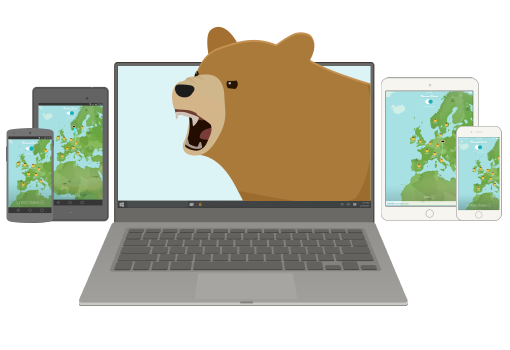 It's Safe to Use TunnelBear's GhostBear Feature to Defeat Anti-VPN and Censorship
GhostBear Feature developed by TunnelBear is a very useful technology. People who want to use a VPN tool usually need a strong ability to defeat the detection of anti-VPN tools and bypass the censorship, then people can access the websites and apps successfully. GhostBear Feature mainly helps hide your traffic and encrypted from detection by ISP, government, businesses and other third parties. TunnelBear VPN with GhostBear is the most secure solution to access blocked websites in internet-censored countries. GhostBear feature is compatible with devices based on Windows, macOS, and Android. VPN tools have weak performance in avoiding being detected by anti-VPN tool and censorship, and these VPN tools would be soon found by internet censorship and filtered out. So, weak-performance VPN tools especially free VPNs are useless in internet censorship countries.
Many countries on the globe are carrying out the internet censorship to control and supervise their domestic or national internet. The internet censorship together with laws and regulations has a powerful effect on VPN tool usage. Many countries also use anti-VPN tools to help detect VPN tools. The Anti-VPN tools used by government have a strong capability to detect and filter VPN tools used by internet users. So, now many VPN tool providers improves their technologies to make their VPN tools powerful in avoid VPN-blocking tools. Different VPN providers have different methods and technologies to make their tools strong enough to bypass the detection of VPN-blocking tool. TunnelBear VPN designs this GhostBear feature to make your internet traffic and data undetectable to these VPN-blcoking, ISP, government and any parties. Wherever and whenever you are using TunnelBear, you will not be exposed to ISP, government and any parties. And GhostBear feature can strongly protect you from any detection of VPN-blocking. You can enjoy complete anonymity and privacy on the internet when you are running this GhostBear feature on your devices. With this GhostBear feature, the VPN-blocking will have no ability to control over your TunnelBear VPN.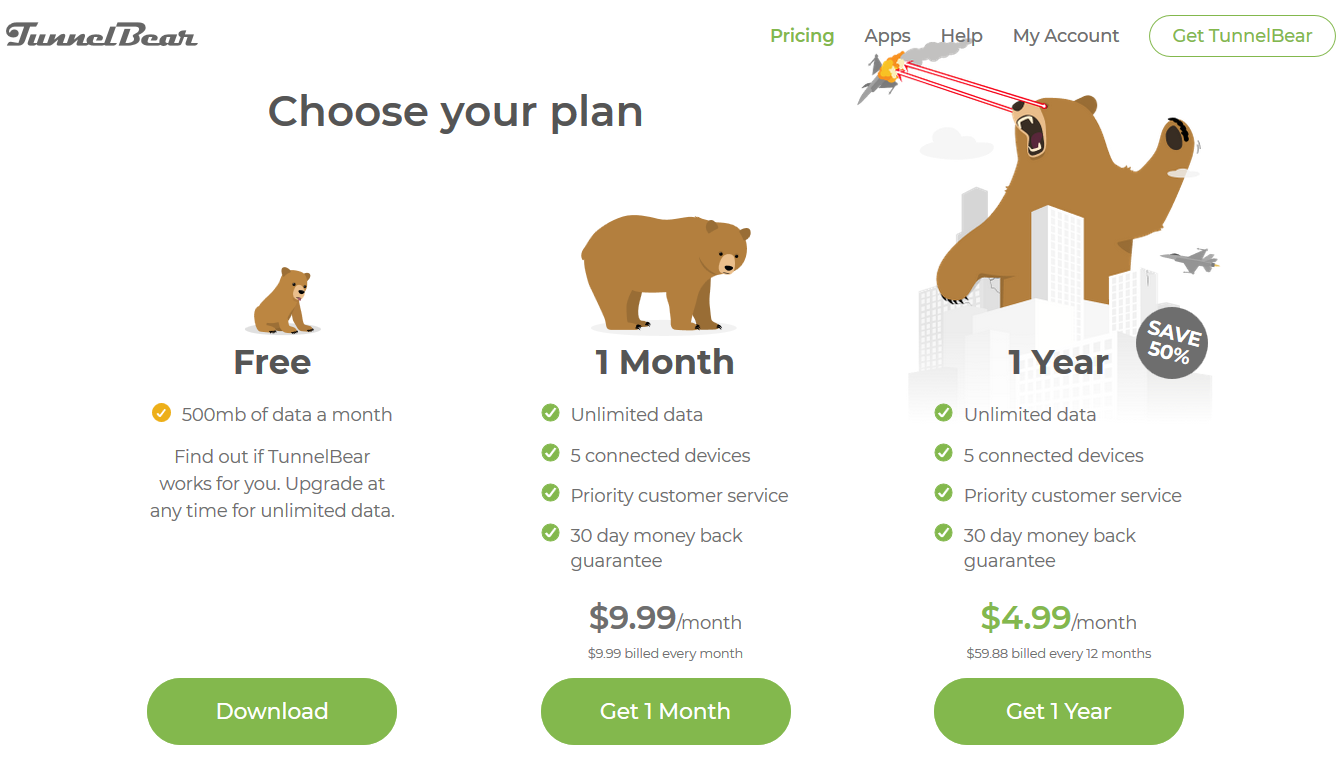 TunnelBear VPN Gives You Safe WiFi Protection
Nowadays, people rely more on WiFi network for entertainment, work, communication and other aspects. WiFi network is a must-have wherever people go and stay. People can connect their devices with WiFi network, then doing such online activities as watching movies, TV shows, programmes, reading news, listening to music, chatting with friends, shopping online, doing transactions, billing transferring, finishing work tasks and more. Therefore, WiFi network is targeted by cyber criminals and snoopers who want to monitor what people do online and collect personal sensitive information for illegal purpose. Public Free WiFi network is especially a pool for breading cyber criminals and hackers. Public network or Free WiFi Hotspot in café, restaurant, airport and more is mostly used by almost people, and meanwhile Public network or Free WiFi is a low-security network. That means public network and free WiFi are easily invaded by hackers and cyber criminals. Snoopers and cyber criminals can easily control low-security WiFi network and put some malware, adware, phishing and even Trojan horse to track internet users who use the same WiFi network. Then cyber criminals can trace what internet users do online and collect their personal sensitive information. Sometimes, your device would be totally controlled by these attacking malware, adware and phishing things. It is not safe to use WiFi connection especially low-security free WiFi hotspot without any protection solution.
However, if you are running VPN tool like TunnelBear VPN on your device while you are connecting to free WiFi network, all your traffic will be encrypted and protected completely by TunnelBear VPN. This is because TunnelBear VPN can create an encrypted and secure traffic tunnel between your device and servers you connect to over public network, which looks like a private, unique and secure tunnel for you internet traffic. Even though you are shopping online and making payment under unsecure WiFi connection, all your personal sensitive information and data will have no way to be exposed and can't be hacked by cyber criminals. TunnelBear VPN applies the strongest encryption method to protect internet traffic from any prying eyes. Therefore, once you are using TunnelBear VPN on your device, you can get secure WiFi protection by different secure solutions provided by TunnelBear.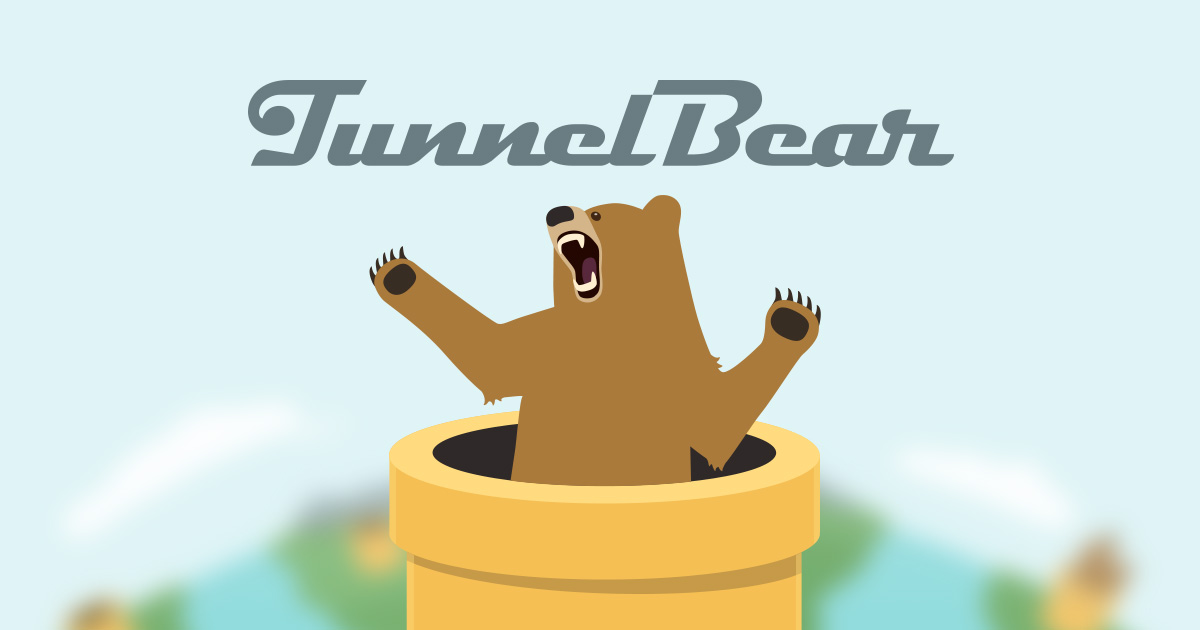 Video Shows TunnelBear Review
Top 10 + Best VPN Services Worldwide
View More Top 10 Best VPN Services Here »
Summary
After reading the TunnelBear review you understand that TunnelBear VPN has a high level performance in speed, secure WiFi protection, ultra-fast network. It can encrypt all your internet traffic and data with bank-grade encryption method, so that no one has the ability to hack what you do online. It is completely secure to use this TunnelBear VPN as TunnelBear has a strict no-logging policy which means TunnelBear never log any activities of customers using their service. Although TunnelBear has not as large enough network as other VPN providers, it does keep improving and expanding their network servers, and customers can get lightning fast speed. Customers can use TunnelBear VPN to stream popular movies in HD mode without lag. TunnelBear protects your network connection whenever you are using network, allows you to bypass censorship to access internet-censored websites, hides your IP address but replaces with new IP address to make you anonymous online, and then you can watch any contents wherever you are. VigilantBear and GhostBear features are innovation technologies created by TunnelBear in order to give customer a higher level of security, privacy, and anonymity on the internet. It is worthwhile using this TunnelBear VPN service on your devices.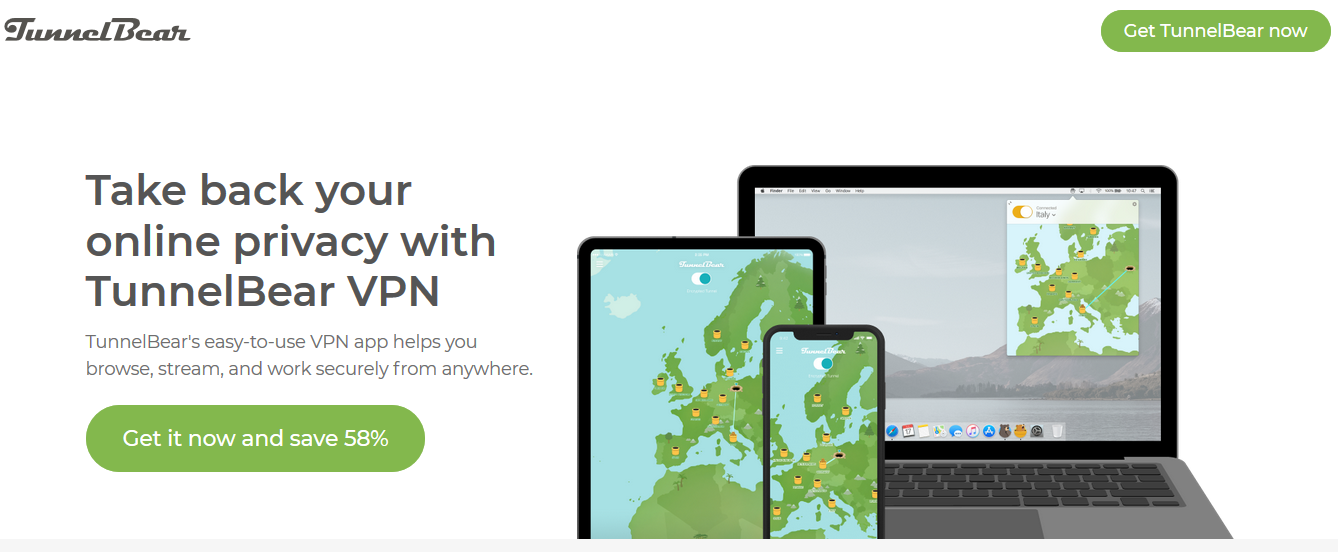 Published by Tony Shepherd & last updated on June 15, 2020 4:48 pm