Is Surfshark free trial available? Does Surfshark really offer a free trial to let you test out its service before committing to a long-term subscription? For people who are new to the VPN market, it's a difficult job to choose a right VPN that fits all their needs. Even if Surfshark VPN is considered as the fastest, super reliable and exceptionally affordable VPN service out there, you may still want to experiment with it first before you buy, because you don't know if it is the one for you and you don't want to take any risk. Now Surfshark is giving you a risk-free opportunity to try out its VPN service on all your devices. The service offers free trials on iOS, Mac OS and Android. For Windows users, you can take advantage of their 30 day risk-free trial to dive into the oceans of unlimited, unrestricted, and secure internet with Surfshark VPN in 30 days. No "limited" plans. No "trial" restrictions. You will enjoy the full-featured version of Surfshark with Industry-leading security protocols, 800+ high-speed servers and unlimited bandwidth, completely risk-free. Read on to learn how to get a Surfshark risk-free trial.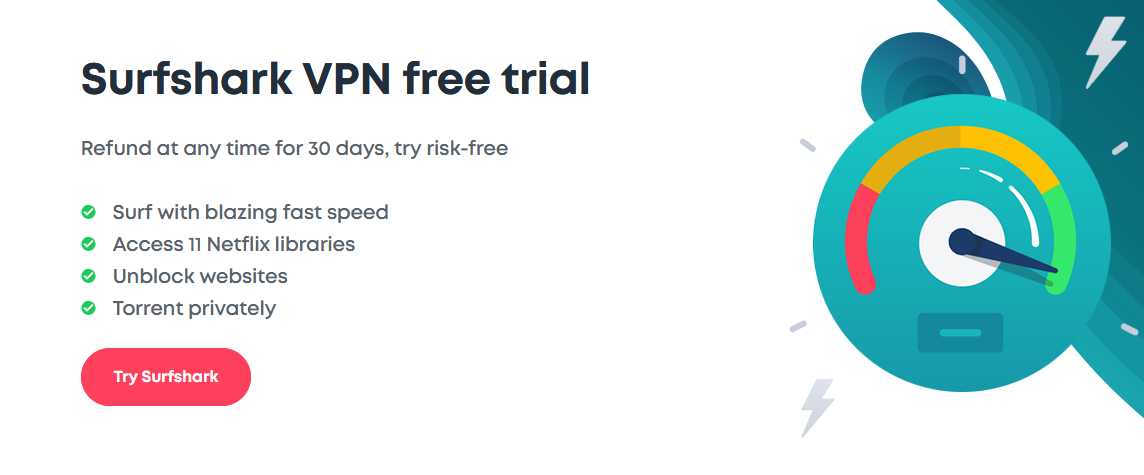 Surfshark VPN – A Powerful VPN That Secures Your Digital Life

Surfshark is one of the fastest-growing VPNs that offers great security, fast speed, and stable connection to help users stay safe and protected online. Although Surfshark is a new comer, it carries all the basic features of a well-established VPN and can be comparable to top-rated and established industry leaders. Similar to ExpressVPN, which is the world's leading premium VPN provider, Surfshark VPN is also based in British Virgin Islands, and therefore it pursues a no logging policy and neither records data nor stores user activities. The VPN is available for all major platforms, including Windows, MacOS, iOS, Android, Linux, and it offers manual configurations for various other routers and devices like game console, smart TV and more. Plus, Surfshark VPN offers browser extensions available for Chrome and Firefox, which let you easily secure all of your web activity and change IP address with a simple click. Surfshark can be used on as many devices as you want, making it a clear favorite if you need a large number of simultaneous connections. Until now, Surfshark has had more than 800 servers in over 50 counties and its VPN network is consistently expanding. If you are looking for a VPN with reliable security, impressive speeds, affordable price, unlimited simultaneous connections, and the ability to stream geo-restricted content from all over the world, then Surfshark is definitely an ideal solution for you.
Surfshark VPN comes with a simple installation method. There are no unwanted distractions or bundled offers, and everything is very streamlined. Once installed, Surfshark allows you to access geo-locked content from anywhere in the world instantly, so you can watch streaming services without your ISP restricting you. This VPN service creates a private, secure internet connection between your computer and a server, which reroutes and thus conceals your online activities. Therefore, no one can track your browsing behavior on public networks, and your data will always be protected from the prying eyes of hackers. Surfshark uses diamond-strong encryption and private DNS on every server. It relies on AES-256 encryption, which is the VPN industry standard. Paired with OpenVPN and IKEv2, you should be able to browse the Web carefree. When it comes to security, Surfshark proves exceptional. It covers many advanced features, such as Kill Switch that ensures your private online activity will not be vulnerable to sudden drops in connection, and a MultiHop double VPN chain that encrypts your data across two or more servers to enhance your security. Surfshark also makes sure you're free of ads, trackers, phishing attempts, and anyone who wants to spy on you thanks to its CleanWeb feature. Overall, Surfshark is a good privacy-friendly VPN service that ticks all the important boxes with ease.
It's quite important to maintain your internet privacy, so you really should give Surfshark a try to get more anonymity while surfing on the web. Unfortunately Surfshark doesn't offer a free trial for Windows users., but it comes with 30 days money back guarantee. With Surfshark 30 day risk-free trial, you will have plenty of time to test out this VPN service to see if it is a good fit. In addition to the trial, you can also get 83% off Surfshark here. It drops the price down to $1.99 per month when you sign up for the 24 months plan. Hurry up. Be the first one to grab the biggest savings at Surfshark. Refund at any time for 30 days, try risk-free!
Surfshark Pricing Plans: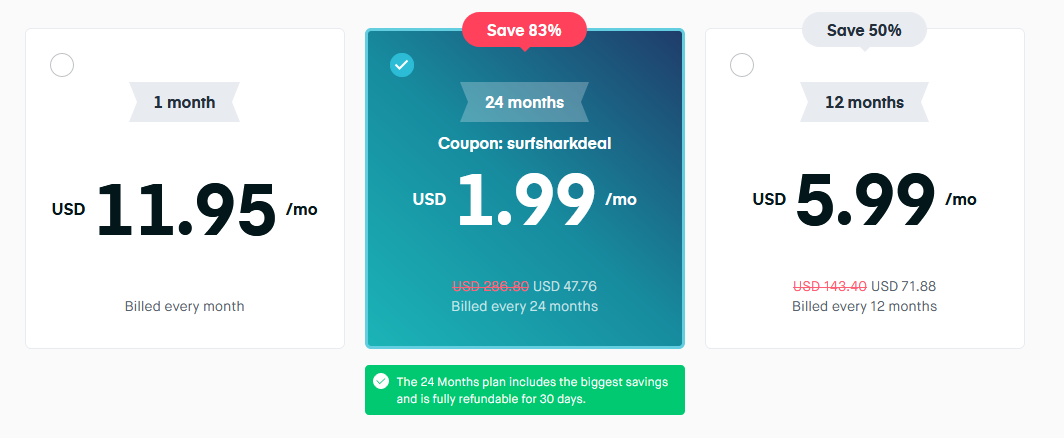 Surfshark VPN is offering 3 pricing tiers, so you can pay for monthly, annually or biennially. All the three subscription plans are reasonably priced and very straightforward to understand. Here are the details:
1 month – $11.95 per month – Save 0%
12 months – $5.99 per month (Billed $71.88 every 12 months) – Save 50%
24 months – $1.99 per month (Billed $47.76 every 24 months) – Save 83%
As you can see, Surfshark's per-month pricing is somewhat on the high end of the scale, but steep discounts are available for 1-year and 2-year subscriptions. Now the best pricing option is its 24-month plan, which comes out to only $47.76 in total. That means you can get a Surfshark subscription for $1.99/month if you pay for 2 years ahead. Definitely take advantage of their generous 30-day risk-free trial to decide if you like this service.
Surfshark VPN 7 Days Free Trial & Risk-Free Trial for 30 Days
Surfshark is generously offering a full 7 day free trial version for you to test out their service on Android and iOS. Although it doesn't explicitly offer a "trial" version for Windows users, people still can take advantage of its 30 days money-back guarantee. The risk-free 30-day money-back guarantee ensures you'll get a full refund within your first 30 days of use if you are not satisfied with Surfshark VPN service. Longer than the standard 7-day free trial, you have a full month to get to grips with the features and interface, so you can truly determine if Surfshark is the right VPN for you. Unlike other VPN providers that only offer a limited bandwidth and few selected features to their free trial version, Surfshark includes all the premium features in their free trial. So, you will be able to enjoy fast speeds across 800 servers, a strict no logs policy, advanced security protocols, Kill Switch, and no ads, trackers, or malware. You can download torrents and even unblock mainstream online content streaming services like Hulu and Netflix too. Surfshark VPN is absolutely risk-free. If you are happy with the service and decide to go ahead with a subscription with Surfshark after 30 days or in the future, don't forget to get Surfshark coupon code to save 83% off your order.

Payment Options:
Surfshark recently expanded its payment methods and now it accepts payments from nearly every method. You can pay with credit cards and debit cards, no matter it's Visa, Mastercard, American Express, or Discover. Or you can pay with Paypal if you don't want to expose your credit card number and other personal information. Other accepted payment methods include Google Pay, Alipay, Ethereum, Bitcoin and more. It's fantastic that Surfshark accepts Bitcoin, because that means people will be able to pay their service with 100% anonymity. Paying with Bitcoin doesn't require people to expose their real name, card number, billing address or any personal information, all it needs is an email address and that's it.
Whatever the payment method you choose, you can enjoy Surfshark's 30-day risk-free trial and money back guarantee so you have nothing to risk when you join. Why wait? Click on the button below to get private access to the open internet with Surfshark now!
Why Choose Surfshark VPN?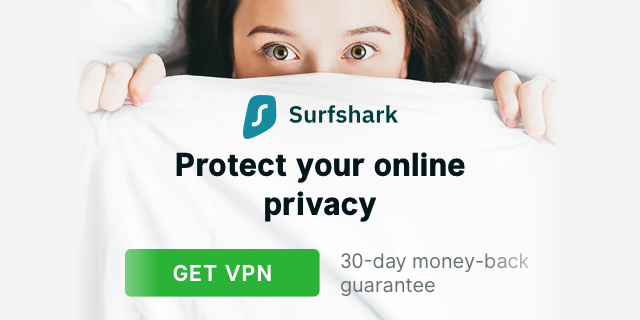 If you think that you're a normal citizen and you don't need a VPN service for your daily internet activities, there are chances that you're wrong. You probably don't know that your ISPs like AT&T, Comcast, Time Warner, Sprint and Verizon can sell your personal data like web browsing history to advertising partners, and your government may spy on your online activities and track every website you have been visiting. All these activitues are done without your knowledge and consent. So, the Internet is not as safe as you think. When you get on the Internet, you have to resign to the fact that you are being tracked and your activities are being monitored. In addition, if you are surfing the web or transacting on an unsecured Wi-Fi network, it's easily for you to expose your private information and browsing habits. Therefore, getting a VPN to protect your online security and privacy is extremely necessary. A VPN can help you get access to region-restricted sites, save yourself from hacking risks while using public Wi-Fi, and it gives you more control over your privacy, which is a basic human right.
With so many VPN services available, it can be difficult to choose a provider with confidence. Surfshark is not a big name in VPN market yet, however it's a highly powerful VPN client that protects not only the user's IP address, but also physical location, online identity, passwords, credit cards, and other important aspects of one's digital life. Surfshark comes from the British Virgin Islands, which is a good VPN jurisdiction because this country doesn't have data retention laws and it has full autonomy that protects businesses found within its borders. This also means that the 14-Eyes Alliance won't be able to get to your data. By offering 800+ high-speed servers across more than 50 countries, you will find it easy to circumvent region blocking and bypass internet restrictions with Surfshark. Besides, Surfshark works with Netflix and it can help you unblock 8 libraries in US, France, Japan, Italy, Australia, the Netherlands, India, and Italy with zero-buffering speeds. While most VPNs limit you to three or five simultaneous connections, Surfshark allows you to connect with unlimited devices. It also offers a no logging policy, enterprise-grade infrastructure, 24/7 support, and IKEv2 protocol support, which offers 256-bit encryption. Other highlighted features include Kill Switch, ad-blocker, Zero-knowledge DNS and MultiHop capability. In addition, P2P/torrent support is available, with support for streaming players including Ace Player, VLC, and PopcornTime.
Whether you need a VPN for hiding your Internet activities, bypass your government's internet censorship or simply just want to get full access to Netflix content anywhere, Surfshark meets all you need. Still not convinced? Get Surfshark Risk-Free Trial to experience all features of Surfshark now!

Surfshark VS Free VPN – Which Should You Choose?
Using a Virtual Private Network (VPN) is one of the easiest ways to protect yourself online. But due to the huge number of different services available, choosing one is particularly difficult. Free VPNs sometimes does help for accessing geographically-restricted content, but there are some drawbacks, and they can't really provide the necessary protection for people. Free VPNs could inject targeted ads and spam into your browser, and they mostly limit your data usage. The worse is they could log your browsing history and record your information without your knowledge, then sell the information to advertisers. Take these drawbacks into consideration, choosing a free trial from a trusted VPN would be the smartest option for people who looking for security and anonymity online.
With 256-bit encryption, access to Netflix libraries around the world, support for torrenting, fast data speeds, and an app for every platform with unlimited connections, there is no reason not to choose Surfshark VPN. Surfshark offers 7 days free trial to new users on iOS and Android, and its 30 days money back guarantee is actually longer than most free trials, which last for a week usually. You still can test the service before you hand over your money. In addition to the 30-day free trial, Surfshark is offering a massive discount on its VPN service. During their promotion you can save up to 83% off their 24 months plan. Surfshark is a VPN that is very close to perfection. You really should give it a try!


Video Guide on How to Get Surfshark Risk-Free Trial for 30 Days
Top 10 + Best VPN Services Worldwide
View More Top 10 Best VPN Services Here »
Conclusion:
While most "free trial" programs offer a demo version of the product with limited functionality for only one device, Surfshark's 30 days risk-free trial lets you experience all its features on all of your devices without taking any risks. You will have plenty of time to test out the service and decide whether or not you're sticking with it. With Surfshark, you can enjoy all the great features you expect from leading VPNs, like unlimited bandwidth, 24/7 customer support, kill switch, ad-blocker, unlimited simultaneous connections, top notch customer support and more. Surfshark is the ultimate tool to maximize your online privacy and freedom. It deserves a try!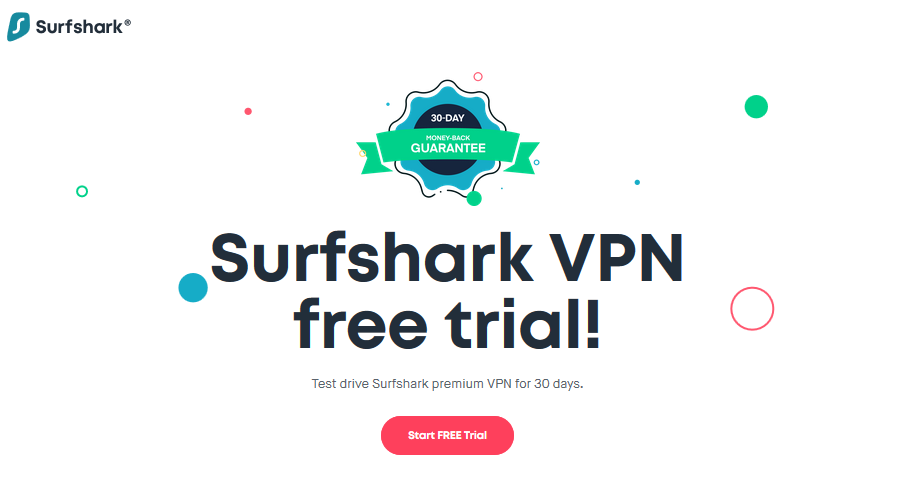 Published by Tony Shepherd & last updated on April 13, 2020 3:59 pm