Can the SPAMHAUS MoneyPak Virus block/lock your computer? When i try to start my PC my desktop changed to some screen that wanted me to pay 300 dollars, it says "You have 48 hours left to enter your payment".  Computer blocked for watching child porn, but i can tell i didn't visit any website or click on link related to porn. I was super screwed with that SPAMHAUS MoneyPak Virus Cybercrime bull. Should i still go out and buy the Moneypak? I was not able to sleep well last night as a result of the message. How to remove SPAMHAUS fraud virus permanently? Please help!

SPAMHAUS MoneyPak Virus – "You have 48 hours left to enter your payment" – how to remove?
SPAMHAUS MoneyPak Virus (Alias Spamhaus Online Agent V 2.0.8) is a ransomware attack hoax that freezes users PC and then blocks it with the message that "You have 48 hours left to enter your payment.".  This message is a scamware which is created by Cyber criminals to scare computer users into paying a fine of 300$ to unlock the computer locked for against USA law violations. Spamhaus traces the Internet's spam senders and spam services, provides dependable realtime anti-spam protection for internet networks, and works with Law Enforcement to identify and pursue spammers worldwide. One of the most convincing ransomware attacks that cyber criminals are using to extort money is the United States Department of Justice Virus, FBI Virus and FBI Cybercrime Division. If you received computer locked for child porn and you have to pay $300 within 48 hours in order to unblock your computer there is no doubt that your PC is infected with a ransomware virus – don't pay any fines but read more review about this lockdown computer notice.
The SPAMHAUS MoneyPak Virus is one of the most common viruses in the long line of moneypak ransomware attacks. This virus targets computer users that are running a Windows based operating system and displays a fake message claiming to be from the SPAMHAUS Project, stating that the computer has been linked to the distribution of SPAM messages, pornographic material, and copyright content, and therefore has been blocked. The virus locks the computer from accessing any programs or files and the user cannot navigate away form this message unless they manually shut down the PC by hand. When it is powered on again, the message will immediately pop up and lock the computer. This occurs even if the computer is started in safe mode.
The SPAMHAUS MoneyPak Virus instructs the user that they must pay a fine of $300 in order to regain access to the computer and remove the lock. The virus also accesses the webcam on the computer and displays the video real time within the message. This makes the message appear to be more serious and it does a very good job at scaring the user into thinking that they are indeed in trouble. Furthermore, it states that if the fine is not paid right away there will be additional penalties, including criminal charges.  This is not real but a big scam, please take a quick way to get it off of your computer.
To save your computer, Live Chat with YooSecurity Expert Now. You can follow the manual removal guide below to get your problem fixed. (For advanced computer users)


Screenshot of Fake SPAMHAUS MoneyPak Virus Scam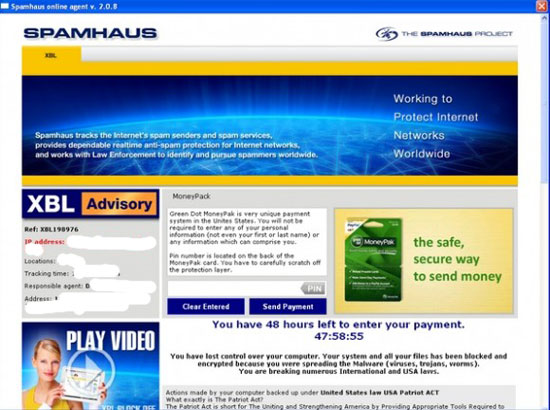 Symptoms or Harmfulness of MoneyPak Scam
SPAMHAUS
THE SPAMHAUS PROJECT
Working to protect Internet Networks Worldwide
Spamhaus tracks the Internet's spam senders and spam services, provides dependable real-time anti-spam protection for Internet networks, and works with Law Enforcement to identify and pursue spammers worldwide.
XBL Advisory
MoneyPak
GreenDot MoneyPak is very unique payment system in the United States. You will not be required to enter any of your personal information (not even your first or last name) or any information which can compromise you.
Pin number is located on the back of the MoneyPak card. You have to carefully scratch of the protection layer.

SPAMHAUS MoneyPak Virus first locked your computer and claiming they are the FBI Government police, you will be arrested by violating USA Law.
You have 48 hours left to enter your payment.
You have lost control over your computer. Your system and all your files has been blocked and encrypted because you were spreading the Malware (viruses, Trojans, worms). You are breaking numerous International and USA laws.
Actions made by your computer backed up under United States law USA Patriot ACT What exactly is The Patriot Act? The Patriot Act is short for The Uniting and Strengthening America by Providing Appropriate Tools Required to Intercept and Obstruct Terrorism Act of 2001. We have the right backed by law: Sec. 20/. Authority to intercept wire, oral, and electronic communications relating to terrorism. Sec. 202. Authority to intercept wire, oral, and electronic communications relating to computer fraud and abuse offences. Sec. 209. Seizure of voice-mail messages pursuant to warrants. Sec. 227. Interception of computer trespasser communications. With the support of the federal Bureau investigation department on cybercrime and the Supreme court of the United States of America. We have the legal right to scan and intercept any information going in and out of your computers.
You IP address (X.X.X.X) was identified and isolated by our organization in connection with a complaint to the involvement of distributed denial of service (DDaS) attack such organizations: NASDAQ and BATSS stock exchange markets and WIKILEAKS.ORG website. Such attacks caused $15 billions in damage. In order to isolate this infected files we have blocked your access to the outside world and your OP address was listed in our XBL Block List. You can not use the in ferret or any of your programs. You have a chance to settle this issue right now before we contact the proper authorities. Within 48 hours, you can pay afire of $ 300. All your files will be decrypted, and access to the computer will be granted, a claim for compensation from affected from affected companies will be removed and your IP (X.X.X.X) address will be restored to good standings with XBL Block List. If you don't pay a penalty within the next 48 hours, local authorities and secret service will be contacted, and most likely it will result in your arrest. You can and will be prosecuted to the fullest extent of the law in order to recover our lasses. Do not take a chance to be convicted as a felon.
Our Spamhaus agent has conducted a full check of your system and found following violations: • You are a distributor of pornography and porno materials, regularly watch porno sites with child pornography and zoophilia. • You possess unlicensed software and pirated audio and video records. All SPAMHAUS MoneyPak Virus Computer Blocked Scam tells are not real!!!

18 U.S.C. § 2252- Certain activities relating to material involving the sexual exploitation of minors (Possession, distribution pornography and possession, distribution of child pornography). 18 U.S.C. § 2252A- certain activities relating to material constituting or containing pornography, child pornography. Federal law prohibits the production, distribution, reception, and possession of an image of child pornography using or affecting any means or facility of interstate or foreign commerce (See 18 U.S.C. § 2251; 18 U.S.C. § 2252; 18 U.S.C. § 2252A). Specifically, Section 2251 makes it illegal to persuade, induce, entice, or coerce a minor to engage in sexually explicit conduct for purposes of producing visual depictions of that conduct. Any individual who attempts or conspires to commit a child pornography offence is also subject to prosecution under Federal law. Any violation of federal pornography or child pornography law is a serious crime, and convicted offenders face severe statutory penalties. 18 U.S.C. § 2251, face fines and a statutory minimum of 15 years to 30 years maximum in prison.
Criminal Copyright Infringement-17 U.S.C. § 506(a) and 18 U.S.C. § 2319. The unauthorised reproduction or distribution of this copyrighted work is illegal. Criminal copyright infringement, including infringement without monetary gain, is investigated by the FBI and is punishable by up to 5 years in federal prison and a fine of $250,000.
Once we receive your payment and our operators check it for authenticity, your computer will be completely unlocked and decryption software developed by our firm will be provided. You will be able to resume your normal day to day operations without any interruption.
Take better care of your computer in the future. Don't forget to update your web browser using Windows Updating Center.
How to Unlock Computer From SPAMHAUS MoneyPak Virus Scam Warning Screen Notice?
Since the SPAMHAUS MoneyPak Virus places itself into the PC system and totally blocked your computer. Removing the virus manually is always the best option as you can't do anything at the moment. YooCare/YooSecurity provides the most professional online PC service. YooSecurity experts can plan out a solution to access your computer in safe mode with networking at first. When it's possible to do that, their experts will do as follows:
Before all you people who are going to get in safe mode with networking or safe mode with command prompt, you need to keep hitting F8 key, where is the key?

Step A: Restart computer in safe mode with networking. To do this, just need to press F8 key constantly before the system is started like this: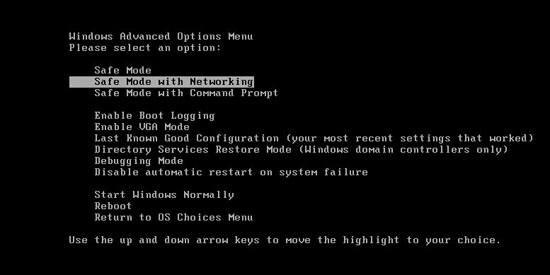 Step B: Press Ctrl+Alt+Del keys to open the Task manager to stop the progress of SPAMHAUS MoneyPak Virus Scam Malware. Because the name will be changed fast, it will be show with different name.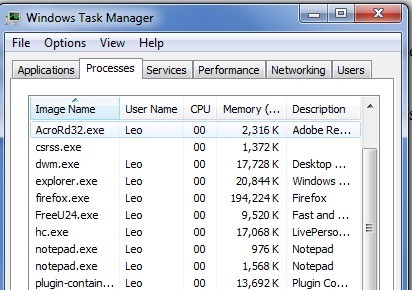 Step C: Delete all the files related to SPAMHAUS MoneyPak Scam Malware.
Step D: Delete registry entries of SPAMHAUS MoneyPak Virus scam created in computer system.
The SPAMHAUS MoneyPak scam malware doesn't attempt to destroy the computer system like many of the other viruses. The hackers have just one goal with this virus, and that is to infect as many computers as possible in an attempt to get a large percentage to send them the money. This virus alone is responsible for scamming millions of dollars from unsuspecting PC users that fall for the scam each year.
Video Guide to Remove Locked Computer Virus
Note:
Even though this is a blatant scam put together by cyber criminals, it still tricks thousands of users every day into sending money. Never send money to someone you do not know through the Internet, and the fact that it requests that a prepaid payment method be used is a dead giveaway that this is not real. The only way to regain control of the PC and stop the computer block is to remove the virus files. We have listed a manual removal guide above that can be followed to remove the SPAMHAUS MoneyPak Virus completely form the computer. Many people have ran a virus scan through avast and spybot, and am still having trouble getting it removed.  This ransomware changes fast and no anti-virus program can pick it up, that is why currently users having a problem with ransomware on their hard drives. That is a big headache!!!
Special tips: Spending a lot of time fixing your computer with no success? Don't want to get things worse, please contact PC experts now to unlock your computer and remove SPAMHAUS MoneyPak Virus scam safely and completely.

Published by Matt Johnston & last updated on April 18, 2013 4:08 am