Are you having a hard time to get rid of the qtype.inspsearch.com popup on browser? Does this web site popup keep reappearing on your browser whenever you try to surf online? Is it blocking you from accessing a lot of web sites online? How to remove this popup from your browser? What to do to restore browser from this problem?

Qtype.inspsearch.com – Remove Browser Hijacker
Qtype.inspsearch.com is a pop up browser hijacker that can attack many browsing applications including Internet Explorer, Mozilla Firefox and Google Chrome on computers. By deceiving computer users that it's a helpful search engine, it can trick innocent PC users into online potential malware scams. Computer hackers are believed to be associated with this browser hijacker in backstage. They use this hijacker to record browsing histories on the infected computers and then benefit from the valuable info collected out from them later on. If you constantly receive this particular popup on your browser, you may end up being a victim to unknown cyber scams later if the problem can't be fixed timely.

Generally, a browser hijacker can be put on your browsers via bundling with the unknown downloads you have made. It won't be picked up by antivirus security programs as a computer virus. Hence, this browser hijacker will install its program and become activated each time you start the infected browsers by resetting their default structures. Qtype.inspsearch.com shows up in the form of the search web site and will mostly become the new home page on your browsers. When searching from this adware search engine, you can be redirected to unwanted web sites or malware ads. You can't access wanted resources online either because of the constant blocks from this pop up web page. In a word, your browser will be completely messed up by this problem:
You can be blocked when accessing web sites online by constant popups.
You can be redirected to certain unknown web pages or URLs.
Your browser can stop responding once in a while.
You can receive false pop up ads on the computer.
Browsers and related applications run in a lack of speed.
…
How to remove Qtype.inspsearch.com on computer?
To delete this popup from browser completely, running security programs turn out to be useless according to lots of net users. In this case, computer users are suggested to remove this popup manually from the following guide. Manual removal with expertise can usually guarantee a complete fix. One will need to identify, delete and adjust associating files and registry values, clear browsing histories and online cookies, then reset browser default settings manually. Advanced computer skills will be needed during this progress of removing the browser hijacker.
Suggestions: If you are not a computer savvy and don't know how to delete Qtype.inspsearch.com hijacker, contact YooSecurity Online PC Experts for help now to save PC from all the potential consequences:


The Hijacker Popup Screenshot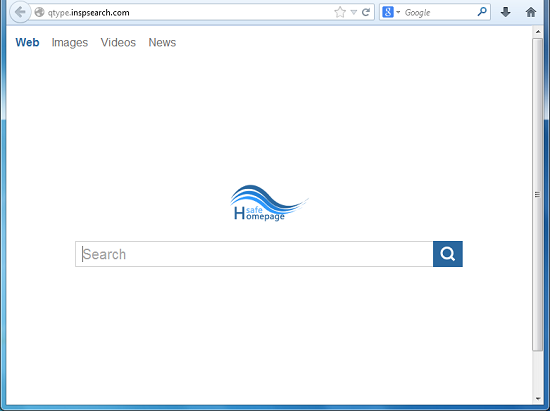 * From the appearance this browser hijacker looks like a regular search web page. It provides a search engine for PC users to search for wanted resources online. However, when you attempt to search from this pop up web page, you are going to be blocked and redirected. You may also receive constant popups when reviewing web sites. This browser hijacker is bundled with online third-party tracking cookies which is very helpful in collecting users' online data. Sensitive information like usernames and passwords will be sold to hackers for criminal usage later on.
How do I block all the popups from Qtype.inspsearch.com?
Popups are really annoying and usually contain misleading information. For instance, you may be told that your PC is at risks and you need to download certain "protection tools" to fix the problems. Similar popups can be seen a lot often when your browser is infected by a hijacker problem. Malware and spyware can use these popups to get on your computer. They can't be blocked entirely until the hijacker is removed off of the computer.
Browser Hijacker Manual Removal Instructions
A step-by-step guide to remove the hijacker popups manually from Firefox:
1. Windows Task Manager.


Press CTRL+ALT+DELETE or CTRL+SHIFT+ESC; or pull up Run box from Start menu to type in taskmgr
Right click on items you want to end, select Go To Process
Click on End Process
or
Click on Processes tab
End process of all Firefox items
2. Delete virus files and adjust registries from system.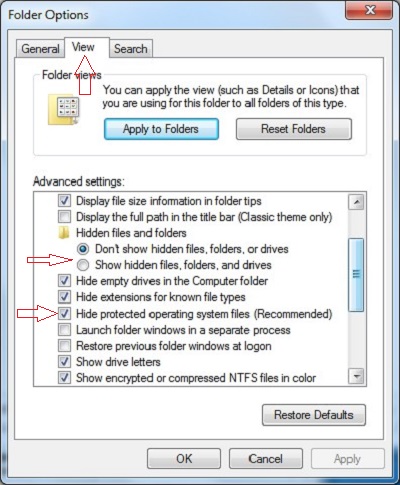 Click on Start button
Control Panel
Search for "folder options" on top right corner
Click on View tab
Show hidden files, folders, and drives
C:\Users\profile name here\AppData\-
HKCU\Software\Microsoft\Windows\CurrentVersion\Run\-
* Files and registries of the Qtype.inspsearch.com hijacker can be changed or renamed time from time in order to keep the infection functioning longer. If you are not able to identify the related items, contact online experts for help instantly.
3. Reset Firefox.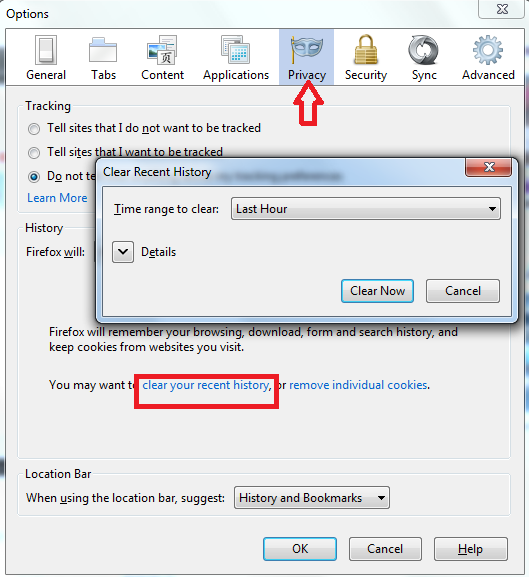 Click on Tools – Options
Under General tab – reset home page on Firefox
Under Privacy tab – clear browsing histories
4. Close out all the windows and restart the system to take effects.
Similar video on browser hijacker removal:

Conclusion
Browser has stopped working and Qtype.inspsearch.com popup always reappears on browser page? When your browser is infected by a hijacker, situations like these can be expected often. This specific pop up web site is a browser hijacker problem. It first gets on your browser without consent, then modifies the default settings to cause constant chaos including scamming PC users and stealing sensitive information for cyber criminal usage. Basically, the general functions of a browsing application will be disabled by a browser hijacker in which users won't be able to search online properly without being blocked or redirected. What's more, this browser hijacker popup is also capable of bringing other dangerous malware onto the infected system. Computer won't be safe until this browser problem is fixed via successful manual removal.
Note: Having difficulties in uninstalling this Qtype.inspsearch.com on computer? Please contact YooSecurity Online Experts now to get instant help to complete a successful fix:


Published by Tony Shepherd & last updated on December 30, 2013 12:45 pm