Got a MaxPerforma Optimizer pop up on computer screen out of nowhere? Didn't remember installing this software? Does it belong to Windows or Microsoft product? Why does it keep reporting detections while other programs remain quietly? Is this software trustworthy and safe to use for PC protection? Do people need to pay to get its official version?

MaxPerforma Optimizer – How to Uninstall?
MaxPerforma Optimizer, pretending to be a legit PC protection tool, is a software unwanted by many PC users because its weak performance and aggressive characters. This kind of rogue antispyware issue has become quite common ever since computer becomes a necessity in daily life. It can be categorized as one of the viruses that attacks computer systems all over the world and causes chaos to interrupt PC usage. These rogue antispyware programs can be created and put on the Internet among malicious web sites or bundling with other freeware every once in a while. The Internet Security Premium virus is another member from the same category that's been found on computers attacking systems lately. Usually, these programs including this MaxPerforma Optimizer will end up requesting certain amount of money from PC users to purchase the codes or "registered" versions of the applications which don't even exist. But by performing in that way, they can help cyber criminals benefit.
Being able to install on different computers without consent from the users and cause constant troubles, this MaxPerforma Optimizer rogue is potentially unwanted by many. Once it's successfully installed on a computer, it will set itself as a part of the system start-up programs which can help it launch the software automatically whenever PC starts. Annoyingly, it will interrupt your activities on this computer constantly by displaying its pop up screen. While other antivirus programs remain quietly on the computer, this MaxPerforma Optimizer for PC rogue will pop up and run security checks through the system which may seem to be a helpful gesture to many computer users. But while these constant security checks keep going on, you can't seem to do other things on the computer since you will often be prevented by the software scanning screen. Then you will find it difficult to stop this rogue from scanning through your computer. It just keeps scanning and stops you on every movement when you try to open a web site or launch another application.
Similar to other rogue antispyware programs, MaxPerforma Optimizer virus will give you an awful scanning result. Many infections and errors have been detected inside the system which security alerts can pop up on the screen constantly. This rogue software will become your last hope when you have tried all means to get rid of these detections but failed. But to receive help from this fake software, you will first need to purchase a code or activate the "full" version of this program. Of course money will be required. However, you won't get any "registered" version or full protection for PC when the payment is submitted. The money you spend will just help cyber criminals benefit. To conclude, it isn't always an authorized software when it's a purchased one. It can be a scam which helps computer hackers benefit. Uninstall MaxPerforma Optimizer virus should be achieved ASAP.
To save your computer, Live Chat with YooSecurity Expert Now. You can follow the manual removal guide below to get your problem fixed. (For advanced computer users)


Screen-shot of MaxPerforma Optimizer Rogue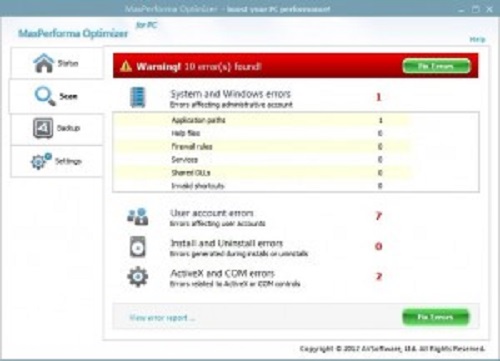 Rogue Antispyware Chaos
Like many other fake antivirus programs, MaxPerforma Optimizer virus can get itself installed on a computer even though it's unwanted by the user because it doesn't need permission from the user to install. There are two major ways for this rogue program to spread on the Internet. It can be prompted by certain fishy or hacked web sites whenever PC users log on. It can also use the technique called bundling to get itself installed. Videos, music, attachments and freeware can often be the third parties. Being able to escape from most antivirus protections, this rogue software will sneak into computers and cause chaos on the machines whenever it's given the chances.
MaxPerforma Optimizer rogue software can:
– set itself as a start-up program and launch automatically whenever PC starts
– keep popping up and running security checks through the computers
– report many detections and bring up security alerts which don't truly present the status of the PCs
– block PC users from performing other activities on the computers
– interfere the Internet connection and other functions on the systems
– get its victims to pay for a fake program version then help cyber criminals benefit
Manual Removal Step by Step Guide
This MaxPerforma Optimizer rogue won't be removed by other antivirus, so manual removal way is suggested here to achieve a complete removal of this unwanted software. By checking through different locations in the system and deleting associating items to this virus, one can achieve a complete removal of this program. Expertise will be required during the process:
To put the infected computer in safe mode with networking or safe mode with command prompt, you need to keep hitting F8 key, where is the key?

Step A: Restart computer in safe mode with networking. To do this, just need to press F8 key constantly before the system is started like this: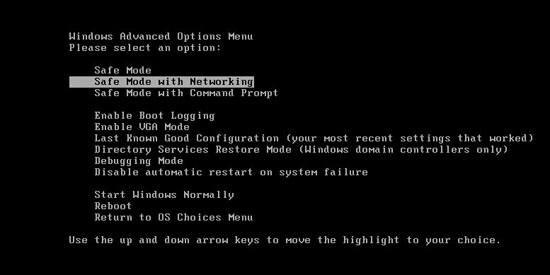 Step B: Press Ctrl+Alt+Del keys to open the Windows Task Manager to stop the progress of this MaxPerforma Optimizer virus. Because the name will be changed fast, it will be shown with different random names.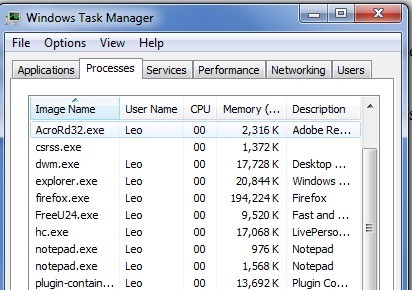 Step C: Delete all the files related to MaxPerforma Optimizer for PC:
Go to %userprofile%\appdata\local\
%AppData%\Programs\[rnd].exe
%AllUsersProfile%\Application Data\random
Step D: Delete registry entries of MaxPerforma rogue created in computer system.
HKEY_CURRENT_USER\Software\Microsoft\Windows\CurrentVersion\Run "[\].exe"
HKEY_CURRENT_USER\Software\Microsoft\Windows\CurrentVersion\Settings "net
HKEY_LOCAL_MACHINE\SOFTWARE\Microsoft\Windows NT\CurrentVersion\Winlogon\Shell ""
Video Guide to Remove This Fake Antivirus
Conclusion
It isn't always better to have more than one antivirus protection on a computer. While having the risks of experiencing software conflicts, one can also come into the scam trick of this MaxPerforma Optimizer rogue. Programs like this will usually dress up like trustworthy antivirus applications which seem to help you protect your PCs from viruses. However, you will end up being scammed instead of getting yourselves a nice program. This specific rogue antispyware acts in certain ways that are different from all the other legit programs. Learning the characters of it can help you recognize the scam trick and prevent further troubles from happening. But all in all, do not purchase anything required by this rogue software because it's helping cyber criminals benefit. To remove MaxPerforma Optimizer is the first and most important thing to do to save your computer.
Special tips: Still struggling with the manual removal steps to completely remove this program? Contact PC experts now to get professional help online in order to prevent damages from happening on your computer.

Published by Tony Shepherd & last updated on July 12, 2013 2:29 am