How can I get rid of fake Internet Security Premium Virus (Itdefender.exe)? Removal tool is good or manual removal step by step? Yesterday, I contracted with a firewall alert on my business computer and it asks me to buy the Internet Security Premium Reg Key or the Internet Security Premium registration code to activate it on Windows 7. I can neither get onto the internet nor can i run any programs or open files. This drives me mad! What is the best way to deal with this headache?
Infected with Internet Security Premium Virus – How to Remove?
The Internet Security Premium virus (also known as itdefender.exe) is a sneaky computer attack that attempts to trick users into thinking that there are several security threats that are present on the computer but in order to delete them they need to pay a software upgrade fee.  It is a variant of Internet Security virus, Internet Security 2013 virus, Internet Security 2014 virus or Internet Security Pro virus. The hacker group behind this attack has put in a lot of effort and work to make this resemble commonly seen anti-virus programs. Once it is installed on the computer it makes system changes and will launch at the same time that the computer is started up.
The Internet Security Premium Virus fake program will launch and display a sophisticated virus scanning program and it will appear to be scanning the system and all of the files on the computer, but this is nothing more than a pre-programmed script that displays the same "live scan" on every single computer that it is installed on. After running for some time it will display a message that has a list of Trojans, Worms, and other malicious files that are marked as viruses and serious threats. There is an option to select them all and delete them, which any computer user is going to do when presented with this situation. When that option is clicked on there is a notice that states that the software needs to be upgraded to the full paid version.
The user is then faced with two options. They can ignore the message, although it resembles an authentic looking program, and just hope that they do not suffer any negative consequences, or they can pay the upgrade and feel safe thinking that all of the dangerous files that were detected have been deleted. Since the Internet Security Premium virus is a complete scam, there are not any harmful files to worry about, but the average computer user will see this message and immediately take out their credit card and pay for this upgrade that doesn't even exist. Once they pay they will never think about it again. So, now the hackers have extorted money from them and they now also have the users credit card information in their possession.
To save your computer, Live Chat with YooSecurity Expert Now. You can follow the manual removal guide below to get your problem fixed. (For advanced computer users)


Fake Internet Security Premium Full PC Scan Screenshot: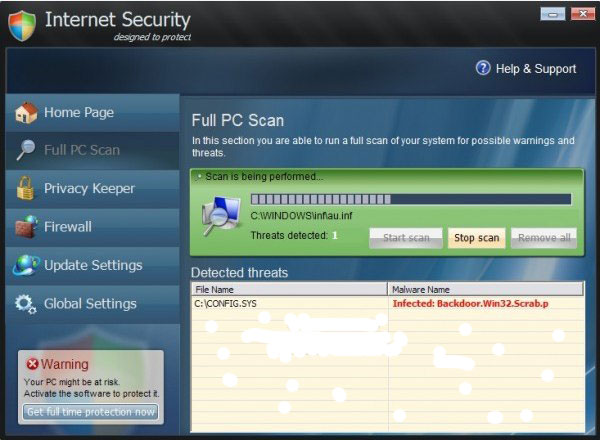 How Do You Verify If The Internet Security Premium Alert Is Real or Fake?
Thousands of consumers are victims of this Internet Security Premium Virus scam every single day. These are some of the warnings that show up to further scare the user:
Privacy threat!
Spyware intrusion detected. Your system is infected. System integrity is at risk. Private data can be stolen by third parties, including credit card details and passwords. Click here to perform a security repair.
System hijack!
System security threat was detected. Viruses and/or spyware may be damaging your system now. Prevent infection and data loss or stealing by running a free security scan.
System danger!
Your system security is in danger. Privacy threats detected. Spyware, keyloggers or Trojans may be working in the background right now. Perform an in-depth scan and removal now, click here.
What is The Best and Easiest Way to Uninstall This Virus?
These warnings and the scan will not stop until the payment is made or the virus files are deleted. It is important to understand the Internet Security Premium virus is not a real security scanning program, and the best course of action is to delete all of the files by following the instructions below. Now, once the Internet Security Premium is removed we suggest that a real anti-virus program is installed and set to run on a daily basis in order to protect the computer from future attacks. Also, be very familiar with the authentic security programs on the computer so you can easily spot a fake one.
Instructions On Removing The Rogue Anti-virus Application Step by Step:
1. Restart your PC before windows launches, tap "F8" constantly. Choose"Safe Mode with Networking" option, and then press Enter key. (This guide is just for Windows XP, Windows Vista and Windows 7, If you are running in Windows 8, please click here for detailed information)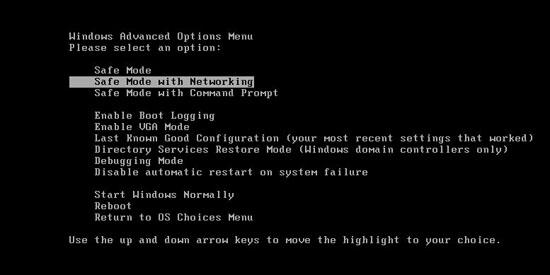 2. Press Ctrl+Alt+Del keys together and stop the process in the Windows Task Manager.
3. Delete associated files from your PC completely as follows:
%AppData%\random-
%Desktop%\random-
4. Search for all related registry entries infected by Internet Security Premium Virus and wipe them out:
HKEY_CURRENT_USER\Software\Microsoft\Windows\CurrentVersion\Internet Settings "WarnOnHTTPSToHTTPRedirect" = 0
HKEY_CURRENT_USER\Software\Microsoft\Windows\CurrentVersion\run\random
HKEY_CURRENT_USER\Software\Microsoft\Windows\CurrentVersion\Policies\System "DisableRegistryTools" = 0
HKEY_CURRENT_USER\Software\Microsoft\Windows\CurrentVersion\Policies\System "DisableTaskMgr" = 0
HKEY_LOCAL_MACHINE\SOFTWARE\Clients\StartMenuInternet\IEXPLORE.EXE\shell\open\command "(Default)" = '"%LocalAppData%\random.exe" -a "C:\Program Files\Internet Explorer\iexplore.exe"'
5. Reboot the computer to normal mode when the above steps are done.
Best and Easiest Video Guide to Remove Internet Security Premium Rogue Program
To sum up
There has been a lot of work put into this attack to make it appear as genuine as possible. The Internet Security Premium virus even disables programs from opening (like legitimate virus tools) and if they are attempted to be opened there is a firewall message that pops up stating that the files attempting to be opened is being blocked because it is infected. This really makes the user believe that they better quickly upgrade and remove the dangerous files. So no virus tools can be used to get rid of this fake firewall alert. And manual removal is the best and only way to fix this annoying problem. Manual removal is a complex and risky process, so please consult YooSecurity PC experts 24/7 online to help you uninstall the fake alert from your computer permanently.
Note: If you have trouble to deal with this fraudulent virus, please contact YooSecurity PC experts 24/7 online for assistance to help you remove Internet Security Premium virus from your computer completely.


Published by Tony Shepherd & last updated on June 12, 2013 1:49 am