I'm very upset about what happen to my cell phone this morning. My phone was infected by GVU virus after I download an unknown APP which is about bibliography free download, to be honest, I'm a postgraduate, my summer vocation just ended, I'm on my way back to school on the train, during this time I got text message by my tutor who urged me to finish my paper as soon as possible. So, I figure out a way, since the train has free WIFI, I thought I might use my phone to search some thesis. Normally, I will do that in school library, because it could provide you huge information which are all free, but outside that zoom, most website will charge for the information, that's why I download an unknown APP from my phone, which guarantee not only could offer what you need, but so Non-profit. BANG, GVU on the phone, and what's worse and funny, all the things showed on my phone screen, described as German language, I could only tell it's involved about piracy, but I was panic at the first place, I got this FBI virus before, so I know this is scam, I just don't believe they can use virus to cheat your money in so many ways and so quick you can't even image, what a crazy world!
Brief Description about GVU Virus On Phone:
GVU Virus is a newly phone virus which has been spread recently, if your phone infected by this virus, your phone screen will show few paragraphs of words in German, it's about Society for the Prosecution Association of Copyright Infringement to hoax computer users, mostly the novices, if you are familiar with FBI virus, you'll not be surprised about GVU, same trick designed to blackmail people by using fake information and the name of other fake department. GVU virus will threat you to pay 50 EUR through recommended payment scheme, then it will randomly give you a so-called unlock code which will not help at all. Therefore your screen is still blocked up even if you have paid for the fine.
GVU Virus Blocked Android Phone Screenshot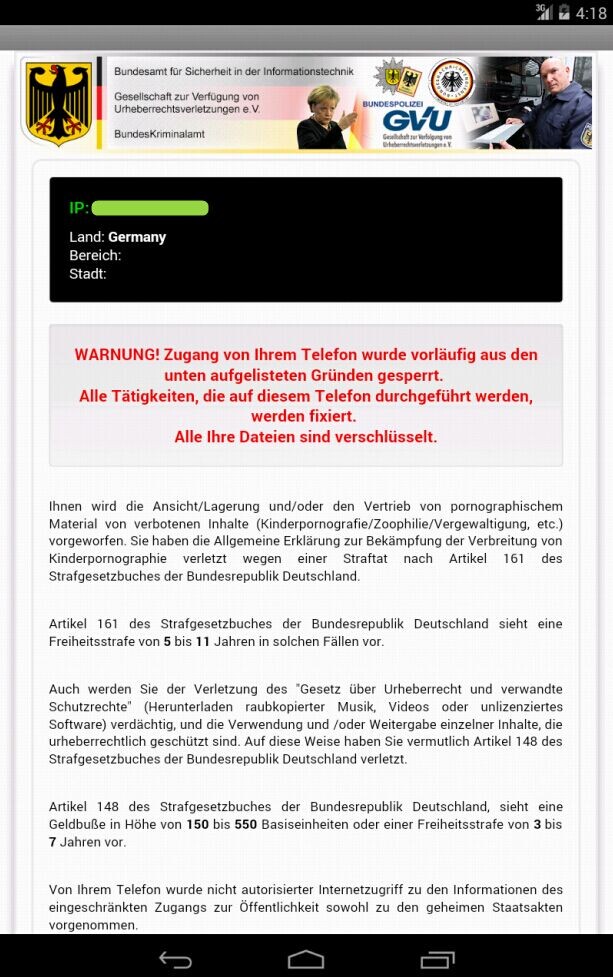 GVU virus mainly affects innocent phone users on the German area. Furthermore, smart phone with Android may also infected by this virus. Nowadays, some fellow may consider virus only spread over the internet, so it's totally safe for phones to download whatever APPs from the internet. Well, this wrong idea should be changed immediately, otherwise the worst situation like private info will be taken advantage by cyber criminals. Internet will be the most effective way and only way to spread virus to your PC and tablet, but how do phones will infected by this scam virus? Where did the users get this in the first place? The inventor of this virus will hide this infection into many websites that have been hacked, just using GVU virus as an example; it confirms from their web site that the message did not originate from their office. GVU is a legitimate bureau and is not part of any online criminal activities, we don't if that's true, but mostly PC will get this infection illegal or edge ball websites, such as porn material, online poker game, unknown APPs. You can consider it as fishing, cyber criminals would be fisherman, the virus could be bait, normal people who surf internet are fish.
The Symptoms of Infected Phones
-Completely lock the phone screen, you can't do anything about it.
-Provide you using MoneyPak or some other ways to avoid from any copyright disputes which may get you punishment by relevant department.
-You are charged by so-call illegal act in the internet which you didn't.
-You have been warned by recording your phone activities and encrypting your files.
-You'll see your IP address and basic information on this page.
Your phone will be infected by GVU Virus if you see those traits. Please contact YooSecurity Online Experts for manual removal guide.
Guides to Unlock Your Android Phone from GVU Virus Step by Step Manually
Note: There is a removal guide provided here; however, expertise is required during the process of removal, please make sure you are capable to do it by yourself.
Step 1: Try to access the safe mode on the infected phone.
What is safe mode on an android phone?
Just like the safe mode on Windows computers, the safe mode on android phone is a diagnostic mode. It is intended to fix the issues that happen on the problematic phone. In safe mode, the phone will reduce functionality. Typically, the safe mode loads as few executable modules as possible and disable all the non-core components to run. In one word, safe mode only runs the system without the third-party software.
How to get the safe mode on an android phone?
There are too many brands of android phones in the world, so the way to get the safe mode can be various. We will only take a group of them as examples, if you can't follow the tips to get the same mode on your phone, please go online to find the right way to access the safe mode as the safe mode is premise to remove this infection from your phone.
For Samsung Galaxy S4: 1. Power down. 2. Turn on and repeatedly tap the soft-button for "Menu."
For Samsung Galaxy S3 and others: 1. Power down. 2. Turn on, then press and hold Volume Down (Galaxy S3 and others), Volume Up (HTC One and others), or Volume Down and Volume Up together (various Motorola devices) when the vendor's logo appears.
If you have managed to select Safe Mode, you will see the text "Safe Mode" at the bottom left corner of the screen.
Step 2: If you can find "Safe Mode" on the left hand corner, that means your phone is in safe mode already, please contact our expert for further removal instruction.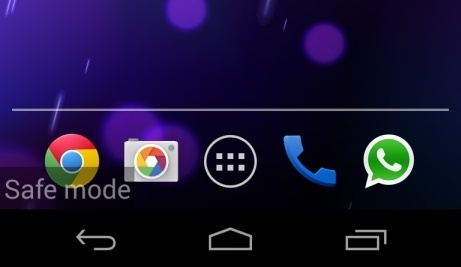 Conclusion:
GVU virus attacks not only Windows computer, Mac machines, it also can infect smart phones already. This is a rapidly developing info-age, you should be careful enough. Don't download any App from unreliable resources and never open attachment from strangers, it could be a virus. Fortunately, at the moment, manual removal still can be the most effective way to get rid of GVU virus or other similar kind of virus from Android phone. If your phone gets infected, virus can lock the whole system you cannot even use anti-virus program. Even GVU virus puts you in a desperate situation, please don't pay the money as it requests and fall into this scam. Manual removal will be the best way to get rid of the GVU virus from Android phones.
NOTE: Even though you can Follow the removal guide and already access in safe mode, sufficient expertise is needed, the misoperation will lead to malfunction or even worse. If you don't have any experience, please Contact online expert for help :


Published by Tony Shepherd & last updated on September 22, 2014 2:46 pm