It seems my phone has been hacked by Cyber Police virus scam. I have cyber police – FBI vanilla card stuck on my phone, and I need my phone now, I have important calls, and business going on. It is a mobile phone, samsung galaxy express 3. I opened up an app on my wife's phone and it locked her out. Now they want 500$ or they are threatening to send these awful pictures to all her contacts! My wife is very religious and she is furious at me she thinks I look at child porn on February 12, 2018! Please help me.
I have recently found the "Cyber Police American National Security Agency" malware on my Samsung tablet (android) asking for $100 iTunes Gift Card in next 72 hours and when my tab locked by cyber police requiring pay a fine $ 100 to treasury account i cannot remove it. I cannot leave the page it is locked on or manually power down the tablet. How can I remove this? It's locked on the malware page as though it was an internet browser page. But I cannot return to home screen or bring up anything? Yesterday, I downloaded a flash player on my phone, and unfortunately I got this Cyber Police Virus. I can't do anything on the affected phone or access the screen. This Cyber Police virus asked me to pay a fine via Ukash to unlock device. I have tried to restore it back but to no avail. People said it is Cyber Police virus scam, so is it really comes from the government blocked Android phone/tablet for a penalty? What damages or loss will the cyber police virus bring to my mobile phone/tablet? Will a security app help me get rid of this Ransomware if I have a chance to download it? I want this FBI Cyber Police Virus attention sign off of my phone, i am no freak. These buttons are sensitive, its almost like a touch screen. It always jumping from one page to another. What is the most effective way to unlock Android phone from the Cyber Police scam malware? Learn more about this Android phone/tablet locked by Cyber police virus and unlock device manually with following instructions.
A Description of Android Phone/Tablet Locked by Cyber Police Virus Scam
Nowadays, the Cyber Police Virus has become a big problem to Android smartphones or tablets. It is designed by cyber criminals who turn their eyes towards phone or tablet markets in order to collect much more fake fines from unwary users. Initially, smartphone or tablet is considered to be completely secure and safe for users to surf the web, make e-payments and download apps from Google's Play Store or the Internet. However, cyber criminals have well explored the phone markets and found out loopholes of phones which are chances for Cyber Police virus or any other similar malware like FBI virus, U.S. Department of Justice virus, NSA Virus, AFP virus etc. to target mobile devices like android phone, tablet, iPone or iPad. Once the Cyber Police Ransomware is downloaded on your mobile device, it will block your phone/talet and prevents you from doing anything there. All you see on the phone screen is fake Internet warning "Attention! Your phone has been blocked up for safety reasons listed below…." or "Attention! Your mobile device has been blocked up for safety reasons listed below…." The Cyber Police virus scam demands a fine of a great amount to unlock device, or the police will come to you. Is this Cyber Police alert really from a law enforcement (like FBI, Australian Federal Police, Metropolitan Police, U.S. Department of Justice etc.)? Absolutely, the Cyber Police warning is not real or related to any law enforcement, for it is actually risky phone malware or virus which should be deleted from the mobile device immediately.
This Cyber Police virus locks up users' phones or tablets and displays a fake warning message on the phone/tablet screen to take you into its scam. It mainly attacks phones or tablets users from European countries, especially UK. But such kind of scam virus changes itself daily and varies in different names, including FBI Moneypak virus, Australian Federal Police virus and Police Central e-crime Unit virus etc., so as to target phone users from the worldwide. From the specified "laws" listed on the fake alert page, users are supposedly to be accused of viewing/storing banned pornography or violate related rights law (downloading of pirated music, videos and apps). To unlock device, the Cyber Police Ransomware alert demands victims to submit a fine via Ukash timely, or you will be caught by the police and involved in a punishment of deprivation of liberty for several years. No matter how reliable as a fake Cyber Police seems at the first sight, you should not trust or submit the fine. As all money submitted as "ransom" will go to the pockets' of cyber criminals rather than the real law enforcement. In fact, neither this Cyber Police Ransomware alert nor the Ukash payment system is trustworthy. Users should be aware of the risk of this Cyber police virus on Android phones or tablets and get rid of the virus scam as early as possible.
Users should pay close attention to your online activities on mobile devices, as the Cyber Police or any other similar police virus often spreads through network. You are likely to pick up the Cyber Police Ransomware during your improper actions on the phone/tablet, such as downloading flash player, visit doubtful sites and receive share files from others without any caution. If you ever receive this Cyber Police scam on your phone/tablet, you should take measures to get it out of the target phone/tablet immediately. As the Cyber Police is not just a fake Internet warning but also a malicious phone malware or virus. Any delay of dealing with this Cyber Police virus scam will bring great loss and damages to the phone. Indeed, the Cyber Police virus scam is designed to collect fake fines from victims and steal vital information stored on the mobile device. But how can users delete this risky Cyber Police virus from Android phone/tablet successfully? It is fact that Cyber Police virus has been designed to bypass any security app installed on the Android phone/tablet. Instead, users need to remove this Cyber Police virus scam and uninstall all harmful apps from the Android phone/tablet manually with expertise.
If you find any symptoms listed above showing on your Android phone, then your phone must be suffered with a malware infection (which can be FBI virus, Australian Federal Police virus and RCMP Ukash Virus etc.) that blocks your access to your Android. Welcome to contact YooSecurity Online Experts for manual removal guide. Also, we will provide a short removal guide below for Android phone or android tablet literate.
NOTE: Being afraid to do any wrong operation during the process of removing this Cyber Police virus scam? Please contact YooSecurity Online Experts, we are here to help you:


A Screenshot of Android Phone/Tablet Locked by Cyber Police Virus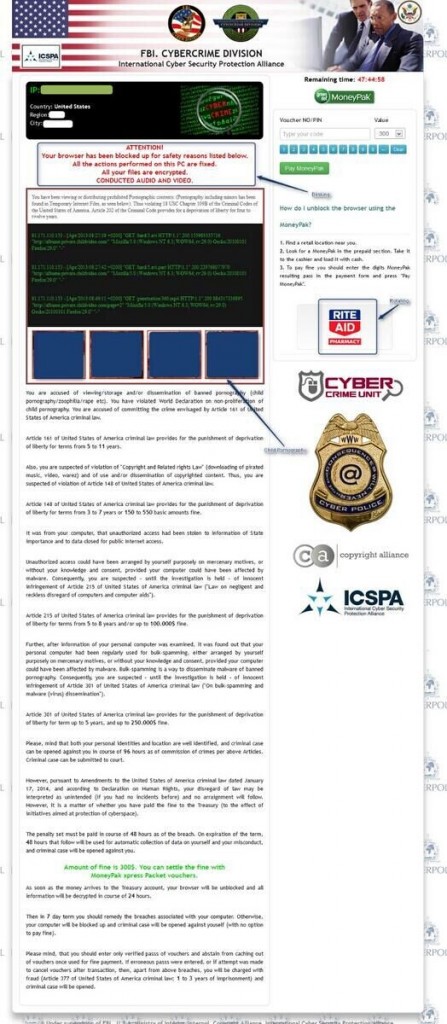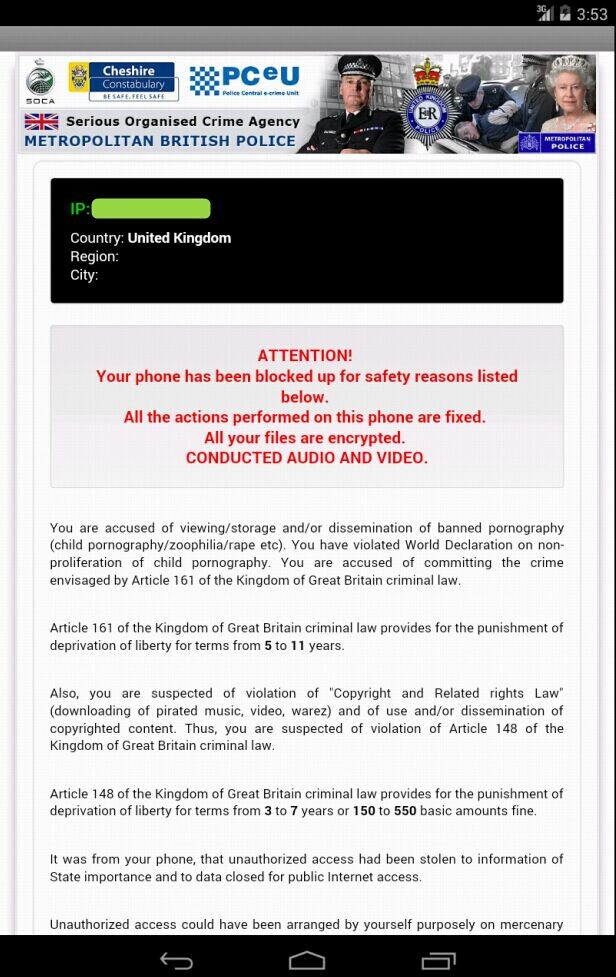 Screenshot of The New Version of the Cyber Police iTunes Gift Card Scam
Danger of This Cyber Police Ransomware Virus
#The Ransomware is designed to lock your Android phone/tablet asking that you need to pay for a fine via Ukash or $100 iTunes Gift Card to unlock your mobile device. In fact, it is just a big scam.
#It locks your Android phone or tablet, claiming that you've violated the law of local office by visiting illegal information online.
#Soon as the Cyber Police malware virus targets your phone/tablet, it blocks your device and prevents you from doing anything there.
#It allows remote access to your Android device for your personal information and other sensitive information.
Cyber Police Virus Manual Removal Guide on Android Phone/Tablet
1. Since your Android device is blocked by this Cyber Police ransomware virus, you will need to restart your phone/tablet to safe mode which starts up without loading any third-party add-ons. By this way, you are capable to carry out malware removal steps on your Android. Here are two examples for you to put your Android phone/tablet to safe mode.
a. For Samsung Galaxy S6 S5 S4 and Samsung Note: 1) Power down your Android phone. 2) Turn on and repeatedly tap the soft-button for "Menu."
b. For Samsung Galaxy S3 and others: 1) Power down. 2) Turn on till you see the Vendor's logo, press and hold Volume Down (Galaxy S3 and others), Volume Up (HTC One and others), or Volume Down and Volume Up together (various Motorola devices).
c. For Samsung tab: Power it off, and then power it on. During startup and when you see the Samsung Logo screen, press and hold the Volume Down key until you can see safe mode writing below the screen at the left hand angle of the screen.
Note: If you have put your Android phone/tablet to safe mode successfully, you should see a text "Safe Mode" at the bottom left corner.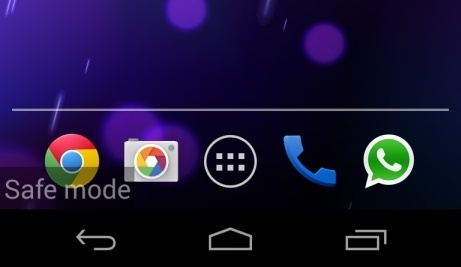 2. Once you have put your phone/tablet in safe mode, you are capable to remove malicious things from your Android phone/tablet. However, the manual removal process of harmful apps requires sufficient expertise. To safely deal with this malware, you had better contact an expert online for further removal help.
From the above mentioned, we learn that The Cyber Police virus spreads widely through network to target worldwide Android phones or tablets. It gets downloaded on the affected phone automatically and pops up a fake Internet warning alert telling that your phone/tablet is blocked by the Cyber police virus and you are demanded to pay a ransom to unlock device. Many phone or tablet users can't believe that their smartphones are attacked by this Cyber Police Virus, for they thought the Android environment is secure enough to protect itself against viruses or malware from the Internet. However, cyber criminals aims at gaining large amount of illegal profits, so they attempt to update the versions of this Ransomware to enable it to affect all kinds of phones or tablets running with Android or Mac OS X system. The cyber police Ransomware blocks your access to your phone/tablet, making you unable to download any anti-virus app to detect this malware infection. In fact, there is not any security app that will take effective to detect or delete any malware on Android phone/tablet. Consequently, phone/tablet users should try to remove the Cyber Police scam from mobile device manually. Experts online will manage to help you unlock your mobile device from this Cyber Police Ransomware successfully.
Suggestion: To follow removal guide that mentioned above, a level of Android phone/tablet knowledge is needed. Still can't get out of Cyber Police Virus? Contact online experts for help now!


Published by Tony Shepherd & last updated on February 13, 2018 3:55 pm