Can the FBI lock your cellphone or can the scam FBI locked your android phone like Samsung galaxy for viewing illegal sites? What to do if the Police locked Samsung galaxy, tablet? I wasn't even doing anything illegal. I was actually down loading something from the Google Play Store when the message popped up about the scam. Can't turn off my phone at all. Have held the power button down for more than 15 seconds and it will not turn off. Need help getting this scam off my android phone. My friend brought his phone over and it is saying his device is locked by FBI and needs to pay $200 in iTunes gift cards to unlock the device. To me it looks like a scam. Is it FBI virus created to hack users, Any advice? The victim said:"Please help! I got this tricky FBI virus on my Android mobile phone when I was watching a funny video from a pop-up website. I was shocked at seeing this FBI warning alert popping up on my phone screen all of a sudden. well I was browsing the internet when my phone locked up saying that the FBI has locked my phone because a scan showed some suspicious files and I have to pay $500 within 3 days to unlock my phone or else a criminal case will be filed against me. I have no idea how this virus can affect phones, as I thought it mainly targets computers and Mac machines. I have put my smartphone under the attack of FBI Moneypak virus scam. After getting this scaring Ransomware alert, I can't close the warning alert or shut off my phone properly." Feedback from other victims:"I have a malware, an FBI malware blocking my screen demanding 500$ and then they will drop the charges and send me a code to unlock my handset. I am using my phone for this conversation, i have got it in safe mode. How can I remedy this situation outside doing a hard reset and losing all my contacts pis etc??? BTW, my phone is a Samsung note two…please help". "I received a notice on my new galaxy note 4 from the FBI and it is saying my phone has been seized and that I have to pay a fine. It won't let me go to my home page and it's vibrating over and over. It came on when I found a video on my player and I was told to view it to go to settings and allow unknown, so I did so i could see what it was and I guess it was this FBI notice. I need and want my phone back. It's demanding 150.00. It won't let me go off of the page. Even when I took out the battery and SIM card. It still is on my phone." What should I do? Will this FBI Moneypak virus damage my Android phone terribly? Is there any security application that can get this Ransomware out the phone or protect it against any further viruses or threats? If not, how to get rid of this FBI virus from Android phone without losing my files and pictures? How do you unlock t-mobile galaxy S4 from locking your phone from porn site? How to unlock a Samsung phone S5 when the FBI locks it? Any clue of FBI virus removal from Android phones will be highly appreciated.
A Description of Phone Locked by FBI Virus Scam
The FBI Virus Moneypak Scam is designed by cyber criminals and has been circulated for a long time. Recently, cyber criminals have upgraded their versions of the FBI virus and aim at gaining more and more illegal profits from the phone markets. They design this current version of FBI Moneypak virus to make it capable to target phone users all over the world. Users can be extremely shocked at suffering from this FBI virus scam when browsing webs, watching videos and transferring money on Android phones, for you always thought that phones had been created to provide users with secure and safe online environment. However, phones can't protect themselves against the FBI virus or any other type of phone malware any more. Indeed, the FBI virus aggressively targets Android smartphones and makes victims really scared. It locks down users' phones (including iPhone and Android) and demands a fine from $100 to $500 to unlock your phone. We got feedback from one of the victims, it stated:"I left my android with a friend earlier and went to get it and it was acting strange and now this thing pops up saying something about FBI locking my phone. This is awkward… but I was looking up porn on my phone and all of a sudden this thing popped up saying it was from the FBI and that my phone was locked and I had to pay 500 dollars within three days but that I had to use a repaid card from walmart and the porn that it says I looked up I didn't even look at, i don't know how to get it off. I'm on my son's phone now, I don't know anything about this 500$ thing it's talking about." And many people freaked out and paid the fine. Under no circumstances that users can trust this pop-up FBI Moneypak virus alert or pay the fine blindly to save your phone. Instead, phone users should be aware of this FBI virus scam and remove it from the Android phones immediately.
This FBI Moneypak Ransomware becomes a big threat to Android phones since cyber criminals have explored the phone markets and increased the hazard rate of the virus scam. It performs same malicious actions on phones as it does on computers and Mac machines. While being downloaded, the FBI virus locks your mobile phone with an urgent police alert whose interface seems quite legitimate at the first sight. It claims that your mobile phone is blocked due to your recent illegal activities including violating the copyrights law (Video, Music and Software) and related rights law. Also, it demands you to pay a fine from $100 to $500 within a certain time in order to unlock your device, or you will be involved in a deprivation of liberty for several years. To make you further convinced, the FBI Ransomware clarifies the laws that you have violated on the phone. In fact, the information on the Ransomware page is totally false and fraudulent, only to collect fake fines from unwary phone users. To more specific, the entire message you see from the FBI virus alert only aims at cheating you into committing to the online crime as stated which is non-existing. It supposedly counts down the time that is available for you to submit the fine via Moneypak card. Many users are scared and worried about being caught by the police and getting device blocked forever, they submit the penalty without giving it a second thought. Providing that you pay the fine as claimed, you will lose the money and fail to unlock device. Users should realize that this FBI Moneypak alert is nothing legitimate but a malicious malware and virus for mobile phones. All users need to do is to save your phone from this FBI virus scam at a quick time.
The FBI Moneypak virus is a horrible malware infection that changes itself daily and targets phone users from worldwide with different names known as FBI MoneyPak malware/ virus and Australian Federal Police Ukash virus and so forth. Except pilfering money from unwary users, this FBI Ransomware blocks your Android phone and reduces its performance. It is a risky malware infection which may exploit loopholes of your Android to help some unwanted add-ons add to the phone without any consent. If you don't take any action to deal with the malware infection timely, you will leave your Android under the attack of the virus and result in information loss. As a matter of fact, the FBI virus has the ability to steal your information stored on the phone for cyber criminals to perform illegal activities.
How to unlock your Android phone from this FBI virus? As the FBI Moneypak virus locks up your Android smartphone and blocks your access to the screen, you won't be able to download any security apps to deal with the FBI malware. Actually, there is not a perfect security app that will help you delete the FBI virus or unlock your device properly. In such a situation, manual removal with expertise online is a better choice for phone users to remove the FBI virus.
If you find any symptoms listed above showing on your Android phone, then your phone must be suffered with a malware infection(which can be FBI virus, Australian Federal Police virus and RCMP Ukash Virus etc.) that blocks your access to your Android. Welcome to contact YooSecurity Online Experts for manual removal guide. Also, we will provide a short removal guide below for Android phone literate.
NOTE: Being afraid to do any wrong operation during the process of removing this FBI virus from Android phone? Please contact YooSecurity Online Experts, we are here to help you:


A Screenshot of FBI Virus Blocked Android Phone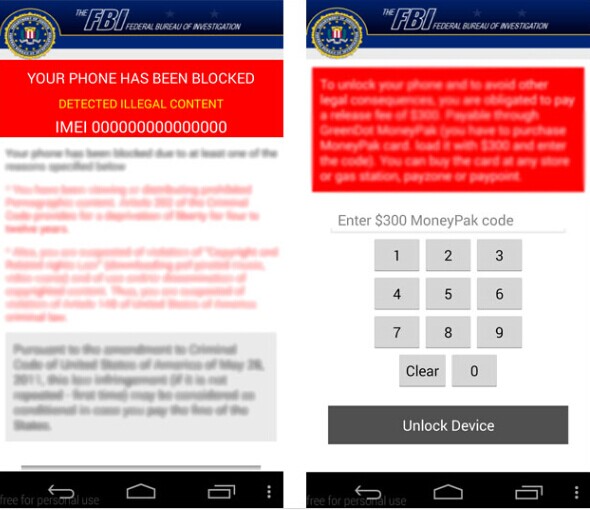 Danger of This FBI Moneypak Ransomware Virus on Android Device
#The FBI Moneypak virus is designed to lock your Android phone asking that you need to pay for a fine from $100 to $500 to unlock your device. In fact, it is just a big scam.
#It locks your Android, claiming that you've violated the law of local office by visiting illegal information online.
#Soon as the FBI virus targets your phone, it blocks your device and prevents you from doing anything there.
#It allows remote access to your Android device for your personal information and other sensitive information.
I was on a porn sight earlier and it requested I download a flashplayer, I did and as soon as I finished the down load my phone locked me out. I long list of things came up flaming to be from the FBI telling me if I didn't pay 200.00 in 48 hours by a green dot card I would be charged with charges of crimes and they would contact all of the contacts on my phone. Can anything be done. I have a Samsung S5 that has the FBI warning virus. I tried to remove manually in safe mode, thought I did it but it is there, can you help me remove it so I can unlock my phone? Learn more below.
FBI Virus Manual Removal Guide on Android Phone
1. Since your Android device is blocked by this FBI virus, you will need to restart your phone to safe mode which starts up without loading any third-party add-ons. By this way, you are capable to carry out malware removal steps on your Android. Here are two examples for you to put your Android phone to safe mode.
a. For Samsung Galaxy S4: 1) Power down your Android phone. 2) Turn on and repeatedly tap the soft-button for "Menu."
b. For Samsung Galaxy S3 and others: 1) Power down. 2) Turn on till you see the Vendor's logo, press and hold Volume Down (Galaxy S3 and others), Volume Up (HTC One and others), or Volume Down and Volume Up together (various Motorola devices).
Note: If you have put your Android phone to safe mode successfully, you should see a text "Safe Mode" at the bottom left corner.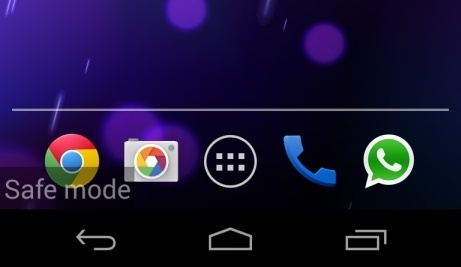 2. Once you have put your phone in safe mode, you are capable to remove malicious files on your Android phone. However, the manual removal process of harmful apps requires sufficient expertise. To safely deal with the FBI virus and other hazardous things, you had better contact an expert online for further removal help.
From the above mentioned, we learn that Android phone is not secure for users to surf the net, make e-payment or perform other online activities any more. As cyber criminals focus on the phone market to distribute this FBI virus and other similar moneypak malware and viruses like AFP virus, PCEU virus and RCMP virus and so on. Ok, so I sometimes let my cousin use my phone. He used to use a app called tubemate and not some random messages pop up about I owe a 100 dollar fine. So I did research and it said I had malware and I need to get rid of it. I received a message pop up on my phone a couple of months ago saying that I had to pay money by either card or a store brought card or my phone would be locked, I reported it, I understand it's a scam. My phone hasn't been blocked nor has any of my information to my knowledge been taken, identity money etc. I was just wondering if I still had/have access to my phone and nothing has happened to it does that mean my android phone is not infected with FBI virus? Such a FBI Ransomware is downloaded to the affected phone with the help of some Trojan malware or threats. It is not just a piece of police alert but a kind of phone malware or virus which users should delete it completely and immediately. After this FBI virus affects your phone, you will find it difficult to power off the Android or close the FBI virus alert page to exit it. That is, the FBI Moneypak virus has blocked your access to the phone, which prevents you from doing any action on the phone. Some users may question whether security apps will help you clean this Ransomware and protect your Android against further attacks or not. In fact, antivirus is not capable to pick up any phone malware or virus, as cyber criminals have designed this Ransomware to bypass its detection. Thus, it is better for users to deal with the FBI virus scam manually with the assistance of expert online.
Suggestion: To follow removal guide that mentioned above, a level of Android phone knowledge is needed. Still can't remove FBI virus from your android mobile device? Contact YooSecurity experts for instant help to unlock your cell phone now!


Published by Tony Shepherd & last updated on April 9, 2019 6:21 am